This thread is wayyy late in the making. I built this PC last Xmas, so calling it a build log is a bit of a misnomer. Maybe "Build Logged" would be better. Anyways, I've been meaning to do this for a while, but have never got around to it until now. I also apologize in advance for the mediocre pictures taken by my Note 2, and Note 4 later.
A preview of the completed build: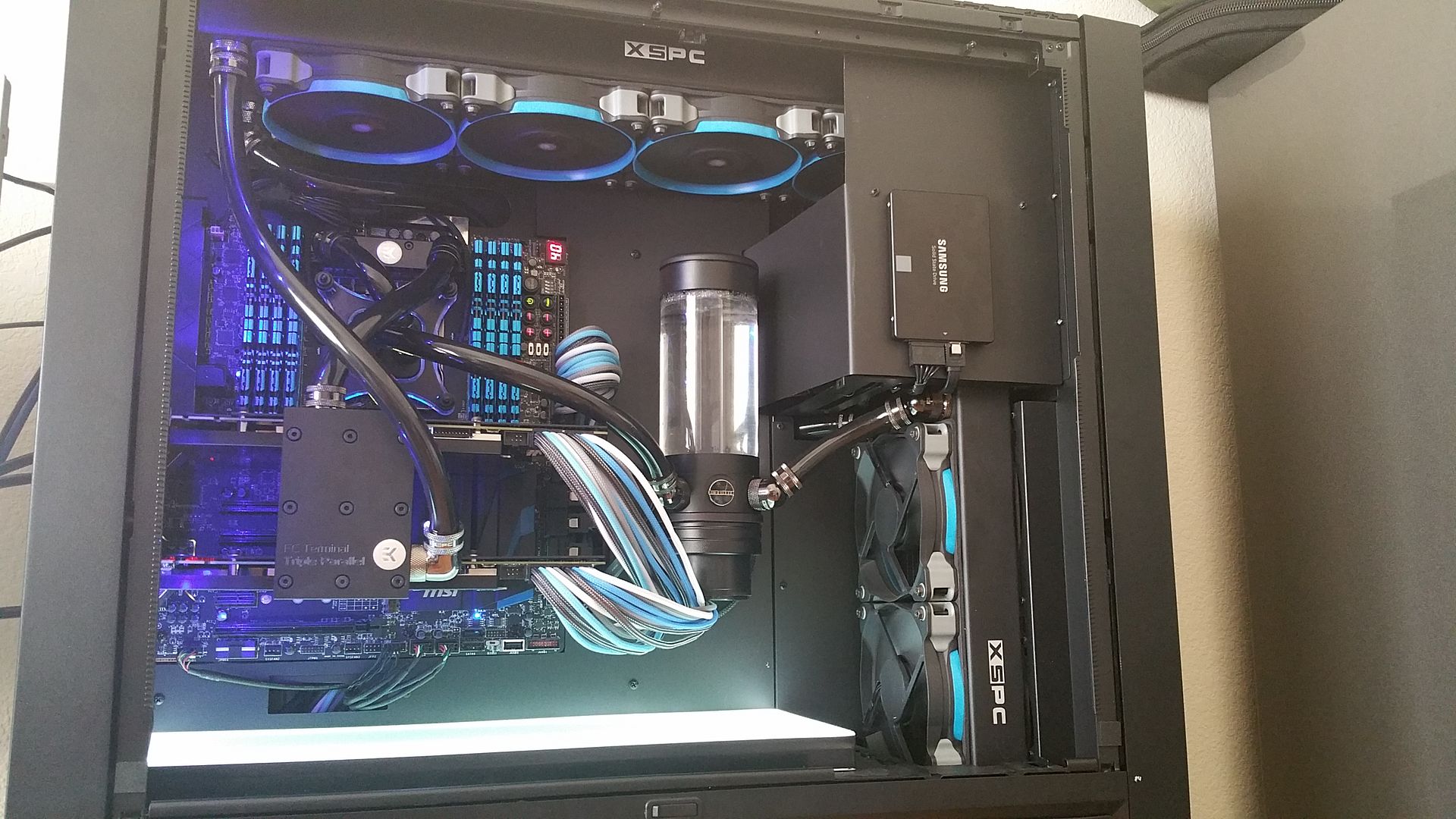 This will have been my second desktop I've built, but I am by no means new to tinkering, turning wrenches, and get electrocuted
. Here is a picture of my first build:
*********NOT PICTURES OF THE CURRENT BUILD*********THIS IS MY OLD PC************
I started with 780's, then 780 Ti's, then got out for a while, then hopped back in with 290's lol. Lots of experimentation.
Quick bio of my interest in PC's...
I grew up around them as my mom was a software engineer. Chips was probably the best game ever...I started looking for the best performance I could afford in a PC when I got my first laptop for college, a Gateway that had discreet graphics (ATI 2600) that was barely enough to run COD4 at 800x600 at 30 FPS
. I didn't know what I was missing, and made it work, had a blast, and got my money's worth out of it. I kept that baby for 4 years until I bought a Sager with an i7 and a AMD 6990m. Helluva card for a laptop, and friggin hot too. I could have cooked some eggs on the keyboard! Halfway through my first tour, I decided to make the jump from laptops to a real desktop and get more bang for my buck. I always wanted to build a PC, regardless of how powerful it was. I like all the options, control, and creativity involved. I learned a lot from my first build, what I would have done different, pros and cons, and whether certain things are worth it. Now I am insatiable with the stuff. It is my crack-cocaine. Before getting out of the service, I decided to do another build and sell off my old one while I still had a stable income, hence this build log.
So here is the original parts list:
---
Intel Core i7 5820K CPU
MSI X99S XPower Motherboard
32GB G.Skill 2666mhz DDR4 RAM
3x Sapphire R9 290 Vapor X GPU's
Corsair 900D Case
2x EVGA 1300w G2 PSU's
2x Samsung Evo 840 500GB SSD's
1x Corsair Neutron 256GB SSD
2x Seagate 7200RPM 3TB HDD's
2x Western Digital 7200RPM 1TB HDD's
Gelid SpeedTouch 6 Fan Controller
10x Corsair SP120's
1x Corsair AF140
LGA-2011 V3 Vapor chamber air cooler
PCI Single Slot Blower
Watercooling:
XSPC AX360 Rad
XSPC AX480 Rad
XSPC D5 Photon Res/Pump Combo
XSPC Raystorm CPU Block
EK VRM block
An assortment of G1/4 7/16's Black Chrome XSPC straight and 90° fittings
Other:
Lutro Customs Sleeving
Assorted sleeving tools and connectors
Sheetmetal
Cuttingboard
LED light strip
Mirror
Glass
Angled Aluminum
Lots of patience
---
Since changed:
2x EVGA GTX 980 Ti Classifieds---swapped in place of R9 290's
2x Toshiba 5TB 7200RPM HDD's----swapped in place of 1TB HDD's
1x 1TB Samsung 850 Evo SSD----swapped in place of 256GB Corsair Neutron SSD
Removed 1x EVGA 1300w G2 PSU
---
Ok...This build was prompted by my not being happy and content with the build pictured above. I wasn't happy with the cable management, the cooling, the cramped space, the noise of the GPU's blowing hard, and the AIO cooler also blowing hard to keep temps down on a 4.7Ghz 4770k. I wanted to expand in every way. I wanted more room for mods, and to simply make it easier to change things out and not scratch stuff in the process. While the C70 case had its merits (few I now realize), I wanted something with a more sleek design that would stand out in an office, yet not look clunky. Sharp smooth sleek edges instead of funny imitation buttons and handles on the top etc... I wanted to try my hand at sleeving again with better materials than actual paracord
So, here we go!
I had better pictures of it, but can't find them. And lets be honest, we've all seen the 900D.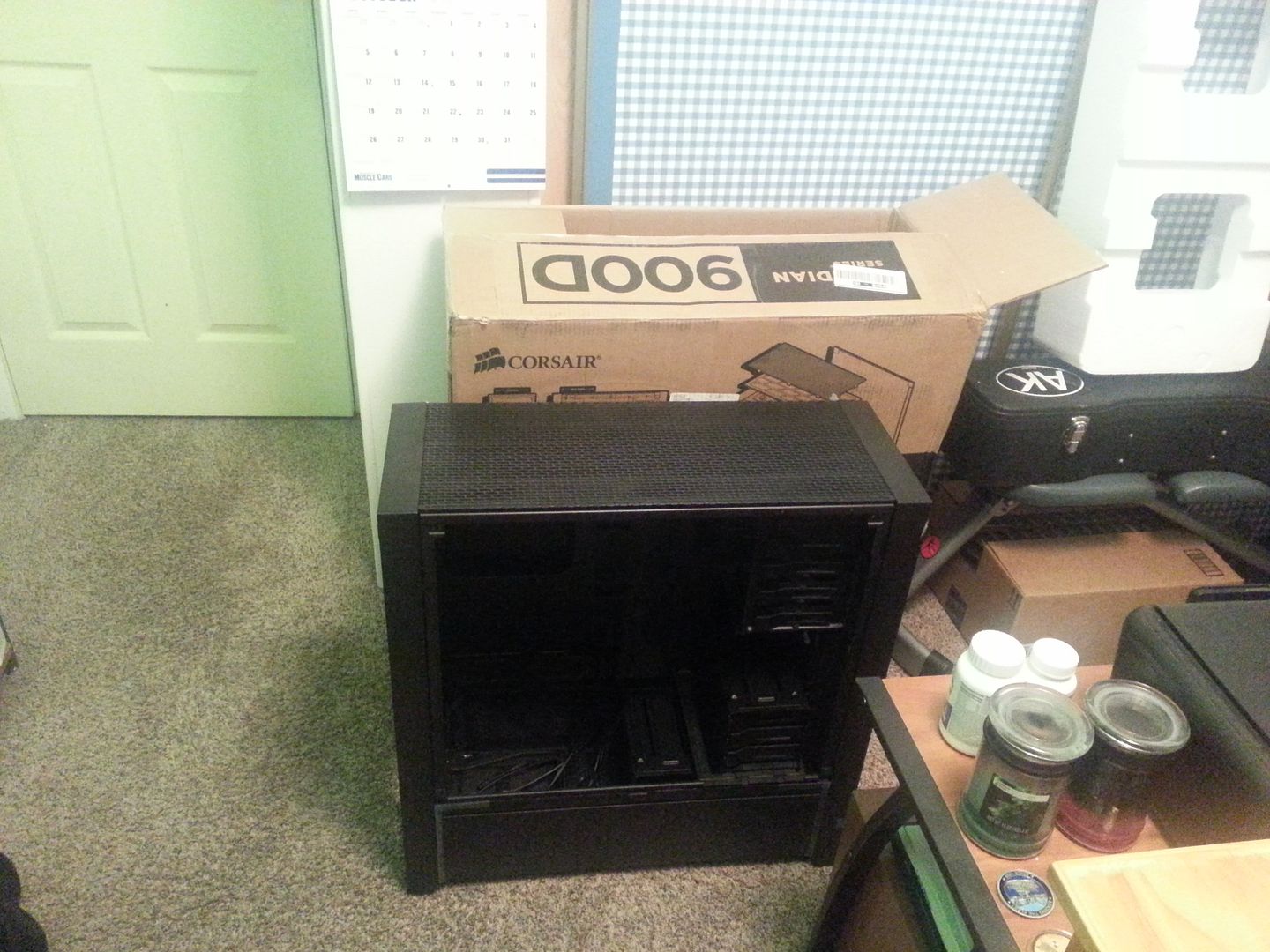 Component roundup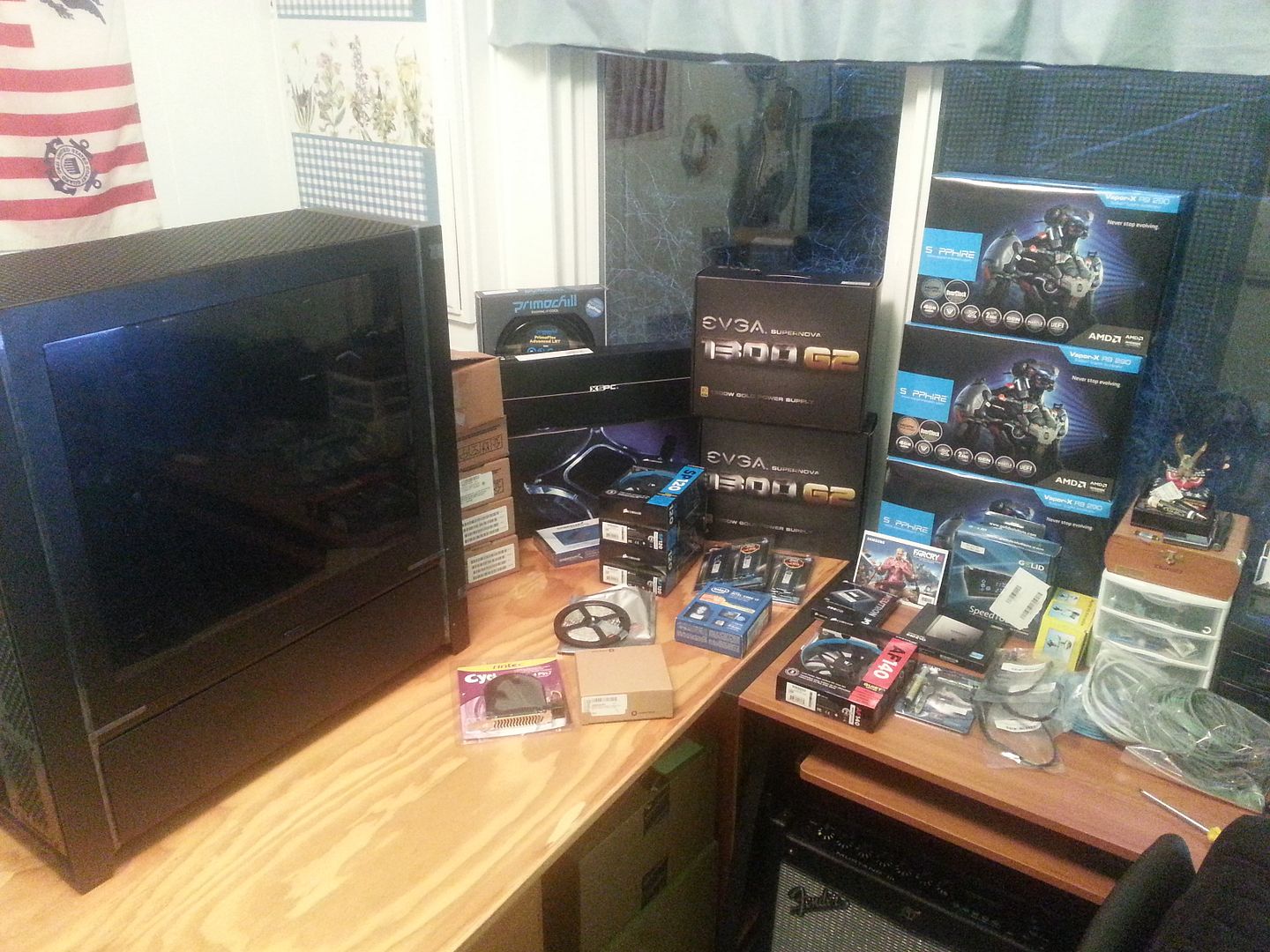 Ended up returning the Mushkins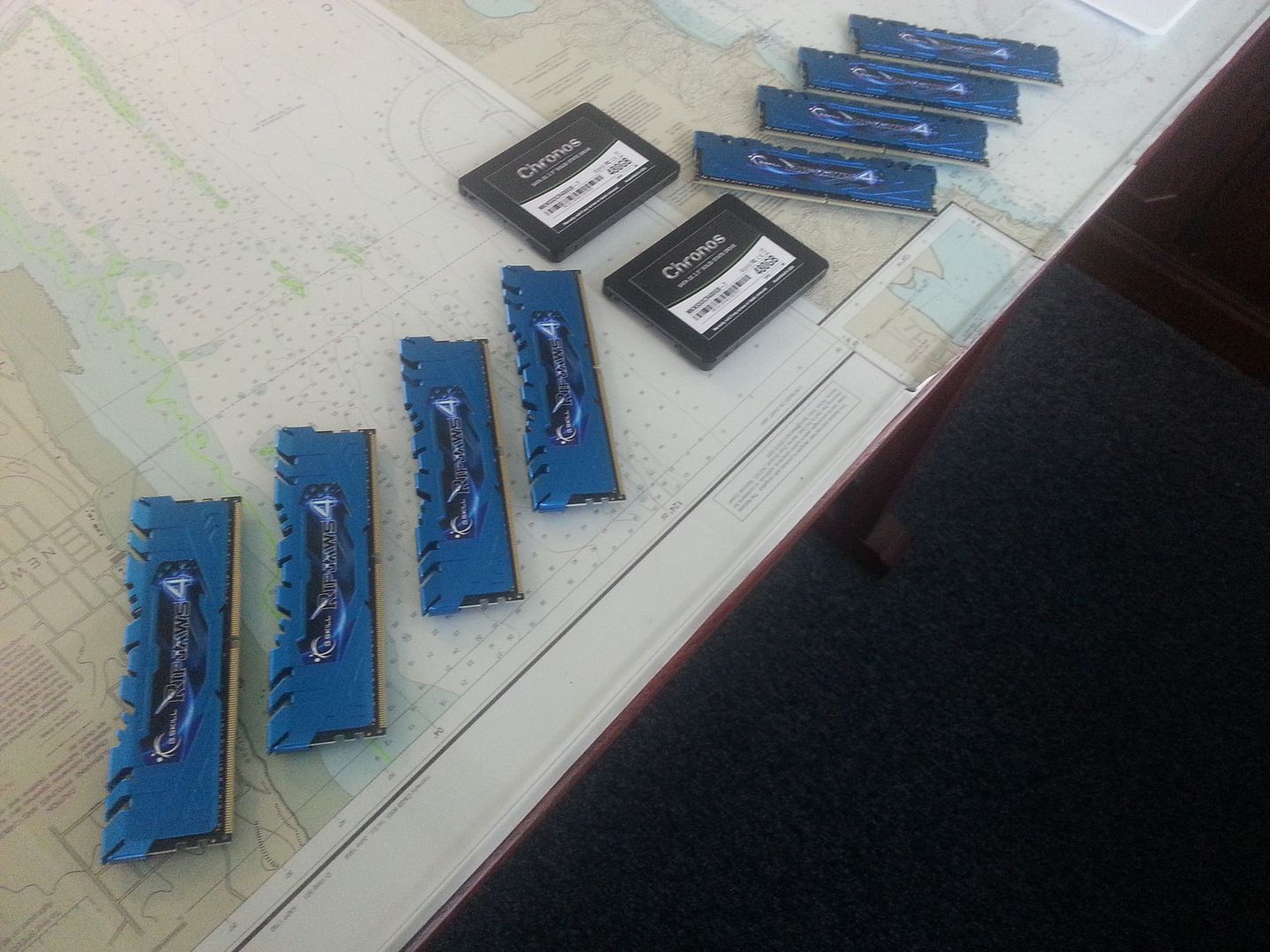 A little test fitting
I didn't want the drive cages in the top. I wanted it clean up top, and to use the lower space as a "maintenance space" where I could swap drives and change cables, yet keep all the ugliness hidden.
The 360 rad was going to have to extend into the CD bay area in order to mount to the front fan section and have the fittings on top to prevent air pockets.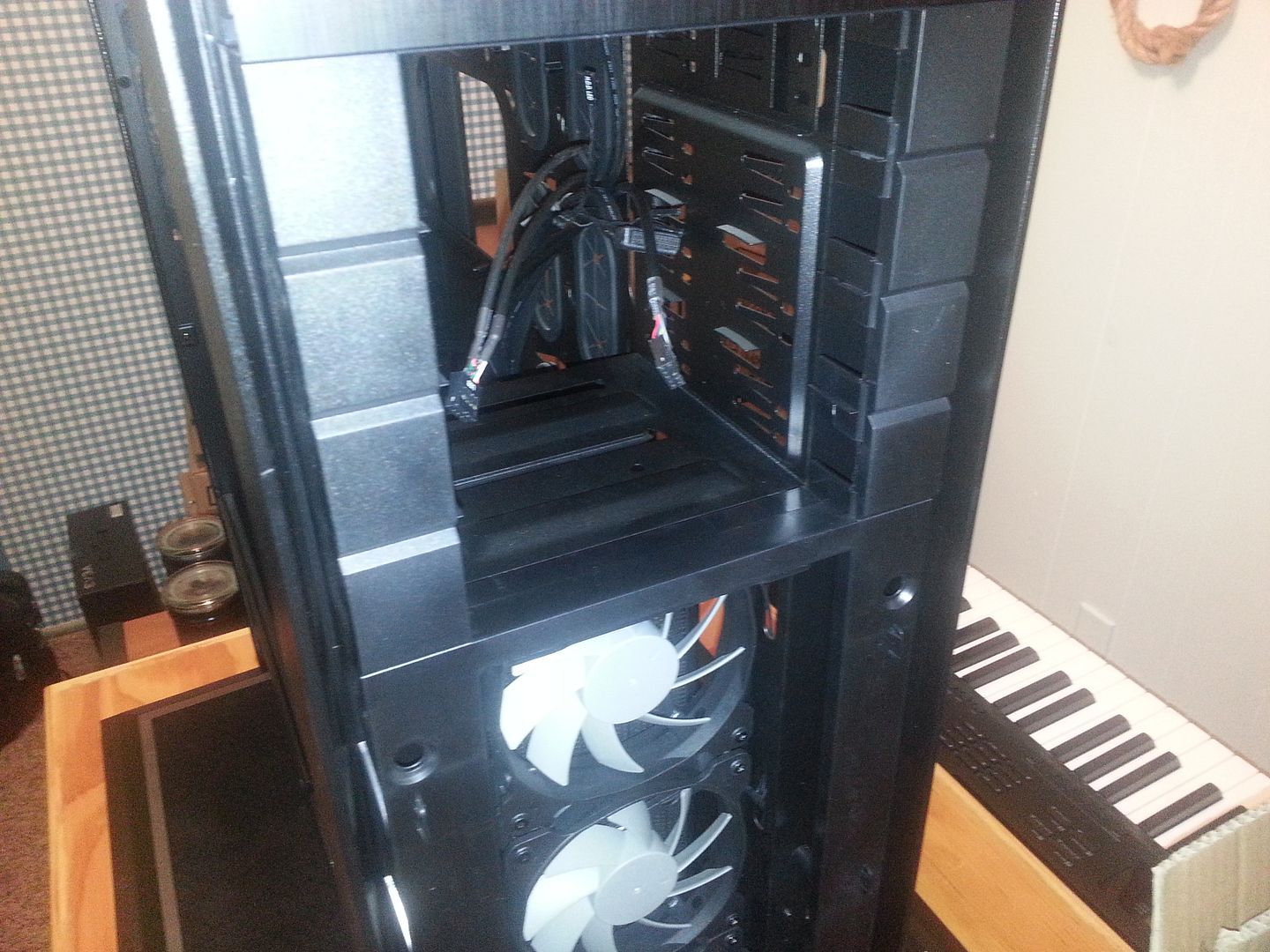 Out to the shop to do some case modding!!!!!!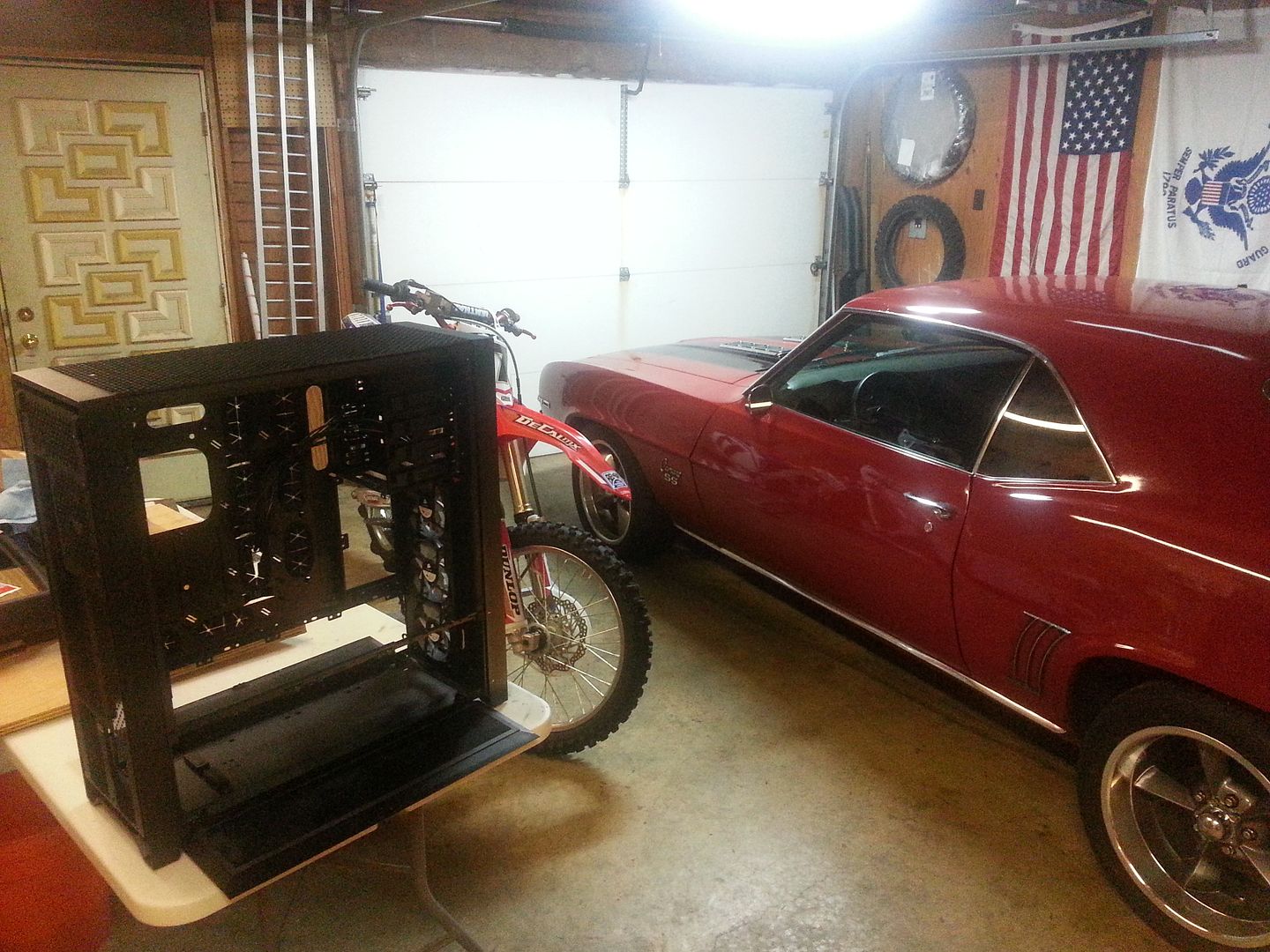 In order to run the 360 rad down the the front, I had to move the drive cages back a little, so time for the hole drilling.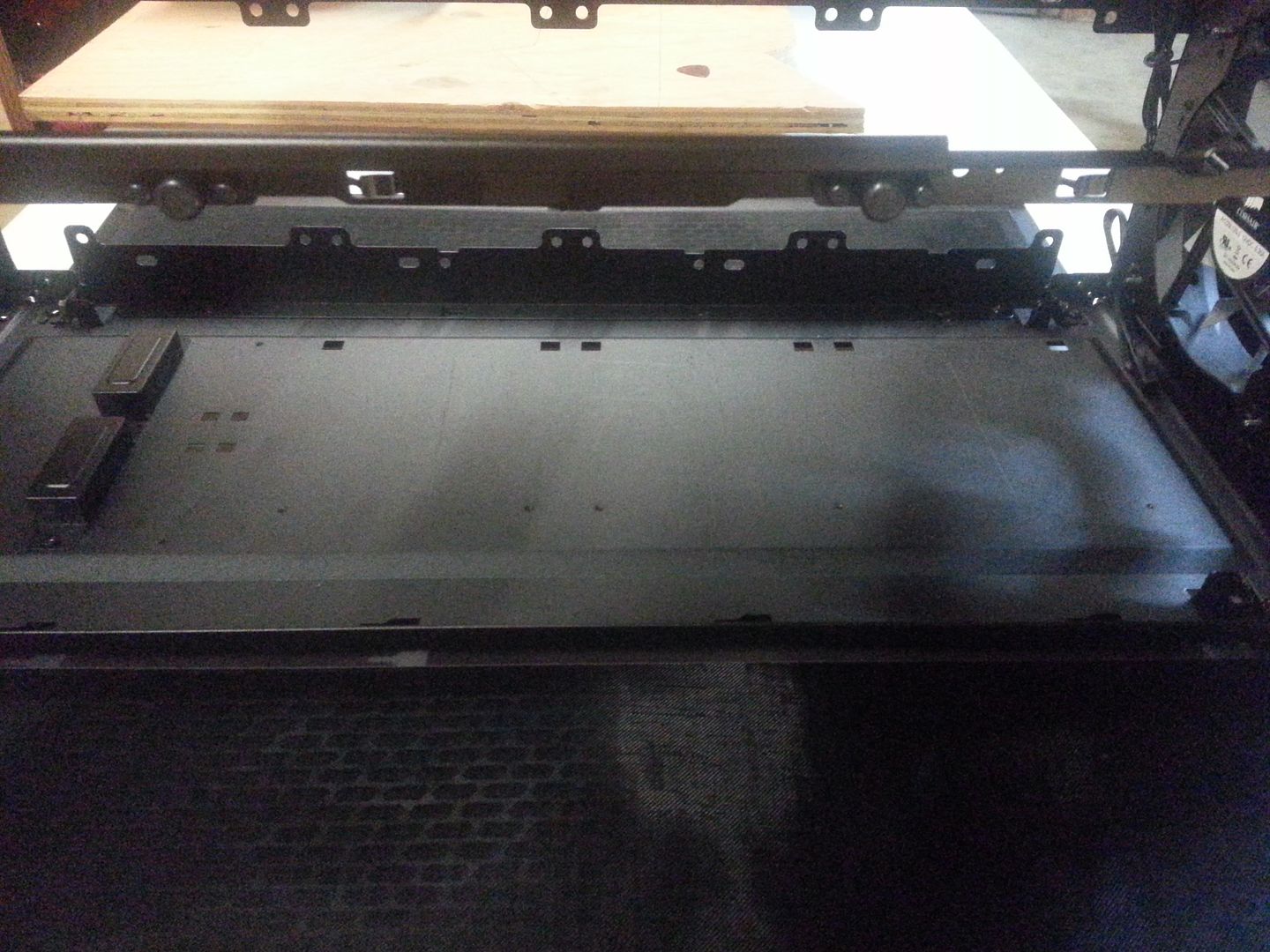 To get an idea of how far to push the cages to the rear, I needed to get the radiator in first and mount some fans to take measurements. I needed all the space I could keep in the back for those long dual PSU's!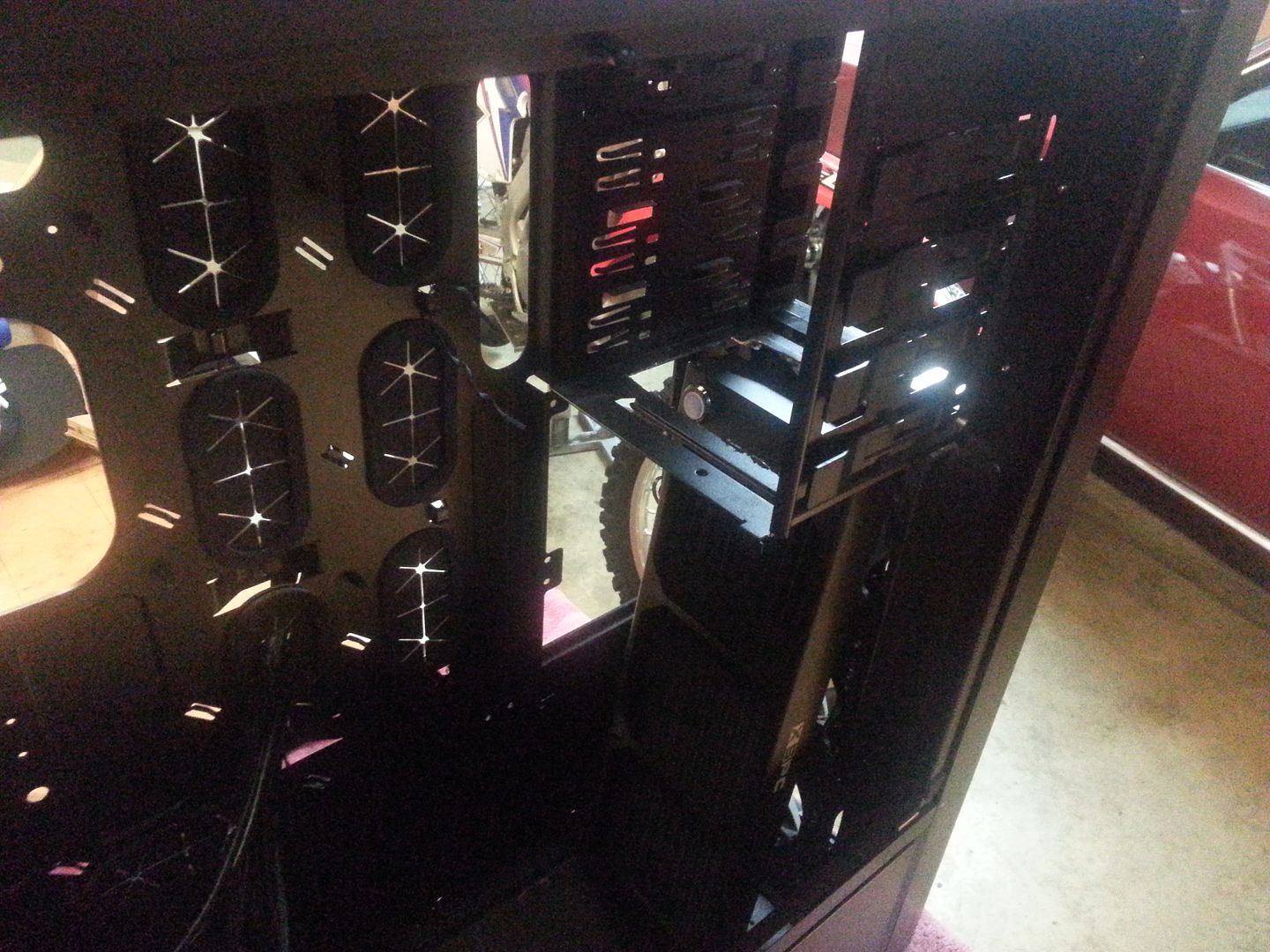 CD drive floor cut out for the 360 rad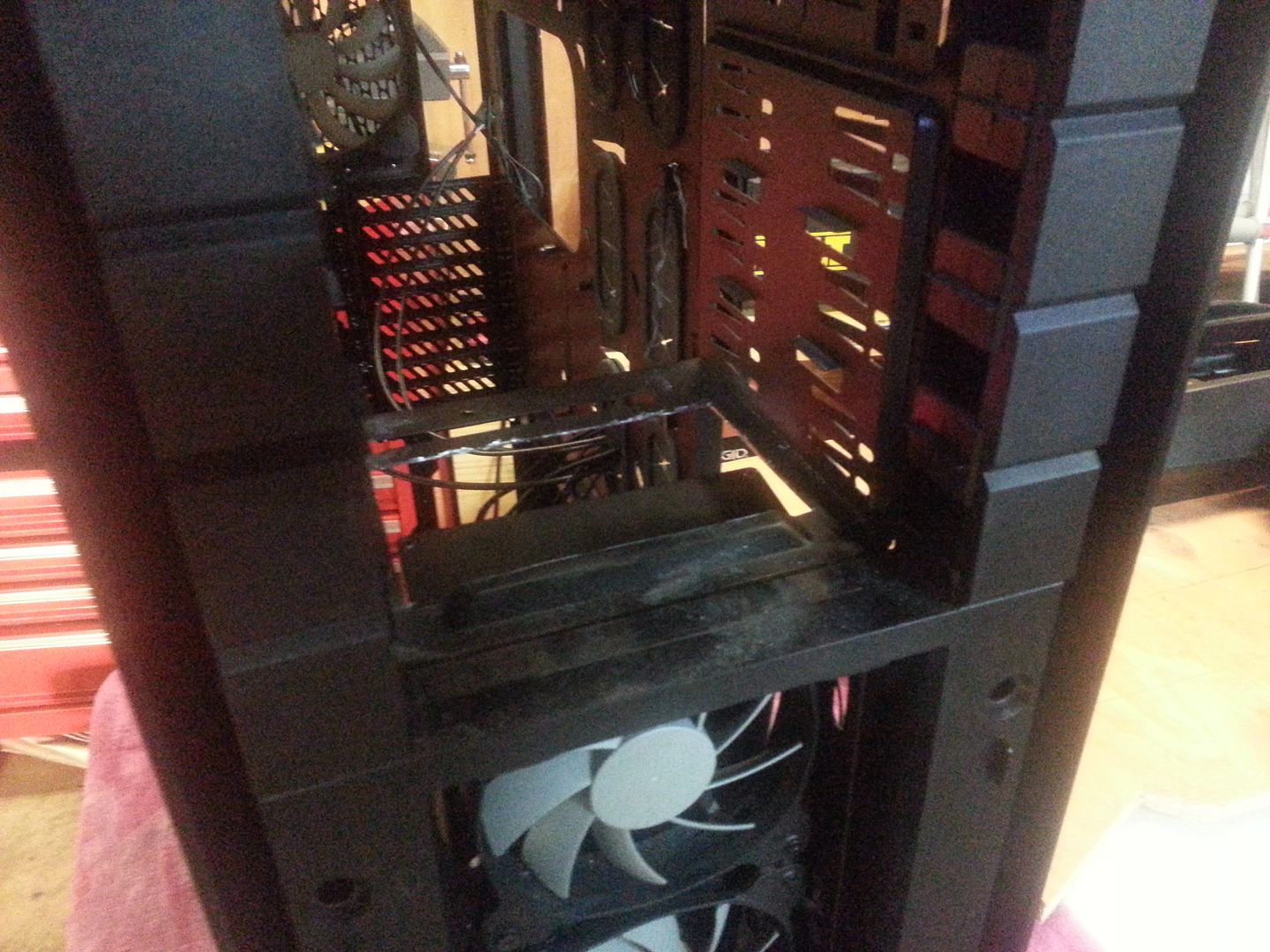 Some new holes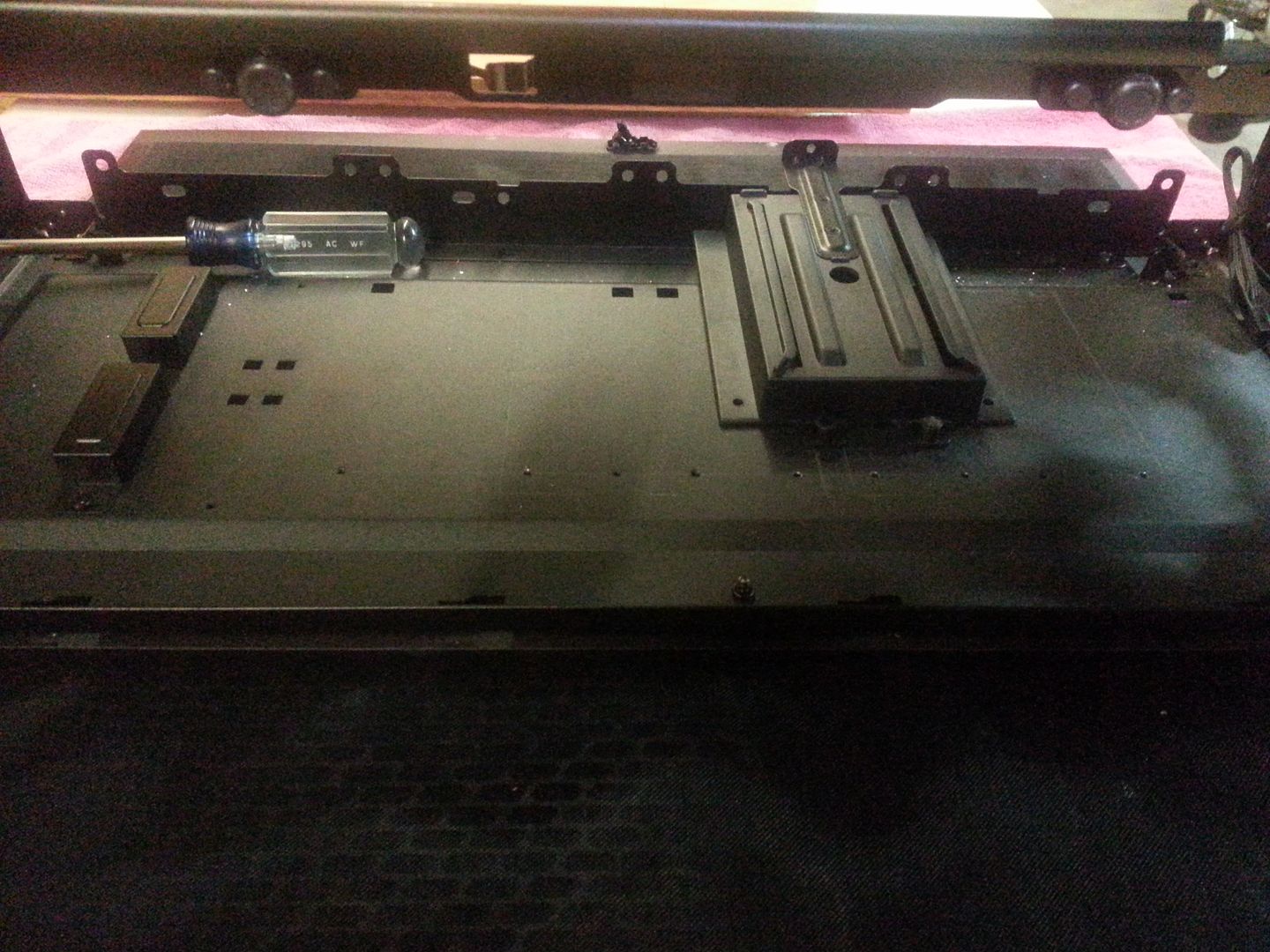 Mounted again
Since the cages moved, I needed a new way to support the top of the cages so they wouldn't flex. I bent some 1/8" aluminum into a bracket and drilled baby!! Mounts up perfect and solid.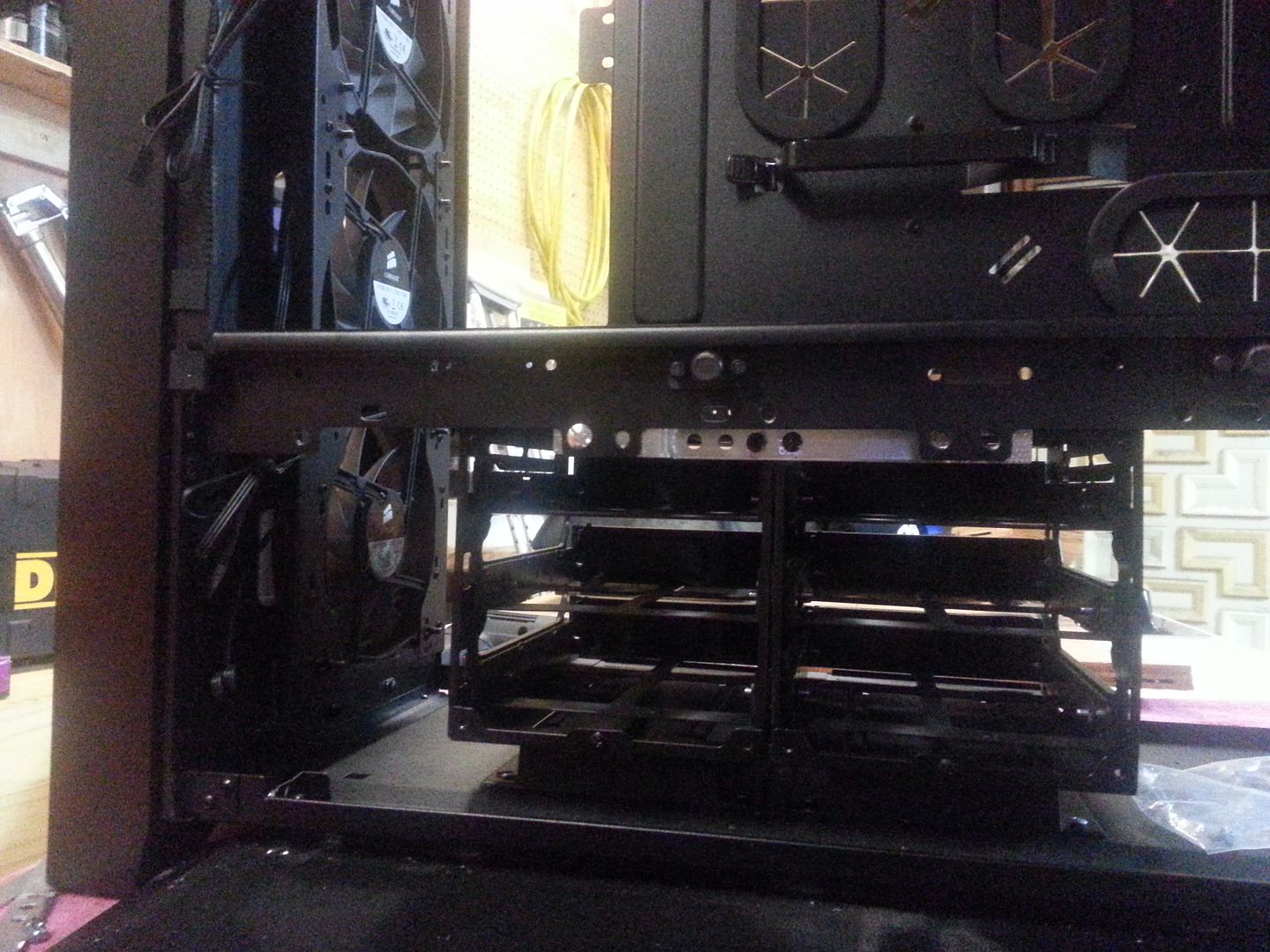 More test fitting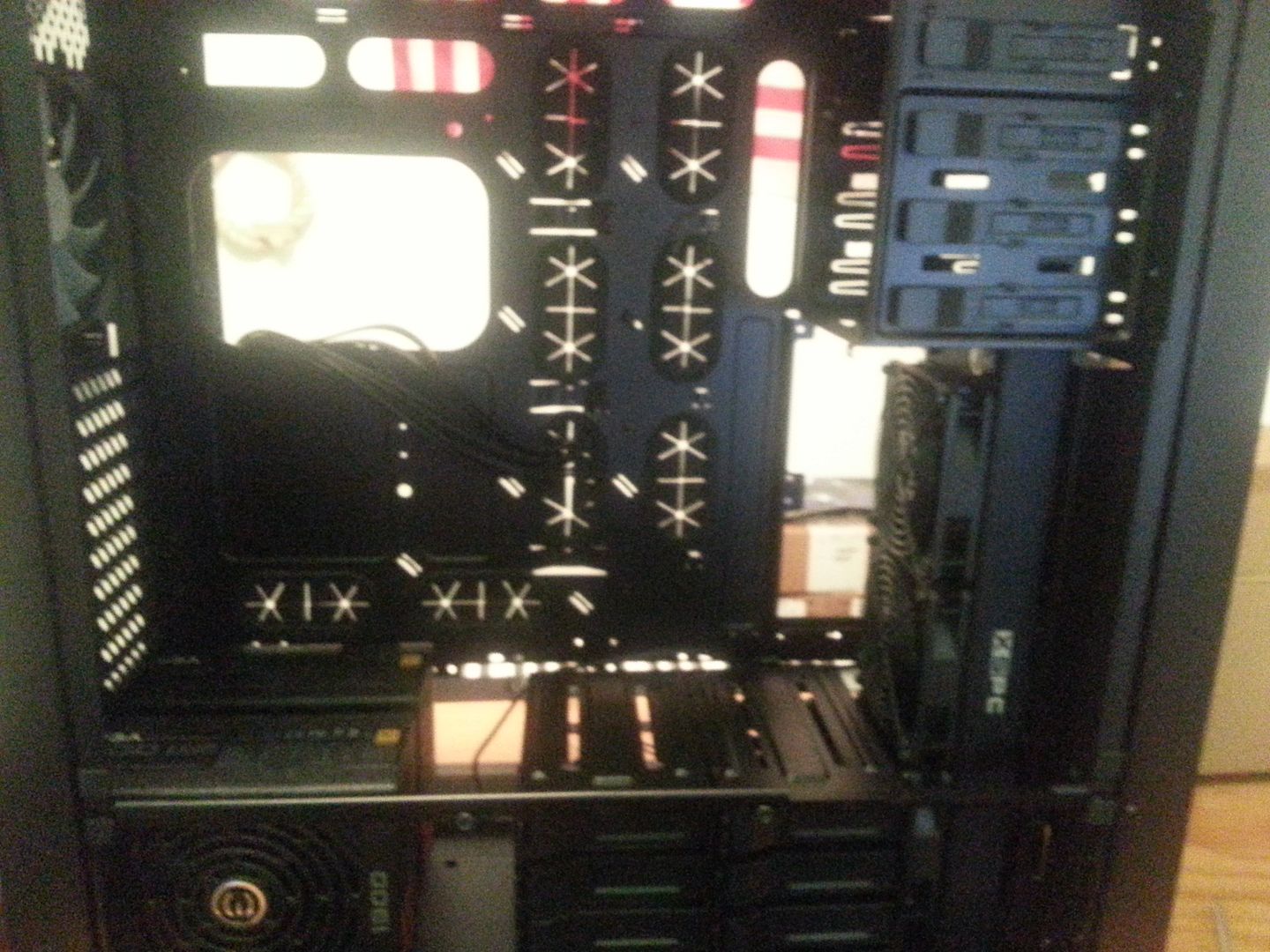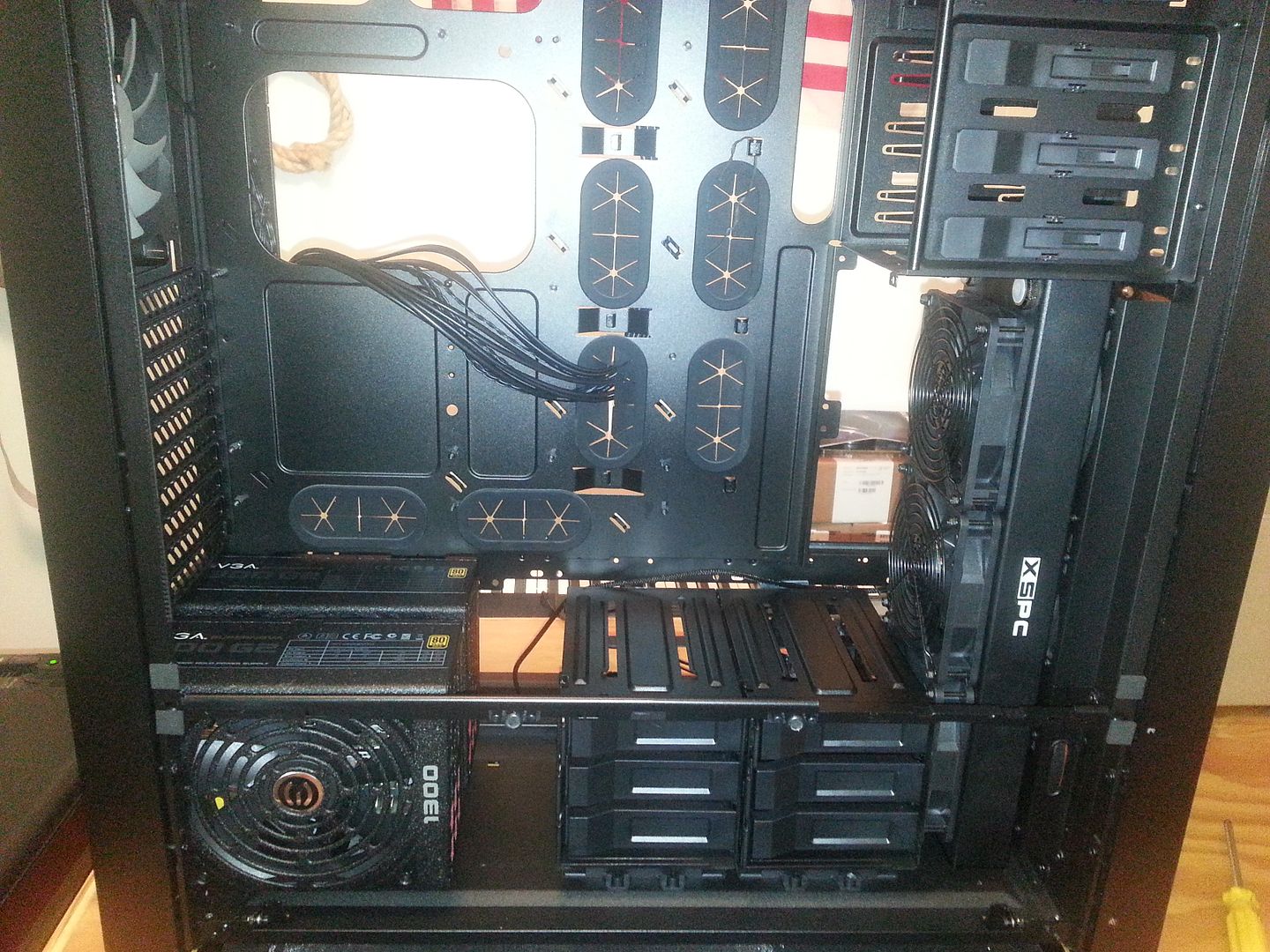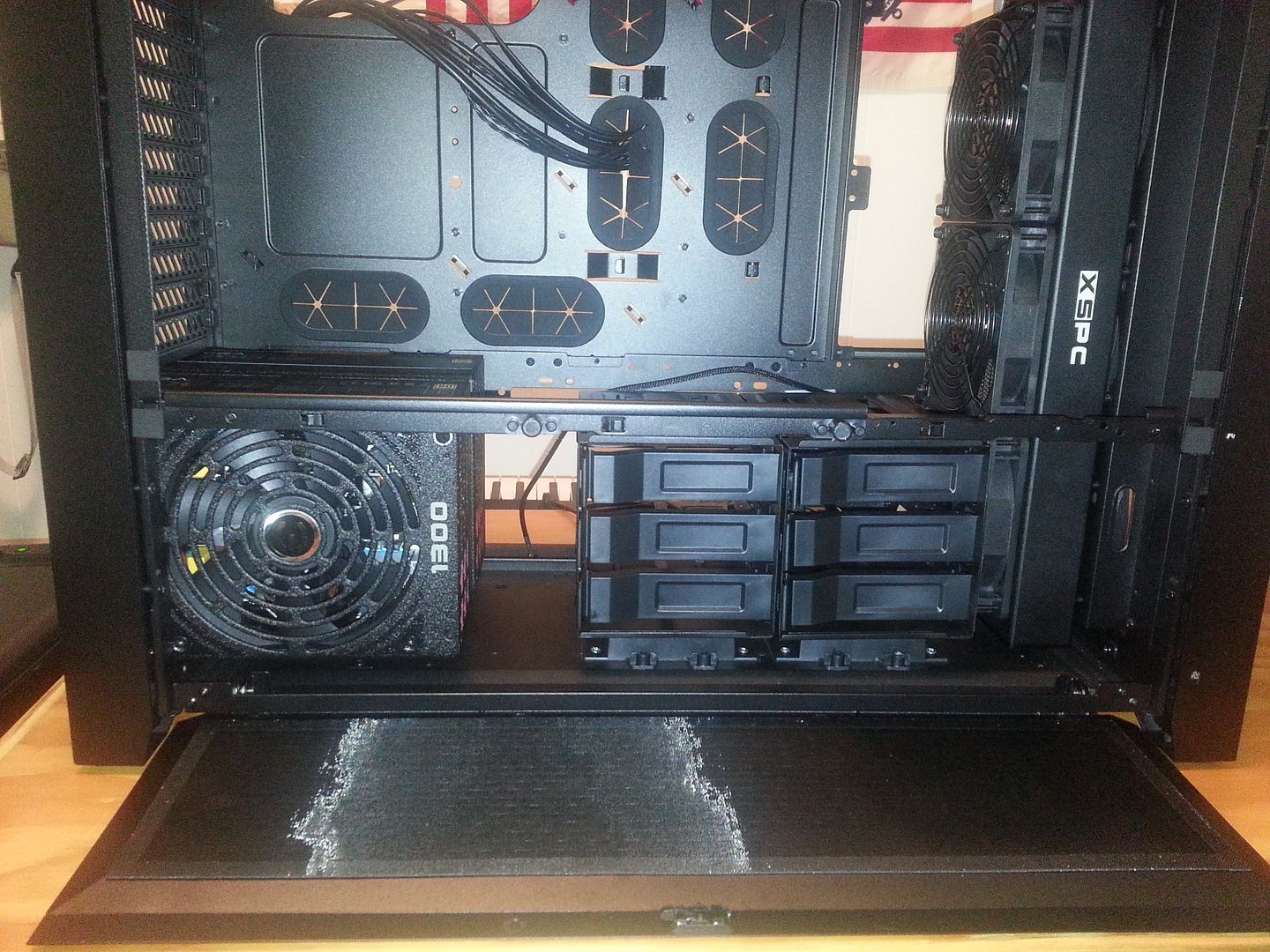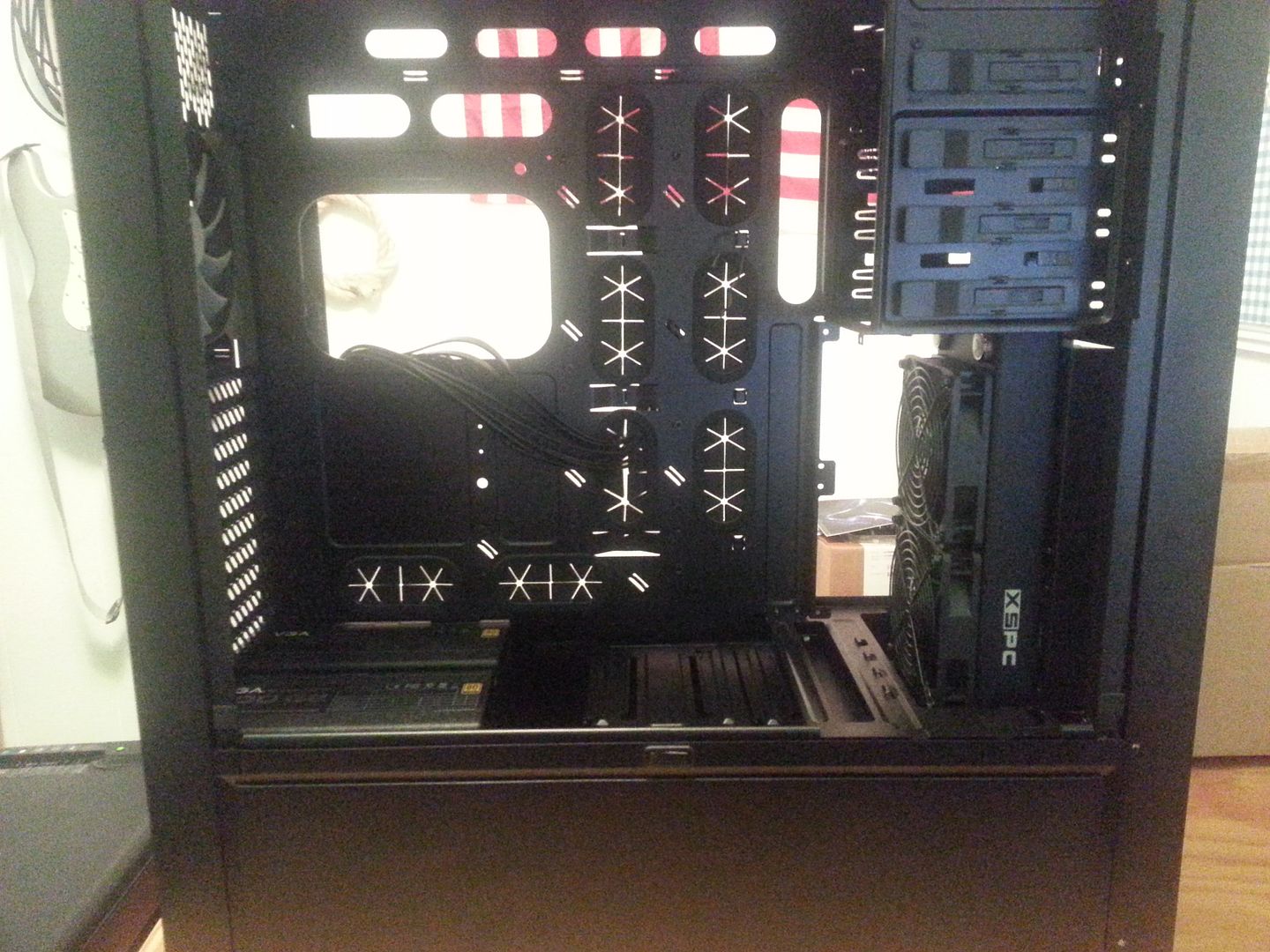 Jumping around a bit, as they aren't in order in my Photobucket
Here are some shots of the Vapor chamber cooler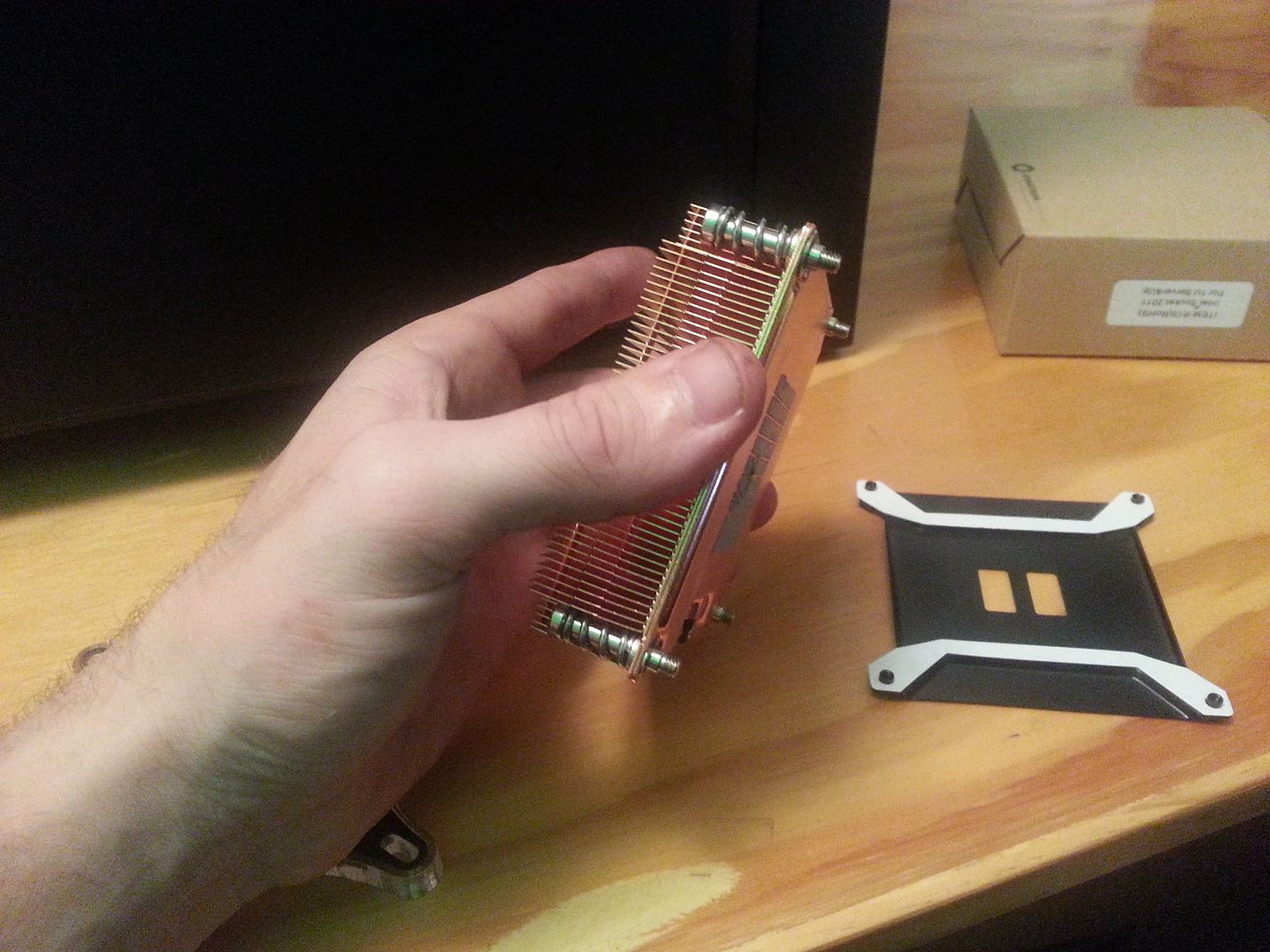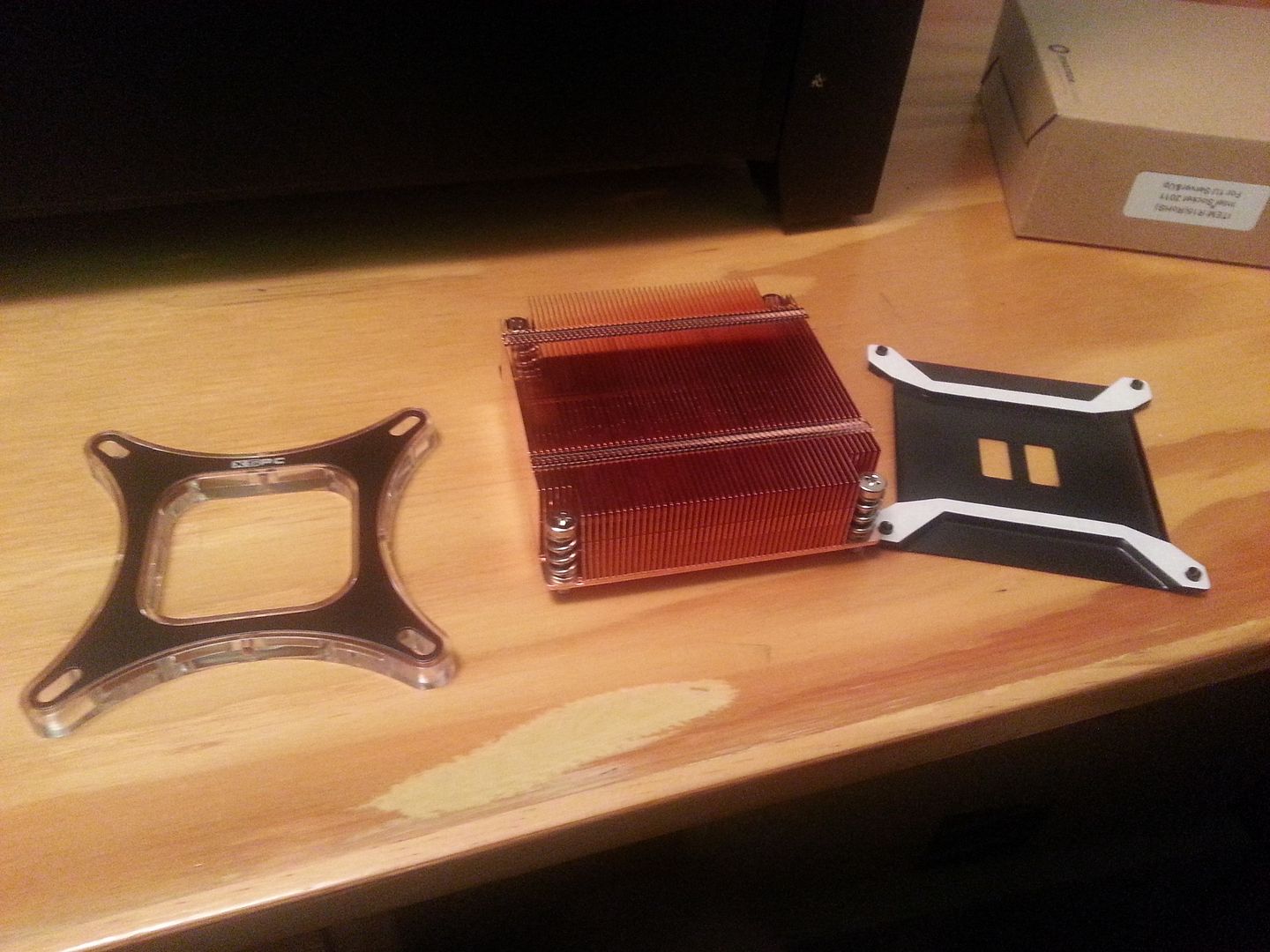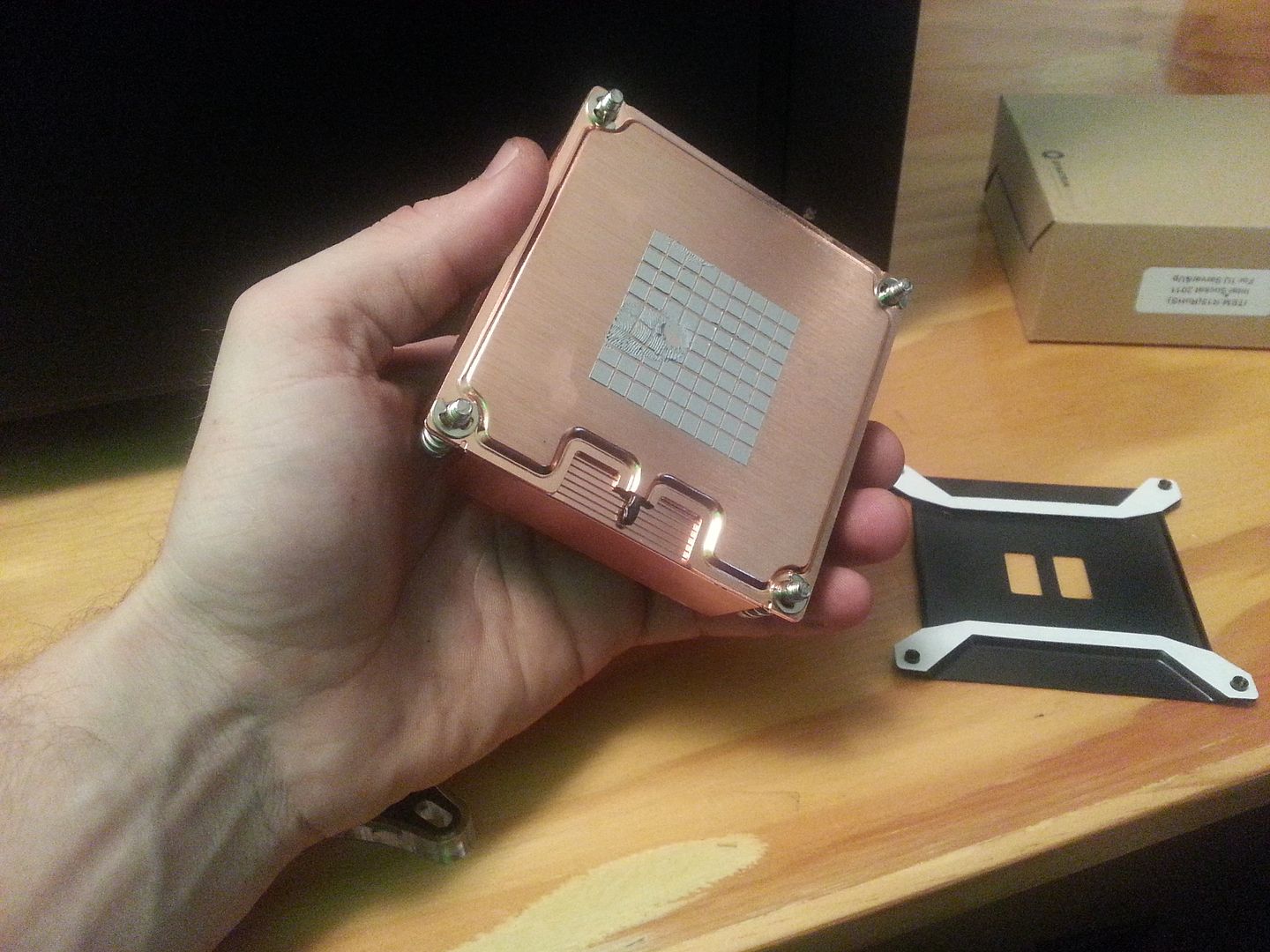 Lots of sleeving for later....
Time for some backplate cutting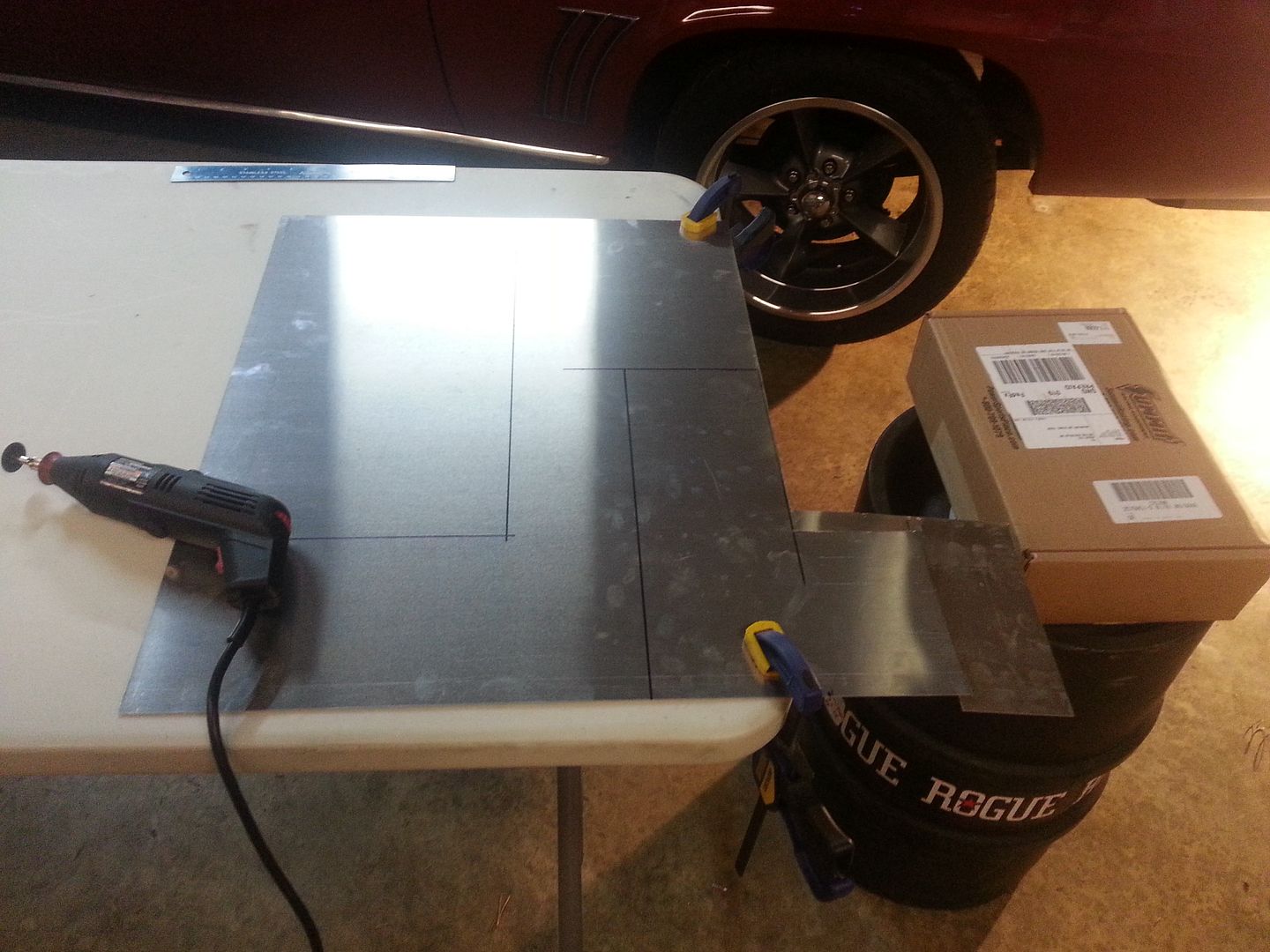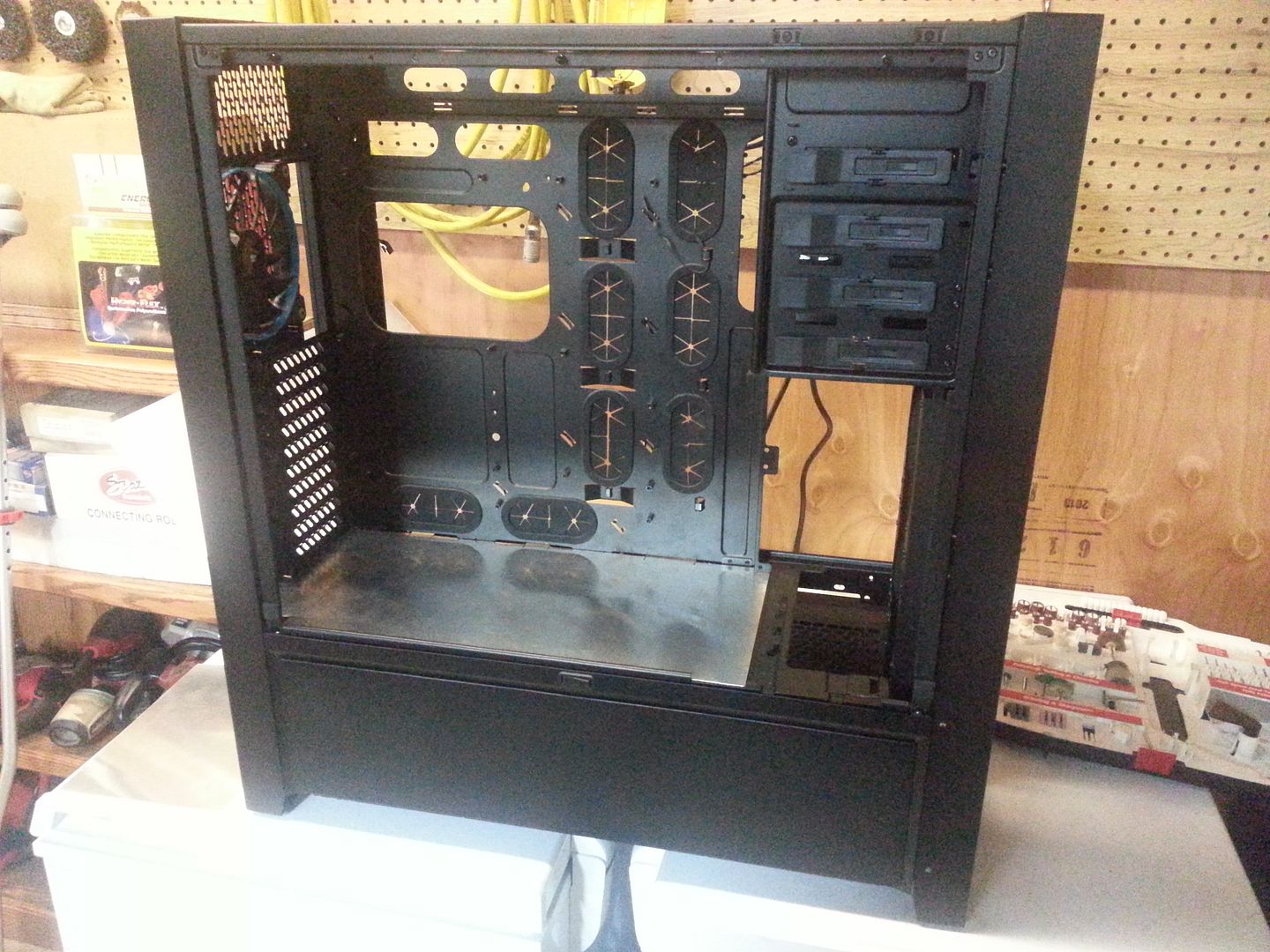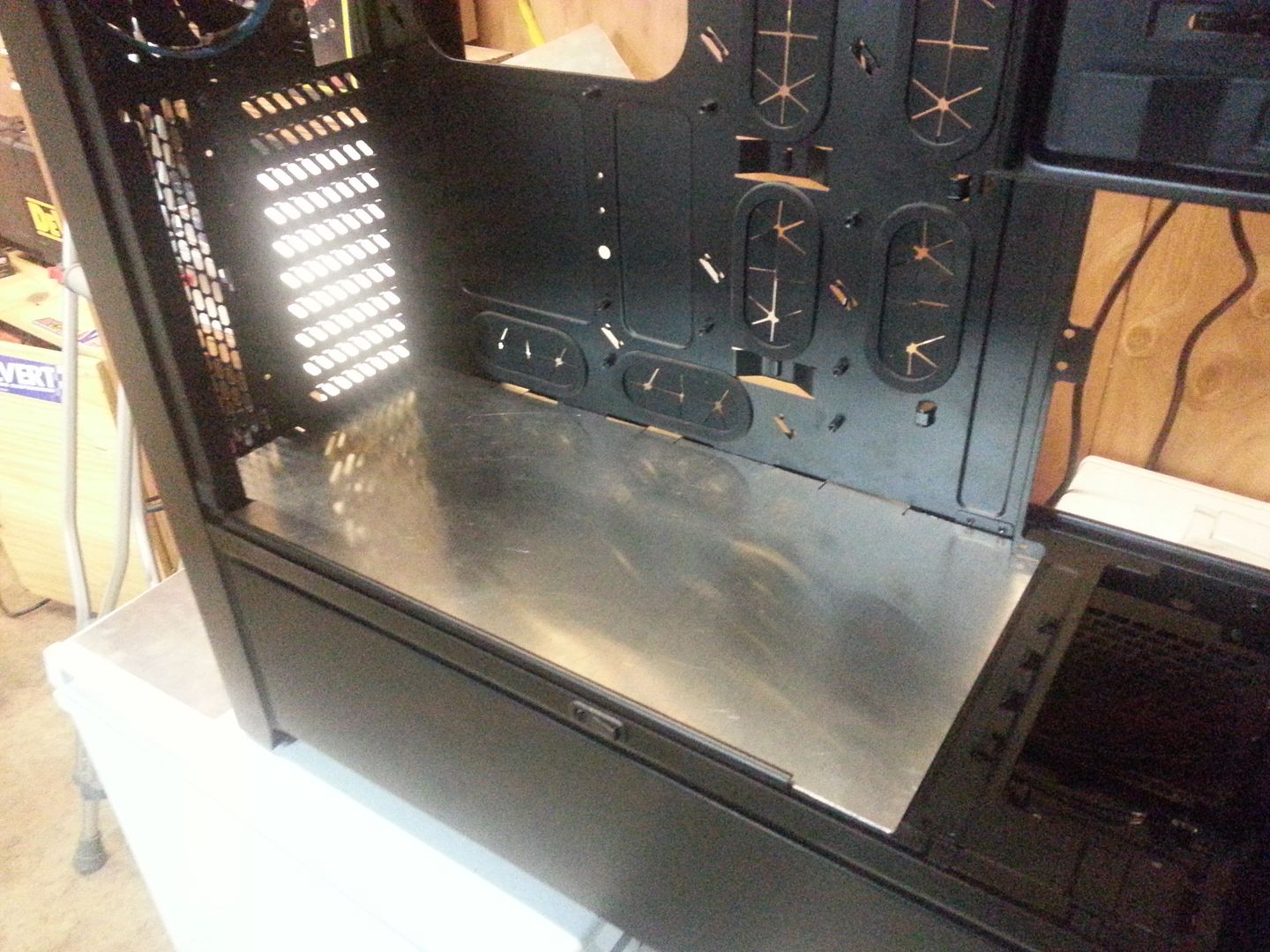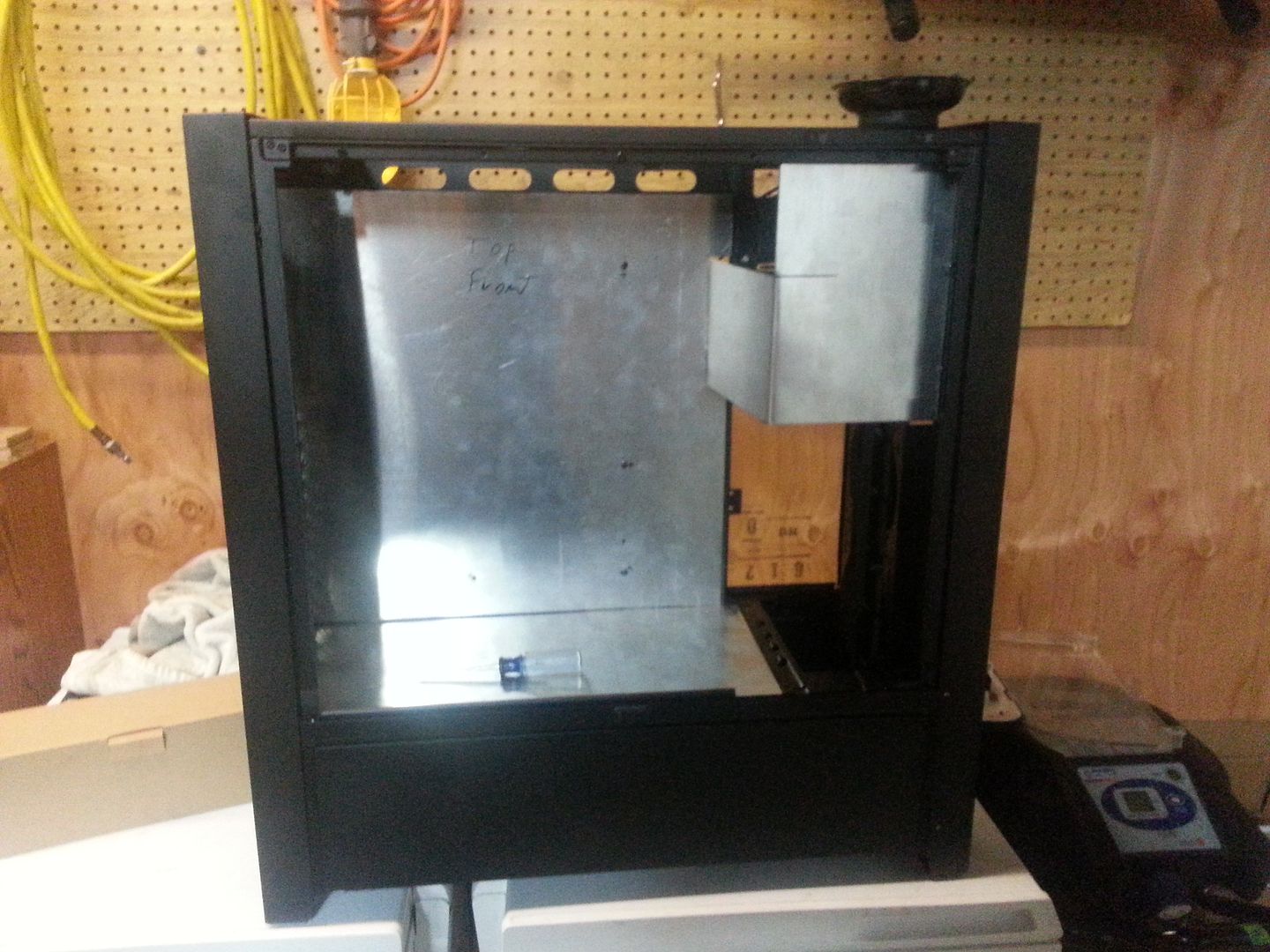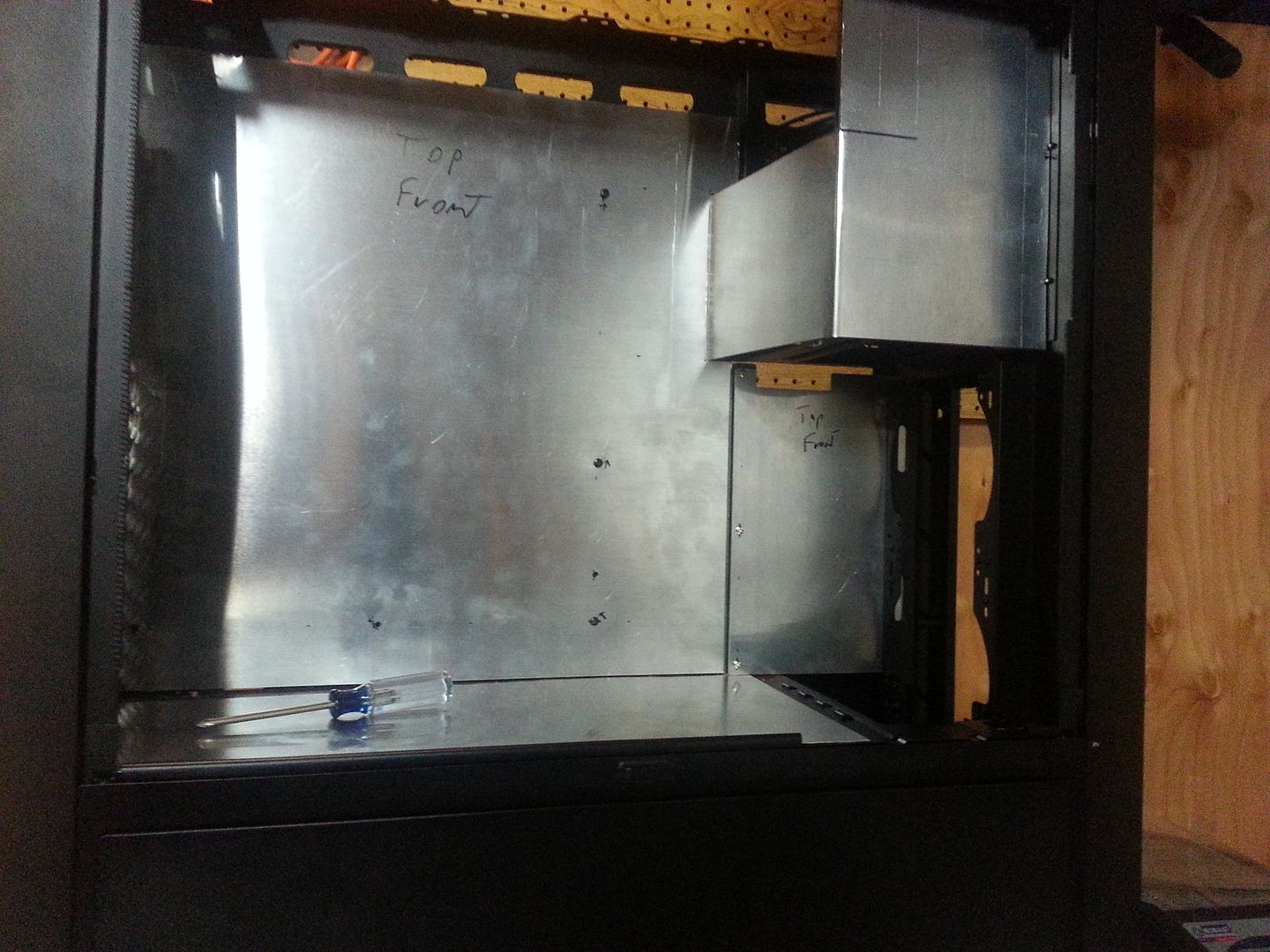 Looking good, so time to move on to the custom light box. It consists of a frame of angle aluminum, a bottom layer of mirror, 2 layers of glass, and a frosted top cut from a cutting board!!! And of course a strip of white led's around the inside edge wired to a molex connector.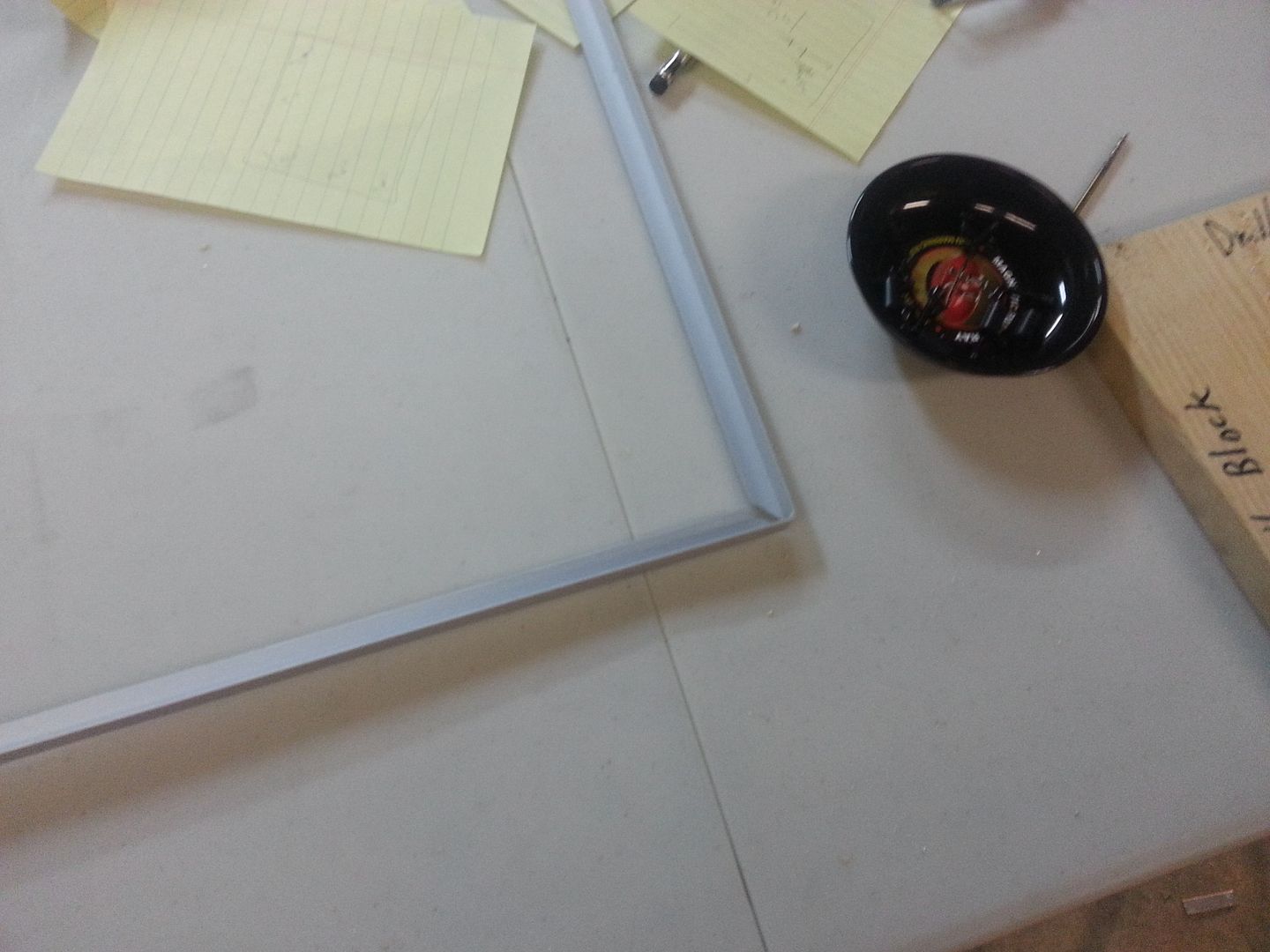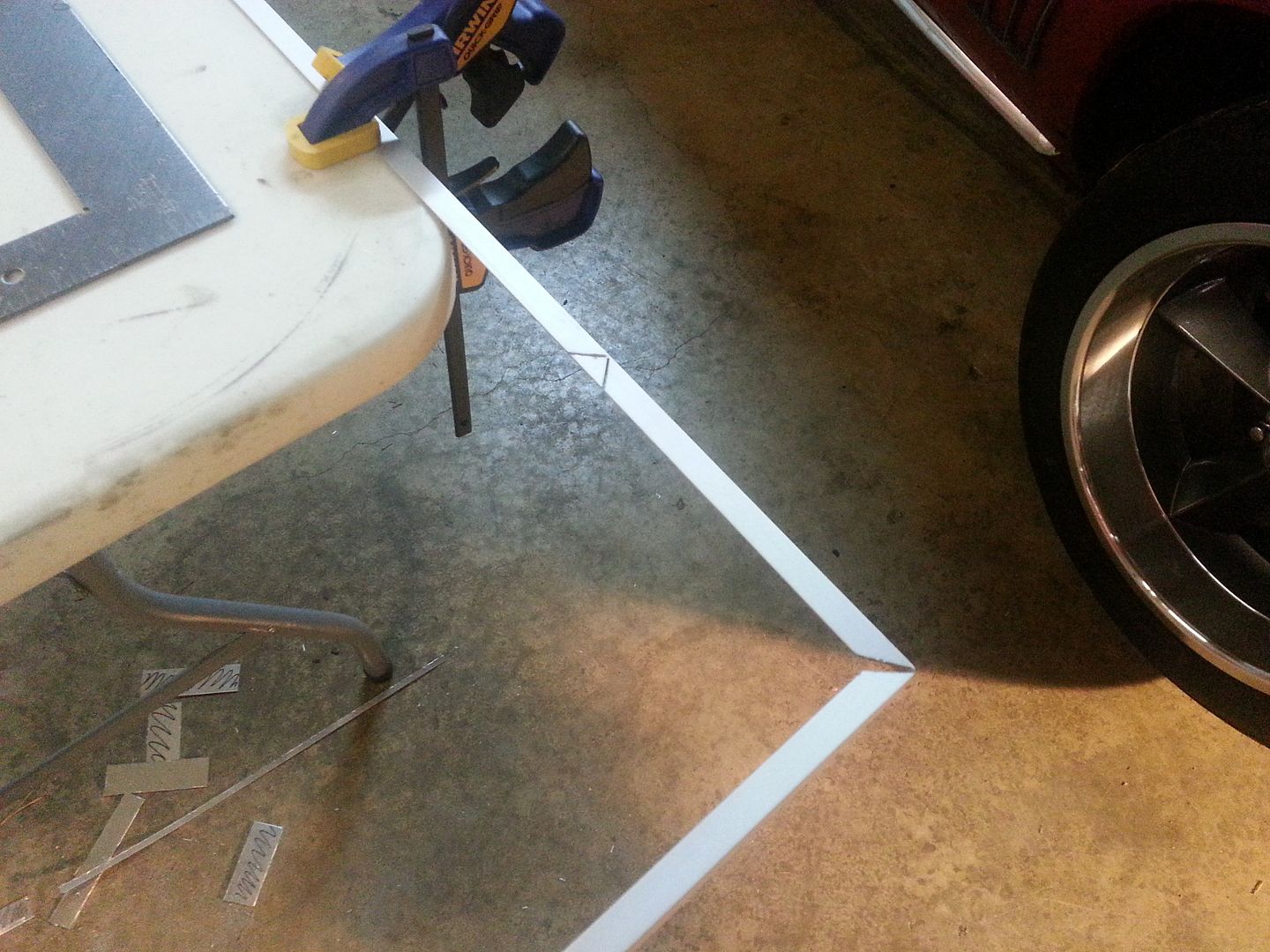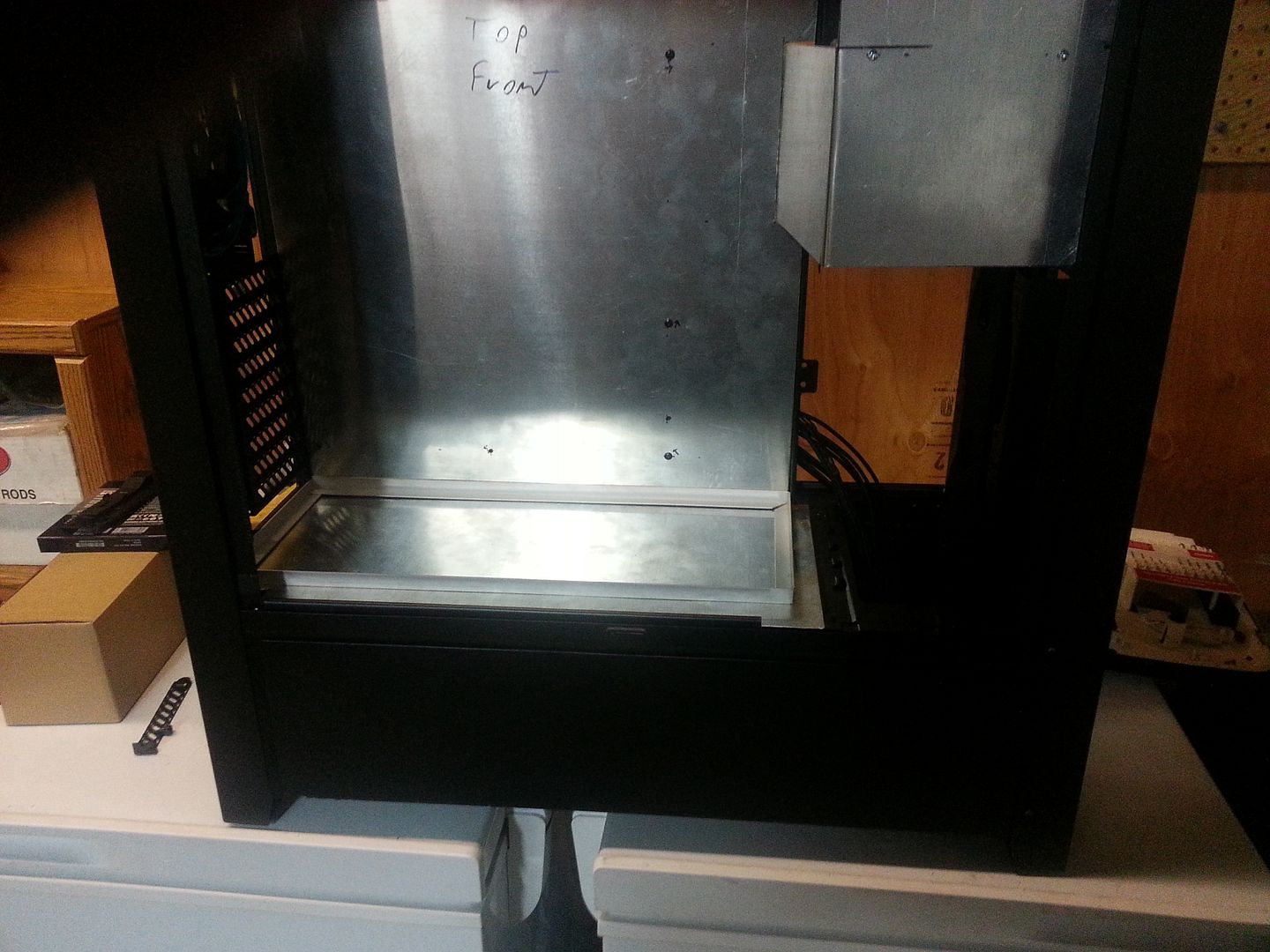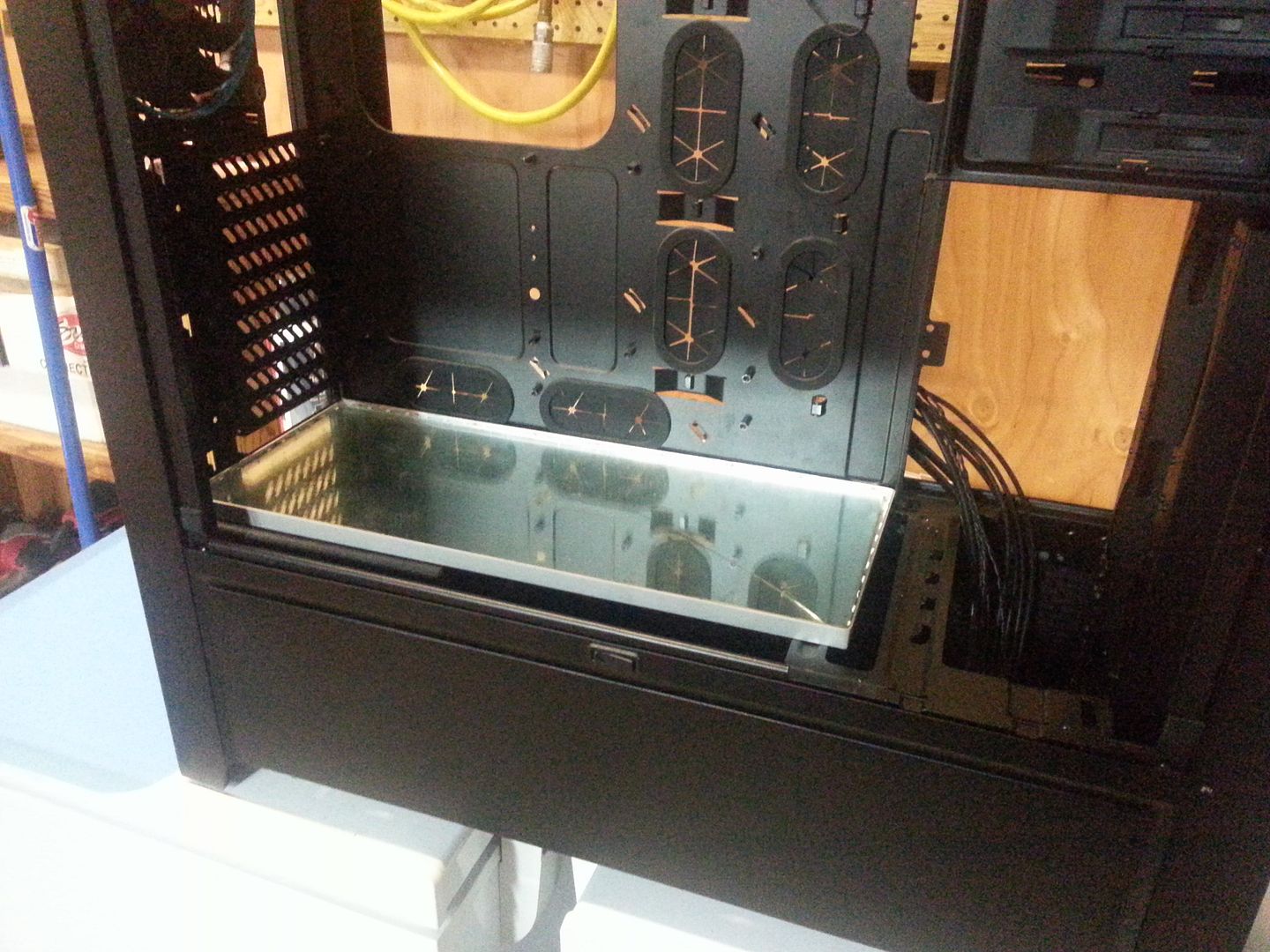 Electrical tape rocks...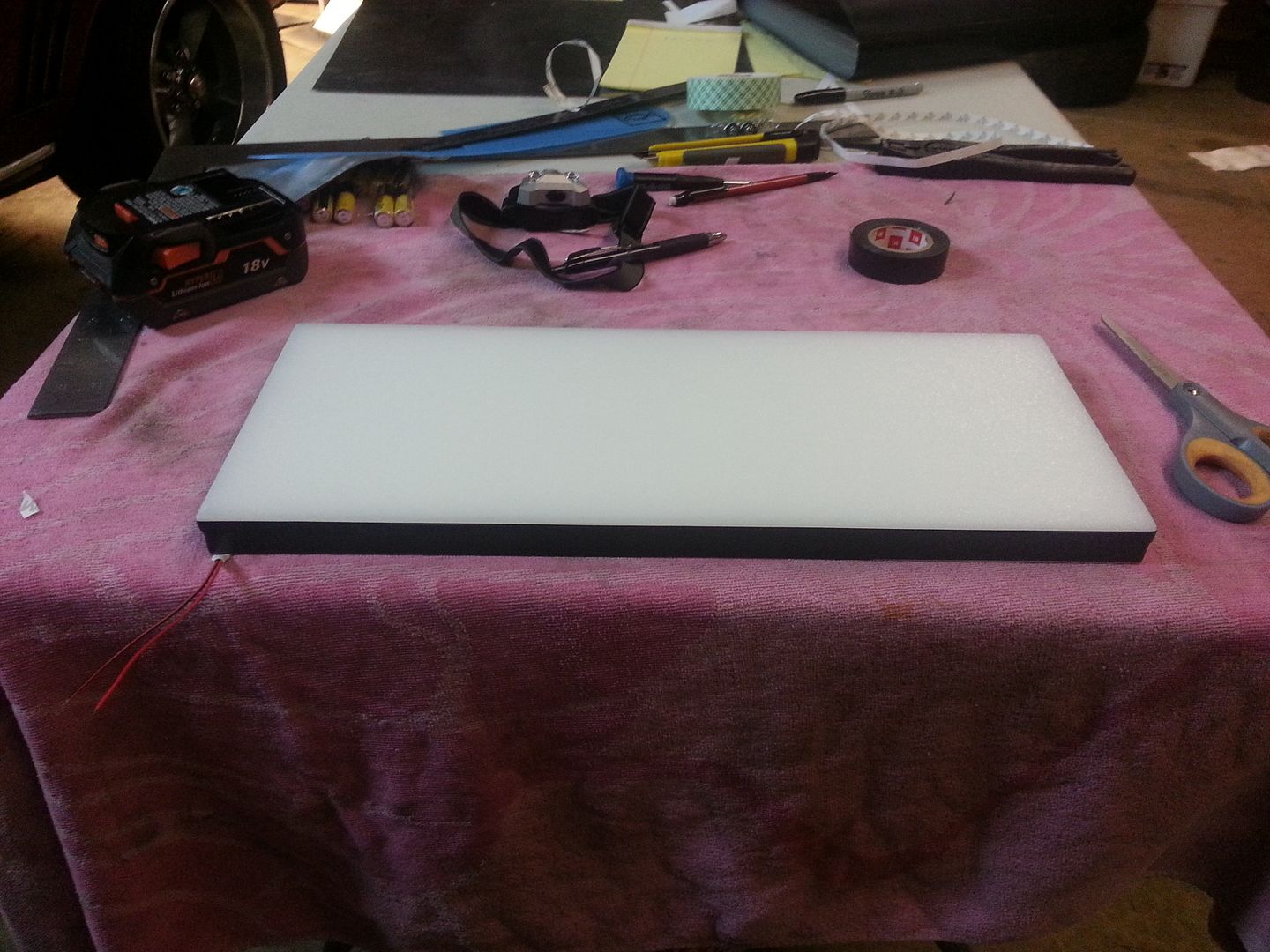 A little paint thrown on some parts...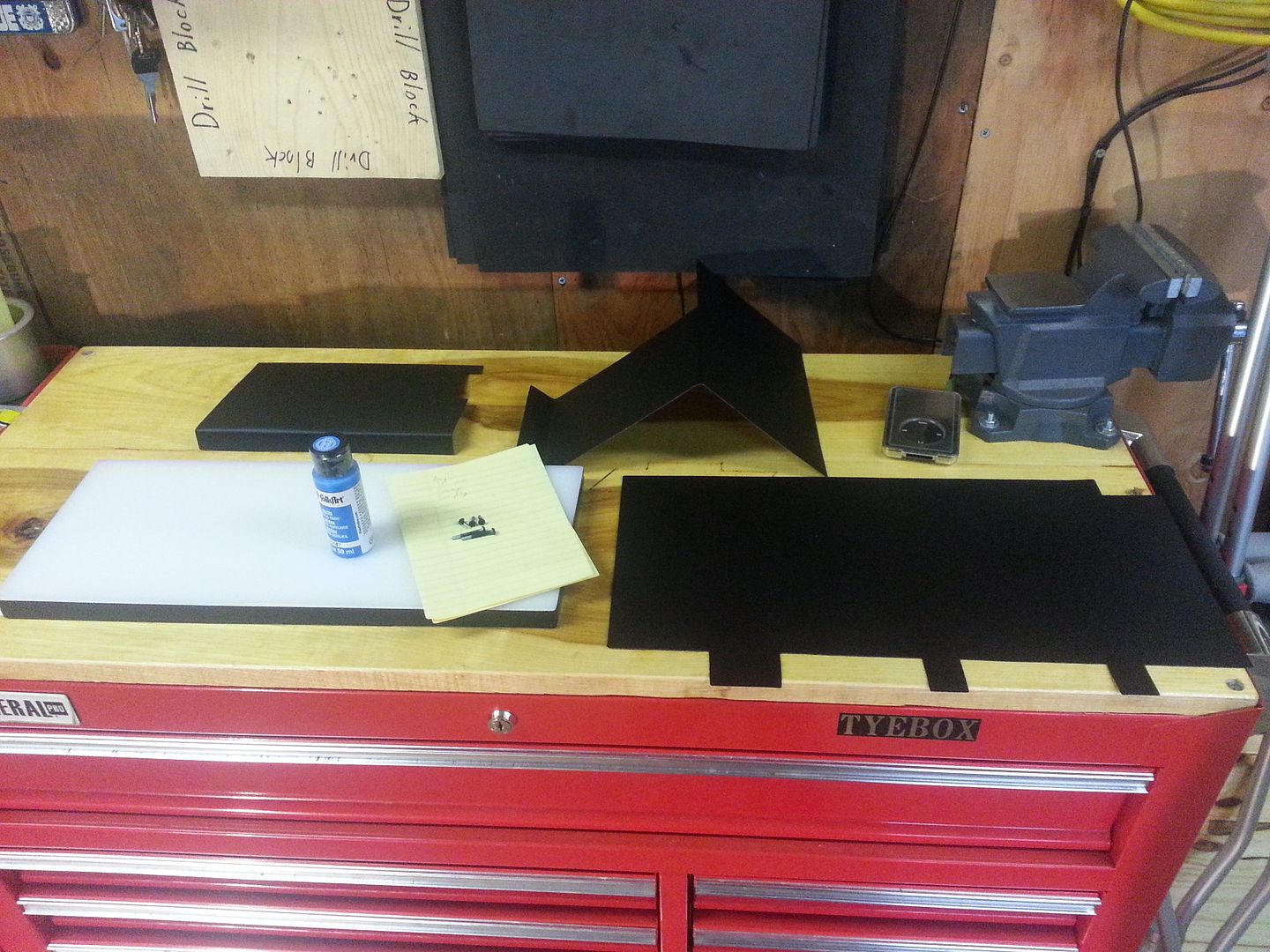 The lightbox lives!!!!
Top 480 rad test fitting with some plates installed.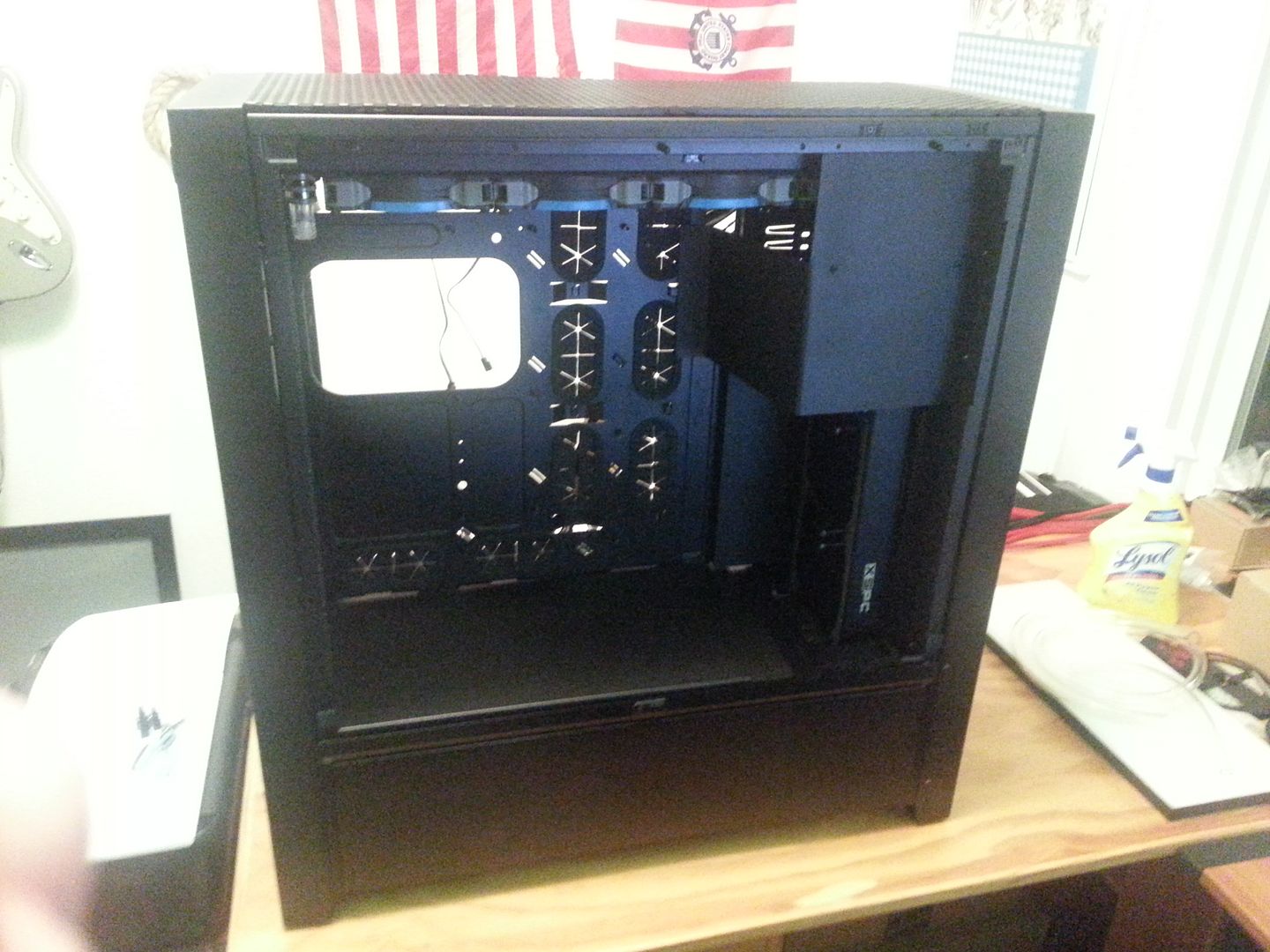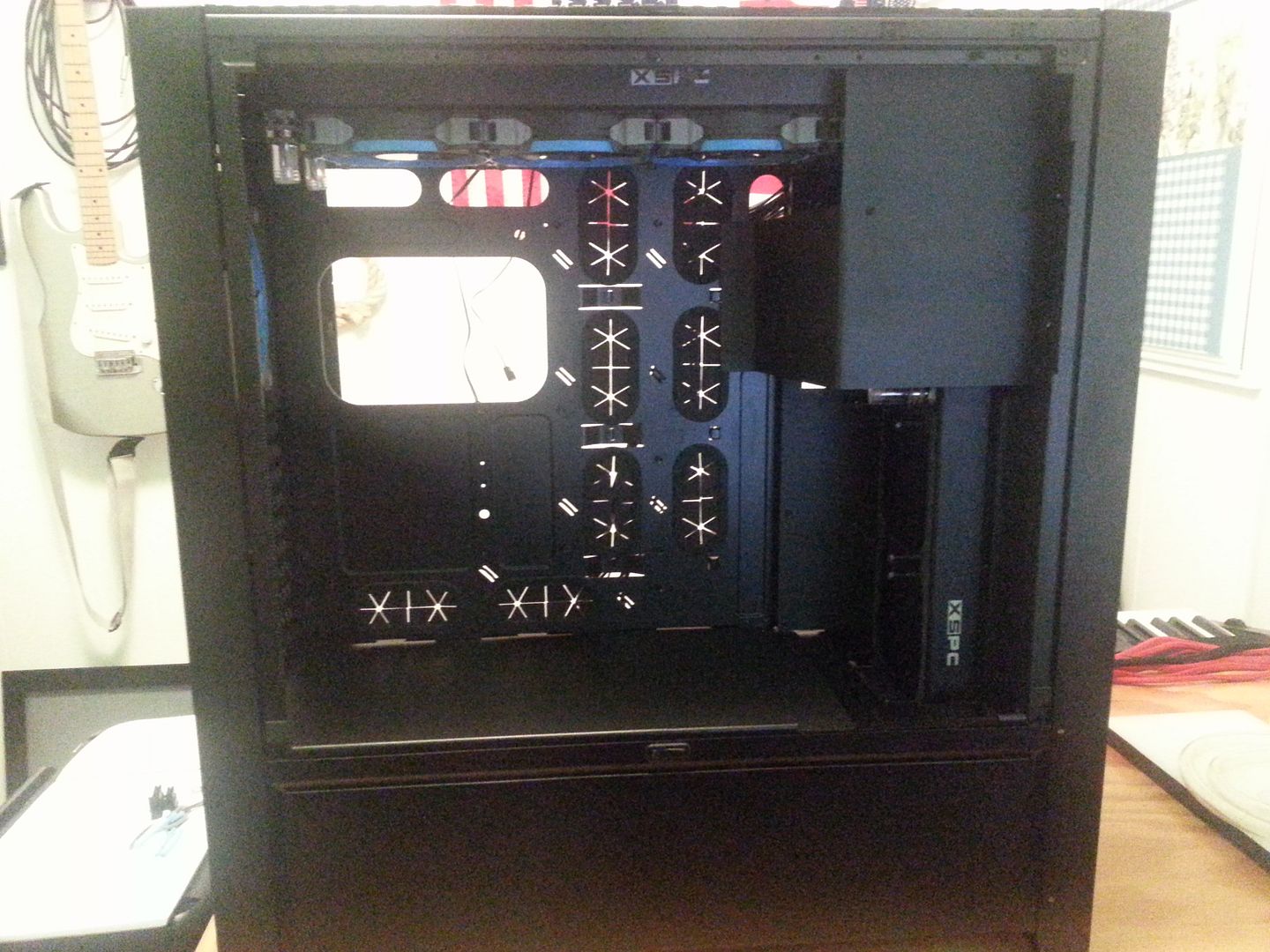 I really like how at some angles you can see the difference in brightness towards the edges of the box.
Sleeving the 24pin connector. It is a pain to do on the EVGA 1300w PSU's because of the in-line capacitors. The corsair PSU's dont have them, but they are way more expensive. I got each of my 1300W G2's for $140 each! Compared to ~$400ish for a single Corsair 1200w platinum, I'll take my chances with 2!!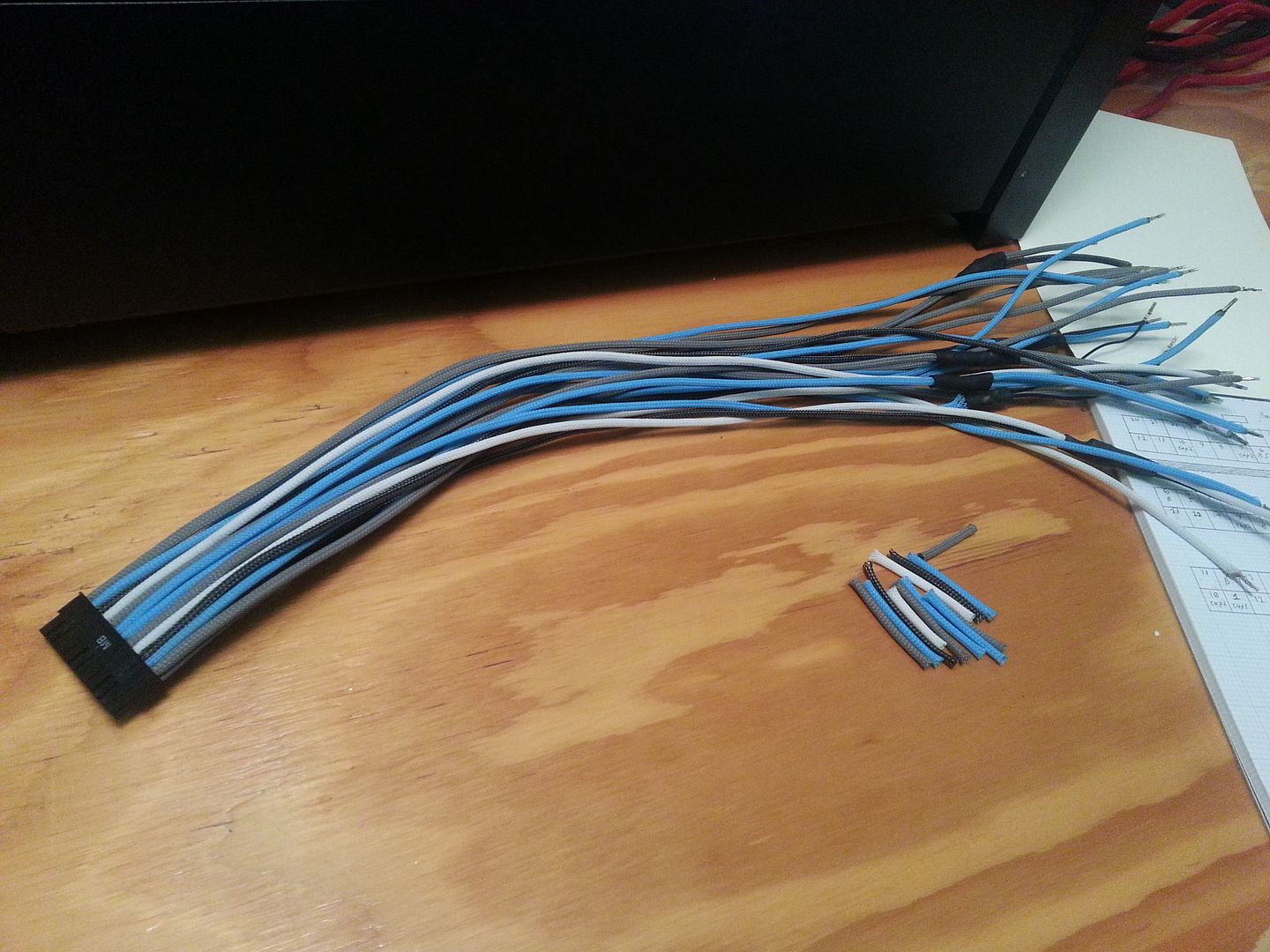 The motherboard.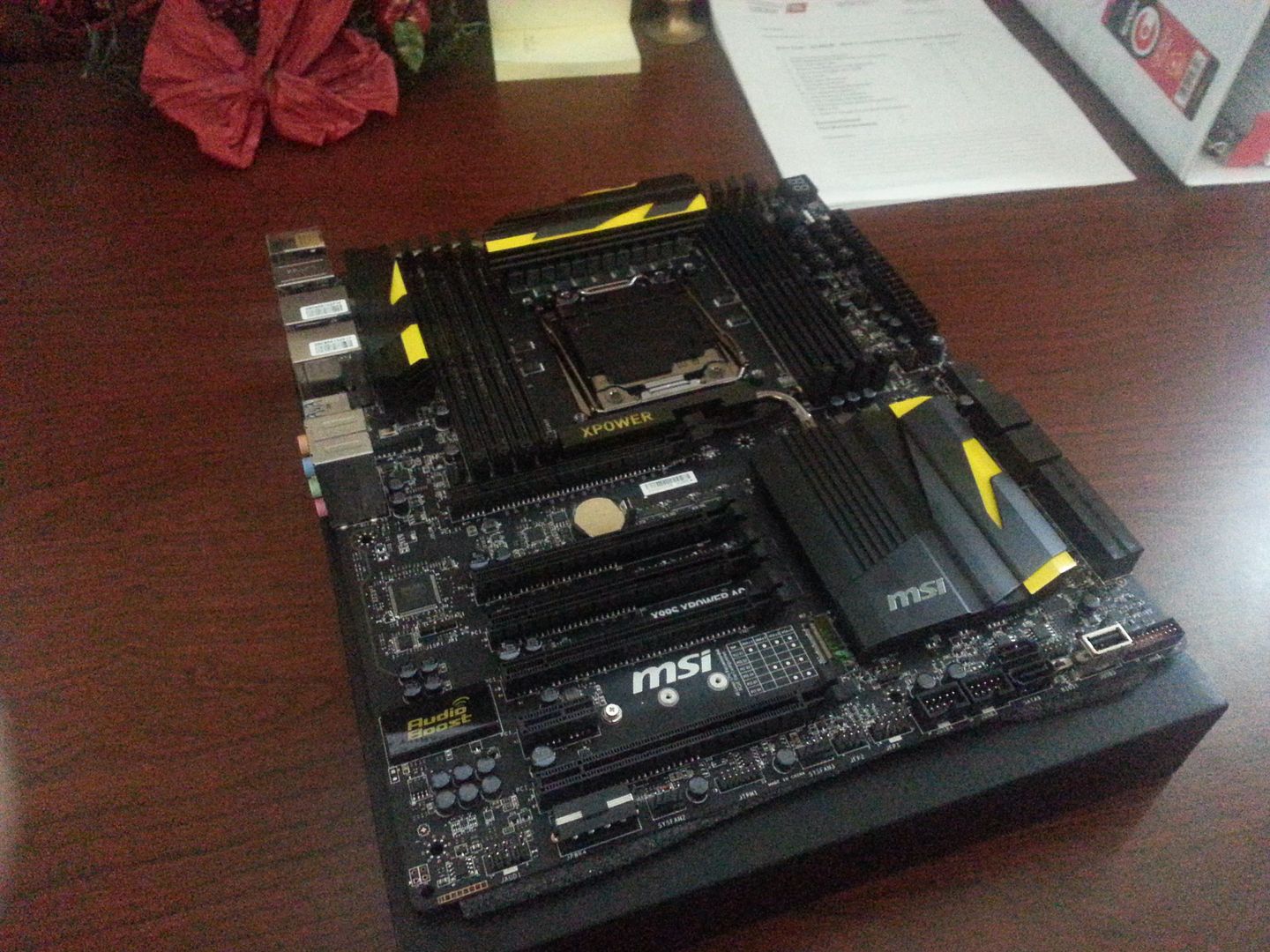 The top heatpipe is getting removed for the waterblock, and the bottom one is getting painted blue.
More pictures
Testing the fit between the board and backplate.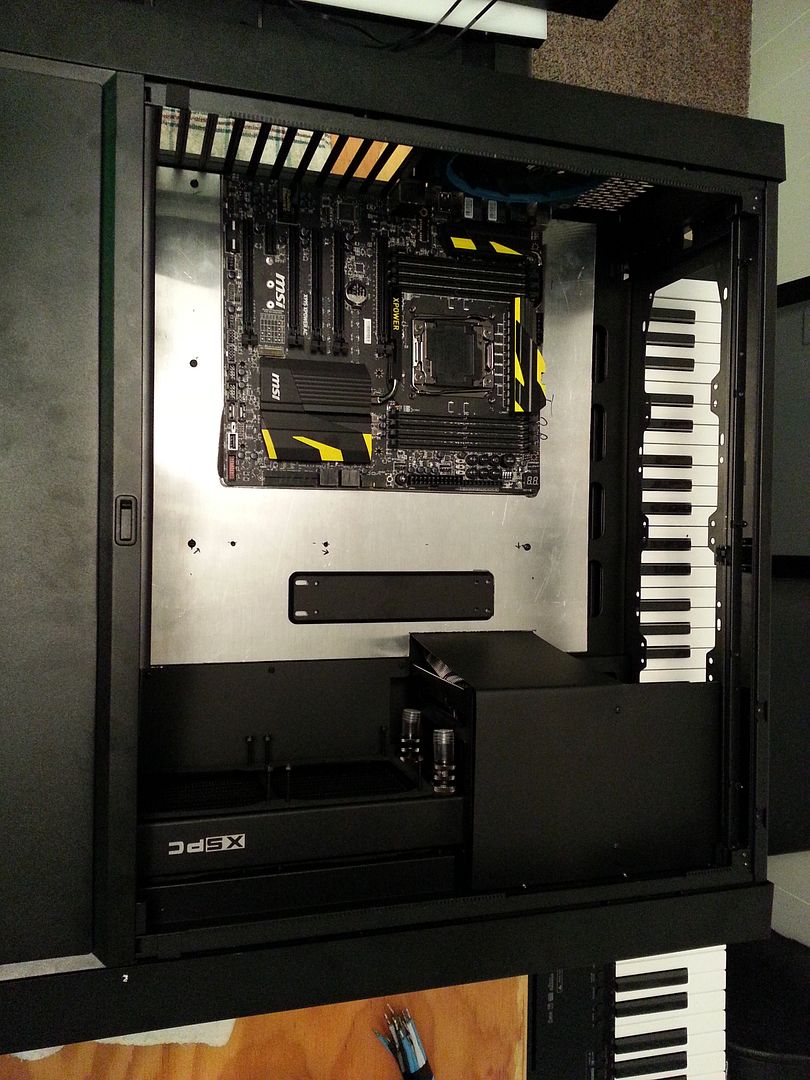 In order to fit GPU's with backplates in the top PCI-E slot, you have to trip the lower tips of the DRAM slots.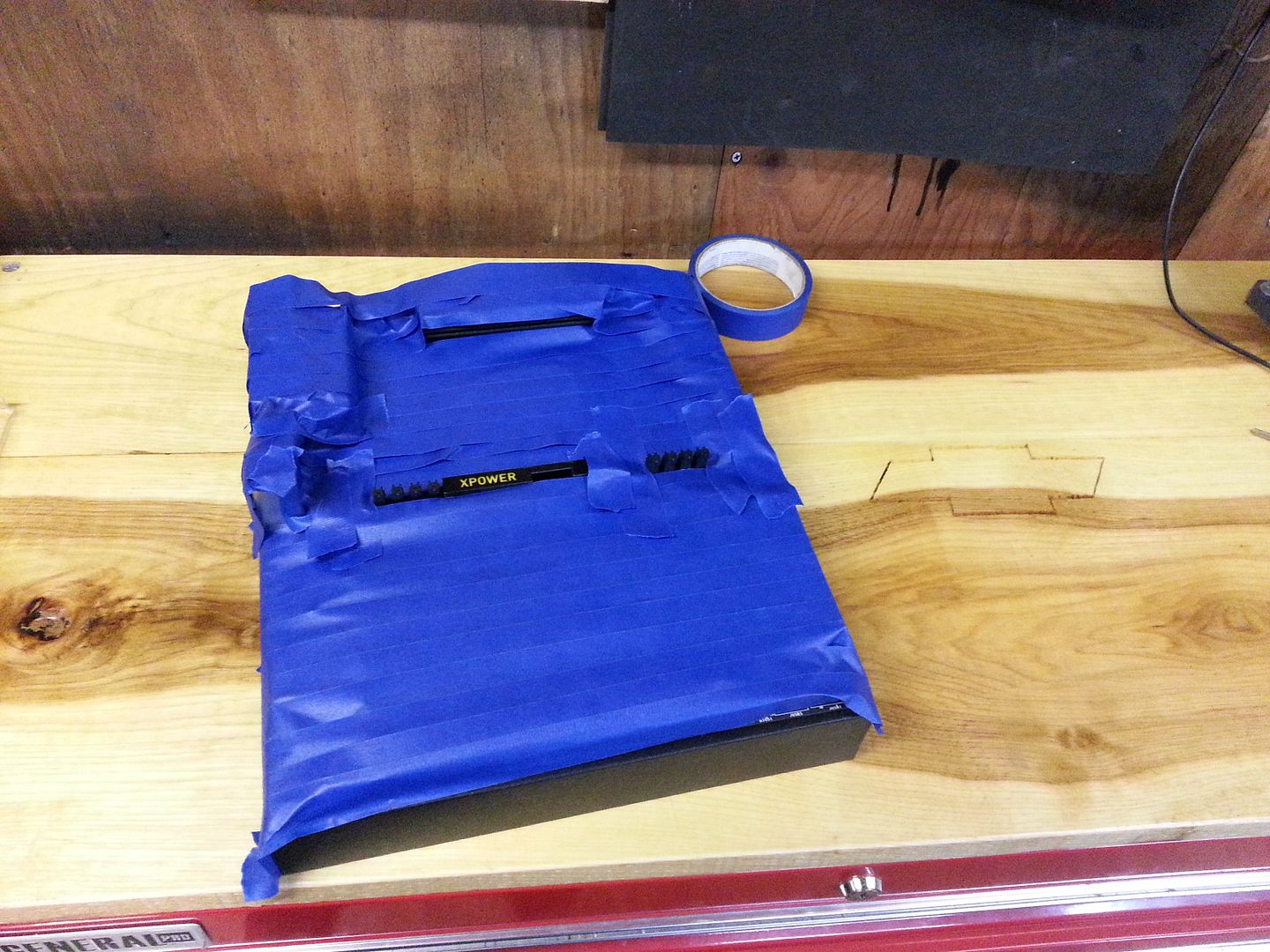 These tips have to go.
More mounting and fitting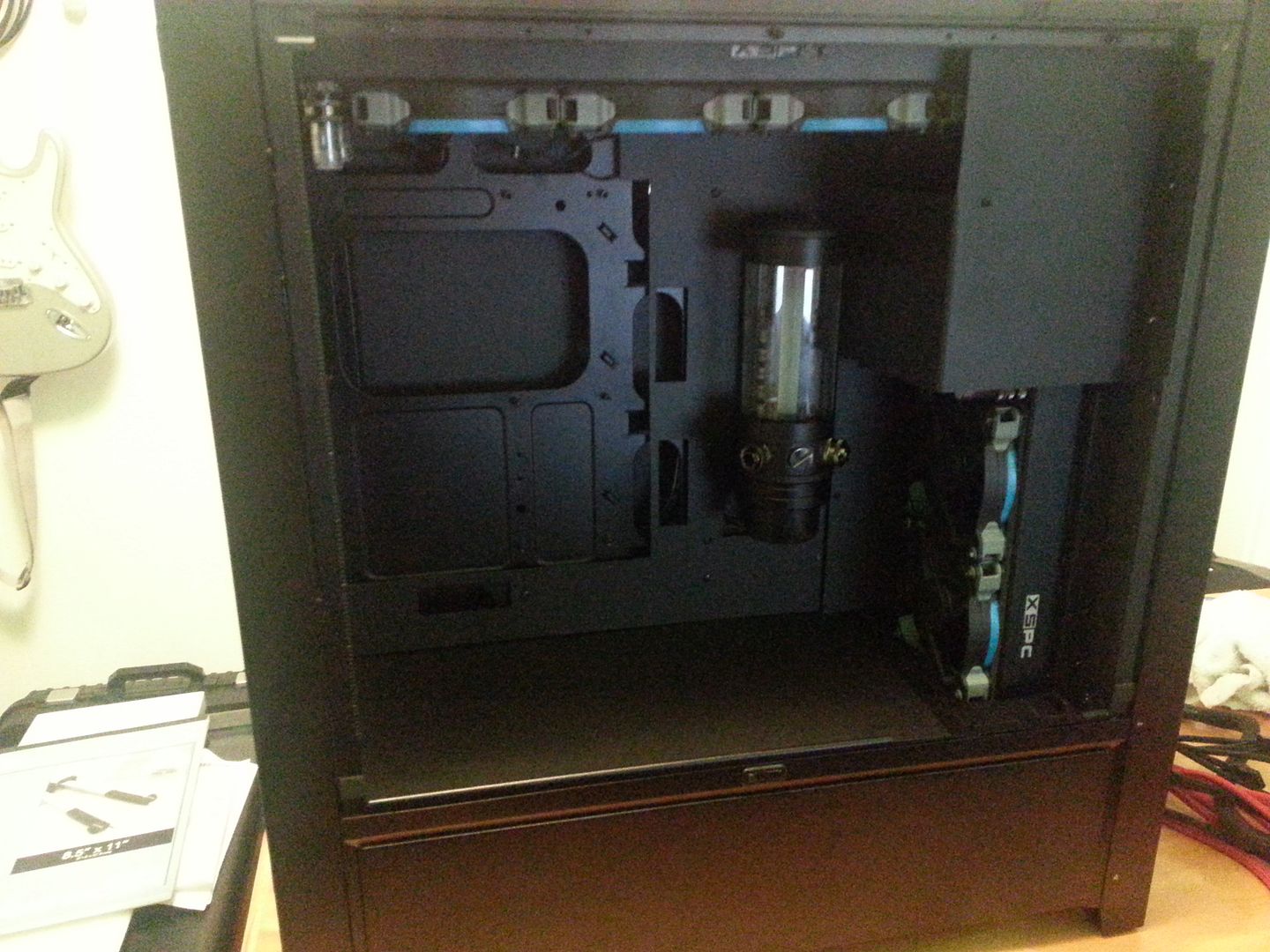 First coat of paint. I tried to paint in the recessed lines on the I/O cover but couldn't get it to work well, so it stayed black.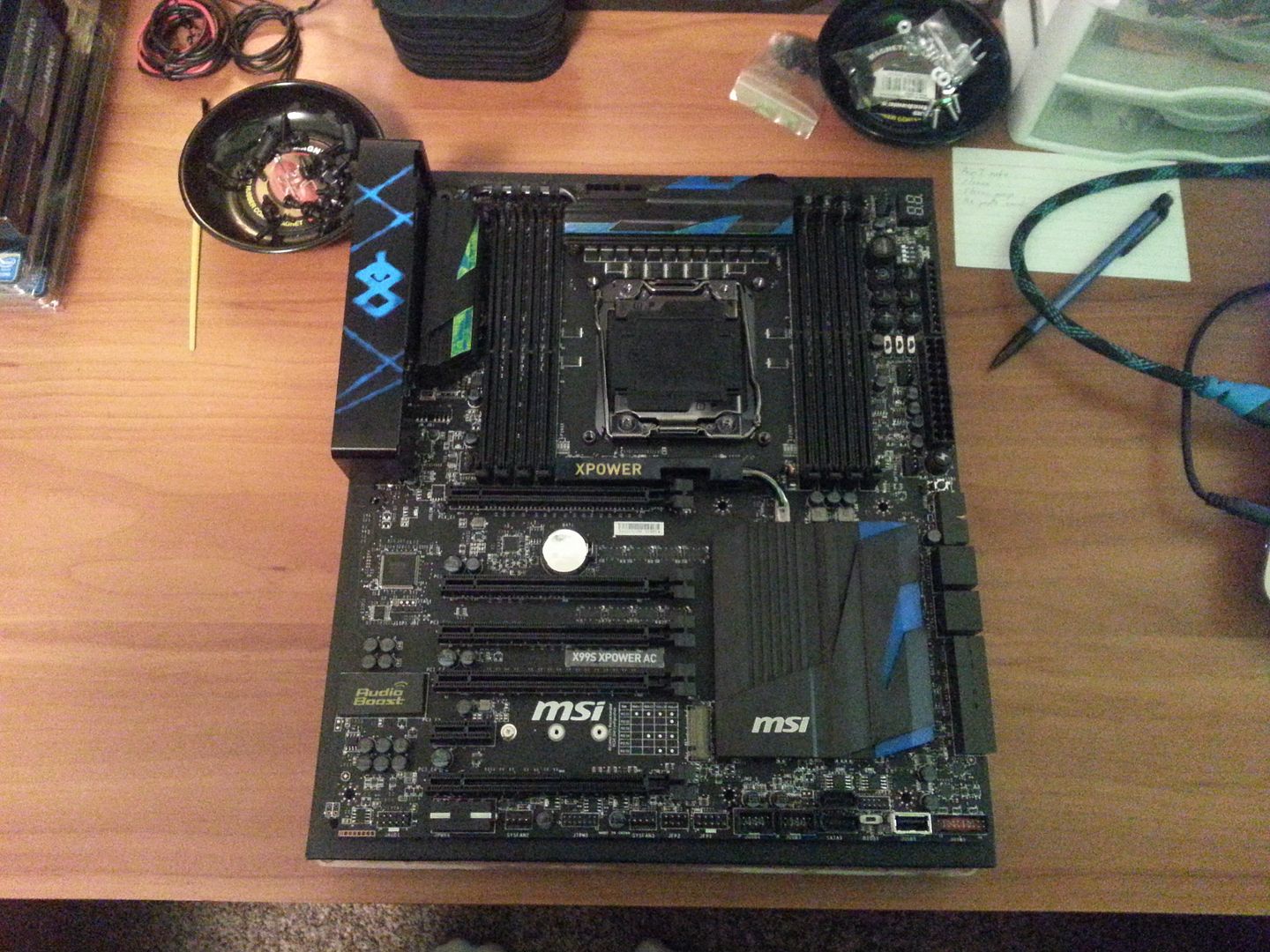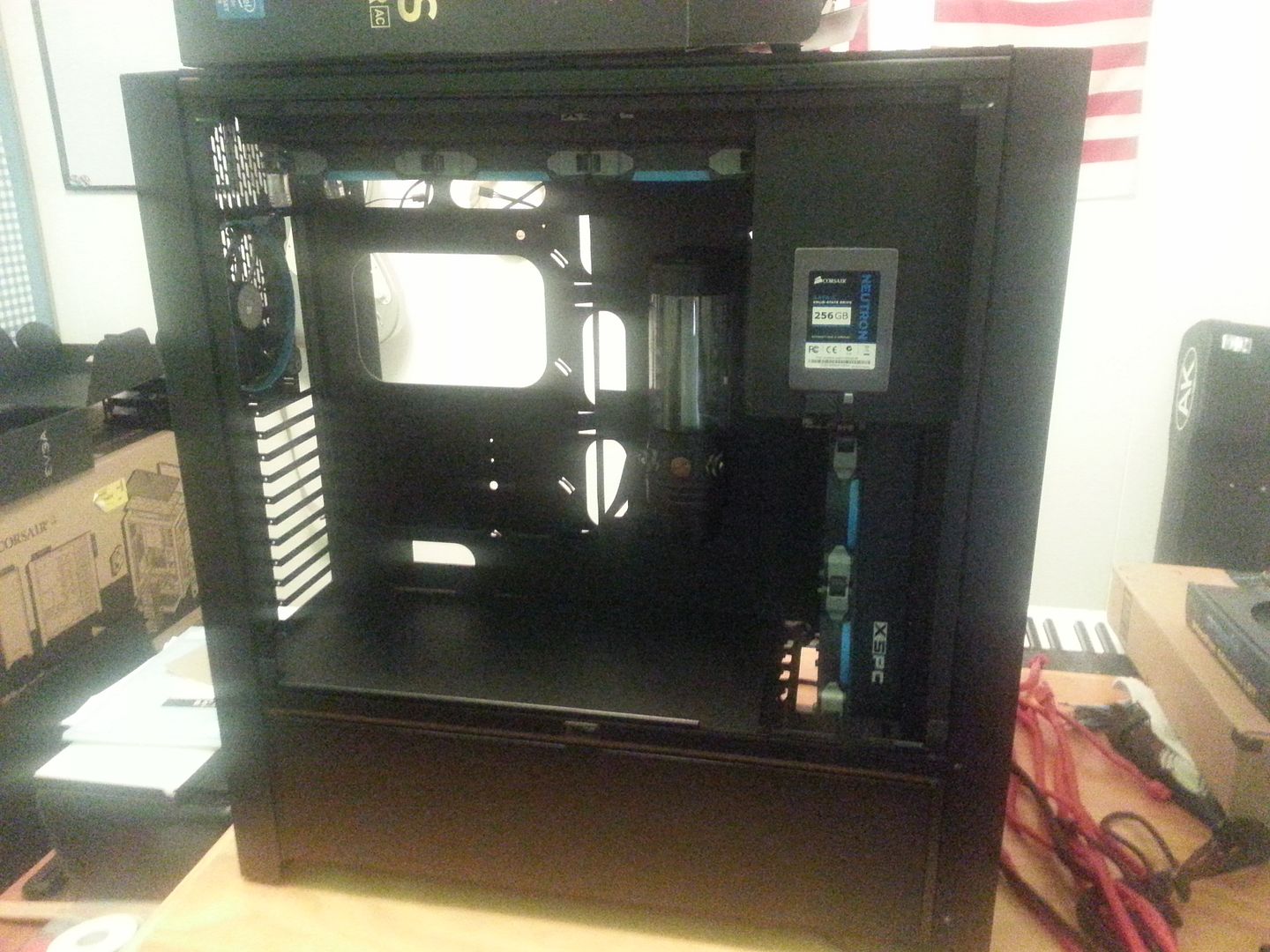 Some extra cooling for the CPU. I don't recall which CPU brace I used to mount this cooler on, but using some thermal pads of the right thickness and position allows it to mount up perfectly. Does it make a huge difference? Probably not, but it was easy and "cool". Pun intended.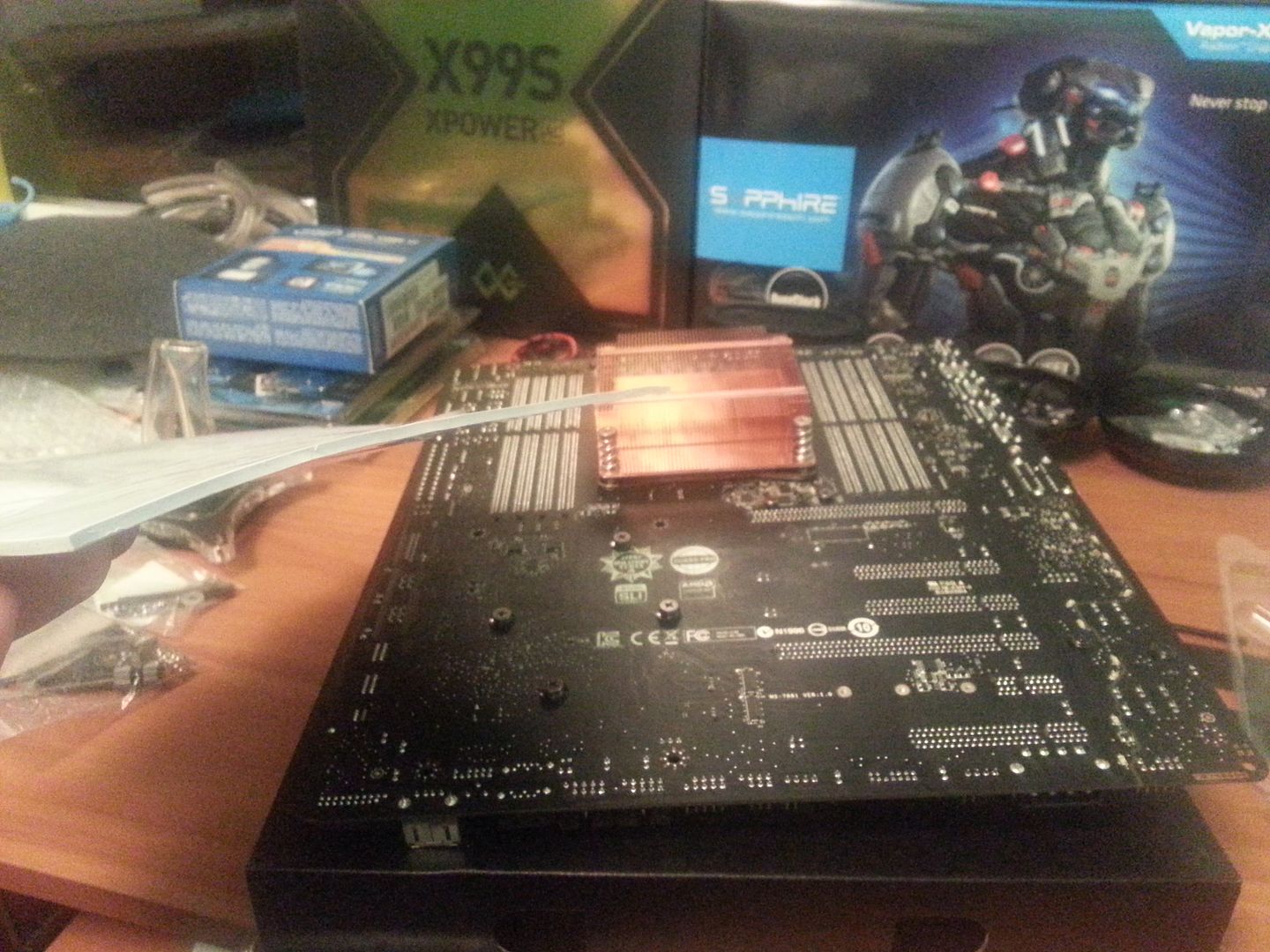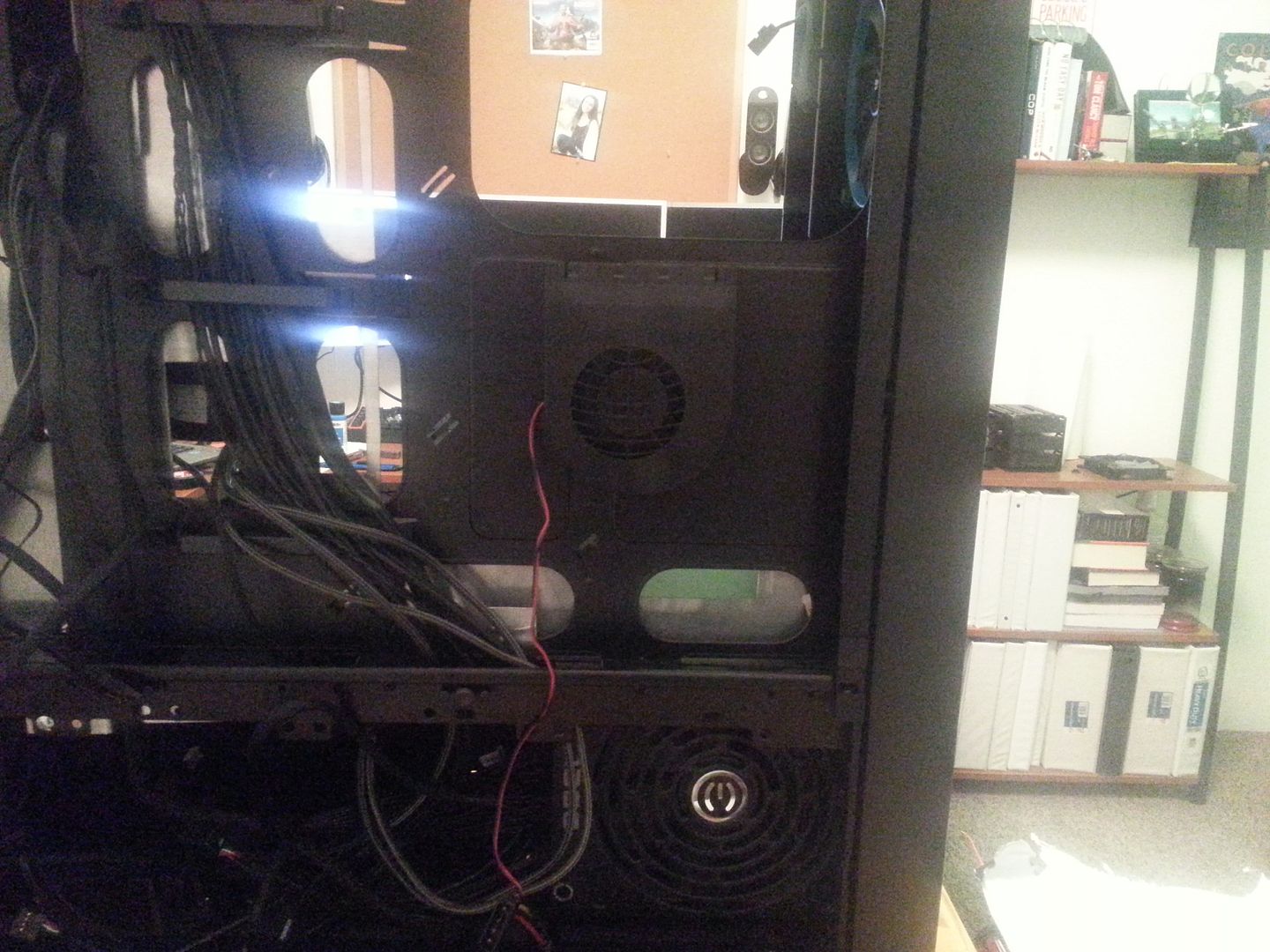 Some naked VRM's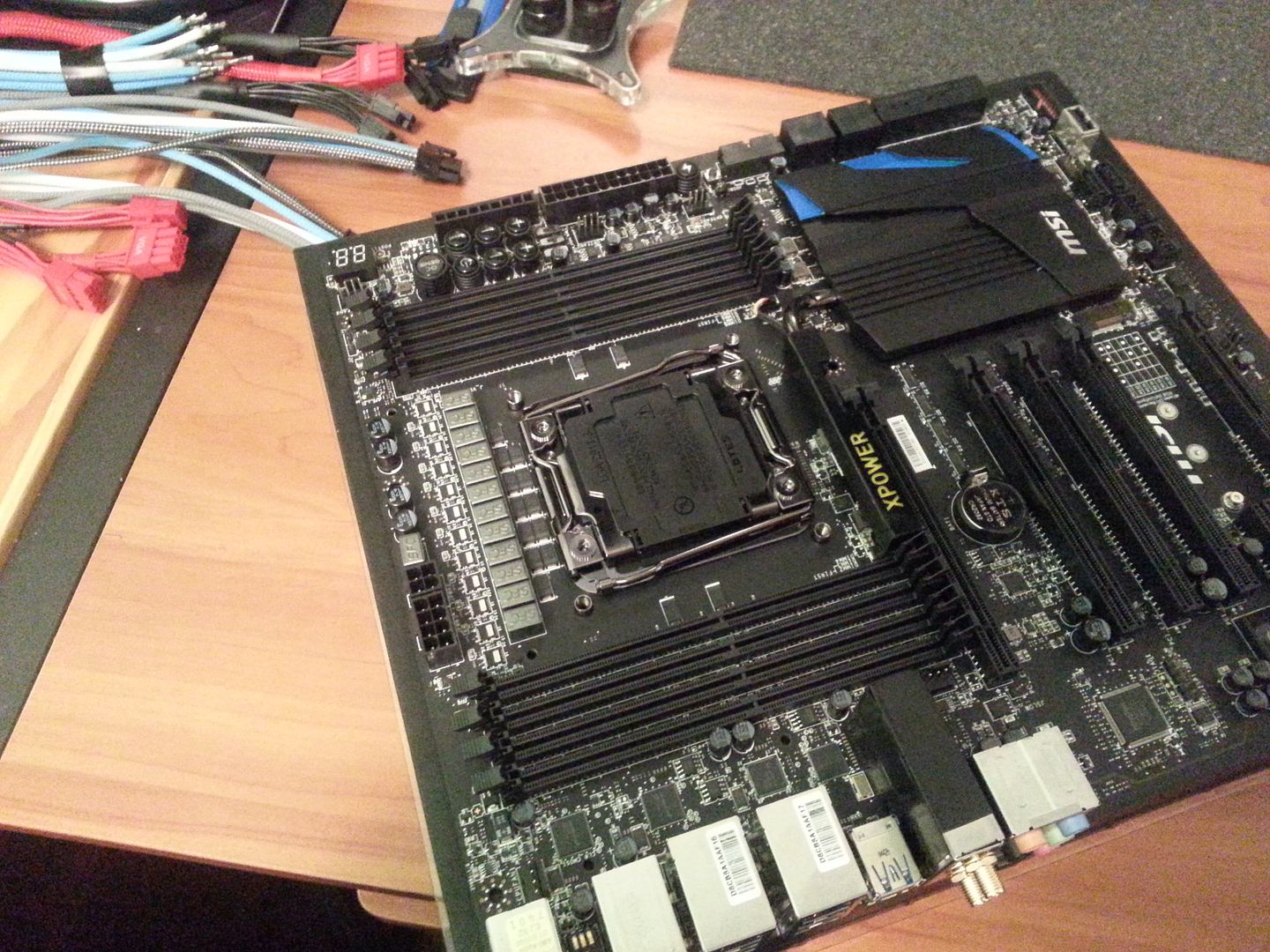 EK block mounted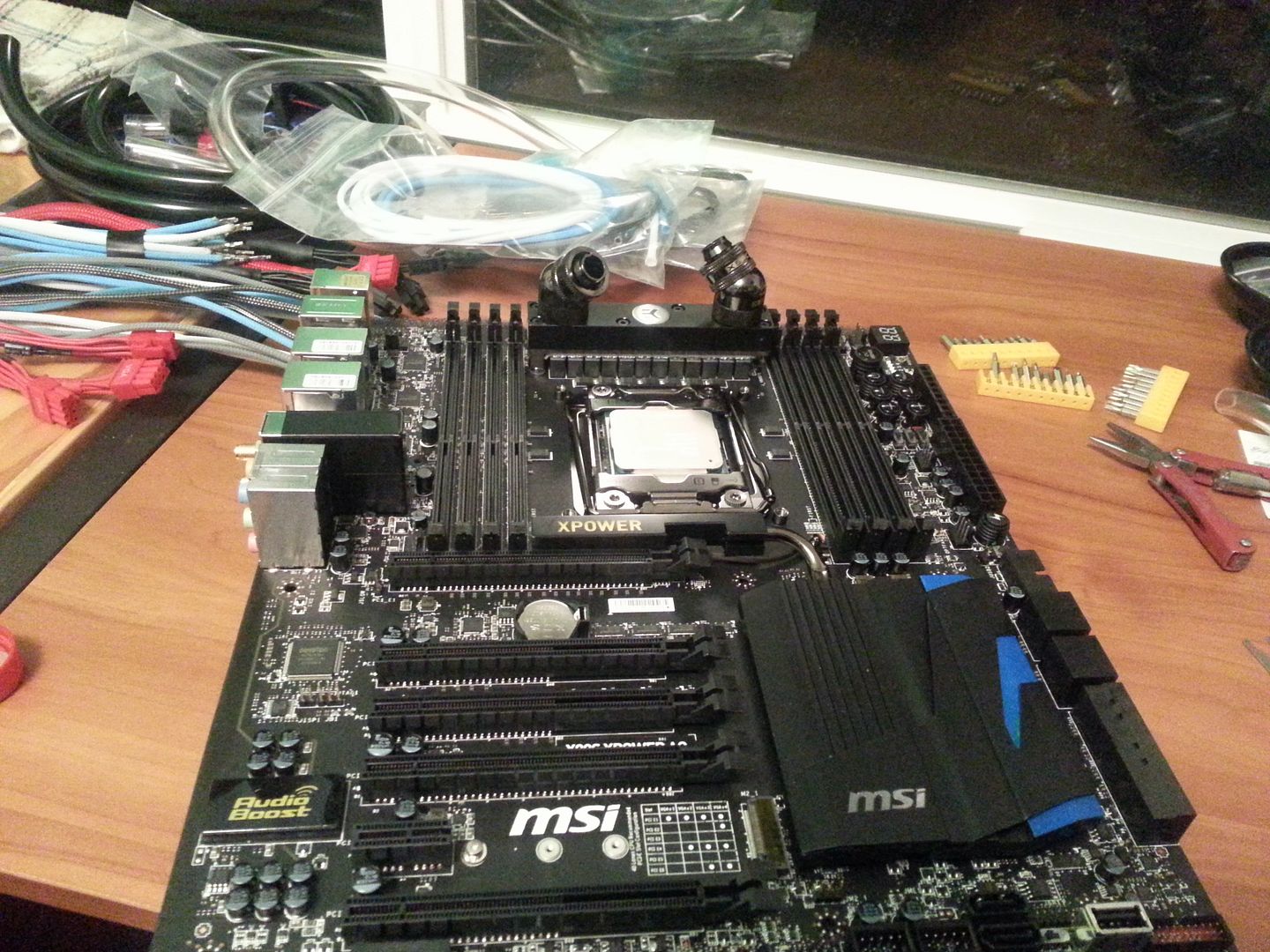 CPU Block mounted
More fitting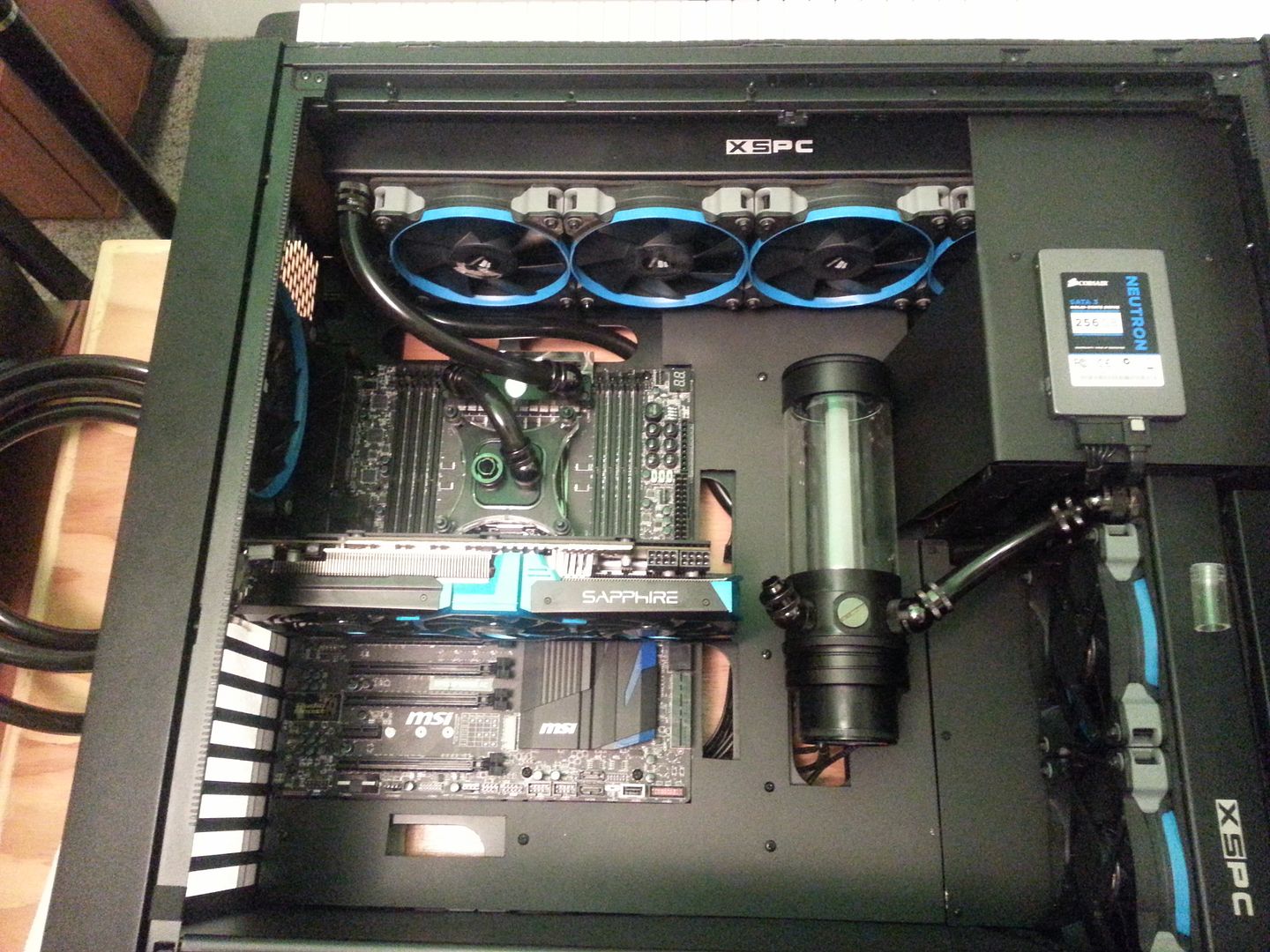 Bleeding the loop
That's a lot of GPU...Too bad the MSI rep was retarded and couldn't provide accurate information... I chose these cards because they were affordable at the time, and kicked a** in BF4 which is just about all I play. Because they are 2.5 slot coolers, I had to used them in slots 1, 4, and 7. I double checked with an MSI rep that I could deviate from the recommended 3-way configuration with a 28 lane CPU to make this work in 8x8x8x, but turns out one of the slots I needed shared lanes with the southbridge, so it couldn't communicate properly. I ended up selling one and sticking with 2 of them until recently when I jumped to 980 Ti's and watercooled them. Here is the thread I started on the whole PCI-E slot config
http://www.overclock.net/t/1524587/msi-x99-gaming-9-pcie-configurations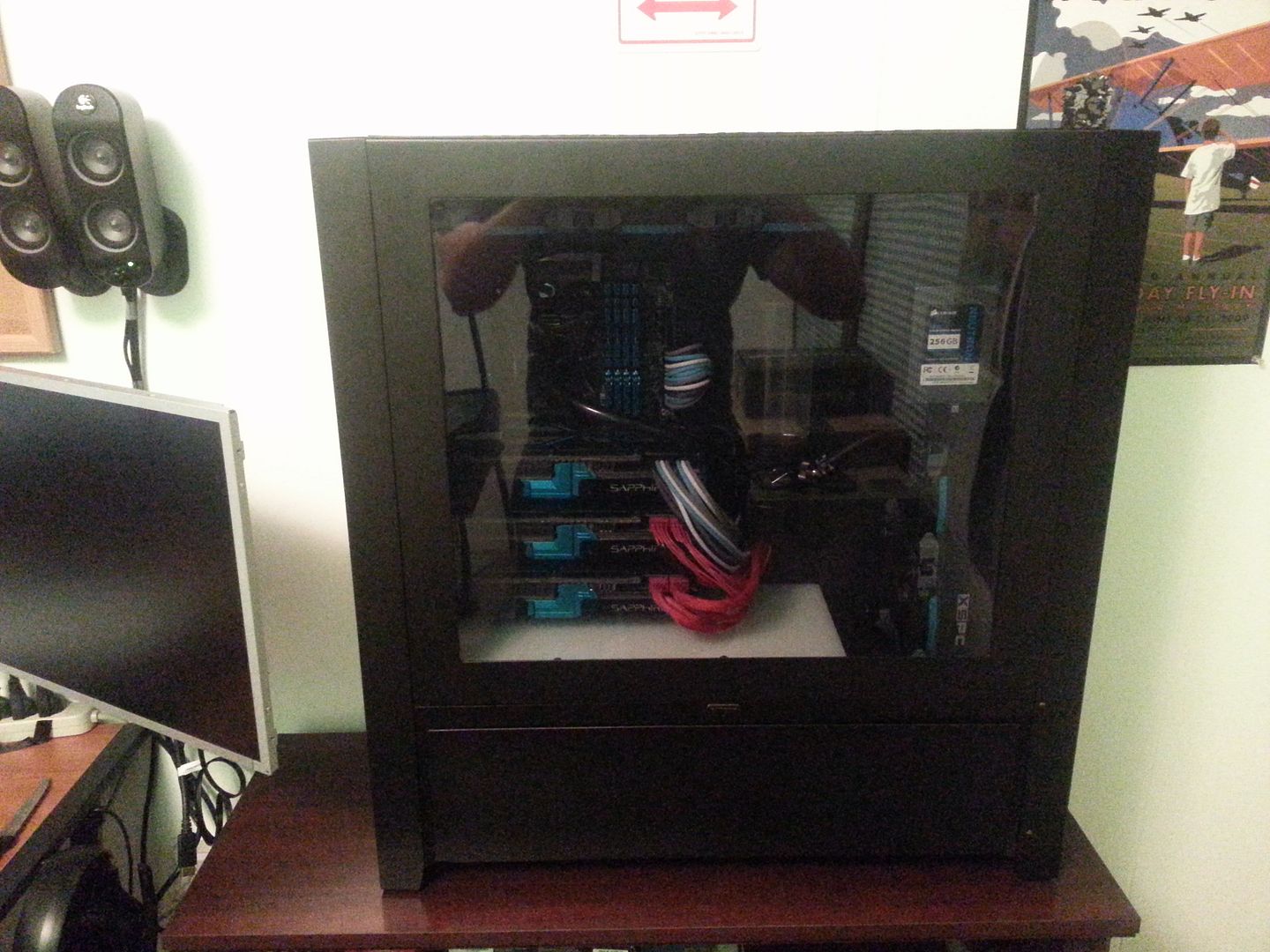 She runs!!!
I tried screwing around with PCI-E risers to get the 3-way working, but I couldn't. No matter the slots I used, I would run into an issue. Sometimes a bad connection because the riser had to twist to meet the card, sometimes I could have sworn the PC gods were screwing with me.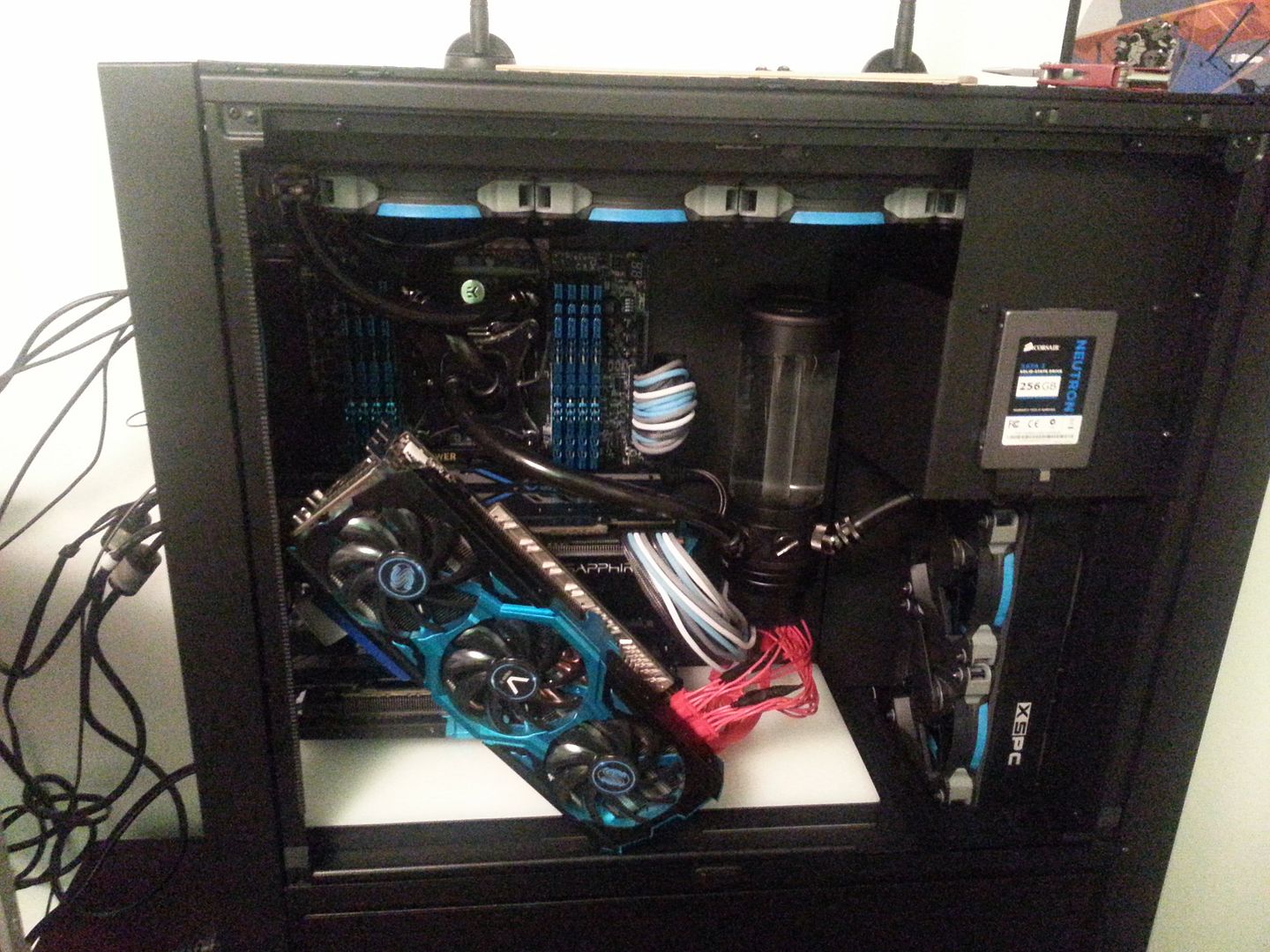 More shots of the Vapor chamber cooler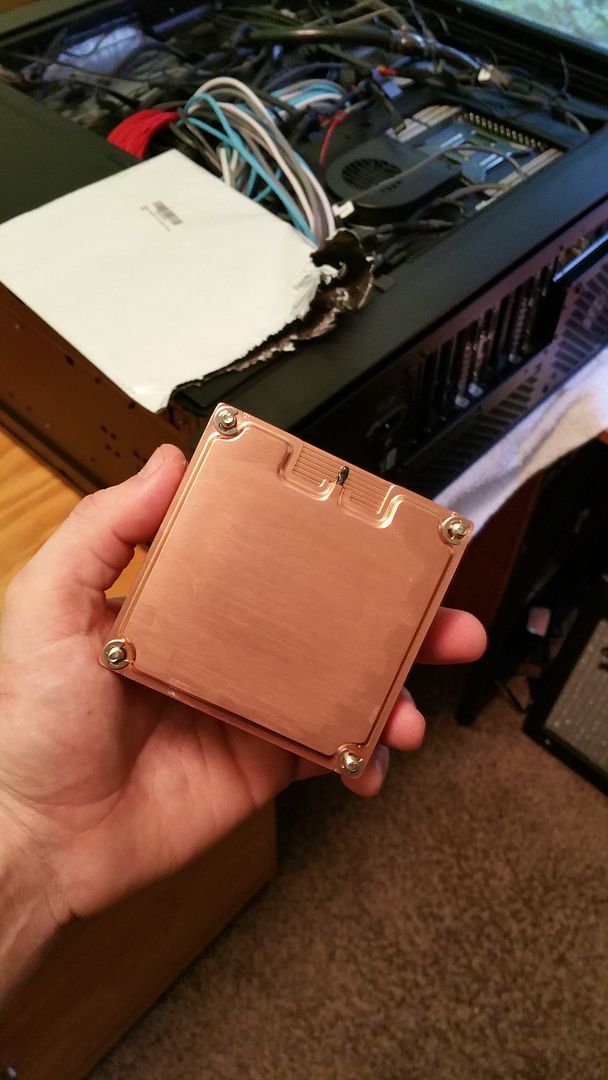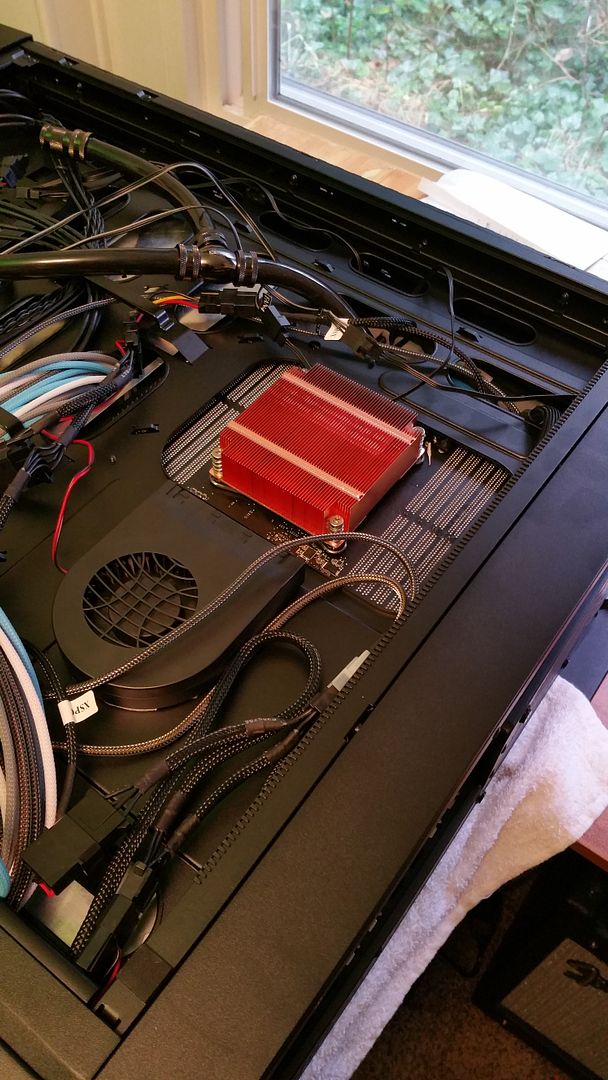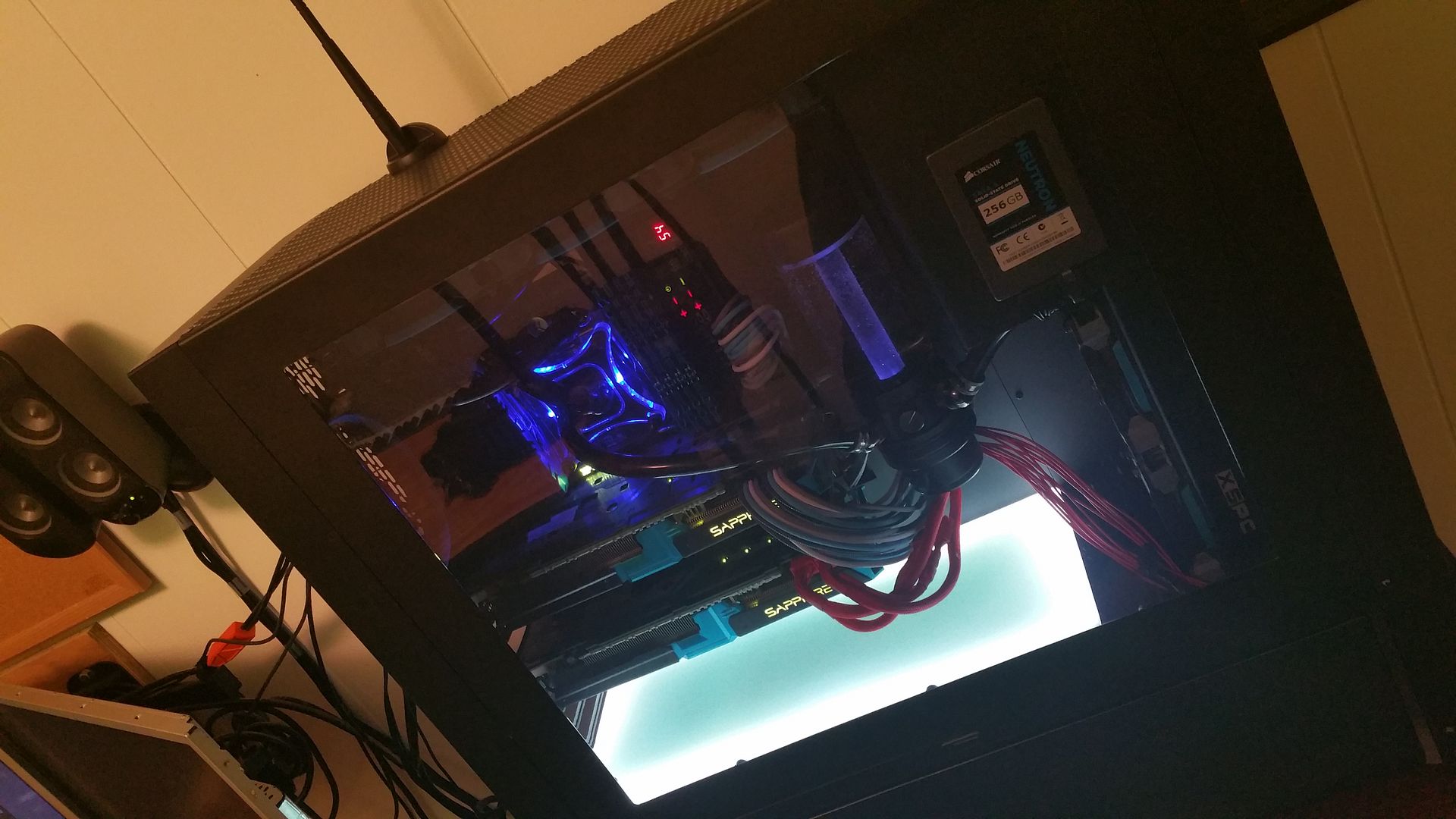 This is how it sat for several months, with unfinished sleeving...My fingers were sore and I needed several months to mentally recoup myself for another round of sleeving cables lol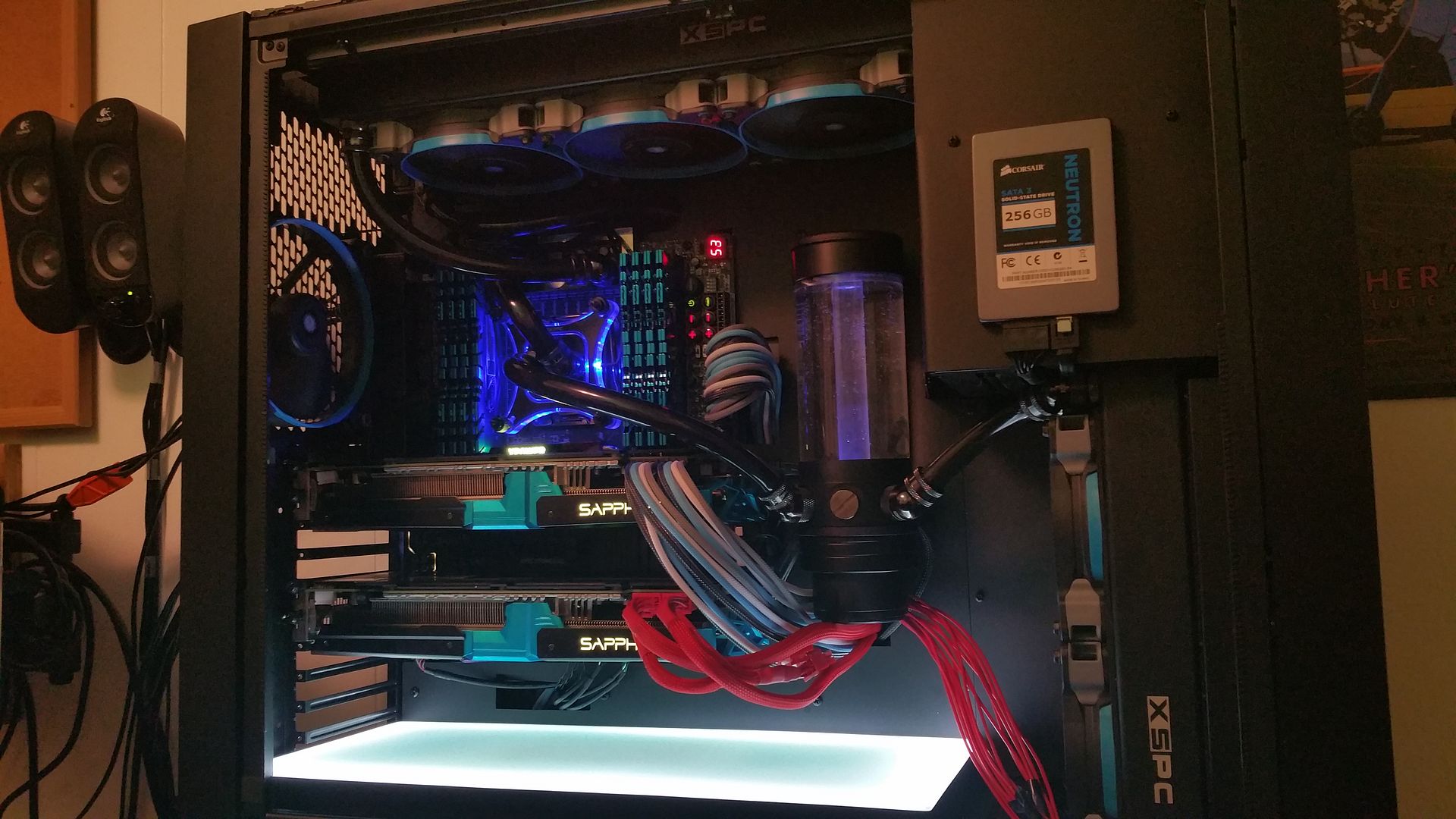 Now she has 980 Ti Classifieds under water in her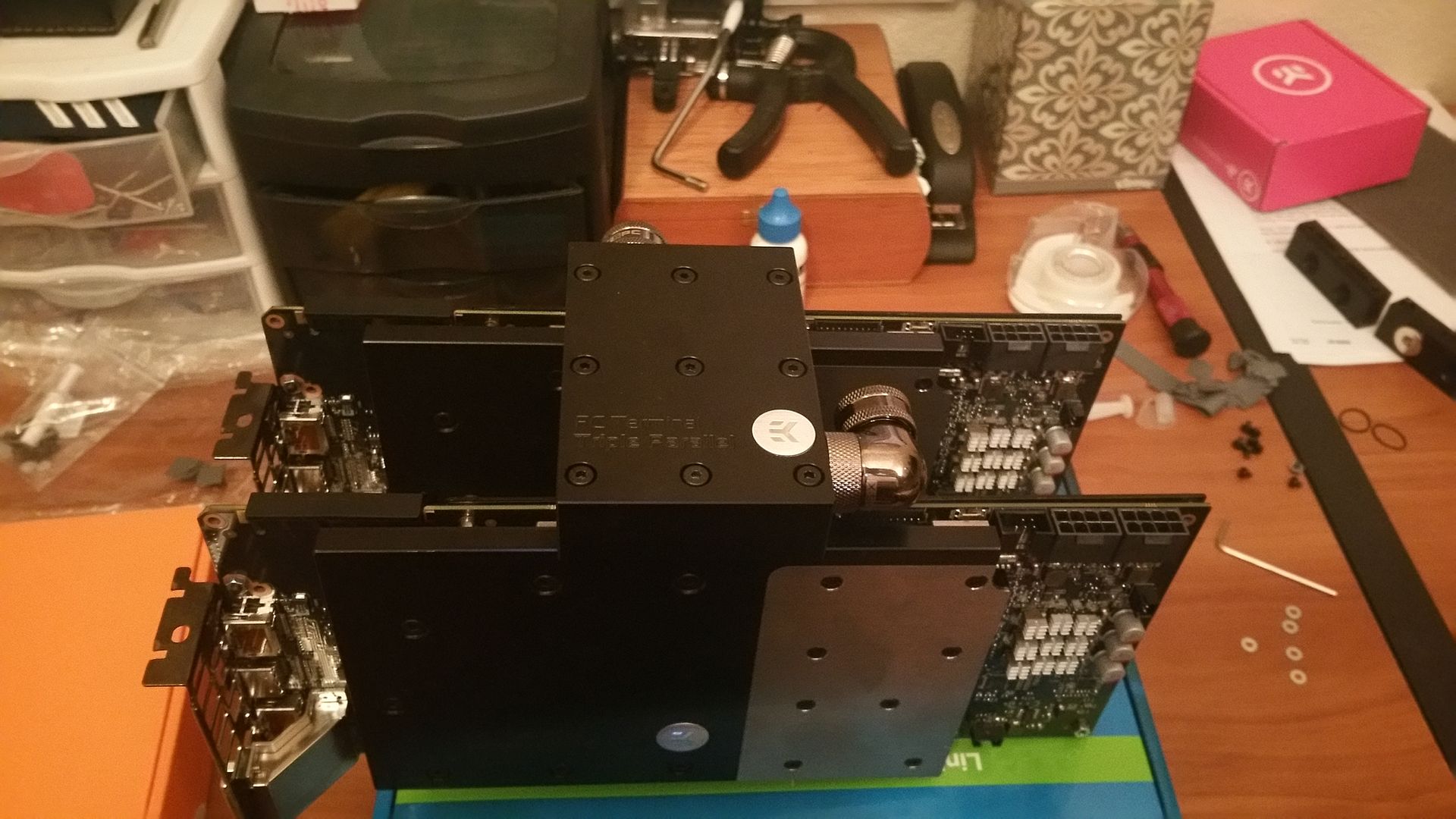 Some testing before I put them under water...Oh yeah, I finished the sleeving.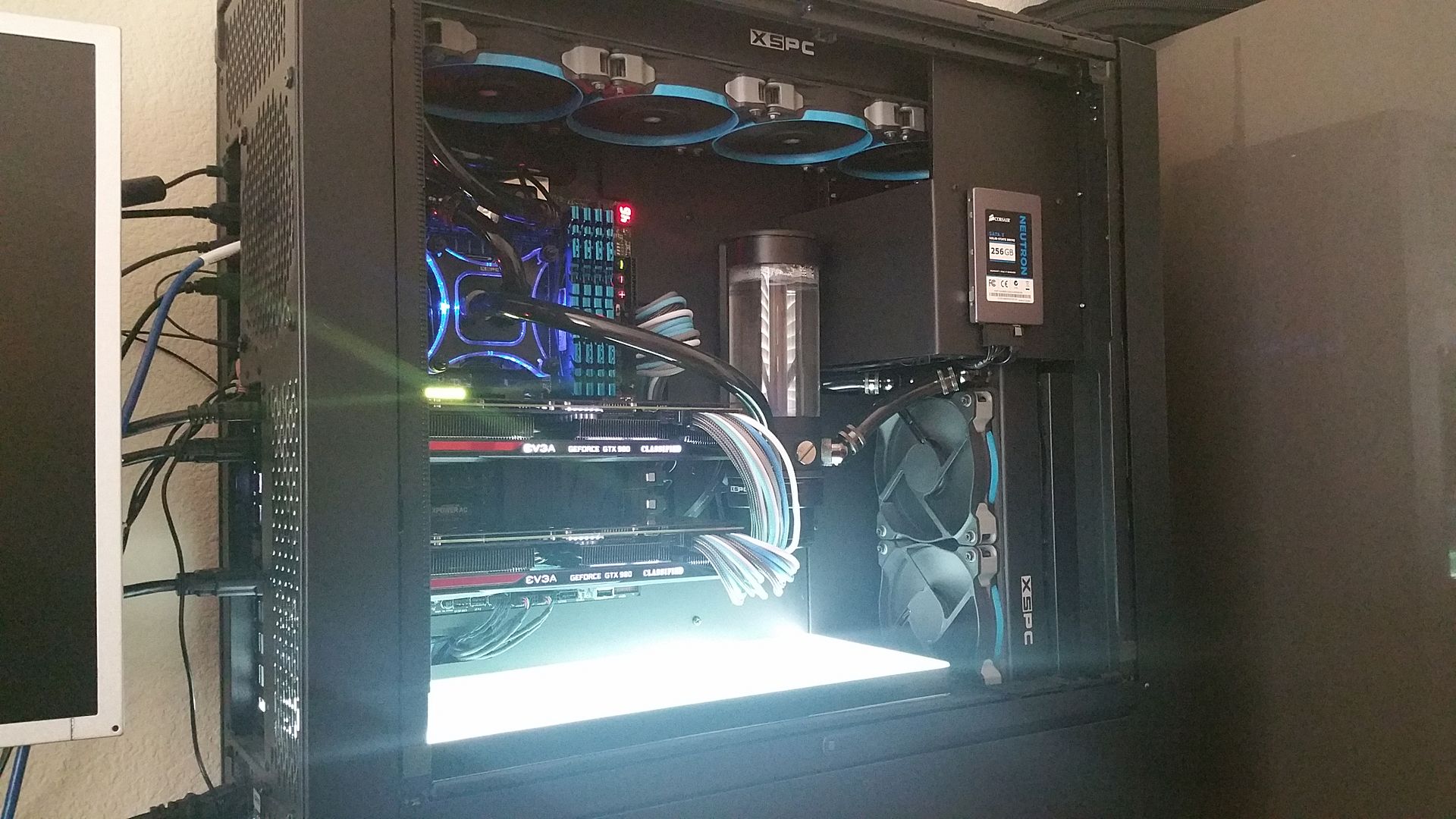 I used the stock backplates with the EK block. it just took the right screws and some double checking. I did a small write up for another member her on how to: post # 51, 55, and 56
http://www.overclock.net/t/1562749/evga-980-ti-classified-fc-block/50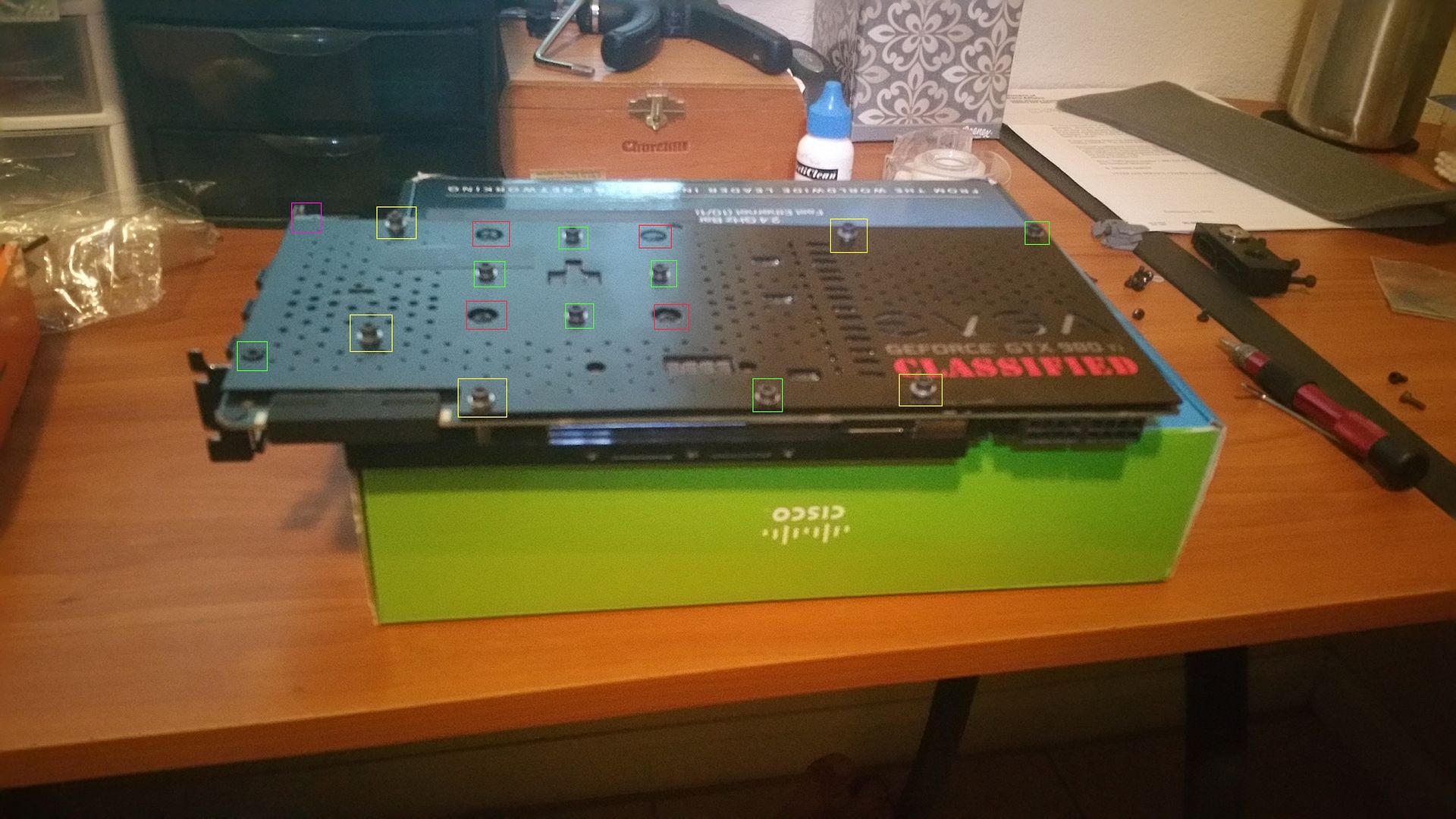 And they are in! You can also see the 1TB ssd that replaced the Corsair Neutron in the top right.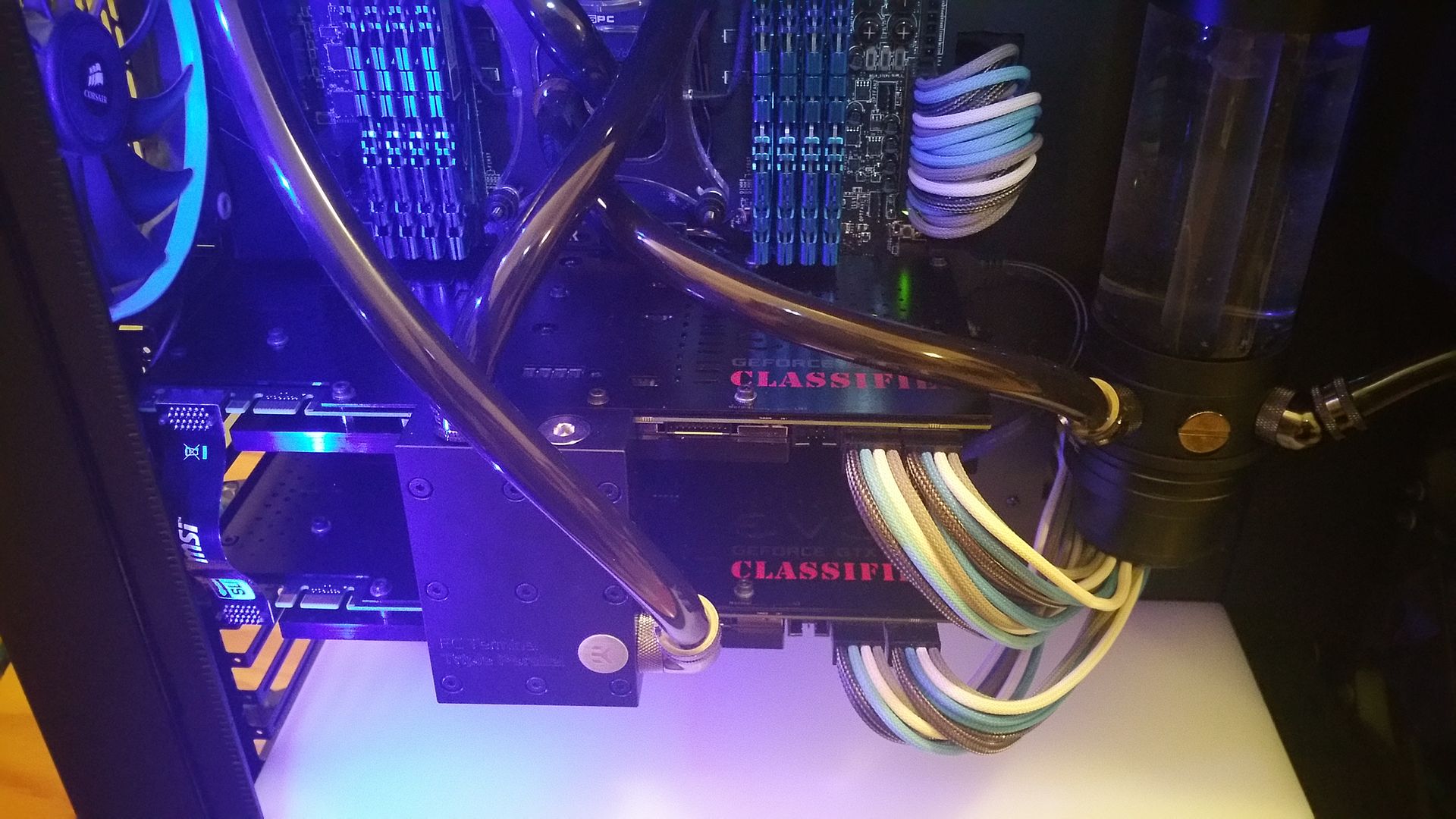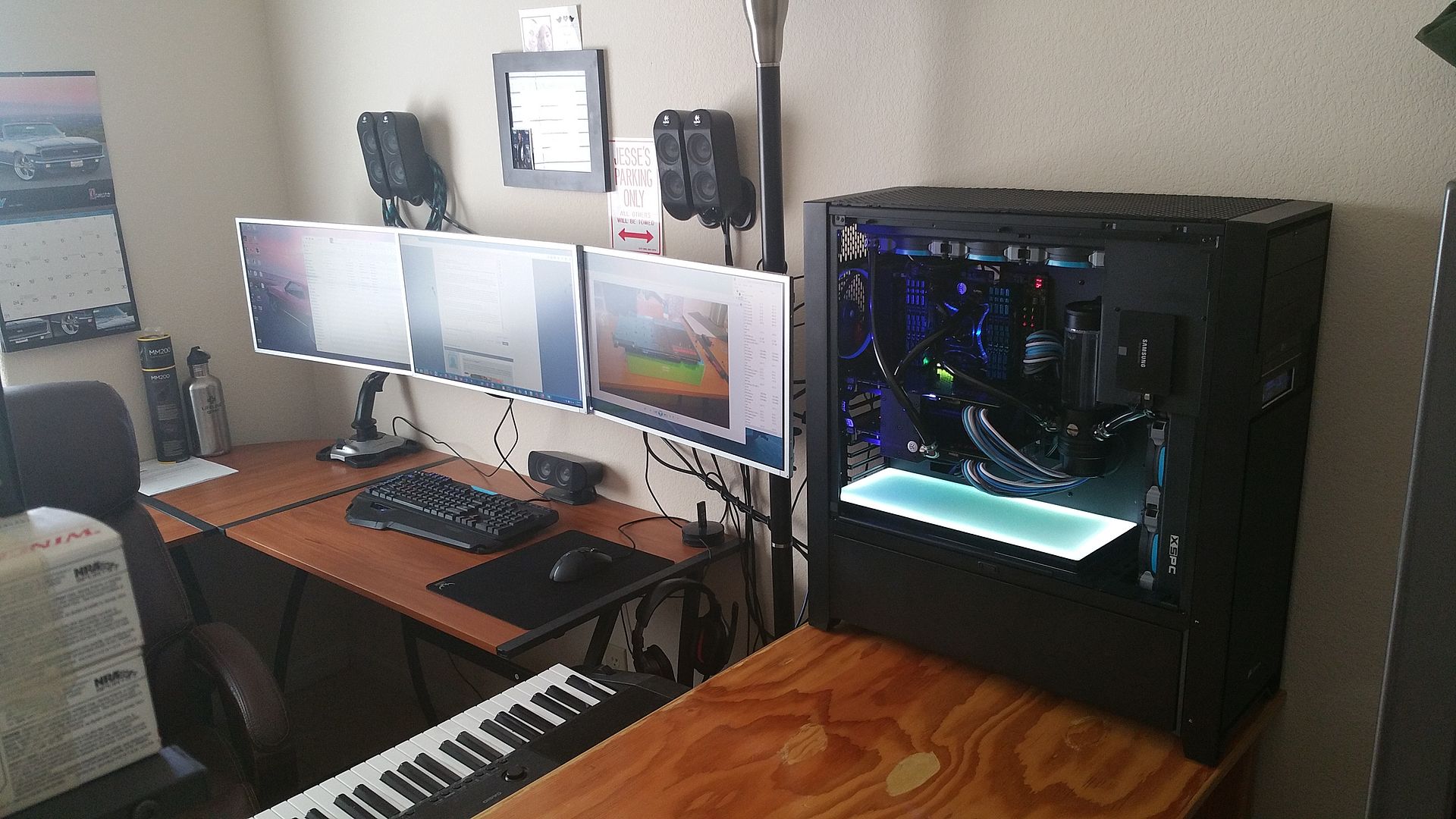 [/URL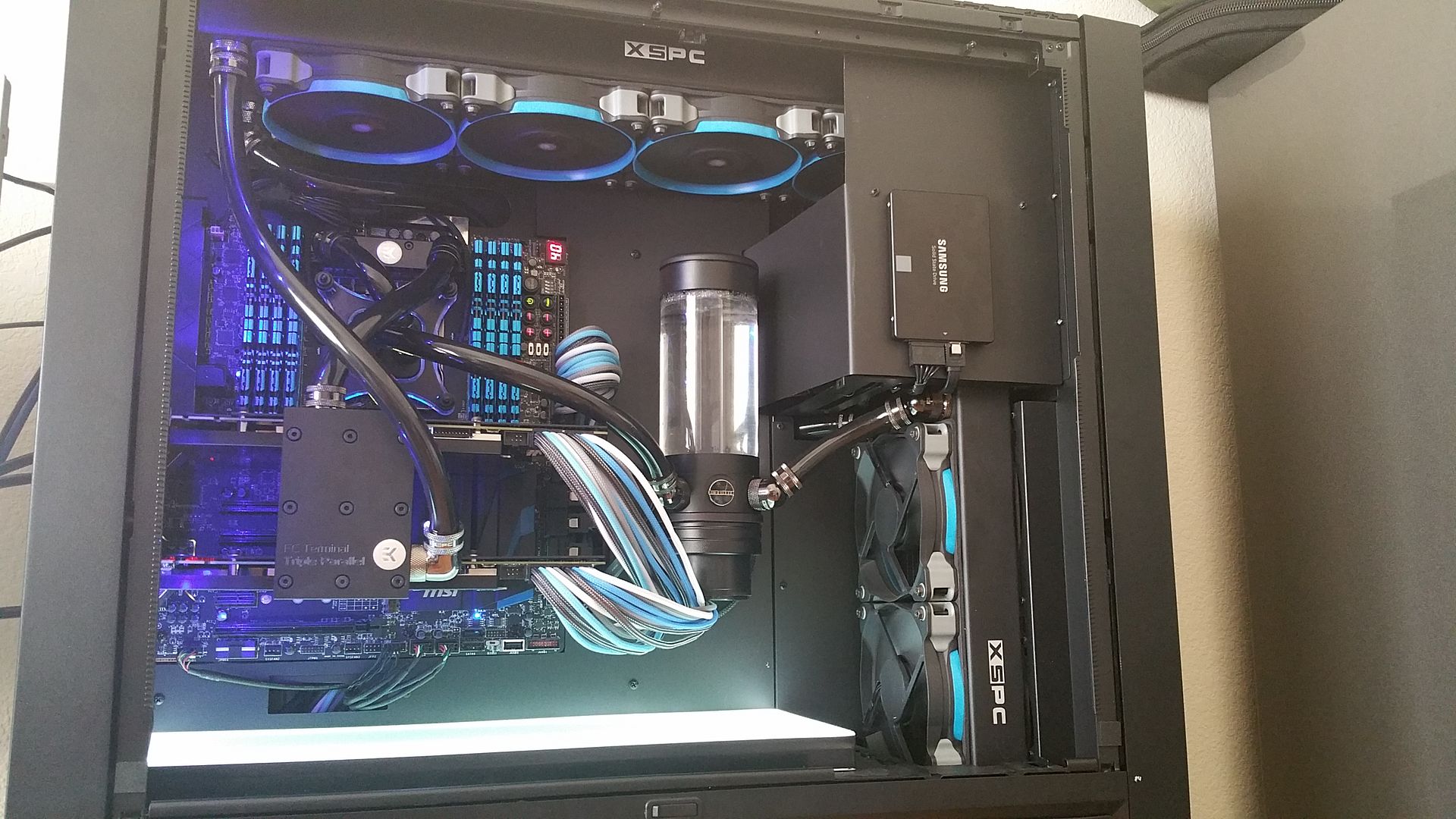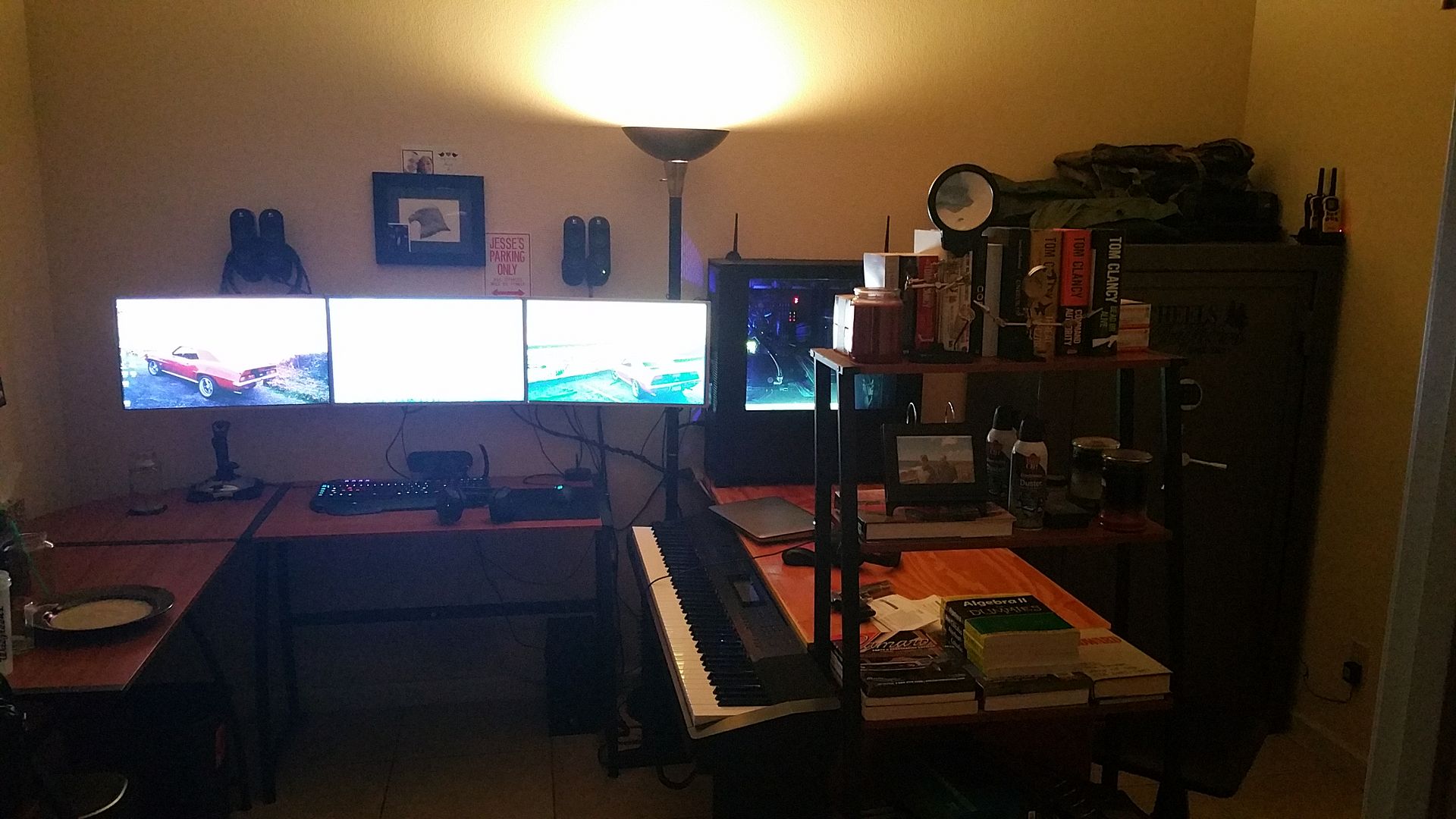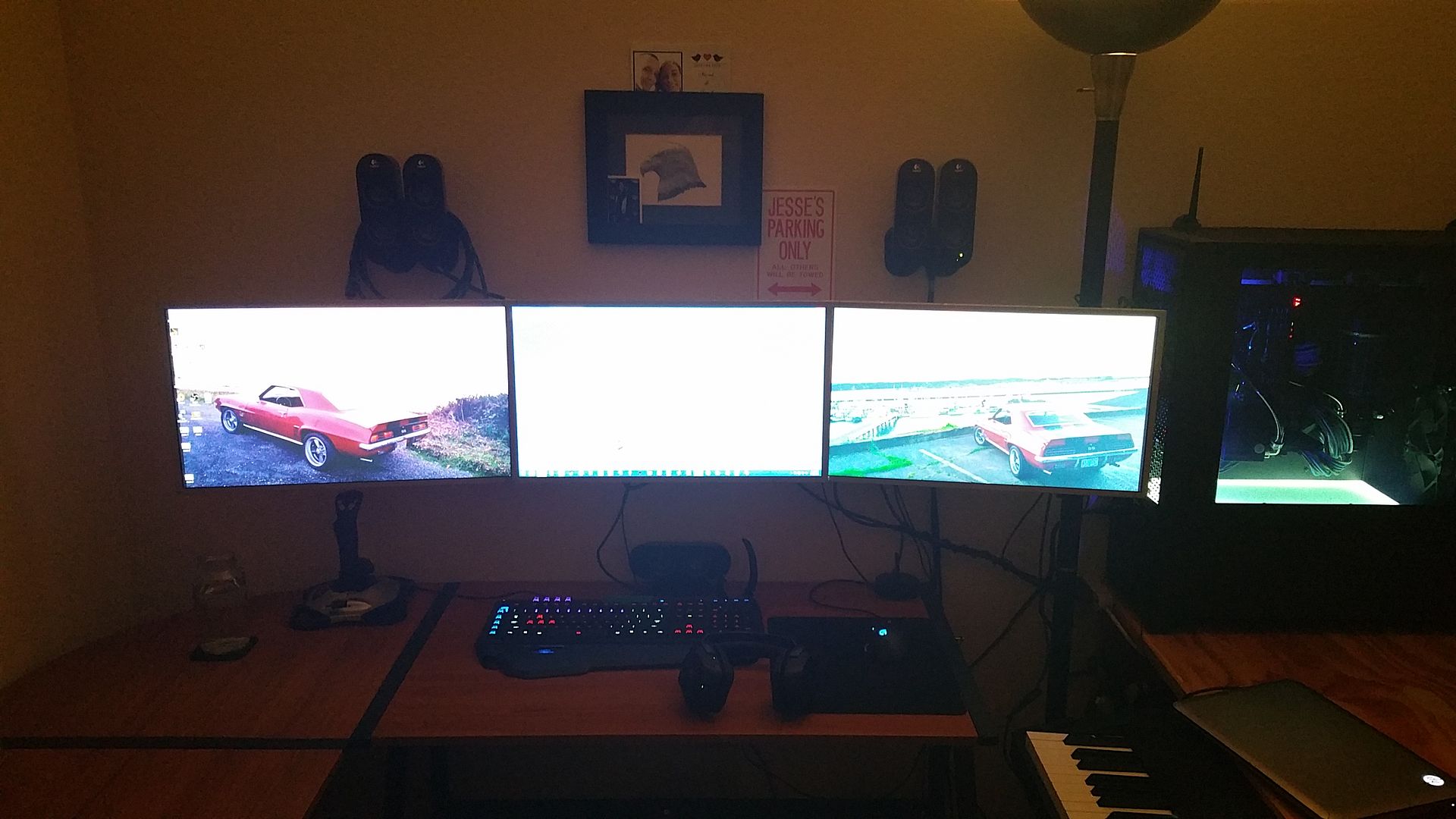 ---
Overall, I am extremely happy now. I will hold onto this PC for atleast 2-3 years. I will do minor upgrades I'm sure, but this will last me through college just fine. Once I land that top dollar engineering job, expect an over the top 8 -way SLI build with Nvidia Volta card!!!!!
.
Edited by Uraniumz - 7/28/15 at 12:11pm