Quote:
Originally Posted by
Marshock
IMPORTANT UPDATE!!!
As per request by some members, i have redone all the benchmarks at lowest settings on 1024x768 resolution in order to disable possible GPU bottleneck.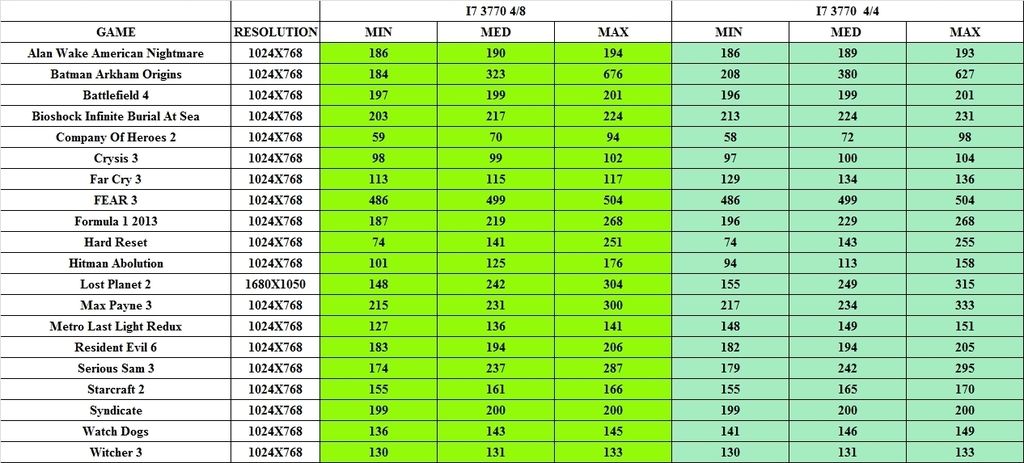 As you can see, the results speak basically of the same pattern as in the highest settings benchmark. The only small difference might be Hitman Absolution slightly benefiting from HT.
However, notice that Batman Arkham Origins, Bioshock Infinite, Far Cry 3, Metro Last Light Redux suffered a penalty in minimal frame rates with HT on!!!
I now i have really proved that HT is worthless in gaming. If you did not believe me before, perhaps you do now?
I'm not trying to be argumentative, but in no way have you proved that HT is worthless in gaming. In fact the results seem very different than what I've achieved comparing ht on vs off as well as the endless amounts of benchmarks that include both i5 and i7. Yet, somehow your i7 is in some cases dropping quite a few frames? I7's have more cache, too over an i5.
Don't get me wrong, I appreciate the effort, but those charted results seem off a bit. The problem is a lot of those games are quit frankly pretty old and/or single player. We all know BF4 64 player is another beast, and I've replicated big drops in frames on both my 9590 and 4790k when disabling four cores on the 9590 and HT on the 4790k.
The only two games on there that are fairly new are Metro Redux which generally favors HT, yet your results show a 20fps drop in min and 13fps less average? Witcher 3 oddly also shows exactly the same results between the two... Yea it can happen, but W3 is actually decently threaded.
Going to try to do some runs tonight on games to see myself as I have good portion of those on the list.. Just for the sake of consistency, how were you running the benches? What levels, etc.