Quote:
Originally Posted by
julizs
In cpu heavy games like witcher 3 or gta V, i5 6600k is definately NOT a downgrade from a i7 2600k.
i5 6600k OC matches and even surpasses a i7 4790k OC.
https://www.youtube.com/watch?v=JWxncqbe1H8
For around 230$ it's a very good cpu, but I wouldn't know if I would buy it for 325$, I feel sorry for canadians, thats even way more than we pay in europe.
Is that a joke?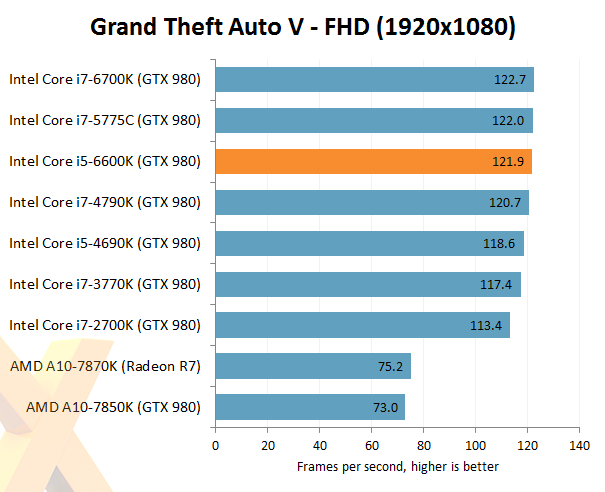 6600k: 121.9 FPS
2700k: 113.4 FPS
That's an increase of 7.5%. Best case scenario. While not a downgrade, its definitely not what I'd bother calling an upgrade.
CPU
Graphics
RAM
Hard Drive
Intel i7 6700HQ
nVidia GTX1060 6GB
Kingston HyperX Impact 2133MHZ 16GB
INTEL 600p 128GB
Hard Drive
OS
Samsung 850 EVO 1TB
Windows 10 Pro 64
View all
hide details
CPU
Graphics
RAM
Hard Drive
Intel i7 6700HQ
nVidia GTX1060 6GB
Kingston HyperX Impact 2133MHZ 16GB
INTEL 600p 128GB
Hard Drive
OS
Samsung 850 EVO 1TB
Windows 10 Pro 64
View all
hide details