Okay so ive been asking whats the fastest fan speed, and there is a reason too. cuz if there was a fan that hit these speeds, what would be the point of me making one? DUH. So here is my first major mod!
Here is my 120gb Seagate hard drive that crapped out on me.
Now, to take this guy apart, we need a Freaken Hex Drive.. This screw was hidden away under 2 layers of stickers...
Pop off the top!
Whooooo Shiny!~
Removing the plates
AHhhh.. this is what we are going for! The MOTOR!
Pulled it out by removing 3 screws
BAM! Need a voltimeter to find out which of these need to take the 12v positive and negative.
Now i just need to go to my friends house and borrow his voltimeter!
Anyone want to donate to me a 120mm fan?
i broke mine trying to find out how to get the motor off the fan!
If not then i guess i can go buy one... *sigh...
Theoretically, i can get the 120mm fan to spin at 7200 rpm at full voltage to this. on top of that, the bearings are SUPER QUIET! cant even hear it running! amazing... only sound that will come from this fan is the airflow!
--- Edit --- UPDATE!
The video you wanna see...
---- edit --- UPDATE!
mounted the motor/blade assembly into the chassis...
more to come...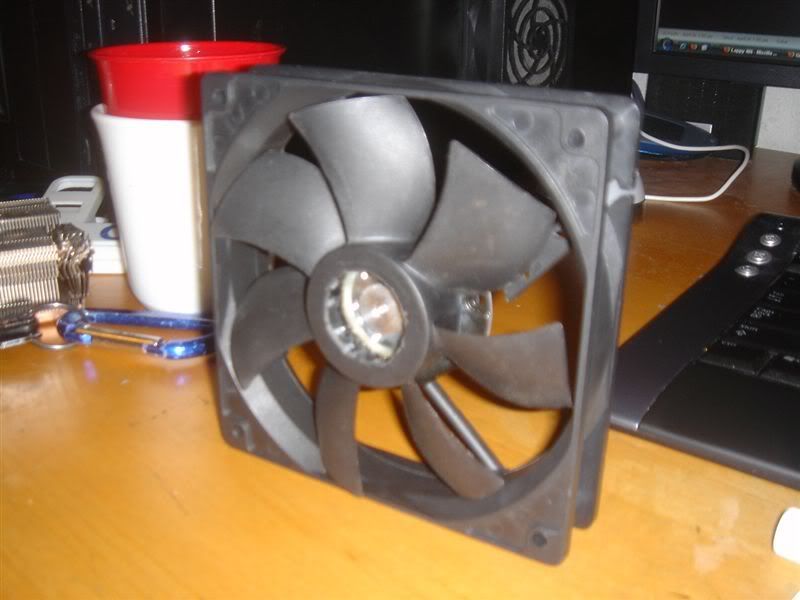 CPU
Motherboard
Graphics
RAM
AMD 64 x2 5000+ windsore core
Asus M2N32 SLi-Delux Wifi
EVGA Geforce 7800gtco
OCZ 4gb DDR2 800 @ 425mhz 5-4-4-15
Hard Drive
Optical Drive
OS
Monitor
2x 160gb Seagate 7200.9 'ccudas in Raid 0
52x32x52 cdrw / 16x dvd dual layer
Windows XP Pro SP2
Samsung 19" wide + Acer 19" wide dual screen
Keyboard
Power
Case
Mouse
Logitec Di Novo Bluetooth
Raidmax 650w Modular PSU
Aspire X-Dreamer
MX 1000 lazer
Mouse Pad
Teflon sheet
View all
hide details
CPU
Motherboard
Graphics
RAM
AMD 64 x2 5000+ windsore core
Asus M2N32 SLi-Delux Wifi
EVGA Geforce 7800gtco
OCZ 4gb DDR2 800 @ 425mhz 5-4-4-15
Hard Drive
Optical Drive
OS
Monitor
2x 160gb Seagate 7200.9 'ccudas in Raid 0
52x32x52 cdrw / 16x dvd dual layer
Windows XP Pro SP2
Samsung 19" wide + Acer 19" wide dual screen
Keyboard
Power
Case
Mouse
Logitec Di Novo Bluetooth
Raidmax 650w Modular PSU
Aspire X-Dreamer
MX 1000 lazer
Mouse Pad
Teflon sheet
View all
hide details