Hi guys!
*sorry guys, i really rambled here, skip to 2nd post for actual build*
Fresh new member here and thought start buy putting up my new planned for all to see!
First off, im from the land down under and have just recently been bitten by the PC building/gaming bug! im a fitter and turner by trade and have mostly been focused on building and racing my drift cars that i had build from ground up.
back about two years ago i had finished my apprenticeship and was more or less without stable work from that point. due to my extremely addictive nature and pouring literally everything into my cars, being without stable work more or less caused me to have to give up cars and find something else that would keep my brain occupied and not thinking about how much thing's i couldn't buy for my cars
more or less i turned to gaming. whilst i did play alot of games as a kid, i kinda grew out of them and short of afew of the stand out games such as the early AC games and 'the last of us' type games i rarely played more than a few hours each month.
luckily (or unlucky maybe
) for me i found dark souls, and have been more or less hooked on gaming ever since!
i stuck with playing my ps3 for about 6 months before moving onto my laptop. the laptop whilst getting on in age, it still did quite well for what it was! i was able to hook it up and play on the 60'' tv and run a PlayStation controller and more or less run the game same as a ps3, but with higher resolution, however the main reason i made the jump to pc was the (very very slight) improvement of lag, and a wider audience for more multiplayer!
(btw, laptop had an ivy bridge 3610 i7 and a nvidia 650m GPU)
after another 6 months of gaming on a non gaming laptop, it was starting to take its toll on the harware as i started using frags to record gamplay and installation of ENB and texture mods (thus cementing my love further for the platform) it was really pushing the laptop far beyond what it could handle (100 degree + temps constantly)
and after moving to mmo's abit more, i found myself falling short of even 30 fps and doing raid bosses at 10-15fps i eventually grew tired on this and started looking into other options.
first i looked at installing external desktop gpu's, but i failed to see any easy option here and it all got too hard.
it was then that i had stumbled across a youtube tutorial of the infamous "how to build your own pc" videos.
pc building had alway been in the back of my mind and i really had no idea what pc building was all about, but i knew it scared me enough not to even bother researching it haha
but anyway, i sat through the 40 minute video and came out the otherside thinking how much simpler pc building was than i had ever thought! im not sure what i was expecting build was all about but i knew i could more than handle building a pc of my own!
so i more or less spent the entire day very very poorly researching components for my very own build, pretty much this consisted of google the "whats the best bang for buck gpu" and other total noob things like that haha.
after afew hours of being totally overwhelmed by the shear volume of pc parts to pick from, i had my entire pc picked out and added to my cart and promptly on the way toward me!
going back i really wish that i had found some more budget builds on youtube and just buying exactally what they had just built, however, thats never been me and i alway like to go one step further and and make my build unique and that much better than everyone elses
this was my first attempt and a pc build.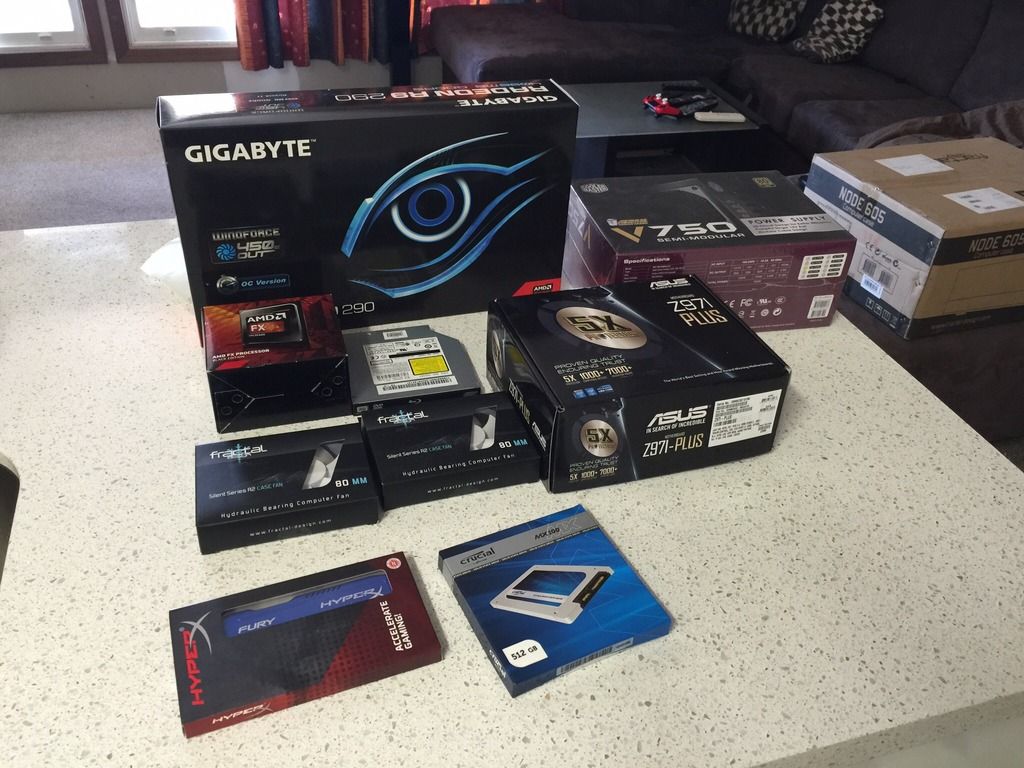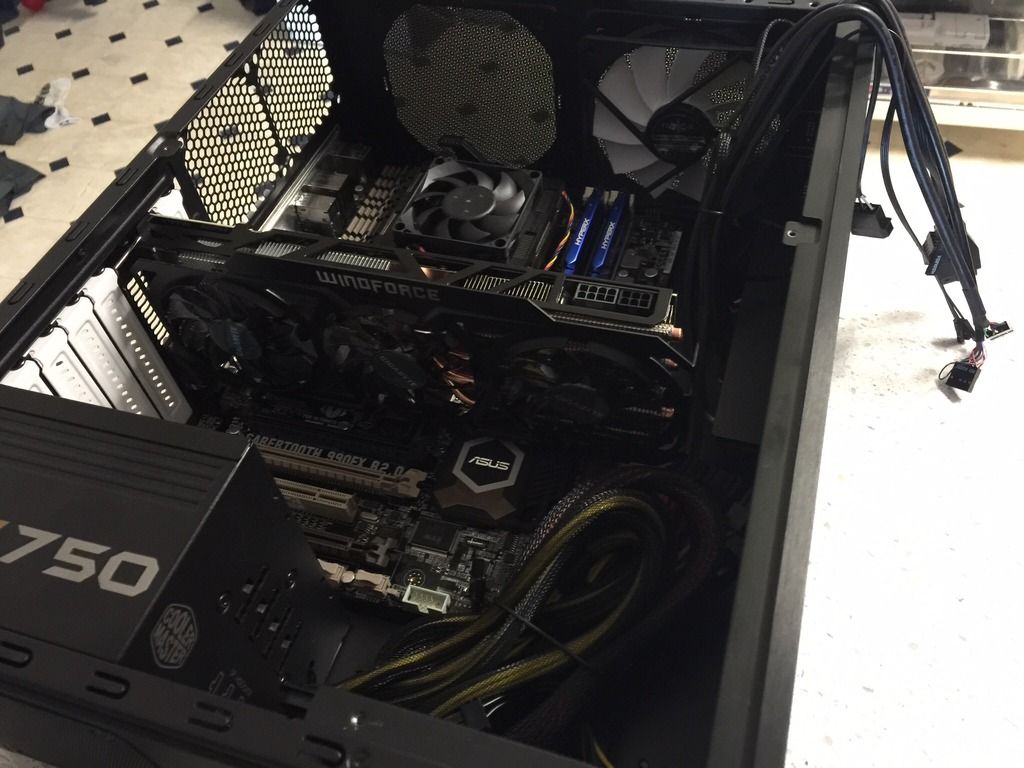 now for thos with a sharp eye, you'll notice the intel mITX motherboard combines with an amd cpu... lol, it was that day i learned about cpu sockets and how 'one size fits all' does not apply here, dont judge me
after the build came to a screaming halt, i soon had a full sized ATX motherboard coming and had decided to scrap the optical drive (the case would only suit a slim optical drive with mitx form factor)
all things aside i didn't do too bad, specs eneded up as (off the top of my head and looking at the boxes)
fractal design node 602 case (very high quality htpc, i invested alot in this as the grand plan was to more or less run the pc as if it were a console in my tv cabnet)
990fx asus sabertooth AMD motherboard
8320fx AMD cpu
2x 8GB hyper x DDR3 ram (1666mhz i think)
gigabyte windforce r9 290 GPU
coolermaster v750 semi modular psu
crucial somthing model 512gb ssd (m100 maybe?)
scuff ps4 controller and some crappy $10 wireless keyboard and mouse (some pc gamer huh
)
and that was pretty much it, the build cost me alot, but was still very much a beginners build, and i learned alot, mainly how freaking loud that god damn stock AMD cpu cooler was!
no word of a lie here, when i first started up my pc for the first time (yes it actually booted the first time :O) and sitting in the bio for about 1 minute the fan was spinning at like 6000 rpm and sounded like a damn jet engine, making me freak out that i had screwed up somewhere and was cooking the cpu lol!
after turning the system off and messaging my one and only friend who lived in the uk who knows anything about pc building, he gave me the thumbs up saying the temps were perfectly ok and that yes, the stock cooler is really that bad..
however, in all honesty, i actually really did not have a plesent experience with my new rig, the stock cooler was so damn loud, even with the very very quite design of the fractal design case, the thing blared over ever game i played.
another thing was the amount of heat the thing produced! it happened to be the peak of summer at the time, and a perticually hot summer, even by australias standards, the house i lived in was poorly insulated and it got insanely hot in there while playing on this rig, even on stock clocks.
but on top of all that, the this was kind of under powered, much much less than i was expecting, and more or less, only slightly beating my laptop experience.
and also, the software was very very poor imo. gaming sessions usually included about 5 hard freezes and 10 game CTD's, of which my laptop never ever did ever! even at 105 degrees and being thermal throttle like hell, the thing never ever crashed or froze on me.
problems slowly got worse and worse and before long the system crashed lead to the pc not longer posting displaying a cpu error.
i tried for weeks and weeks to fix the issue, it was a very intermittant issues, and i had the most succsess by getting it running by wiggling the 8 pin and 24pin power leads on the motherboard.
it was then that i decided to bite the bullet and get myself a proper system, this was about a month and a half after building the first pc.
my brother had decided he was moving back ito the house as he was working interstate and flying home every month or so to visit. so more or less, i had lost the freedom to sit on the tv all day with the pc, so i set to work to build a proper tower pc with water cooling.
i had instantly been bitten by the building bug and had spend alot of time on youtube looking at builds and pc hardward, you know, the general stuff, and i had alot more knowledge behind me and set out again and purchased a new gpu, case, monitor, psu
so after my cpu problems had more or less gotten to the point that the pc was now usable, i had been certain the psu and dodgy connections were to blame.
so after finishing a big vintage at a local winery and having a good amout of cash to drop, i picked out some new components.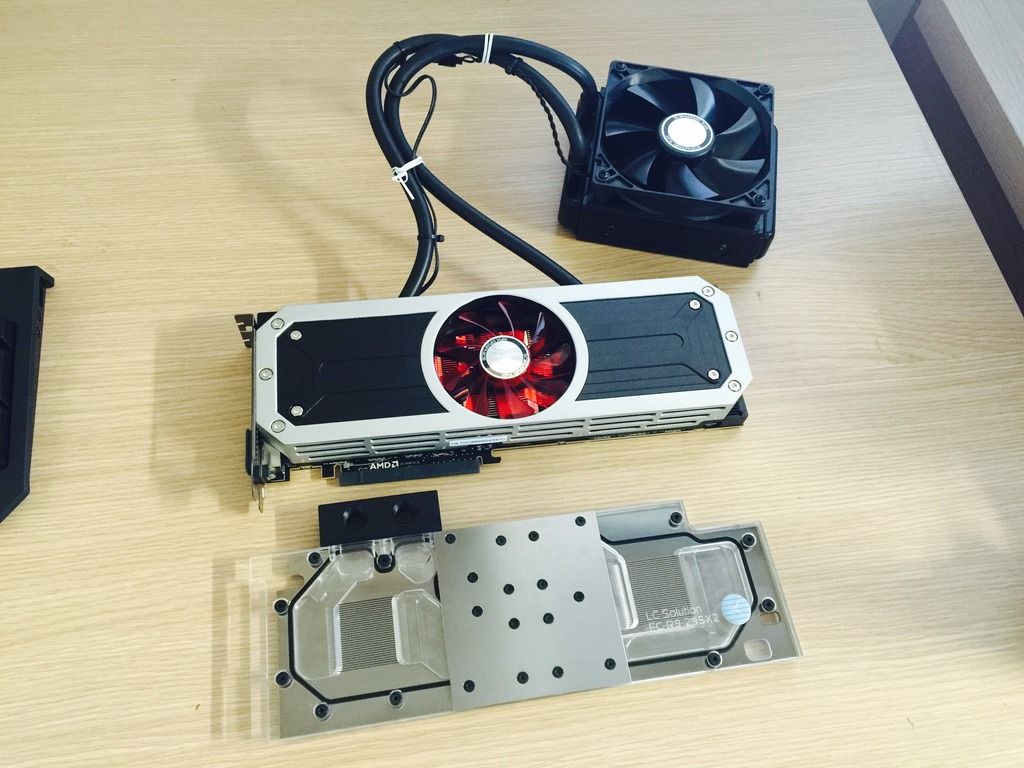 the case was swapped for the corsair 750D
GPU was swapped for an XFX R9 295x2 complete with ek waterblock
PSU was swapped for a modular EVGA supernova 1200W
added an nzxt external fan controller (usless, i hate it)
then followed the water cooling parts, nothing too special here, but i did squeeze quite abit more than the usual user managed (that i saw anyway)
http://s672.photobucket.com/user/DRIFTA_KE70/media/Mobile%20Uploads/image_zpskukvvhev.jpg.html?sort=3&o=1
EK D5 pump, with top to suit
R9 295x2 waterblock
EK supremacy EVO cpu block
EK 240mm rad for the floor
XSPC 360mm rad for the top (was ek, but i bought xspc due to the large spaced fittings making the loop much better visually
EK 280mm ~55ishmm thick rad for the intake, setup as push pull
EK tube res
EK acrylic and soft tubing
EK fitting throughout (excluding afew like valves and bulkhead fittings)
and the star of the show, the LG 3440x1440x60hz ultra wide panel (flat, not curved)
also, got myself some descent peripherals to suit,
razer blackwidow chroma (RGB) keyboard (first mech keyboard, it was ok until i found out the true use of macros!! i fell in love after that!)
and the mouse was somthing simple (i hate "gaming" appeal, especially the insane aggressive mouses!)
final mouse was chosen, it had the looks i was after, and seems to perform well enough, it also had forward and back buttons, which i had never seen or used in a mouse before (i came to love these while gaming!)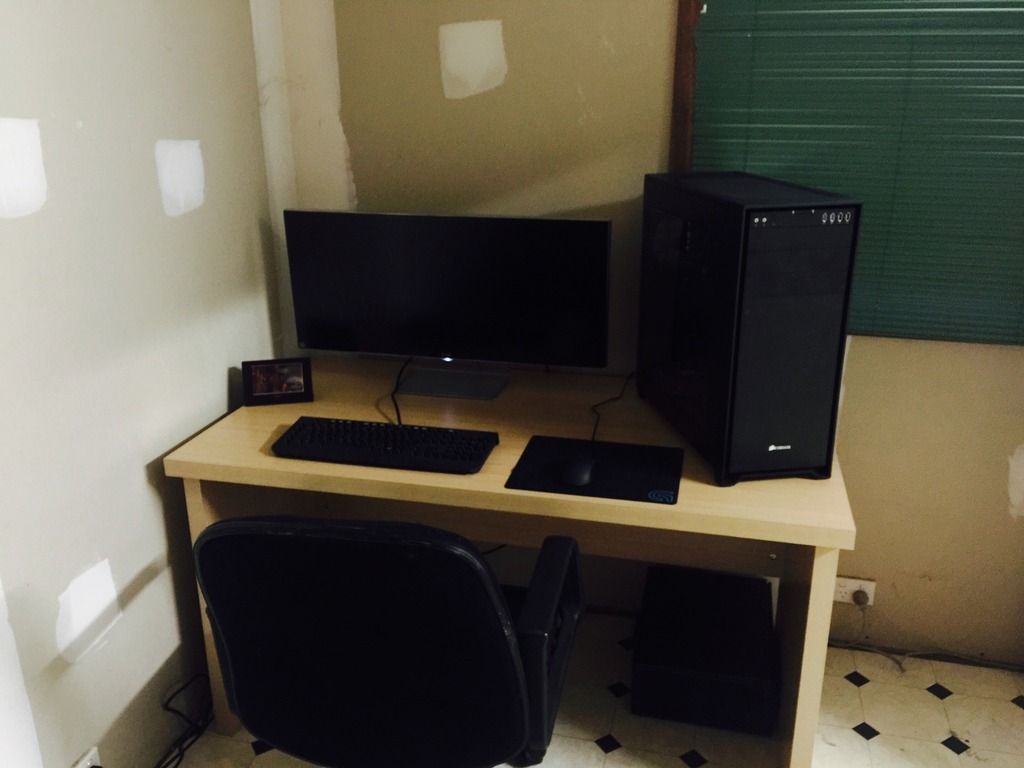 now, sadly i never actually snapped a pic of the rig after i finished it the first time
however, it looked very very close to the next addition of the build (i actually ran purple fulid first time round, but it change colour until it was completely clear!!!?)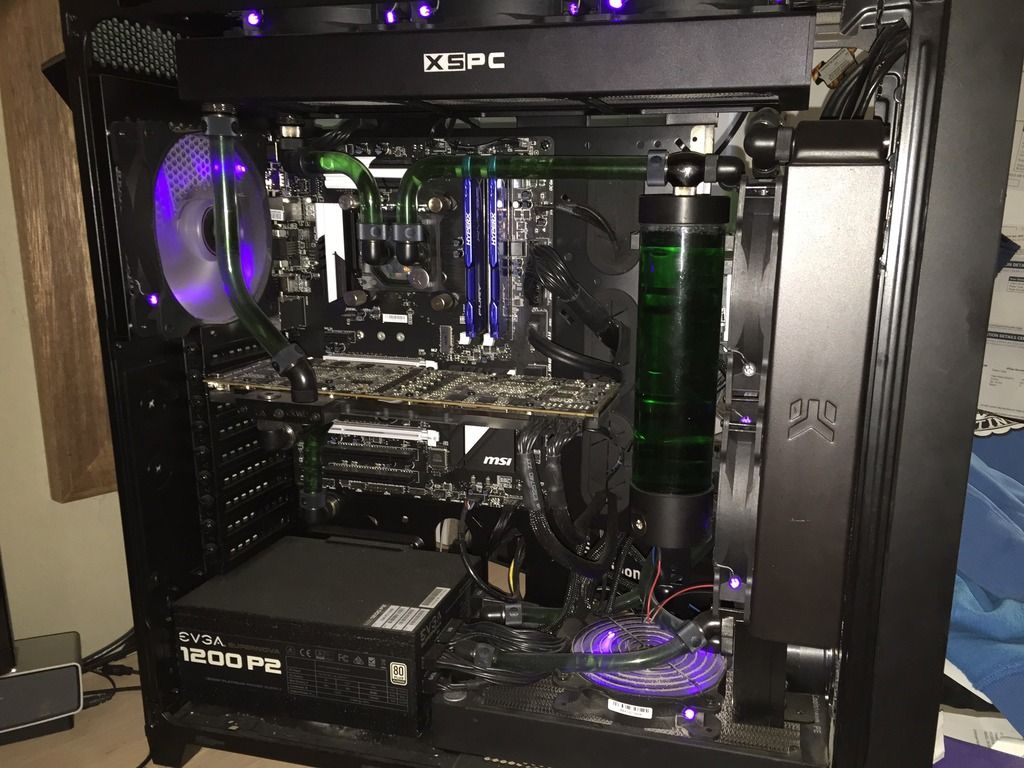 now sadly, having spent all of this money and rebuilding the whole thing, my probley with the cpu failing was still apparent
it had gotten alot better, i had played for a good week before i had seen it fail to post after a system crash, and it very rapidly got worse from there to the point of being unable to use the pc yet again. so back to the old faithful laptop once again, while i planned yet another upgrade.
now, disregarding then hardware problems i was having, i was still left kind of disappointing with the power of the build. the particular mmo game i was playing at the time was not a very demanding game at all, yet i was still unable to hit a solid 60 FPS @3440x1440 on the highest settings. i know its not childs play to run 1440p @ 21:9 at high frames, but still i had expected this, and my expectations were not being met, even with a gpu overclock.
but getting back to my last point, after falling back on the trusty intel/nvidia and having flogged that poor laptop to within an inch of it's life, nonstop for the last 6-7 months and had never let me down even once, except for the fact of being under powered and undercooler, i had realised the next step was to get rid of the system of the amd junk.
now i started my research yet again searching for the system's new heart. my research had more or less led me look for single core performance, as this was the spec that was most usful for a gaming setup.
so i more or less googled, "highest single core cpu" and i was granted a rather large chart with all cpus listed, and i just simply bought the one at the top of the list xD
i figured that was pretty fool proof.
so the cpu i ordered was the i7 4790k, along with the MSI krate edition motherboard.
the board was more or less chosen on looks, the only feature i was after was atleast sli/crossfire compatibility
this pic above was after i had finished the mobo and cpu change (yes the same as above), lucky for me, the lines more or less fitted up the same. i also changed to mayhems emerald green to mimic the theme of what was my current daily driver car, purple with emerald green accents. im not totally sold on the green and purple combo, it certainly is unique to me, and doesn't look totally crap haha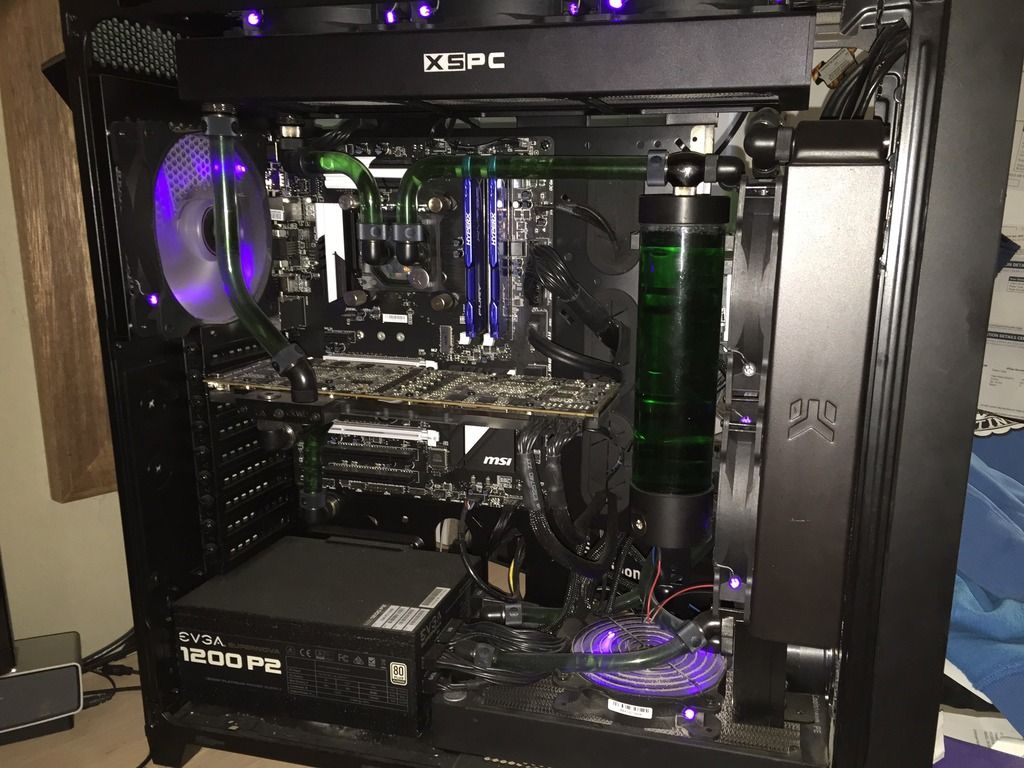 now thankfully the cpu drama's have all but been fixed, however, i was still having alot of crashes and freezes in the game, far far too many than i was happy with. however, i stuck it out using the r9 295x2 for a further 2 months before getting absolutely fed up with the constant freezes and crashes. i had gone back to stock clocks even, but still the amd card ran like total ass.
so after being more and more fed up with amd's horrid software, i eventually saved up for 2 980TI that has just freshly been released just in time for me to purchase them!
so, out with the rest of the amd just, and in wen the pair of EK cooled 980TI's in sli
and that is how she has sat for the past 6 months or so up until now
i took these photo's literally just now, as she stills in the middle of the living room, sitting in it's own filth!
the poor thing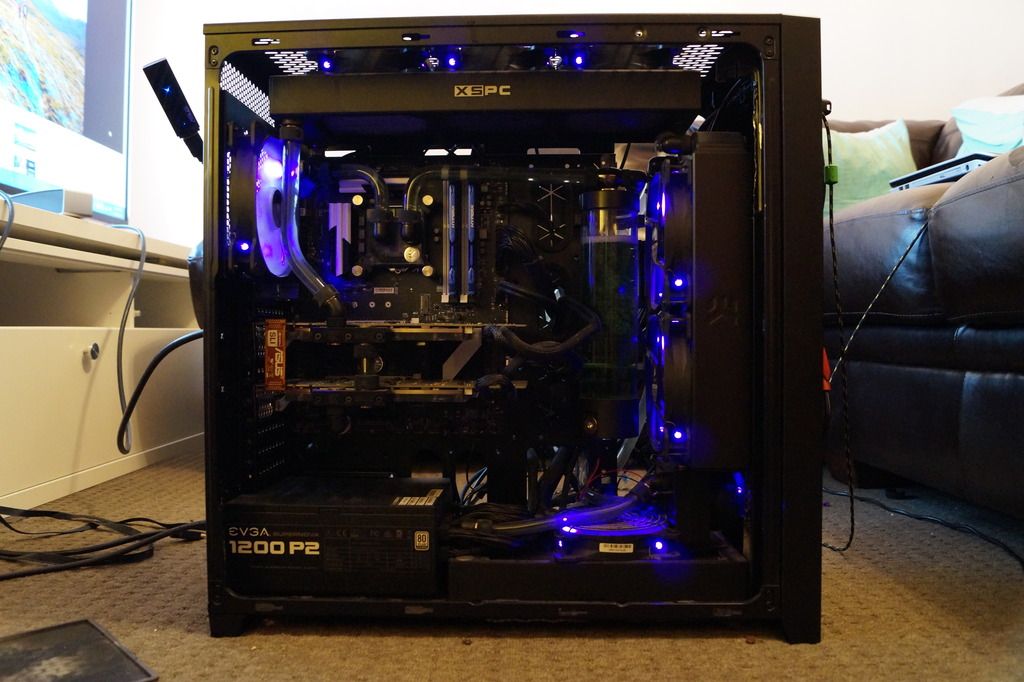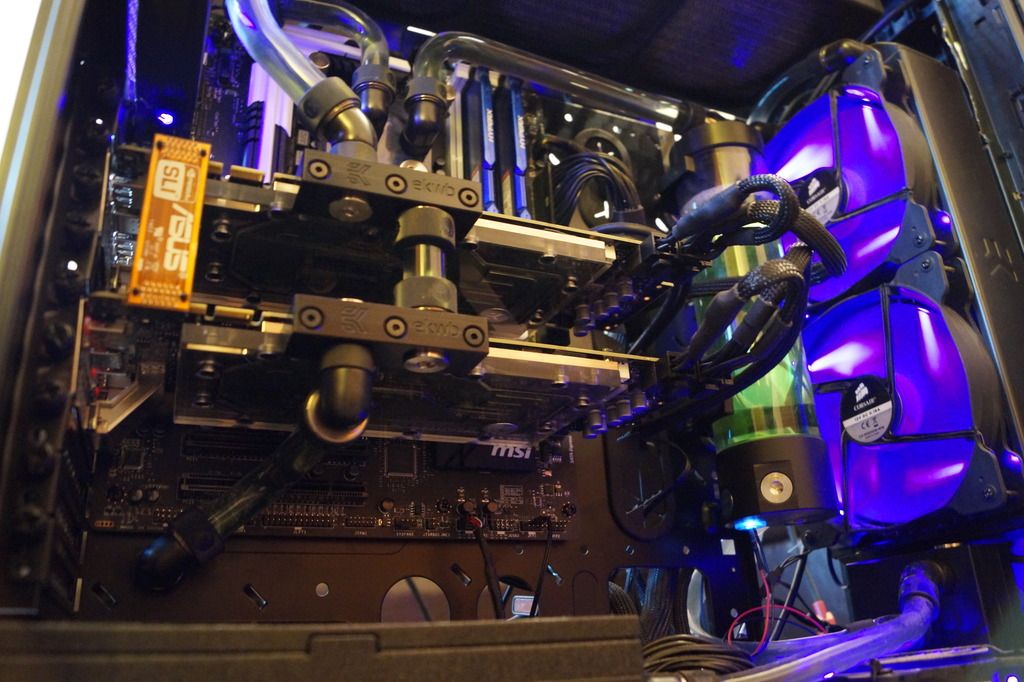 the coolant has since faded, coolant level dropped, tubes starting to go cloudy, dust everywhere (it runs open)
so this pretty much brings up upto date with this rig that has gone through alot of stages.
now im sure you're wondering why the system is in such a mess and sitting in the middle of the living room attatched to the tv again..
well about a month ago, there was abit of a moment were the monitor 'fell' during some rather tense moments along with the keyboard being dropped and snapping in half hahaha.
so since then i have been waiting for the upgraded monitor to finally come in stock...
the new monitor in none other than the new acer x34 predator 34'' ultra wide.
so with a new monitor on the way and now expecting the little pc that could to be able to push an extra 40 fps to be able to hit the 100 fps rating on the new panel, i figured now was a good time to start planning a brand new build!
so, there is the history of my rig for anyone bothered to read this entire thing! i kinda rambled on quite alot there, so ill start the actual build on page 2
(not that there's much yet haha )