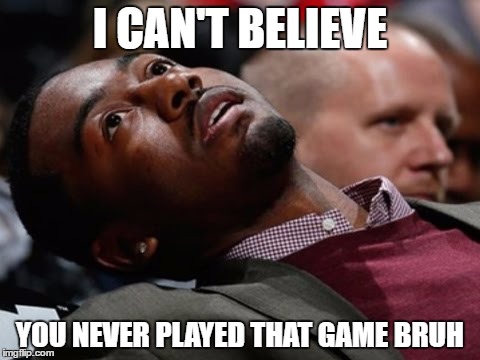 Welcome to the "You Gotta Play This Game Bruh" thread, which is possibly the best thread in OCN and on World Wide Web.... This thread is here to recommend games and ask for recommendations so we can have a very healthy list at the end of the day, month, year and century.
First Things First
1-) No Early Access Games will be on the list but feel free to recommend on them.
2-) No mods will be on the lists but feel free to recommend them as well or talk about them.
3-) The games MUST be on PC in order to be on the lists but feel free to talk about any console game as well.
4-) Decided to add a game to a single genre list only. Will try to identify the best genre that defines the game. This is more healthier and easier for me to track the games on the list.
5-) NOT A REQUIREMENT BUT. IN ORDER FOR A HEALTHY LONG TERM THREAD, TRY TO RECOMMEND 1-2 GAMES MAX PER DAY AND TELL US MORE ABOUT THE GAME. WHEN A BUNCH OF GAMES ARE RECOMMENDED IT IS EASY TO NOT PAY ATTENTION TO THEM. ESPECIALLY IF THERE ARE NO DETAILS. I WILL STILL ADD THEM TO THE LIST BUT IT WOULD BE BEST TO RECOMMEND FEW GAMES PER DAY AND WRITE DETAILS ABOUT THEM
Things I am considering
1-) Might start a VR list
---
ACTION GAMES
Fighting & Beat'em Up
First Person Shooter
Platformer
Shoot'em Up
Space Combat

Stealth
Survival
Tactical Shooter
Third Person Shooter
ACTION-ADVENTURE GAMES
Action Adventure
Metroidvania
Psychological Horror
Survival Horror
ADVENTURE GAMES
Adventure
Graphic Adventure
Point & Click Adventure
Visual Novel
ROLE PLAYING GAMES
Action RPG
JRPG
MMORPG
Roguelike
RPG
Tactical RPG
SIMULATION GAMES
City Building
Simulation
SPORTS
Racing
Sports
STRATEGY GAMES
Multiplayer Online Battle Arena
Real Time Strategy
Strategy
Tower Defense
Turn Based Strategy
OTHER GAMES
Puzzle
Rhythm
Edited by iARDAs - 5/30/17 at 3:11am