----> SIGN UP HERE <----

Notice: You are now required to sign up each month, be sure to sign up for this month's event and each event going forward
What is the Foldathon?

Every month we hold a Foldathon, or FAT for short. The FAT is a mad dash over a 2 day period where we fold on as much hardware as we can get a grubby fingers on and try to amass the most points possible. It is winner takes all. Okay, that's not true, but if you're lucky you might win something, probably not, but you will have made a honourable contribution to the science behind Folding@Home. What is that science you're probably asking, have a gander over here to learn more. All units crunched for team 37726 count, even if you can only manage to complete one unit, but if you're already a folder, there's no excuse for not folding for the full 48 hours 




How it works:

Sign-up and run Folding@home for Overclock.net (team number: 37726) during the specified times. Those who Fold will be entered into a drawing to win the prizes listed below. If you still don't know what Folding@home is or need some help getting started, feel free to post here, make a thread in the Overclock.net Folding@Home Team forum or check this guide: FAHControl v7 for both CPU and GPU
You can verify whether or not you're signed up by looking for your name here in the member list.
If you don't submit any points during a Foldathon, you will be removed from the list, this is to push for active participation in the event.
You are required to re-sign up each month for the prize option, this is to hopefully push a little more active participation in the event as well and prevent prizes going to people who aren't active in the community.
When:
12:00EST / 16:00UTC Monday 27 June 2016  - 12:00EST / 16:00UTC Wednesday 29 June 2016
Countdown to end


Reminders:

If you would like to be put on a reminder list for all future Foldathons, please join this group: Foldathon Participants
Prizing:
Prize Winners:

OCN Donated:
Member Donated:
f you wish to donate a prize, shoot me a PM @PR-Imagery
Prizes will be drawn on or around the Friday after the event.
Stats:

http://folding.axihub.ca/foldathon.php

http://folding.axihub.ca/foldathonteam.php
Points from June Foldathon: 75,994,848 from 74 folders
Click here for a full list of folders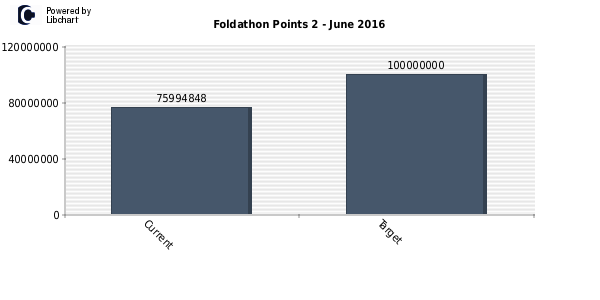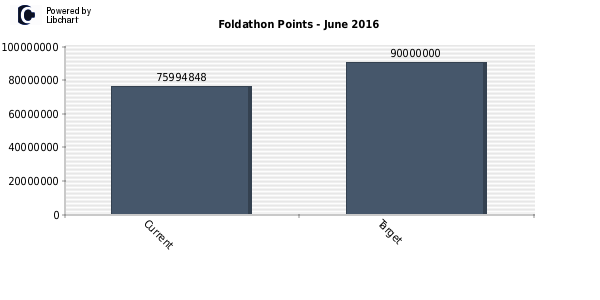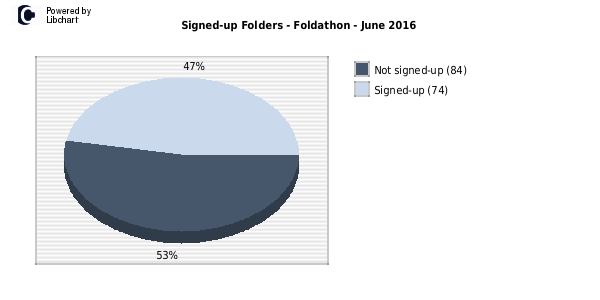 Warning: Spoiler!
(Click to show)
Rank
F@H User
OCN User
(Completed)
Prize
PPD 3 Day
Start
Finish
Total ↓
% Total
(75,994,848)
1
4thKor
4thKor (5)
No
498,309
730,371,547
740,997,451
10,625,904
13.98%
2
RushiMP
RushiMP (5)
No
2,413,470
1,510,102,702
1,516,156,360
6,053,658
7.97%
3
Klue22
Klue22 (5)
Yes
1,981,162
1,405,880,687
1,411,116,449
5,235,762
6.89%
4
valvehead
valvehead (5)
Yes
334,086
504,004,628
508,567,964
4,563,336
6.00%
5
Fasttracker440
fasttracker440 (5)
Yes
1,180,369
226,343,214
230,900,600
4,557,386
6.00%
6
Danbeme32
danbeme32 (5)
Yes
0
396,365,677
400,439,669
4,073,992
5.36%
7
Corono
Irda123 (5)
No
754,477
731,427,621
734,273,405
2,845,784
3.74%
8
notyettoday
notyettoday (5)
Yes
1,188,098
501,648,699
503,962,652
2,313,953
3.04%
9
TickTock99
tictoc (5)
No
302,332
111,706,609
113,959,893
2,253,284
2.97%
10
k4m1k4z3
k4m1k4z3 (5)
Yes
0
202,469,221
204,629,771
2,160,550
2.84%
11
scgeek12
scgeek12 (3)
No
988,770
182,636,264
184,321,766
1,685,502
2.22%
12
Ithanul
Ithanul (5)
Yes
577,929
212,612,495
214,287,935
1,675,440
2.20%
13
mmonnin
mmonnin (5)
Yes
720,197
194,057,954
195,596,890
1,538,936
2.03%
14
Tex1954
Tex1954 (2)
Yes
609,634
50,241,923
51,776,674
1,534,751
2.02%
15
Rockhopper
msgclb (5)
Yes
284,148
808,098,251
809,571,317
1,473,066
1.94%
16
Ryahn
Ryahn (0)
Yes
75,817
19,536,770
20,844,349
1,307,579
1.72%
17
scc28
scc28 (4)
Yes
4,220
58,869,102
59,873,565
1,004,463
1.32%
18
Bigblock990
Bigblock990 (5)
Yes
507,521
399,728,617
400,705,438
976,821
1.29%
19
johnfold4sci
juano (4)
Yes
0
136,023,249
136,993,424
970,175
1.28%
20
epidemic-08
epidemic (5)
Yes
0
49,088,308
50,048,528
960,220
1.26%
21
lanofsong
lanofsong (5)
Yes
515,326
603,974,112
604,872,386
898,274
1.18%
22
jagz
jagz (0)
Yes
420,424
76,051,046
76,923,053
872,007
1.15%
23
hertz9753
hertz9753 (3)
Yes
414,665
709,157,922
709,990,340
832,418
1.10%
24
xenomorph113
xenomorph113 (5)
No
0
19,902,754
20,686,393
783,639
1.03%
25
Heedehcheenuh
Heedehcheenuh (5)
Yes
321,530
56,647,409
57,391,981
744,572
0.98%
26
SkyFred
SkyFred (5)
Yes
0
16,773,496
17,500,209
726,713
0.96%
27
WiSK
WiSK (5)
Yes
313,042
198,570,393
199,276,920
706,527
0.93%
28
Simmons572
Simmons572 (5)
Yes
284,931
206,191,796
206,888,302
696,506
0.92%
29
Edibrac
Edibrac (5)
No
309,764
162,610,418
163,281,689
671,271
0.88%
30
Pojo81
pojoFX (1)
No
136,533
14,318,934
14,989,270
670,336
0.88%
31
Emoga
emoga (2)
Yes
0
25,238,631
25,845,299
606,668
0.80%
32
LeadbyFaith21
LeadbyFaith21 (0)
No
0
378,314
954,049
575,735
0.76%
33
WonderMutt
WonderMutt (5)
Yes
254,799
185,389,083
185,943,583
554,500
0.73%
34
bfromcolo
bfromcolo (5)
Yes
0
22,198,233
22,739,959
541,726
0.71%
35
mrbonami2
bonami2 (2)
Yes
180,663
41,612,180
42,117,139
504,959
0.66%
36
Deedaz
Deedaz (5)
Yes
0
8,165,460
8,658,398
492,938
0.65%
37
Diffident
diffident (5)
Yes
0
44,297,463
44,783,044
485,581
0.64%
38
superericla
superericla (5)
Yes
167,899
134,425,269
134,903,861
478,592
0.63%
39
DR_Kreiger
DR_Kreiger (0)
Yes
277,380
2,297,361
2,768,852
471,491
0.62%
40
Yey09
Yey09 (4)
Yes
232,151
93,586,665
94,035,504
448,839
0.59%
41
Darthbaggins
darthbaggins (4)
Yes
22,312
79,801,091
80,249,921
448,830
0.59%
42
PR-Imagery
PR-Imagery (5)
Yes
27,919
104,475,380
104,877,240
401,860
0.53%
43
jesse1053
Jesse1053 (2)
Yes
159,126
14,530,614
14,909,457
378,843
0.50%
44
WhiteWulfe
WhiteWulfe (5)
Yes
0
79,336,080
79,711,299
375,219
0.49%
45
Anthony20022
Anthony20022 (5)
Yes
9,404
19,827,843
20,192,847
365,004
0.48%
46
WebNutz
WebNutz (0)
Yes
153,578
497,274
849,255
351,981
0.46%
47
bark
barkeater (5)
No
177,838
57,988,863
58,334,966
346,103
0.46%
48
NFSxperts
NFSxperts (5)
Yes
170,313
133,960,124
134,284,558
324,434
0.43%
49
GungnirInd
gungnir (5)
Yes
0
5,727,967
6,012,448
284,481
0.37%
50
Velathawen
Velathawen (4)
Yes
0
21,050,793
21,330,126
279,333
0.37%
Rank
F@H User
OCN User
(Completed)
Prize
PPD 3 Day
Start
Finish
Total ↓
% Total
(75,994,848)
51
StealthKatana
StealthKatana (4)
Yes
159
5,285,661
5,525,468
239,807
0.32%
52
DarkSkyline16
PimpSkyline (5)
Yes
112,294
107,729,667
107,966,367
236,700
0.31%
53
Millillion
Millillion (5)
Yes
136,113
96,961,041
97,169,372
208,331
0.27%
54
JayKthnx
JayKthnx (4)
Yes
92,284
173,612,825
173,796,862
184,037
0.24%
55
maestro0428
maestro0428 (0)
Yes
0
4,403,949
4,539,499
135,550
0.18%
56
mbmumford
mbmumford (0)
Yes
11,103
1,029,672
1,142,920
113,248
0.15%
57
kpforce1
kpforce1 (5)
Yes
89,016
58,722,604
58,833,297
110,693
0.15%
58
shelter_ocn
shelter (5)
No
0
126,993,010
127,070,604
77,594
0.10%
59
DaMirrorLink
DaMirrorLink (3)
Yes
0
13,952,530
14,029,736
77,206
0.10%
60
nategr8ns
nategr8ns (2)
Yes
0
4,298,820
4,366,974
68,154
0.09%
61
Ssgtnubb
ssgtnubb (0)
Yes
137,189
1,029,253
1,088,538
59,285
0.08%
62
mega_option101
mega_option101 (1)
Yes
134,129
3,552,666
3,611,924
59,258
0.08%
63
staccker
staccker (3)
Yes
0
17,239,460
17,297,826
58,366
0.08%
64
DogeTactical
DogeTactical (1)
Yes
0
152,036
204,598
52,562
0.07%
65
JJEEGG2211
JJEEGG2211 (5)
Yes
388
1,230,775
1,277,699
46,924
0.06%
66
Jim888
Jim888 (4)
No
12,467
3,939,131
3,976,761
37,630
0.05%
67
Taowulf
Taowulf (5)
Yes
11,831
4,350,600
4,374,041
23,441
0.03%
68
JKuhn
JKuhn (5)
Yes
5,750
14,046,410
14,067,285
20,875
0.03%
69
ozyo
ozyo (5)
No
4,606
3,010,831
3,028,645
17,814
0.02%
70
Mitche01
Mitche01 (5)
Yes
4,583
215,177,109
215,189,484
12,375
0.02%
71
Ceadderman
Ceadderman (4)
Yes
0
9,883,972
9,894,866
10,894
0.01%
72
mironccr345
mironccr345 (5)
No
6,212
33,327,465
33,335,686
8,221
0.01%
73
scifiguy
muels7 (5)
No
2,425
58,950,091
58,954,719
4,628
0.01%
74
krista031
krista031 (5)
No
0
524,803
526,116
1,313
0.00%
 
CPU
Motherboard
Graphics
RAM
Intel i5-4570s
Asus H97M-Plus
AMD R9 280
G.Skill RipjawsX 16 GB (2x8)
Hard Drive
Hard Drive
Hard Drive
Cooling
250 GB Samsung 840
240 GB Kingston
3 TB USB 3.0 Drive
Custom Loop
OS
Monitor
Keyboard
Power
Windows 10 Preview
BenQ GL2450
Filco MajesTouch2 Ninja
PC P&C Silencer Mk III 600 W
Case
Mouse
Mouse Pad
Audio
Fractal Design Core 1000
Mionix Castor
Monoprice XXL
JL Amps + Custom Morel Bookshelf speakers
Other
Scythe Kama-Panel 3
View all
CPU
Motherboard
Graphics
RAM
FX-8150 @ 4.6 GHz
Fatal1ty 990FX Pro
9800 GTX+ 512 MB
G.Skill Ripjaws X 1866 CL9
Hard Drive
Hard Drive
Cooling
OS
120 GB OCZ Vertex 3
1 TB WD Black
5x 120mm + MCP350 + EK Supreme HF + MicroRes
Windows 8 Consumer Preview
Monitor
Keyboard
Power
Case
2x Dell U2212HM
Logitech G110
Cooler Master 850W Silent Pro
Cooler Master 690 II Adv.
Mouse
Mouse Pad
Audio
Razer Death Adder 3.5G
Staples Gel Cushion
Asus Xonar DG + Senn. PC333D
View all
CPU
Motherboard
Graphics
RAM
Q6600
Acer X1800
ATI 5670
2 GB Kingston
Hard Drive
Optical Drive
OS
Monitor
2 TB WD Green
Asus BD-R
Windows 7 Home Premium
Sony 50" LCD
Keyboard
Power
Case
Mouse
Acer Media
220 W SFF
Acer X1800
Acer Optical
Mouse Pad
Audio
The TV cabinet
Denon 2808 7.1 AVR + Dahlquist 350W 8" Sub + Kl...
View all
hide details
CPU
Motherboard
Graphics
RAM
Intel i5-4570s
Asus H97M-Plus
AMD R9 280
G.Skill RipjawsX 16 GB (2x8)
Hard Drive
Hard Drive
Hard Drive
Cooling
250 GB Samsung 840
240 GB Kingston
3 TB USB 3.0 Drive
Custom Loop
OS
Monitor
Keyboard
Power
Windows 10 Preview
BenQ GL2450
Filco MajesTouch2 Ninja
PC P&C Silencer Mk III 600 W
Case
Mouse
Mouse Pad
Audio
Fractal Design Core 1000
Mionix Castor
Monoprice XXL
JL Amps + Custom Morel Bookshelf speakers
Other
Scythe Kama-Panel 3
View all
CPU
Motherboard
Graphics
RAM
FX-8150 @ 4.6 GHz
Fatal1ty 990FX Pro
9800 GTX+ 512 MB
G.Skill Ripjaws X 1866 CL9
Hard Drive
Hard Drive
Cooling
OS
120 GB OCZ Vertex 3
1 TB WD Black
5x 120mm + MCP350 + EK Supreme HF + MicroRes
Windows 8 Consumer Preview
Monitor
Keyboard
Power
Case
2x Dell U2212HM
Logitech G110
Cooler Master 850W Silent Pro
Cooler Master 690 II Adv.
Mouse
Mouse Pad
Audio
Razer Death Adder 3.5G
Staples Gel Cushion
Asus Xonar DG + Senn. PC333D
View all
CPU
Motherboard
Graphics
RAM
Q6600
Acer X1800
ATI 5670
2 GB Kingston
Hard Drive
Optical Drive
OS
Monitor
2 TB WD Green
Asus BD-R
Windows 7 Home Premium
Sony 50" LCD
Keyboard
Power
Case
Mouse
Acer Media
220 W SFF
Acer X1800
Acer Optical
Mouse Pad
Audio
The TV cabinet
Denon 2808 7.1 AVR + Dahlquist 350W 8" Sub + Kl...
View all
hide details