Quote:
As part of this evening's AMD Capsaicin event (more on that later), AMD's Chief Architect and SVP of the Radeon Technologies Group has announced a new Radeon Pro card unlike anything else. Dubbed the Radeon Pro Solid State Graphics (SSG), this card includes M.2 slots for adding NAND SSDs, with the goal of vastly increasing the amount of local storage available to the video card.

Details are a bit thin and I'll update this later this evening, but in short the card utilizes a Polaris 10 GPU and includes 2 PCIe 3.0 M.2 slots for adding flash drives to the card. These slots are then attached to the GPU (it's unclear if there's a PCIe switch involved or if it's wired directly), which the GPU can then use as an additional tier of storage. I'm told that the card can fit at least 1TB of NAND – likely limited by M.2 MLC SSD capacities – which massively increases the amount of local storage available on the card.
SOurce
If Repost i don't know.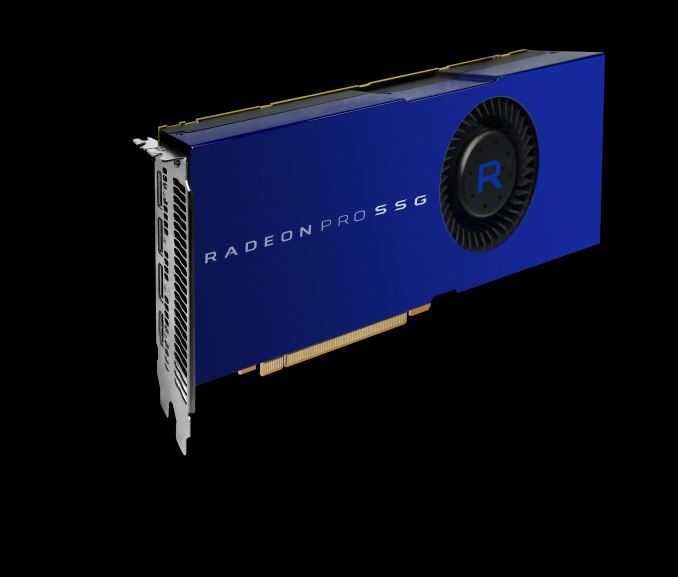 CPU
Motherboard
Graphics
Graphics
Core i7 3770k
Asus P8Z68 Deluxe
Galaxy Geforce GTX 780
Galaxy Geforce GTX 780
RAM
Hard Drive
Cooling
OS
16 Gb's G.Skill DDR3 1866
Crucial M500 SSD 240Gb
Coolit ECO C240
Windows 7 Ultimate
Monitor
Power
Case
Benq G2420HD
Coolermaster Silent Pro 1000 Watt
Deepcool Kendomen
View all
CPU
Motherboard
RAM
Hard Drive
Core i3 2120
Supermicro X9SCM-F
4 Gb Kingston 1600mhz DDR3 ECC
12 Segate 2tb drives (RAID 6)
Hard Drive
Hard Drive
OS
Power
ADATA SP600 SSD
24 Toshiba DT01ACA200 drives (2 RAID 6's)
Windows 7 Ultimate 64 bit.
OCZ ZT750 Supermicro PWS-665-PQ
Case
Other
Other
Other
Norco 4020 and Norco 4224
LSI 9260-4i Raid Card
Intel RES2SV240 20 port Expander. HP SAS 24 por...
Voltaire 410Ex Hca Infiniband HBA
View all
hide details
CPU
Motherboard
Graphics
Graphics
Core i7 3770k
Asus P8Z68 Deluxe
Galaxy Geforce GTX 780
Galaxy Geforce GTX 780
RAM
Hard Drive
Cooling
OS
16 Gb's G.Skill DDR3 1866
Crucial M500 SSD 240Gb
Coolit ECO C240
Windows 7 Ultimate
Monitor
Power
Case
Benq G2420HD
Coolermaster Silent Pro 1000 Watt
Deepcool Kendomen
View all
CPU
Motherboard
RAM
Hard Drive
Core i3 2120
Supermicro X9SCM-F
4 Gb Kingston 1600mhz DDR3 ECC
12 Segate 2tb drives (RAID 6)
Hard Drive
Hard Drive
OS
Power
ADATA SP600 SSD
24 Toshiba DT01ACA200 drives (2 RAID 6's)
Windows 7 Ultimate 64 bit.
OCZ ZT750 Supermicro PWS-665-PQ
Case
Other
Other
Other
Norco 4020 and Norco 4224
LSI 9260-4i Raid Card
Intel RES2SV240 20 port Expander. HP SAS 24 por...
Voltaire 410Ex Hca Infiniband HBA
View all
hide details