I would like to understand something :
here is my score 3DMark with Sea Hawk X :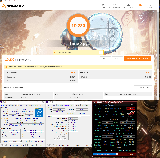 As you can see, frequency core is 1617MHz.
In MSI AB, I put voltage slider to 100% and power limit to 120%
Result => I only get 2000MHz maximum as boost frequency in time spy...
Now, when I look this result for example :
http://cdn.overclock.net/9/92/92e2e136_timespyahowe.png
The Core frequency is lower than mine (1554MHz) and the boost frequency is 2075MHz !
In Time Spy, why can't I go over 2000MHz-2012MHz with a start frequency at 1617MHz with power limit at 120% and slider voltage at 100% in MSI AB, while a lot of you can reach 2050MHz average in the same conditions....?
Is my card unable to go to its power limit ??