On a P5E or a Maximus, there's no clearance issue with the Zalman 9700 (or a Tuniq or a TRUE120).
I understand the specifications for the board. What I'm trying to say is that the specifications are not a limitation or restriction.
I wouldn't say I run RAM at above PC2-6400 speeds if I didn't actually run RAM at above PC2-6400 speeds. I didn't just make that up.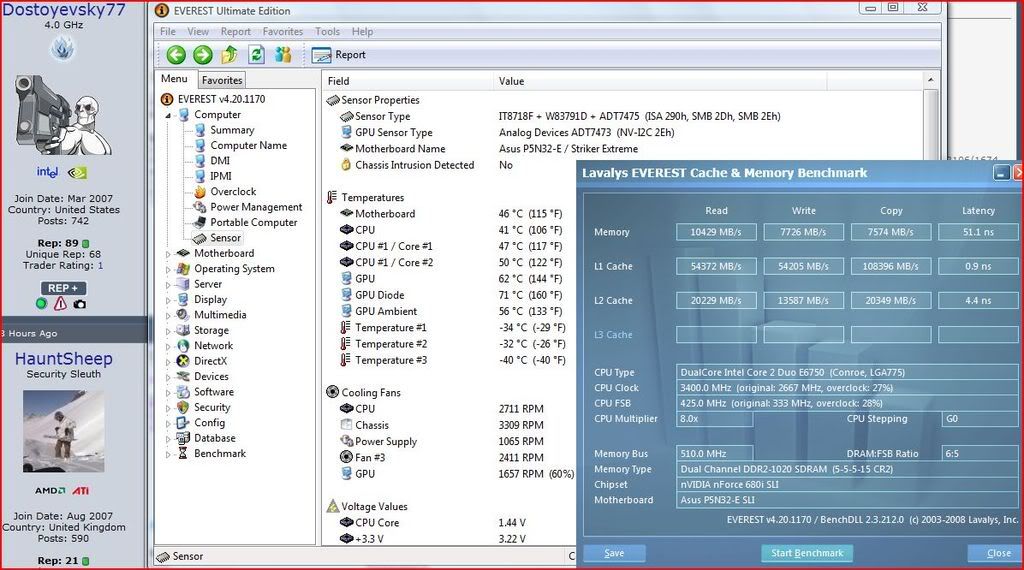 You may insist it isn't possible, but my own experience offers otherwise. Please find enclosed benchmarks for a variety of RAM in a variety of configurations at speeds that exceed PC2-8500.
CPU
Motherboard
Graphics
RAM
E8400 @ 4.23 (470x9, 1.40v)
ASUS Rampage Formula X38 0403 (Maximus 1.03G Hack)
EVGA GTX 280 670/2430/1458 & EVGA 9600GT SC
4x1GB Ballistix PC2-8500, 1128MHz, 2.18v
Hard Drive
Optical Drive
OS
Monitor
2xWD Raptor 150 @ RAID 0 + Pagefile HDD
2 Sony DVD/RW
Vista Ultimate x64 SP1
Samsung 244T & Samsung 940B
Keyboard
Power
Case
Mouse
Logitech G15
1.1kW Tagan TG1100-U96
NZXT Zero (Modded)
Logitech MX Revolution
Mouse Pad
QPAD XT-R
View all
hide details
CPU
Motherboard
Graphics
RAM
E8400 @ 4.23 (470x9, 1.40v)
ASUS Rampage Formula X38 0403 (Maximus 1.03G Hack)
EVGA GTX 280 670/2430/1458 & EVGA 9600GT SC
4x1GB Ballistix PC2-8500, 1128MHz, 2.18v
Hard Drive
Optical Drive
OS
Monitor
2xWD Raptor 150 @ RAID 0 + Pagefile HDD
2 Sony DVD/RW
Vista Ultimate x64 SP1
Samsung 244T & Samsung 940B
Keyboard
Power
Case
Mouse
Logitech G15
1.1kW Tagan TG1100-U96
NZXT Zero (Modded)
Logitech MX Revolution
Mouse Pad
QPAD XT-R
View all
hide details