I picked up a brand new, sealed 20Gb PS3 on ebay for $405. I knew that I wanted to get the less expensive 20Gb PS3 and swap out the HDD myself. Sure enough there are a few guides online. Special thanks to
Gamersreports.com
for their guide that inspired me to make my own for OCN.
Here's what you'll need:
A Notebook 2.5mm SATA HDD. I stuck with the same speed as the stock PS3 hard drive which is 5400RPM (also recommended by Gamersreports).
A small Flathead screwdriver.
A small Phillips screwdriver.
Now to replace the stock hard drive. Gamersreports recommended this
Toshiba 120Gb HDD
for $75 on newegg. Not bad, but I wanted more. I ended up going with this
Western Digital 160Gb HDD
instead for $99. I might not ever need the space but it's good to know that it's there.
I was amazed at how small the hard drive was compared to a full size internal one that I'm used to on my computer.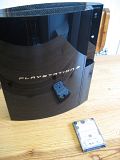 It just about the size of an iPod video.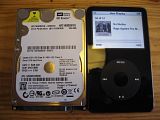 First thing you'll need to do is lay your PS3 down on its back so you can see the bottom where the hard drive is located. Then use your Flathead screwdriver to pop the plastic hard drive cover off.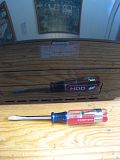 After that you'll be able to see the hard drive tray. Next you'll need to use the Phillips screwdriver to remove the
blue
screw.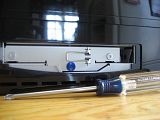 Once that's out pull the metal handle towards you then slide the hard drive tray to the right and pull it out.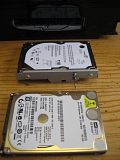 You'll need to remove the 4 screws that hold the hard drive to the tray. There's 2 on each side.
Be careful not to strip the screws, it can happen easily.
Then just put your higher capacity hard drive on the tray and put the screw back in. Be sure you don't over tighten the screws.
Slide the tray straight back into the PS3.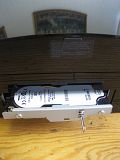 Then slide the tray to the left so it's secure (as pictured in the animated gif below). After that just screw the
blue
screw in and put the plastic hard drive cover back on.
Once you start your PS3 you'll get a message saying your hard drive must be formatted. Just hit yes twice and you're all done.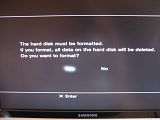 It's a really easy mod. For just over $500 I built a 160Gb PS3 which is still way cheaper than the retail price of the 60Gb PS3 at $600. Feel free to leave any feedback or questions.
Also check out my
PS3 Audio/Video Guide
.
CPU
Motherboard
Graphics
RAM
Q6600 G0 @ 3.42GHz
Asus P5K Deluxe
XFX 8800 ULTRA 710/2340
2x1Gb Crucial Ballistix Tracers PC2 8500
Hard Drive
OS
Monitor
Keyboard
74Gb Raptor + 750Gb Seagate eSata
XP Pro
Samsung 226BW 22" LCD
Logitech
Power
Case
Mouse
Mouse Pad
Silverstone Zeus 650w
N/A
Logitech MX-518
Ulti Mat
View all
hide details
CPU
Motherboard
Graphics
RAM
Q6600 G0 @ 3.42GHz
Asus P5K Deluxe
XFX 8800 ULTRA 710/2340
2x1Gb Crucial Ballistix Tracers PC2 8500
Hard Drive
OS
Monitor
Keyboard
74Gb Raptor + 750Gb Seagate eSata
XP Pro
Samsung 226BW 22" LCD
Logitech
Power
Case
Mouse
Mouse Pad
Silverstone Zeus 650w
N/A
Logitech MX-518
Ulti Mat
View all
hide details