For GTS 640mb core overclocking... I just ran a bench on ATItool artifact scanner for ten minutes at 700mhz core clock and 1000mhz mem clock. All of it was done on air/stock cooling, with a closed case.
Check out the screenie-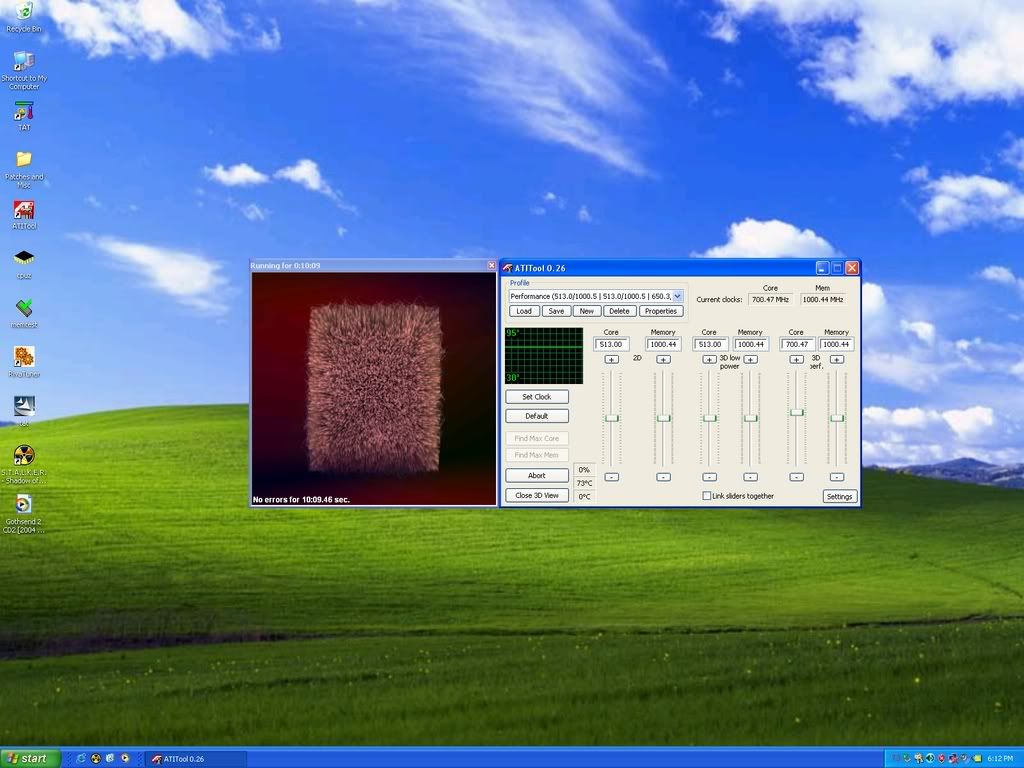 http://i35.photobucket.com/albums/d1.../Overclock.jpg
I think I might push for 2200mhz mem. next, to see if I can match the highest GTS mem. overclock as well. Go EVGA for making a great freakin' card!
CPU
Motherboard
Graphics
RAM
E8400 @ 3.6ghz
DFI LANPARTY DK P35-T2RS
HD 4870 @ 790/1000ddr
2x2gb 1000mhz G.Skill
Hard Drive
Optical Drive
OS
Monitor
250gb Seagate 32mb cache
SAMSUNG 20X DVD±R
Windows XP Pro
Acer AL2216Wbd Black 22"
Keyboard
Power
Case
Mouse
one with keys.
Corsair HX520w Modular PSU
P182
a lazer one.
View all
hide details
CPU
Motherboard
Graphics
RAM
E8400 @ 3.6ghz
DFI LANPARTY DK P35-T2RS
HD 4870 @ 790/1000ddr
2x2gb 1000mhz G.Skill
Hard Drive
Optical Drive
OS
Monitor
250gb Seagate 32mb cache
SAMSUNG 20X DVD±R
Windows XP Pro
Acer AL2216Wbd Black 22"
Keyboard
Power
Case
Mouse
one with keys.
Corsair HX520w Modular PSU
P182
a lazer one.
View all
hide details