When I first got my PS3 my goal was to run my video through my computer monitor and my audio through my computer speakers. I put together this little guide to help anyone else looking to do the same thing. This saves you from having to go through your TV's audio/video if it's not as nice as your monitor & computer speakers.
Step 1, Video:
Forget the stock RCA component cable, what you really need is an HDMI --> DVI cable. But before you pay $100+ at Best Buy remember that Google is your friend. You can get the same cable online for under $5 is you look hard enough. I ended up going with a higher quality Monster Cable that still came out to only $12 shipped.
PS3 --> HMDI to DVI Cable --> DVI Switch --> DVI Cable --> Monitor
Step 2, Audio:
You'd ideally use HDMI for your audio but not with computer speakers. I used the RCA component cable for the audio (red & white) only. But again, not the stock cable, I used my left over Monster Cable from my PS2. Here's the Monster Cable next to the stock one.
BIG
difference!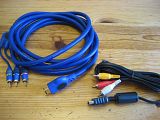 Next you have to figure how to get RCAs male ends of the component cable to connect to the headset jack male end on your computer speakers. I looked through my garage and found a double sided female RCA (for red & white) adapter. Then I bought another wire at Radioshack (for around $8) that was male RCAs --> male headset jack. Then A female/female headset jack adapter. Finally you plug that into your green computer speaker cable. It sounds like a handful but once it's put together you see how it goes.
PS3 --> Component Cable --> Female/Female RCA Adapter --> RCA to Headset Jack Cable --> Female/Female Headset Jack Adapter --> Computer Speakers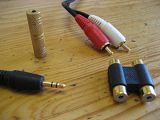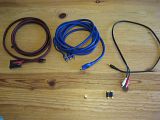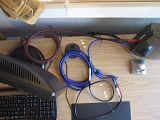 Bonus Step:
I ran into a problem using DVI for both my PC & PS3. My monitor only has one DVI input so I'd have to manually switch cables every time I wanted to switch between the PC & PS3 or I needed to find another solution. Well I looked into getting a DVI KVM switch. They're pretty expensive so I turned to ebay and found one for pretty cheap. It takes both DVI outputs from your PC & PS3 and sends it to your monitor through one DVI cable. All you need to do then it press the switch button to toggle between the two sources.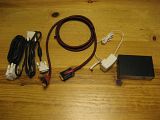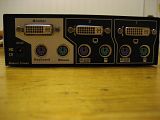 Once it's all tucked away behind the desk the setup looks pretty nice if I don't say so myself.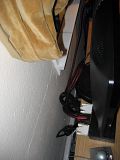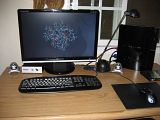 Also check out my
PS3 Hard Drive Swapping Guide
.
CPU
Motherboard
Graphics
RAM
Q6600 G0 @ 3.42GHz
Asus P5K Deluxe
XFX 8800 ULTRA 710/2340
2x1Gb Crucial Ballistix Tracers PC2 8500
Hard Drive
OS
Monitor
Keyboard
74Gb Raptor + 750Gb Seagate eSata
XP Pro
Samsung 226BW 22" LCD
Logitech
Power
Case
Mouse
Mouse Pad
Silverstone Zeus 650w
N/A
Logitech MX-518
Ulti Mat
View all
hide details
CPU
Motherboard
Graphics
RAM
Q6600 G0 @ 3.42GHz
Asus P5K Deluxe
XFX 8800 ULTRA 710/2340
2x1Gb Crucial Ballistix Tracers PC2 8500
Hard Drive
OS
Monitor
Keyboard
74Gb Raptor + 750Gb Seagate eSata
XP Pro
Samsung 226BW 22" LCD
Logitech
Power
Case
Mouse
Mouse Pad
Silverstone Zeus 650w
N/A
Logitech MX-518
Ulti Mat
View all
hide details