Hey everyone. I have been in a delimma while overclocking my AMD Sandy 3700+. I have tryed to overclock it many times, and I have never gotten very far due to instability.
My problem: My CPU will NEVER go past 230 Mhz, 229 works fine, but 230 = Bust. I applied AS5 earlier today and got some better temps, but still, I can not overclock past 2520 Mhz, which is somewhat puny for a KAB2E. I got this motherboard.
BIOSTAR TForce6100-939 Socket 939 NVIDIA GeForce 6100 Micro ATX AMD Motherboard - Retail
Which is no longer made.
I have this PSU
http://www.newegg.com/Product/Produc...82E16817104954
This is what my setup looks like.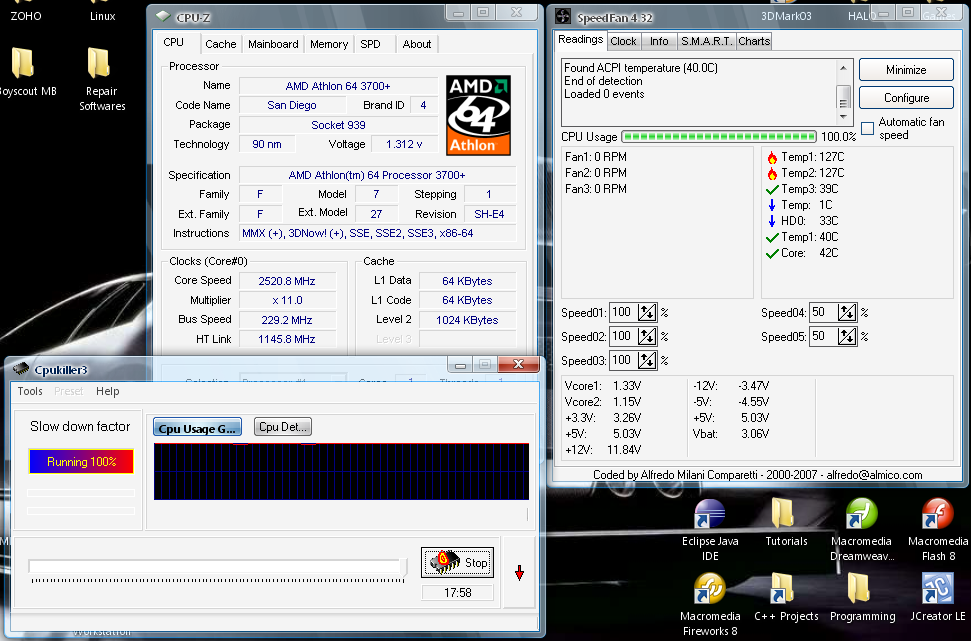 And Everest looks like:
Thank you for any help you can provide, I will award reps to those who help me.
CPU
Motherboard
Graphics
RAM
Athlon 64 3700+ Sandy
Biostar MATX 6100
GeForce 7600 GT
1024 MB G.SKILL PC 3200
Hard Drive
Optical Drive
OS
Monitor
Western Digital 160 GB
ASUS DVD-RW
Windows XP MCE '05, Fedora 6
17'' CRT
Power
Case
FSP 450 Watt
Black w/ Window
View all
hide details
CPU
Motherboard
Graphics
RAM
Athlon 64 3700+ Sandy
Biostar MATX 6100
GeForce 7600 GT
1024 MB G.SKILL PC 3200
Hard Drive
Optical Drive
OS
Monitor
Western Digital 160 GB
ASUS DVD-RW
Windows XP MCE '05, Fedora 6
17'' CRT
Power
Case
FSP 450 Watt
Black w/ Window
View all
hide details