Earlier today I picked up CoH and the SC Battle Chest, all for around ~$60! Very excited!
I played the demo of CoH and fell in love with it, and I decided to give SC a whirl in light of the pending release of SC2. Haven't started playing yet due to the fact that I got less than 2 hours of sleep last night.. but i plan on starting sometime this week or this weekend. Can't wait! Woot!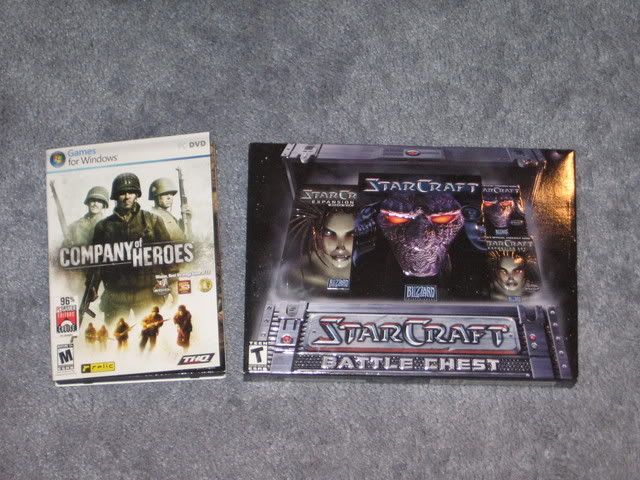 edit- Any patches for either game that I should concern myself with?
CPU
Motherboard
Graphics
RAM
Intel C2D e6600
P5B Deluxe
EVGA 8800gts 320mb
2x1gb G.Skill HK
Hard Drive
Optical Drive
OS
Monitor
Seagate 7200.10 320gb
LITE-ON Combo Drive
Windows XP Home SP2B
ViewSonic VX922 19'' 2ms
Keyboard
Power
Case
Mouse
Logitech UltraX
Corsair 620HX
Antec P182
MX518
Mouse Pad
Banshee Pad
View all
hide details
CPU
Motherboard
Graphics
RAM
Intel C2D e6600
P5B Deluxe
EVGA 8800gts 320mb
2x1gb G.Skill HK
Hard Drive
Optical Drive
OS
Monitor
Seagate 7200.10 320gb
LITE-ON Combo Drive
Windows XP Home SP2B
ViewSonic VX922 19'' 2ms
Keyboard
Power
Case
Mouse
Logitech UltraX
Corsair 620HX
Antec P182
MX518
Mouse Pad
Banshee Pad
View all
hide details