This is pretty much the system I began system building with. You can see it in my profile, but I'll save you the trouble by posting what's interesting about the system:
AMD Sempron Socket 754 2800+ (Stock 1.6Ghz)
Gigabyte K8 Triton mobo
ATI Radeon X1300Pro AGP
1GB DDR400 RAM
When I began overclocking, I was using this system. This motherboard was terrible for overclocking, and I couldn't exceed 1.7Ghz on it. Well, over past couple of days, I learned a lot of nifty tricks, so I thought I'd try to push this system even more. And I managed to get 2.1Ghz! It honestly surprised me.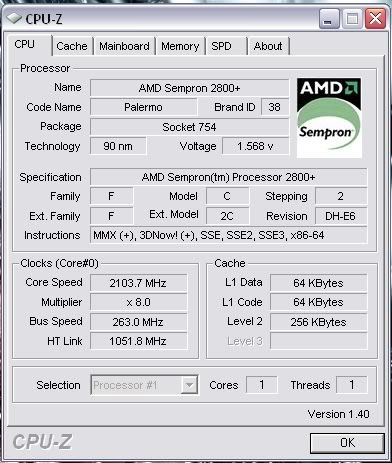 CPU
Motherboard
Graphics
RAM
AMD Phenom II X4 965 @4.2Ghz
ASUS M4A89TD PRO USB3.0
ASUS GeForce GTX 580 DCUII
8GB G.Skill RipjawsX
Hard Drive
Optical Drive
OS
Monitor
64GB Crucial SSD, 450GB VelociRaptor, 300GB Maxtor
ASUS DRW-24B1ST
Windows 7 Pro
ASUS MS226H 21.5"
Keyboard
Power
Case
Mouse
Logitech 920-000914
XFX Black Edition 750W
Antec 900
Logitech G9x
Mouse Pad
Archetype 1030 Surface
View all
hide details
CPU
Motherboard
Graphics
RAM
AMD Phenom II X4 965 @4.2Ghz
ASUS M4A89TD PRO USB3.0
ASUS GeForce GTX 580 DCUII
8GB G.Skill RipjawsX
Hard Drive
Optical Drive
OS
Monitor
64GB Crucial SSD, 450GB VelociRaptor, 300GB Maxtor
ASUS DRW-24B1ST
Windows 7 Pro
ASUS MS226H 21.5"
Keyboard
Power
Case
Mouse
Logitech 920-000914
XFX Black Edition 750W
Antec 900
Logitech G9x
Mouse Pad
Archetype 1030 Surface
View all
hide details