Hey guys, I am really frustrated right now, and I was hoping someone could help.
+Rep for help.
Ok, so heres the lowdown.
I decided to make a seperate windows partition for things like 3Ds Max, VS2005, Etc. I had partition magic(with bootmagic) so I decided to go about making a new install. Well, all I can say is that it won't recognize my main partition at all. I can boot into my new partition fine, and I can even access the files on the old one, but I really really want to get back into the other partition. I took a bunch of screenshots to try to help you help me. Oh, and I reformatted a linux partition to use for windows.
Ok, the first is of my system information screen, probably won't help, but hey, you never know.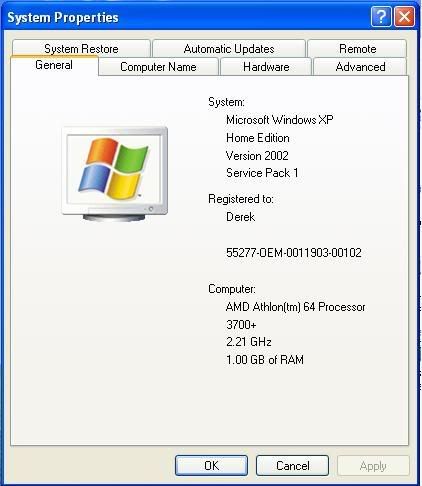 The next screeny I took was in the system>advanced>startup and recovery>settings. This shows what settings windows has for my startup.
Next, I took a picture in partition magic. C:\\ is my secondary partition, G:\\ is my primary.
This next one is in my computer, it doesn't show G:\\, but it normally does.
This one is in msconfig's boot settings. Again, probably not the most useful.
Boot Magic: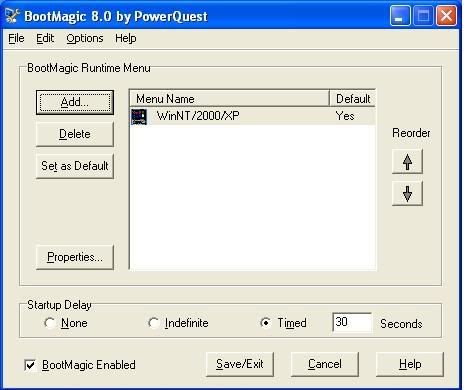 And lastly, the text file containing bootloader parameters.
Random Facts:
Using XP Home SP1 as secondary
Using XP MCE SP2 as primary
Ok, so now that I have showed you that, I'll give you a progress report of what I have tried. First off, I know it is not a hardware problem, because I got a successful install(and I have installed 3 times now!). I have tried quite a few things. Such as modifying the boot file, messing with bootmagic, and setting G:\\ to the active partition(which resulted in an "NTLDR Please CTRL+ALT+DELETE TO RESTART" error)
I am quite discouraged, as I had 60 Gigs of data on that partition, and I wish to get it back. Thank you for any help you can provide.
And remember, +Rep for help!
CPU
Motherboard
Graphics
RAM
Athlon 64 3700+ Sandy
Biostar MATX 6100
GeForce 7600 GT
1024 MB G.SKILL PC 3200
Hard Drive
Optical Drive
OS
Monitor
Western Digital 160 GB
ASUS DVD-RW
Windows XP MCE '05, Fedora 6
17'' CRT
Power
Case
FSP 450 Watt
Black w/ Window
View all
hide details
CPU
Motherboard
Graphics
RAM
Athlon 64 3700+ Sandy
Biostar MATX 6100
GeForce 7600 GT
1024 MB G.SKILL PC 3200
Hard Drive
Optical Drive
OS
Monitor
Western Digital 160 GB
ASUS DVD-RW
Windows XP MCE '05, Fedora 6
17'' CRT
Power
Case
FSP 450 Watt
Black w/ Window
View all
hide details