Hey guys, I'm pretty new to overclocking. I've read up extensively on my particular board's overclocking options, as well as the capabilities of the e6600.
My problem lies within the vcore I believe. I was basically aiming for 3.5-.6Ghz, or better yet, 3.4Ghz fully stable. Currently I'm running 3.0Ghz, 333FSB x 9, with Vcore of 1.42v.
I've tried many different measures as far as changing multiplier down a bit, and increasing FSB, and that worked a little bit, but nothing seems to be giving me stable results for higher clock speeds. Any help would be greatly appreciated.
Thanks.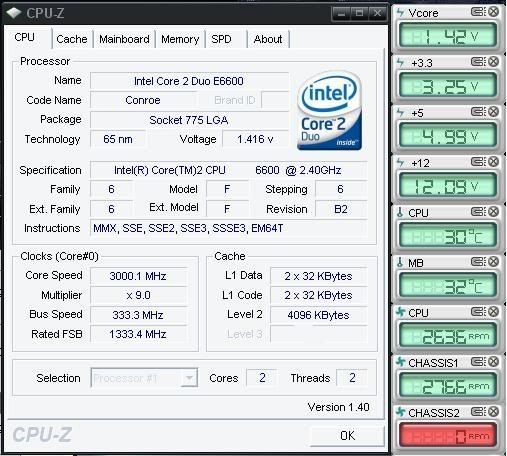 CPU
Motherboard
Graphics
RAM
E6600 3.3Ghz @ 1.43v
Asus P5B Deluxe
EVGA 8800 GTX KO ACS³
G.Skill HZ's 2x1GB
Hard Drive
Optical Drive
OS
Monitor
WD 160GB
DVD-R/CD-RW x52
Windows XP Professional
Samsung 206BW 20" Widescreen
Keyboard
Power
Case
Mouse
Logitech G-15 (Blue)
Antec Trio 650W
Antec 900
Razer Diamondback (Blue)
Mouse Pad
Laser by Handstands.com
View all
hide details
CPU
Motherboard
Graphics
RAM
E6600 3.3Ghz @ 1.43v
Asus P5B Deluxe
EVGA 8800 GTX KO ACS³
G.Skill HZ's 2x1GB
Hard Drive
Optical Drive
OS
Monitor
WD 160GB
DVD-R/CD-RW x52
Windows XP Professional
Samsung 206BW 20" Widescreen
Keyboard
Power
Case
Mouse
Logitech G-15 (Blue)
Antec Trio 650W
Antec 900
Razer Diamondback (Blue)
Mouse Pad
Laser by Handstands.com
View all
hide details