I've found a nice 24/7 stable overclock on my Q6600 at 3204 (356 x 9), 1.400v and for a moment there I was quite happy with that. Then yesterday while sitting at my desk I happened to look over at the A/C vent , then my radiator, back over to the vent, and my rad once again. Quickly realizing that the only logical thing to do would be to wedge my computer between my bed and the A/C vent, and crank up the Vcore to see what this chip was really capable of!!
At no point did I run orthos, and stability wasn't a concern. SuperPi 8m was as stable as I tried. I left the ram at 5/5/5/15 @ 2.175v the entire time but I'm sure I could have tightened the timings with more voltage, but didn't try playing around with them. So here we go...
3610 MHz @ 1.450v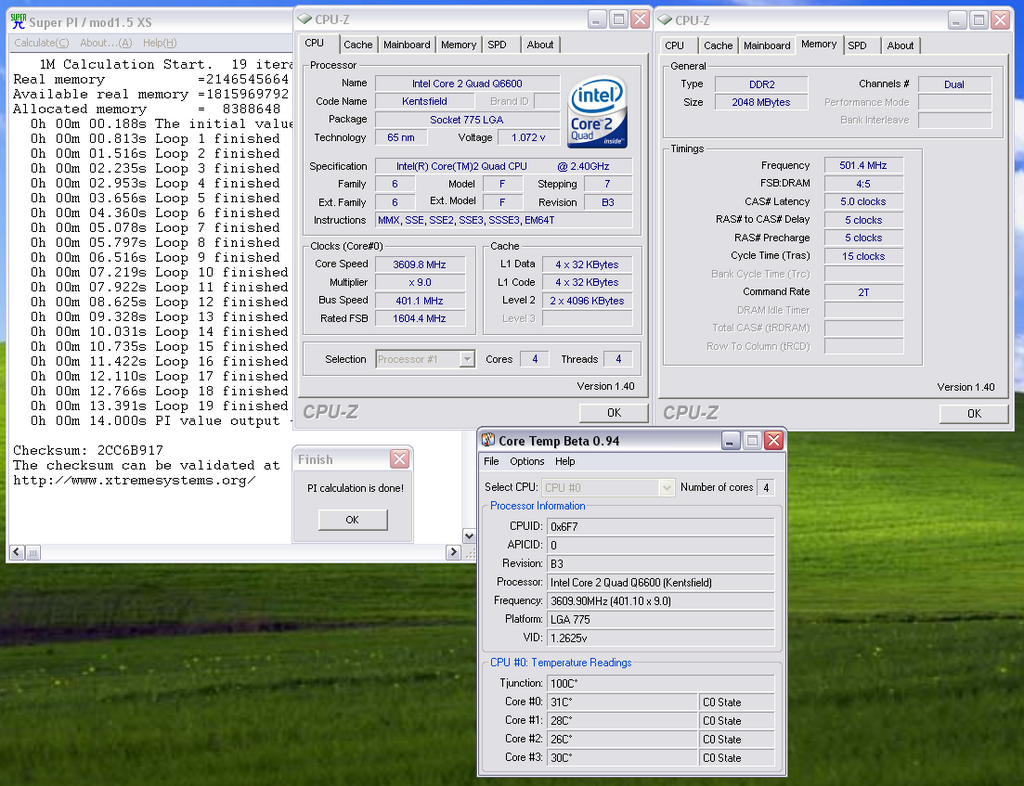 3708 MHz @ 1.5125v
3807 MHz @ 1.575v - 1m
8m
3896 MHz @ 1.6125v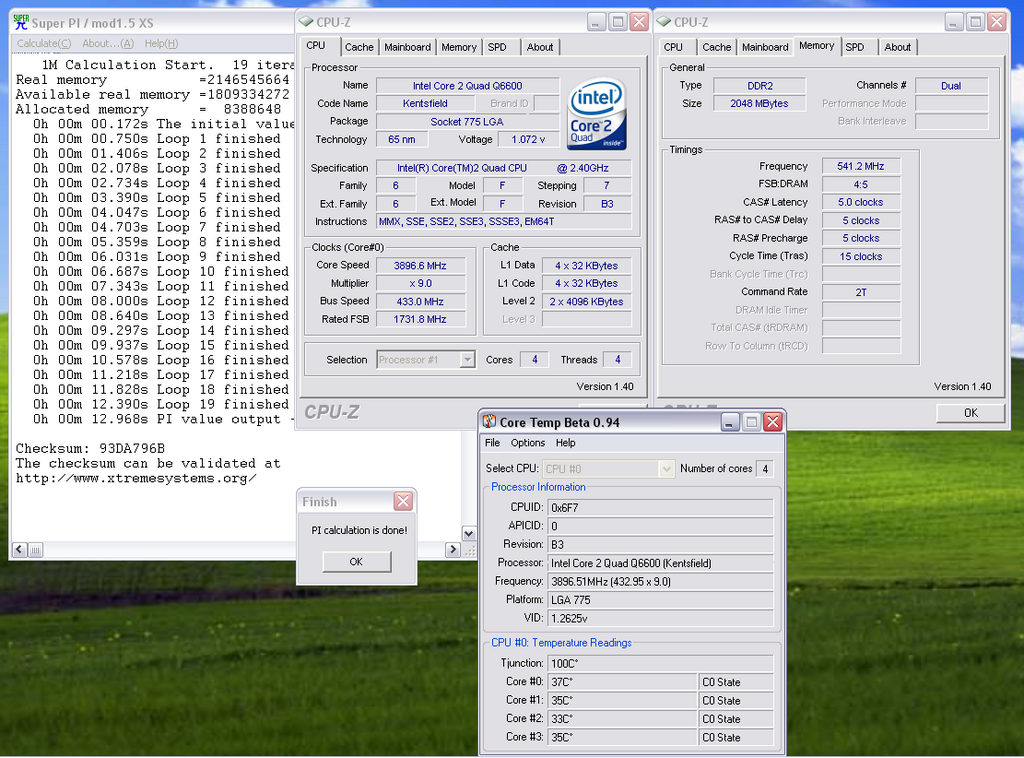 http://valid.x86-secret.com/show_oc?id=204736
Sweet I broke into 12s!!
I wasn't willing to go any higher on Vcore and I couldn't get Clockgen to work so I couldn't hit 3900 MHz
So I'm back at 3200 MHz and dreaming of phase...
CPU
Motherboard
Graphics
RAM
Q6600 @ 3.20 GHz, 1.400v
ASUS Commando
BFG 8600GTS OC
2GB Team Xtreem PC2-6400
Hard Drive
OS
Monitor
Keyboard
250 GB Maxtor
Ubuntu and XP for games and CAD
Acer AL2216W 22"
Logitec
Power
Case
Mouse
Mouse Pad
SilverStone Zeus 750W
Antec P180
Logitech G7
Everglide Richochet
View all
hide details
CPU
Motherboard
Graphics
RAM
Q6600 @ 3.20 GHz, 1.400v
ASUS Commando
BFG 8600GTS OC
2GB Team Xtreem PC2-6400
Hard Drive
OS
Monitor
Keyboard
250 GB Maxtor
Ubuntu and XP for games and CAD
Acer AL2216W 22"
Logitec
Power
Case
Mouse
Mouse Pad
SilverStone Zeus 750W
Antec P180
Logitech G7
Everglide Richochet
View all
hide details