My heatercore.... The fin area is 9.5" x 9.5" x 2". Currently, I have two sets of fans on push-pull.
4 Yate Loons mounted on a shroud. They are about 1/2" off the heatercore and are pushing.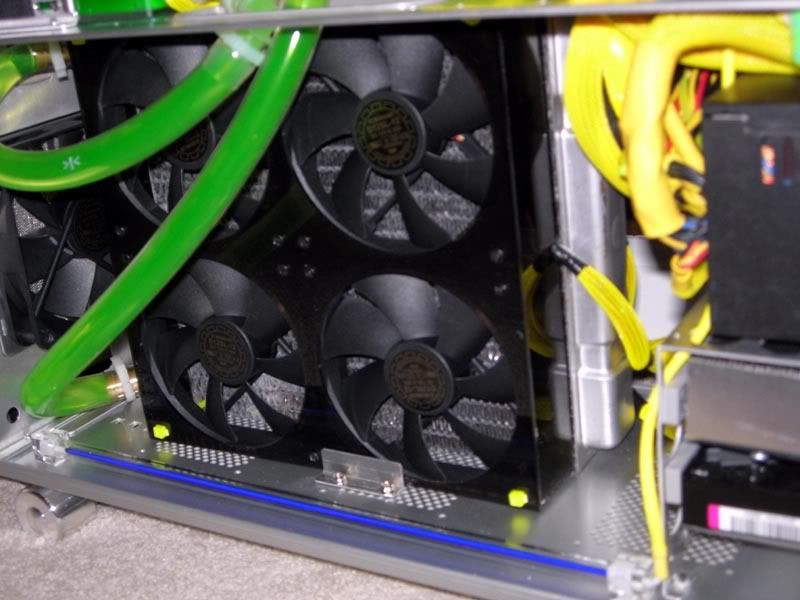 4 more Yate Loons pulling with a 1/8" stand-off.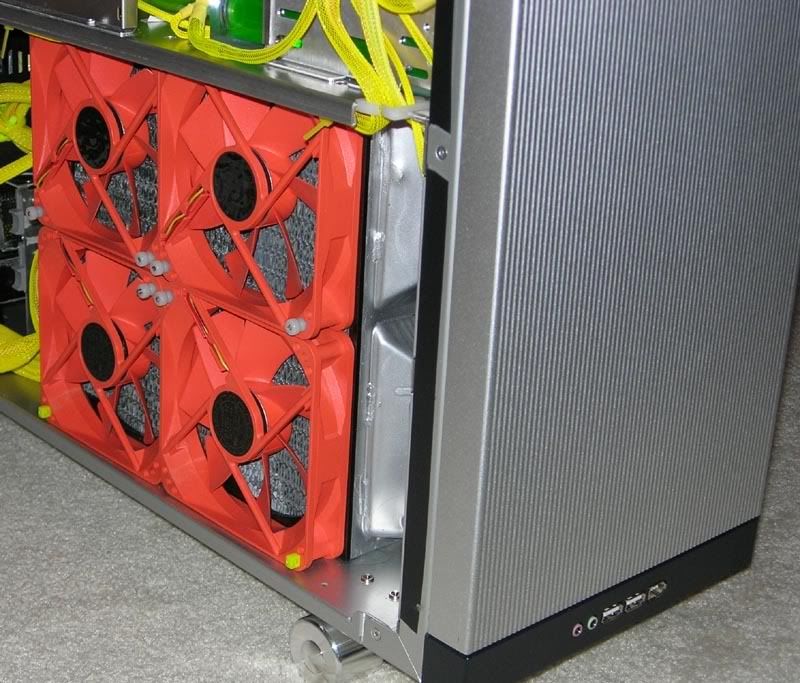 My loop consists of a nF4 chipset under a MCW30, 7950GT under a Koosah, and a X2 3800+ under an Apogee. For each run, I am using just Orthos for 30 mins to find max temperatures. The CPU is running at 2645MHz at 1.5v. I am using 3.3v Zener diodes to limit fans voltages to 8.7v (12v-3.3v).
Ambient: 24-25C
Idle: 25C
12v Push-Pull: 33C
12v Push: 34C
12v Pull: 35C
8.7v Push-Pull: 34C
8.7v Push: 36C
8.7v Pull: 36C
No fans: 48C
Just a tiny bit of airflow makes a
huge
difference. Four fans spinning at around less than 1000RPM drop the temperature by over 10 degrees. Even with drastically increase airflow, temperatures do not drop much. This tells me that the radiator can exhausting a lot more heat.
CPU
Motherboard
Graphics
RAM
i7 920 [4.28GHz, HT]
Asus P6T + Broadcom NetXtreme II
VisionTek HD5850 [900/1200] + Galaxy GT240
2x4GB G.Skill Ripjaw X [1632 MHz]
Hard Drive
OS
Monitor
Keyboard
Intel X25-M 160GB + 3xRAID0 500GB 7200.12
Window 7 Pro 64
Acer H243H + Samsung 226BW
XARMOR-U9BL
Power
Case
Mouse
Mouse Pad
Antec Truepower New 750W
Li Lian PC-V2100 [10x120mm fans]
Logitech G9
X-Trac Pro
View all
hide details
CPU
Motherboard
Graphics
RAM
i7 920 [4.28GHz, HT]
Asus P6T + Broadcom NetXtreme II
VisionTek HD5850 [900/1200] + Galaxy GT240
2x4GB G.Skill Ripjaw X [1632 MHz]
Hard Drive
OS
Monitor
Keyboard
Intel X25-M 160GB + 3xRAID0 500GB 7200.12
Window 7 Pro 64
Acer H243H + Samsung 226BW
XARMOR-U9BL
Power
Case
Mouse
Mouse Pad
Antec Truepower New 750W
Li Lian PC-V2100 [10x120mm fans]
Logitech G9
X-Trac Pro
View all
hide details