Quote:
Now we've covered CoolIT's innovative range of coolers in detail at past shows, but here at Computex 2007, CoolIT have once again pulled something special out of the bag, this time in the shape of a bespoke MTC based cooling system for an HD Radeon 2900XT Crossfire set-up.

The snappily named CoolIT Systems Reference 2900 Liquid Cooling System replaces the air-based cooling on the graphics cards and uses CoolIT's patented MTEC technology to cool the cards instead. The radiator and fan unit is contained in a separate unit which is designed to fit into two spare drive bays, exhausting the heat to the front of the PC.




The whole thing is powered by a single molex connector and whilst absent in this engineering sample, the retail unit will feature another datawire connector to allow users to control the unit with CoolIT's custom made software. CoolIT's Geoff Lyon has told us that the Reference 2900 Liquid Cooling System has been tested on the 512Mb versions of the Radeon HD 2900XT with 3DMark 06 during which, the temps never went over 53 degrees compared with the 85 degrees for the standard cooled cards.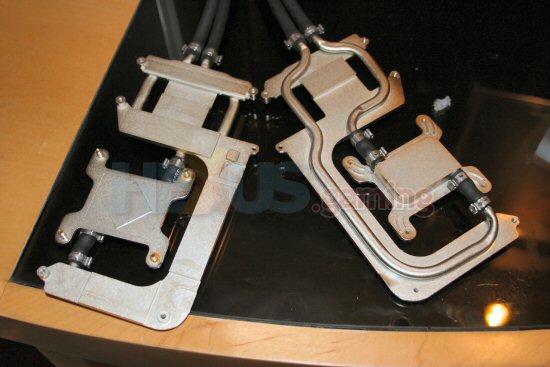 With that extra room on the temperatures CoolIT have clocked their Radeon HD 2900XT Crossfire cards up to 950MHz core and 980Mhz memory, giving them a score of 20016 from the original, stock speed score of 17405 3D Marks, not bad, huh?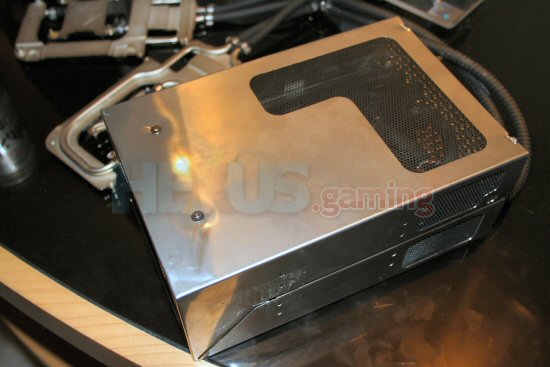 And even better, the CoolIT Reference 2900 Liquid Cooling System will be available for end users to fit themselves as well as to buy ready fitted in pre-built systems. And we've been told the price for this cracking bit of cooling kit is going to be extremely competitive… so check back soon for more.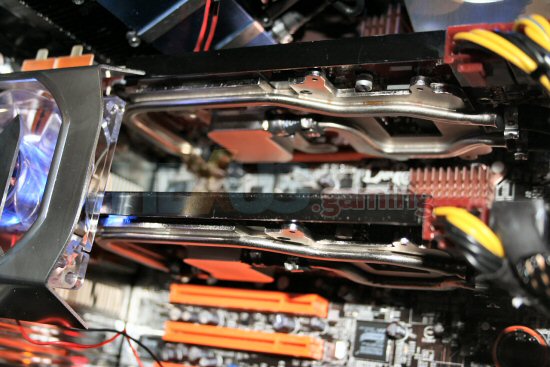 http://www.hexus.net/content/item.php?item=8952
Damn.... that is one nice bit of kit...
CPU
Motherboard
Graphics
Graphics
Ryzen 1600
Asus Crosshair VI Hero
1080 Ti Aorus Xtreme
1080 Ti Aorus Xtreme
View all
hide details
CPU
Motherboard
Graphics
Graphics
Ryzen 1600
Asus Crosshair VI Hero
1080 Ti Aorus Xtreme
1080 Ti Aorus Xtreme
View all
hide details