Quote: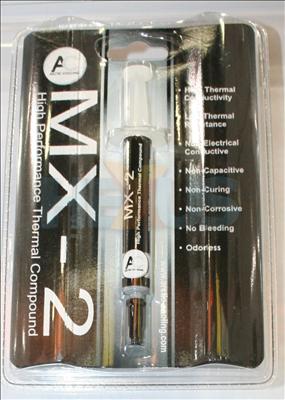 Bridging the gap between naked core and heatsink, ARCTIC COOLING, naturally, has a silicon paste in its ranks. The MX-1 was generally received well, and, now, the company is adding MX-2.

Advertisement
The newer compound promises to beat out all-comers. We'll find out if it does when we put it head-to-head with its immediate competition in a future round-up.
http://www.hexus.net/content/item.php?item=8944
AS5 beater???....
CPU
Motherboard
Graphics
RAM
E6300 @ 3.3GHz
ASUS P5N-E
EVGA 8800GTS
2GB Crucial DDR2 533 @ 667 4-4-4-12
Hard Drive
Optical Drive
OS
Monitor
2 x 250Gb Seagate Barracudas Raid 0 & 300GB Maxtor
LG DVD+-RW DL 16x
Windows XP / Vista Ultimate
Compaq 15" TFT
Power
Case
Thermaltake Tough Power 750W
Cheap Dragon Case
View all
hide details
CPU
Motherboard
Graphics
RAM
E6300 @ 3.3GHz
ASUS P5N-E
EVGA 8800GTS
2GB Crucial DDR2 533 @ 667 4-4-4-12
Hard Drive
Optical Drive
OS
Monitor
2 x 250Gb Seagate Barracudas Raid 0 & 300GB Maxtor
LG DVD+-RW DL 16x
Windows XP / Vista Ultimate
Compaq 15" TFT
Power
Case
Thermaltake Tough Power 750W
Cheap Dragon Case
View all
hide details