This is what I started with when i got the computer up the running for the first time.
After moving some things around i figure i do some cable management for better airflow.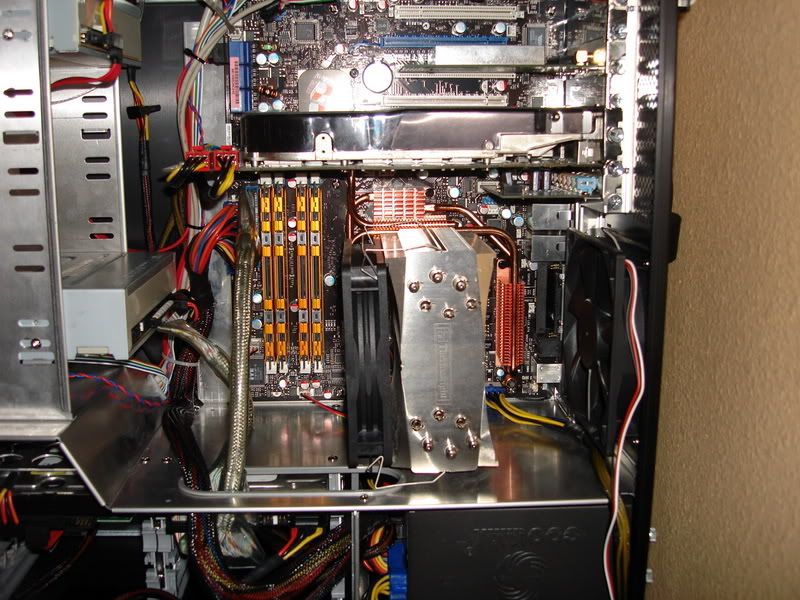 Still doesnt look as good as i want it. Any suggestion?? help?
Thanks
PS i have plenty of zip ties!
CPU
Motherboard
Graphics
RAM
Intel Core2Duo E6600 3.4ghz
Asus Striker Extreme
8800 GTX
4GB Crucial Ballistix DDR800
Hard Drive
Optical Drive
OS
Monitor
3x WD 500gb SataII RAID-0
Lite-On DVD-RW DL w/ lightscribe
Vista Ultimate
Sharp 1080p 32" LCD
Power
Case
CoolMax 700 watt
Lian-Li V1000BPlus II w/ window
View all
hide details
CPU
Motherboard
Graphics
RAM
Intel Core2Duo E6600 3.4ghz
Asus Striker Extreme
8800 GTX
4GB Crucial Ballistix DDR800
Hard Drive
Optical Drive
OS
Monitor
3x WD 500gb SataII RAID-0
Lite-On DVD-RW DL w/ lightscribe
Vista Ultimate
Sharp 1080p 32" LCD
Power
Case
CoolMax 700 watt
Lian-Li V1000BPlus II w/ window
View all
hide details