Quote:
It seems as if there are an ever-increasing number of companies trying their hand at PSUs. Often, they rebrand an ODM design and pass it off as their own.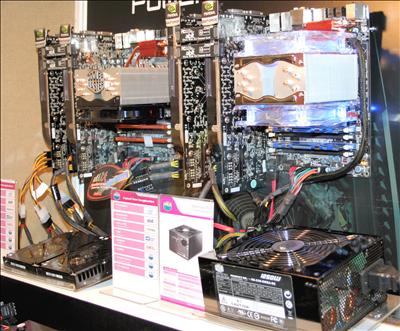 Cooler Master, however, is keen to reinforce its position as the provider of high-quality power supplies that are designed and manufactured in-house.

Take the Real Power Pro 1250W as an example. It packs in gargantuan power and, pleasingly, is rated to provide 1.25kW at 50C. It sports the usual gubbins that define a high-end PSU; it's big, has 6 12V rails that pack 28A on each line, and a plethora of connectors that include 3 8-pin (well, 6+2) connectors.

As if further evidence of its impressive capacity was needed, Cooler Master had it running 2 high-performance systems concurrently. The first featured an Intel Core 2 Extreme QX6800 (quad-core) processor, 4GiB of high-speed DDR2, WD's impressive Raptor X and a couple of wattage-sucking GeForce 8800 GTX cards in SLI.

The second, whilst not quite as powerful, only differed by the use an equally watt-hungry Pentium Extreme Edition 955 processor.

The obvious question that begs itself is just what you could use to push the PSU to its limit. An insane watercooling/TEC combo, we suppose.

Price and availability fall under that nastiest of acronyms - TBC.
http://www.hexus.net/content/item.php?item=8984
i wonder how many 8800s that could power... lol
CPU
Motherboard
Graphics
Graphics
Ryzen 1600
Asus Crosshair VI Hero
1080 Ti Aorus Xtreme
1080 Ti Aorus Xtreme
View all
hide details
CPU
Motherboard
Graphics
Graphics
Ryzen 1600
Asus Crosshair VI Hero
1080 Ti Aorus Xtreme
1080 Ti Aorus Xtreme
View all
hide details