Hello,
I recently built my third computer (first was an intel 133MHz, second AMD Athlon XP 1600+) and chose the Intel C2D E4300 and the Asus P5LD2 motherboard. I added one stick of 1GB G.Skill DDR2 667 (PC2 5400) and a CHAINTECH GSE85GT-G1 GeForce 8500GT 256MB GDDR2 PCI Express x16 Video Card.
On top of my C2D I have a Zalman CNPS7000A-Cu which seems to be keeping the C2D nice and cool.
The problem: I am trying to get the most out of this awesome little chip--but have only been able to take it to 299 in the bios. I can run it at that speed in XP and using Prime95 temps peek at 57C (TAT, coretemp95). As soon as I bump the chip to ANY speed at or over 300, the system will not POST. I've upped core voltage, memory voltage with no help. I'm attaching two screenshots that may help us figure out if this chip / mobo is limited in any way. I simply cannot figure out if I'm being limited here by the cpu or memory.
Figures:
In BIOS:
Chip @ 299x9 (2.69GHz)
Memory at PC5700 (374MHz?)
IDE HDDs and CD-ROM
SoundBlaster Live Sound Card
While this is a decent overclock, I believe I can get much more out of this chip. I just cannot figure out why I'm maxing out at 299.
One more thing: How can I figure out my chip specs? I've got the retail box here at my desk, but can't remember if the information is in the serial number, etc.
Thanks for any advice, help, or thoughts.
-p
CPU Information
Memory Information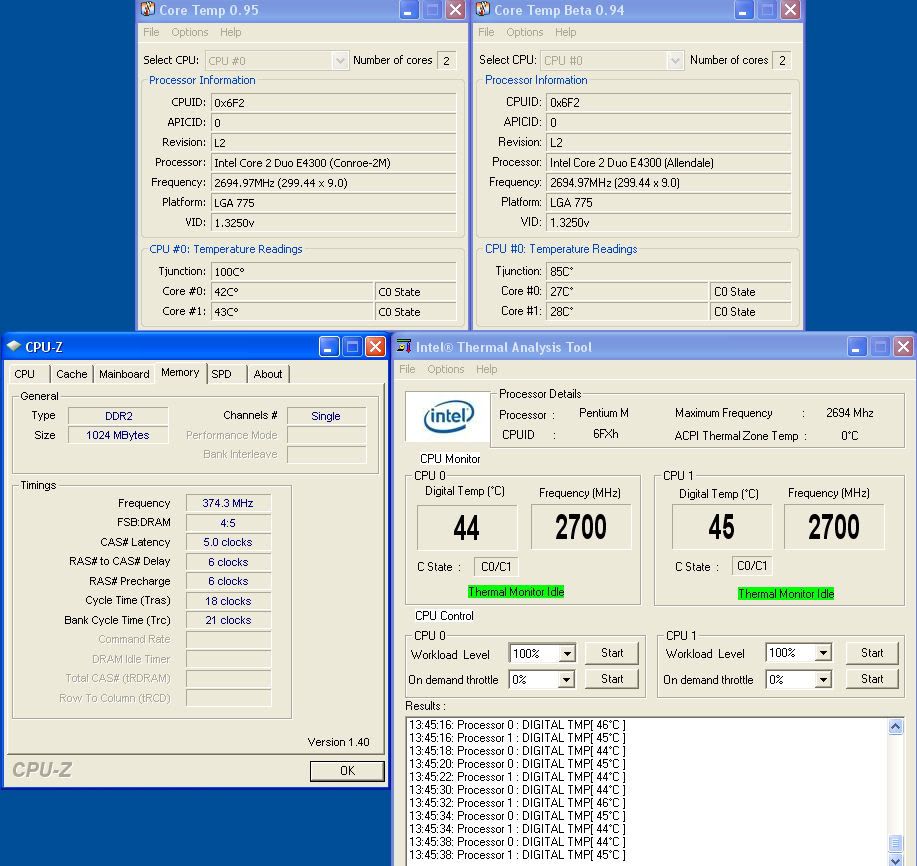 CPU
Motherboard
Graphics
RAM
Core2Duo E6750 @ 3.2 GHz
Gigabyte GA-EP35-DS3P
EVGA GeForce GTS 450 FPB
OCZ Reaper HPC Edition 4GB
Hard Drive
Optical Drive
OS
Monitor
Maxtor SATA
SAMSUNG 20X DVD±R SH-S203B
Win7 64-bit
Asus 22" WS
Power
Case
550W something
Antec P182
View all
hide details
CPU
Motherboard
Graphics
RAM
Core2Duo E6750 @ 3.2 GHz
Gigabyte GA-EP35-DS3P
EVGA GeForce GTS 450 FPB
OCZ Reaper HPC Edition 4GB
Hard Drive
Optical Drive
OS
Monitor
Maxtor SATA
SAMSUNG 20X DVD±R SH-S203B
Win7 64-bit
Asus 22" WS
Power
Case
550W something
Antec P182
View all
hide details