Babalon (the Great)
Athlon 64 X2 5200+ AM2
DFI LANParty UT NF590 SLI-M2R/G
XFX GeForce 8800GTX
(
UNDECIDED
)
Corsair 2x1gb XMS2PRO DDR2 800
Seagate 2x320gb SATA, RAID 0
Thermaltake 700w modular
Lian Li PC-V1000BPLUSII
Thermochill PA120.3
Laing D5, variable
Swiftec Micro-Res
Danger Den Fillport
D-Tek FuZion CPU block
Concept:
The name Babalon is adopted from a feminine deity from the philosophical beliefs of the Thelema. Babalon aka the Scarlet Woman, Holy Whore, the Lover - What better name for my computer?
This is to be my second official build. My previous project, an A64 3200+ dubbed "Stillborn", didn't consist of much modification beyond some fan-play and PSU housing tweaking. I wanted to push some new ideas with Babalon, specifically with case modification.
I envisioned an inverted case, satin black outside with a white inside. A simplistically modern design, only a Lian for a basis would do. Anything and everything should be UV reactive.
Overall, I wanted everything to look clean, futuristic, balanced and with as many glowing red, orange and yellow hues as I can pull off.
Build:


CHAPTER I
I got a little anxious at the beginning of case modification and didn't take any pre-drilling or notching pics. Here are a few I nabbed from a dealer (guess who
) to get an idea of what I started out with.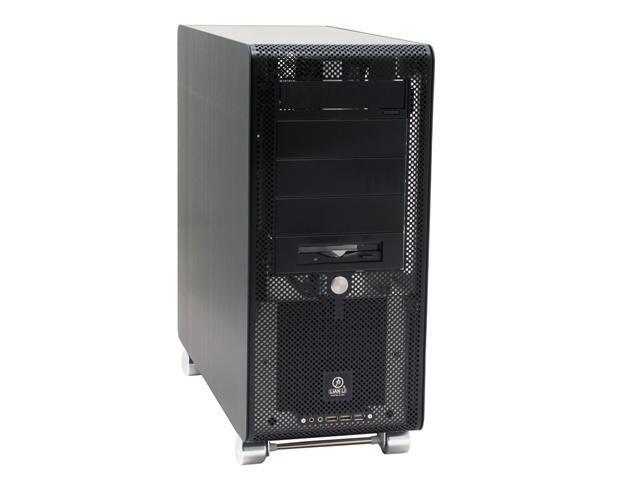 (06/07/07)
I started off by stripping everything I could from inside and outside the case.
Next would come the drilling of the screw holes and in/outlet ports for the Thermochill PA120.3 radiator I plan on mounting horizontally on the top of the case.
To properly align the holes, I made a cardboard template from the box my radiator came in. Poke screw holes with a thumbtack, then use a Sharpie to mark through them wherever mounting.
When hunting for a suitable location to place a UV cold cathode, I found it would be optimal to notch out an area along the bottom. This also allowed for me to hide the wires in the HDD compartment.
(06/08/07)
For the inside paint, I chose a quick dry Krylon flat white. After taping moving panel parts and applying a few coats of paint, results.
Sticking with the Krylon, the outside succumbs to satin black. I was very pleasantly surprised how smooth and sexy the job came out with only 1hr painting time and $3.75 invested.
Here you can get a good look at my window modification, in comparison to the original stock photos. I spent a lot of time opening it up and tightening the inside corners.
The radiator will be elevated on top of the case with steel spacers, seen here painted flat white.
(06/09/07)
Time for assembly. Starting with the Thermochill radiator, I begin testing spacer mounting and port clearance.
After lots of frustrating adjustments and zip tie malfunctions, the initial radiator mounting and installation come together.
The pump, a variable Laing D5, gets adjusted to it's new home at the bottom of the optical bay. It has been padded between the bracket and bay, to reduce any vibration noises.
My Swiftec Micro-Res fits neatly alongside the Laing using it's factory mounting brackets.
Since the reservoir is so low in the loop, for filling purposes I may have to extend the fill port to the top of the case using some more Tygon, a fitting for the res and a Danger Den fill port.
In goes the motherboard, for testing optimal tube routing and what-have-you.
Below, you can see where the radiator ports and tubing enter the motherboard compartment. The two slight kinks will most likely be addressed with UV reactive red zip ties, to hold the line open.
STOP
. I can probably guess what you are thinking, "
Why did you do it like that, sacrificing those 1-2 top PCI slots?
". Folks, this is why you shouldn't drink and then try to drill a template. Before you even notice, the whole thing may come out backwards and require unideal improvisation.
My bottom UV cathode fits snug and secure.
I reach a stopping point after some more reassembly and minor installations of the wheels, cathode box, test exhaust fans and Tygon tubing.
(06/10/07)
Backing up and awaiting arrival of:
Antifreeze, red UV
PT Nuke
5 120MM fans (suggestions?)
4 fan filters
1 UV cathode
Zip ties, red UV
Work will resume
06/14
starting with fan, filter and PSU installation.
CPU
Motherboard
Graphics
RAM
Q6600 @ 3.6GHz
DFI Lanparty DK P35-T2RS
XFX 7950GT 512mb
G.SKILL 2x1gb DDR2 800 HZ's
Hard Drive
Optical Drive
OS
Monitor
Seagate 2x320gb SATA, RAID 0
Plextor PX-755SA DVD-RW SATA
XP SP3
Hanns-G HX-192RPB 19" LCD
Keyboard
Power
Case
Mouse
Ideazon Merc
Tt Toughpower 700w
Lian Li PC-V1000BPLUSII
Razer Copperhead, Green
Mouse Pad
WOWPAD
View all
hide details
CPU
Motherboard
Graphics
RAM
Q6600 @ 3.6GHz
DFI Lanparty DK P35-T2RS
XFX 7950GT 512mb
G.SKILL 2x1gb DDR2 800 HZ's
Hard Drive
Optical Drive
OS
Monitor
Seagate 2x320gb SATA, RAID 0
Plextor PX-755SA DVD-RW SATA
XP SP3
Hanns-G HX-192RPB 19" LCD
Keyboard
Power
Case
Mouse
Ideazon Merc
Tt Toughpower 700w
Lian Li PC-V1000BPLUSII
Razer Copperhead, Green
Mouse Pad
WOWPAD
View all
hide details