I kind of always wanted to do a case mod but never really had any experience. so i guess i could say this is my first official mod :3
so for about a year now ive had this raidmax sagitta case which i havent been too satisfied with lately, so i said F it, if i mess it up, i can just go out and buy something better right?
SO! i got to work as quickly as possible. went out to the auto zone store and got me some bondo, spray paint, masking tape, and some sandpaper.
6/9/07
here it is all masked off and ready to cut
ah, a professional's workstation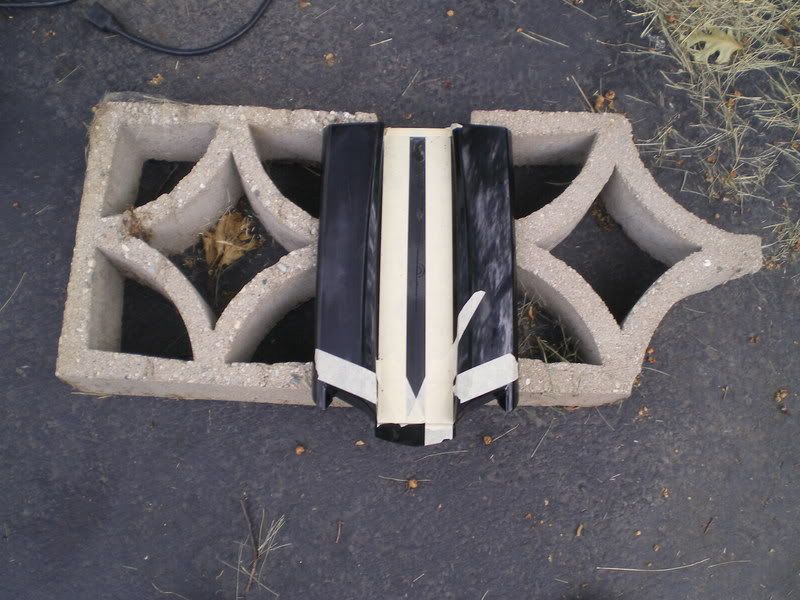 majority of the hole cut, kind of see a mental image yet?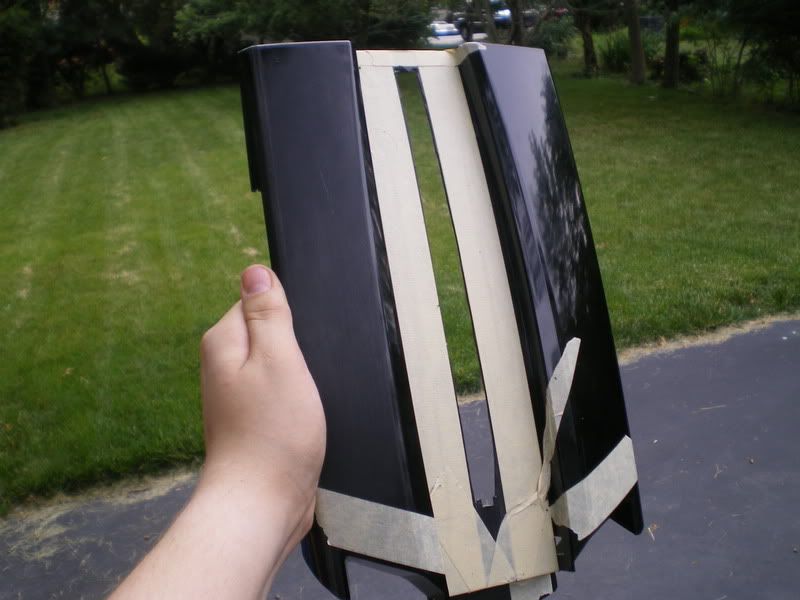 hole completely cut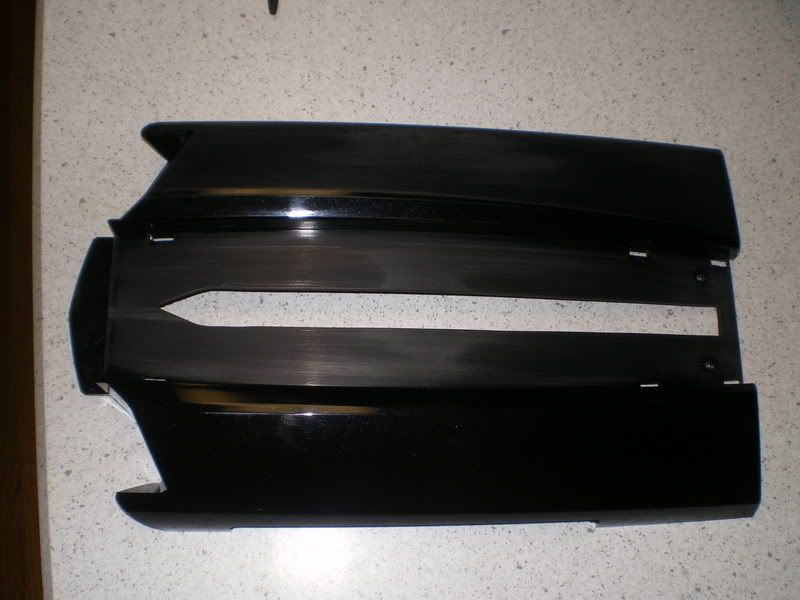 6/13/07
then i got to work on why i actually cut the hole to begin with. story is kinda funny actually. in my head i wanted some metal dowel rods about an inch or 2 long and my friend was like well i guess u can work on it at my house. he has the tools. i dont
low and behold, we open up a drawer and there were those little metal dowels!
i had to figure out what i was gonna do to attach them, so i found some old plastic garden hose clamps at my friends house as well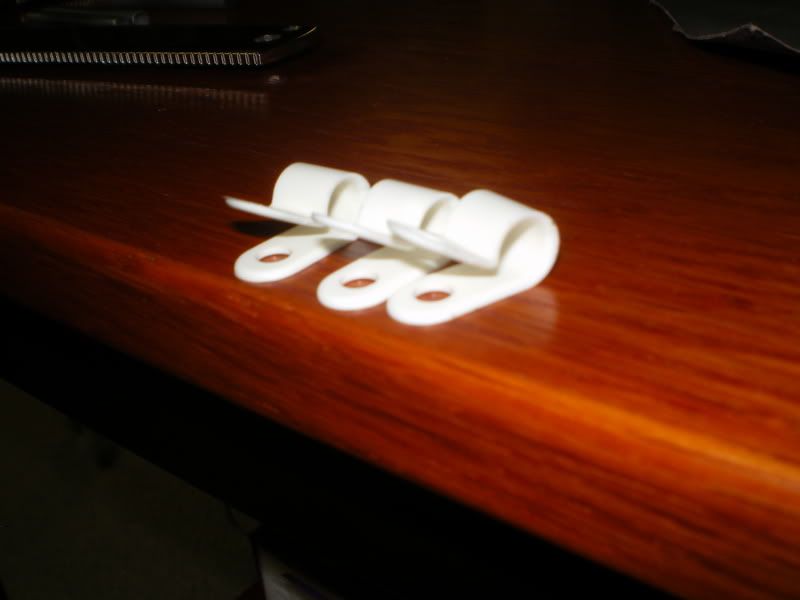 i used epoxy to bond the plastic together rather than using a screw. crude yes, tight, yes. an eye for an eye?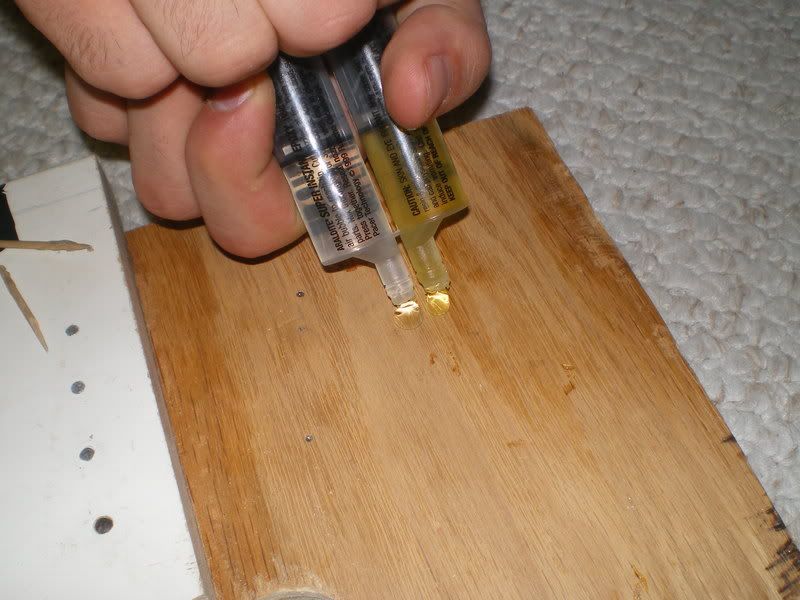 i held the things together with zip ties while the epoxy cured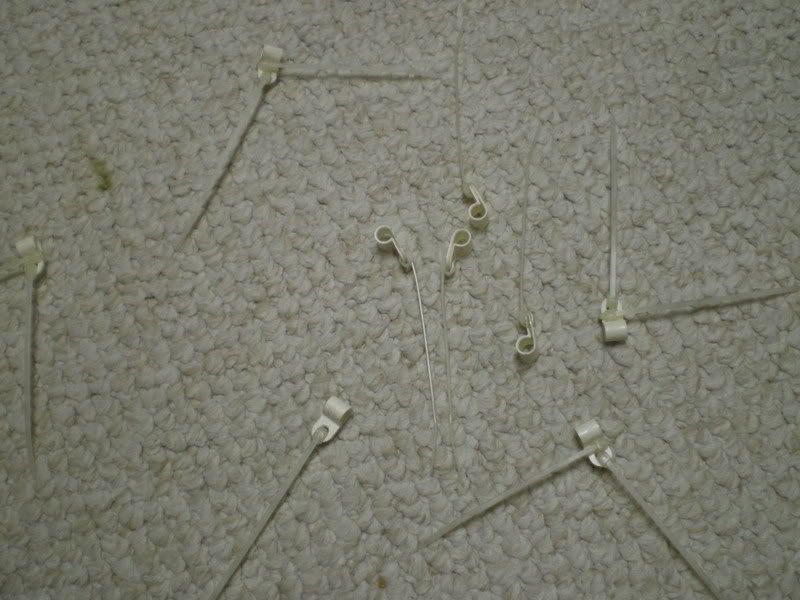 eventually after they dryed i stuck the little metal rods in and glued them in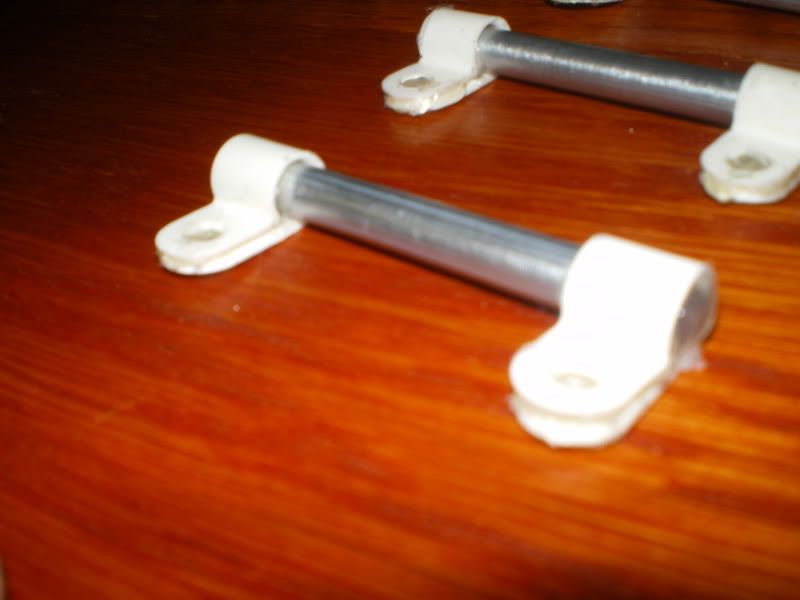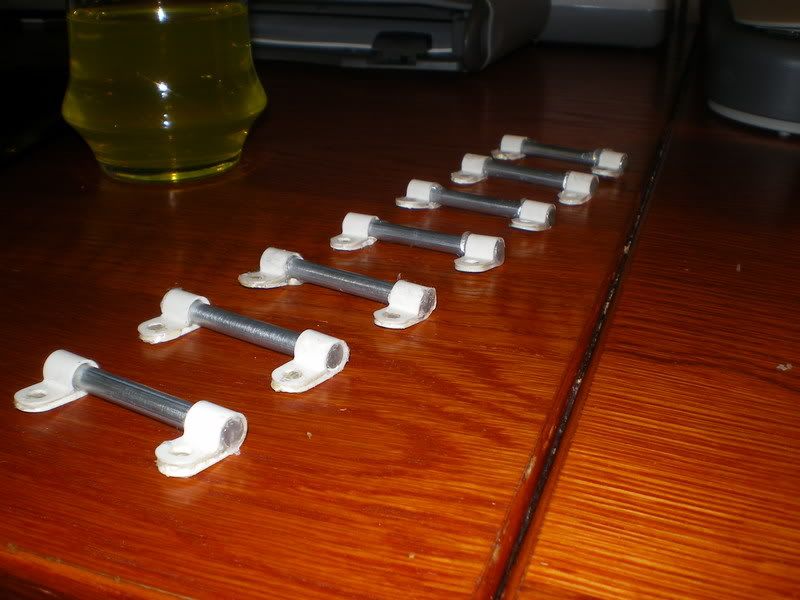 so then i got to working on covering up some holes that were left from the old panel that was a snap fit onto the door. time for the bondo!
mmm the first time ive ever used it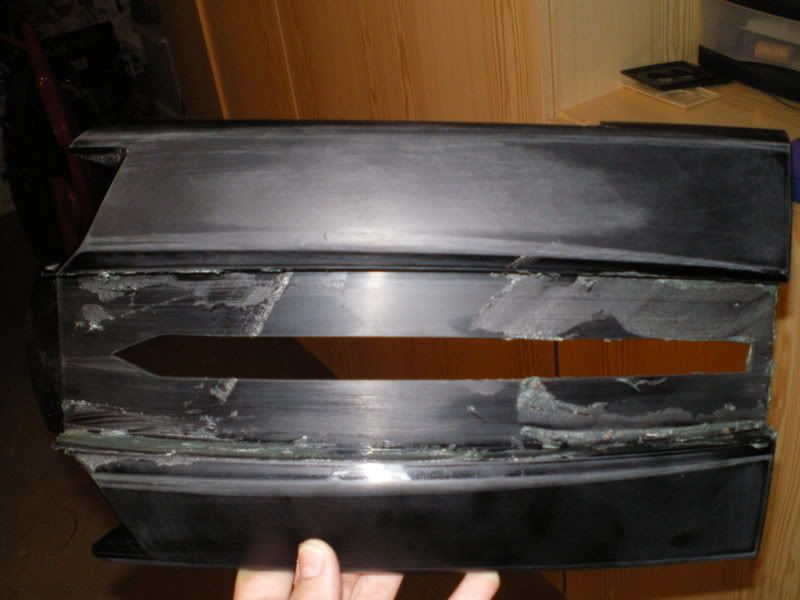 a little bit of sanding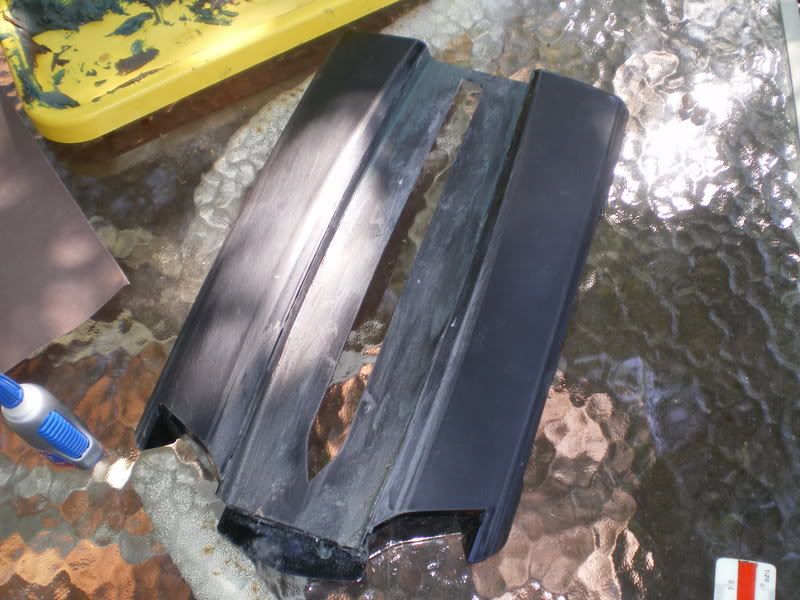 i finally got those little booger rods on the back of the door.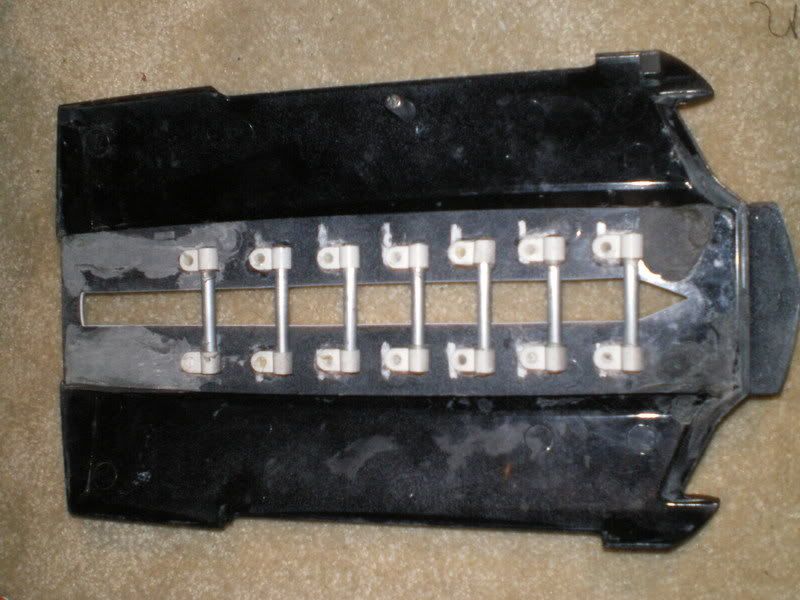 its a miracle what super glue and baking soda does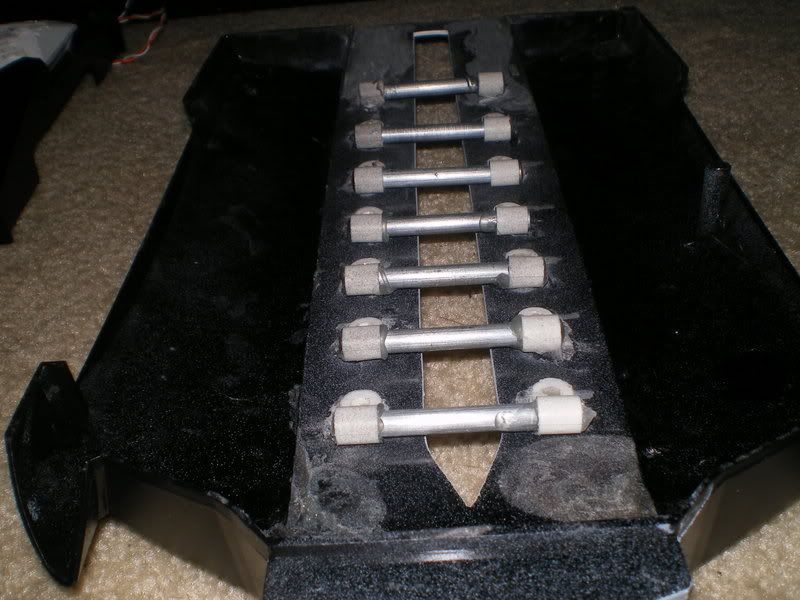 masked off the black and first 2 coats of white in the center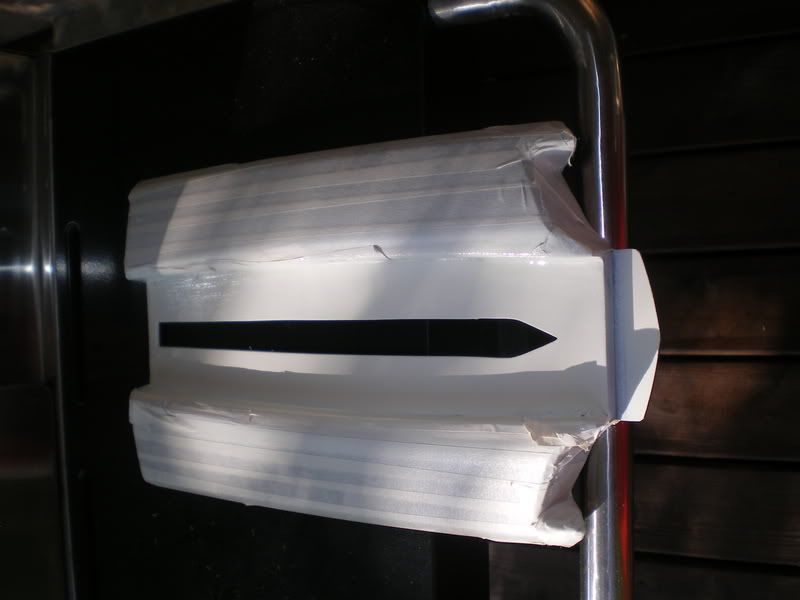 mm all painted and HAWT!!!!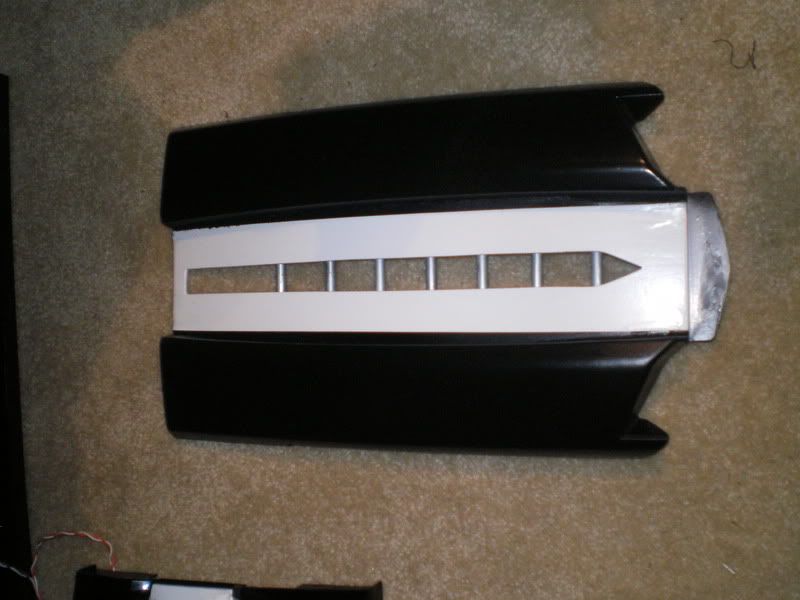 this is hardcore work. and yes, that is a piece of sandpaper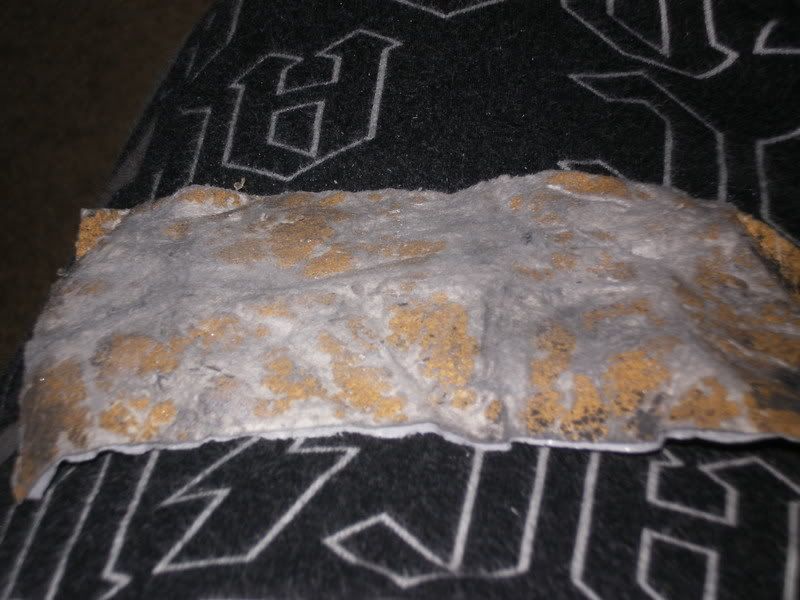 alrighty. so i basically had to re-sand and paint the door againt
it was very frustrating but well worth it. i also made it so that the black comes down onto the lower part of the panel. it looks awkward though. im thinking about taking the masking tape to it and making a red pinstripe where the black and white meet.
after the door is finished im gonna work on the rest of the front panel. i already have some ideas for the bottom half, but i want to get some mesh from somewhere.. hmm.
im open to suggestions if anyone would like to throw some ideas at me
6/15/07
here are the pics for what im doing with the lower half of the case.
my case:
if you look at the lower half there is a chrome Z stuck in the middle of it. i wanted it gone
it turned out that it just snaps into place, so i pulled it out and got out the bondo!!!!
here it is with one layer of bondo. the bondo seeped into the z hole so i guess thats why i did it in layers: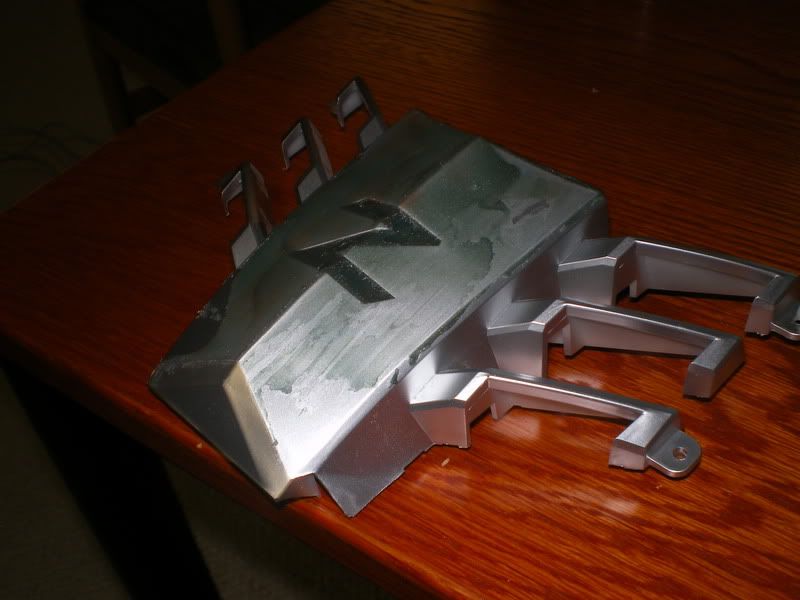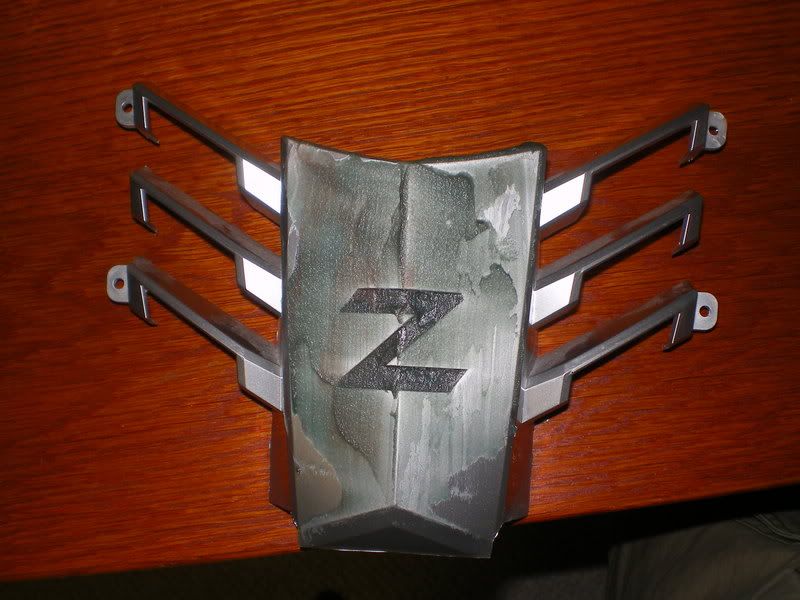 then i decided to throw on that next layer
it looks kind of junky, but i guess thats what i needed. a little bit of sandpaper and a lot of discipline goes a long way. i painted a thin layer just to see what it would look like then sanding it down a little bit more, this is what it looks like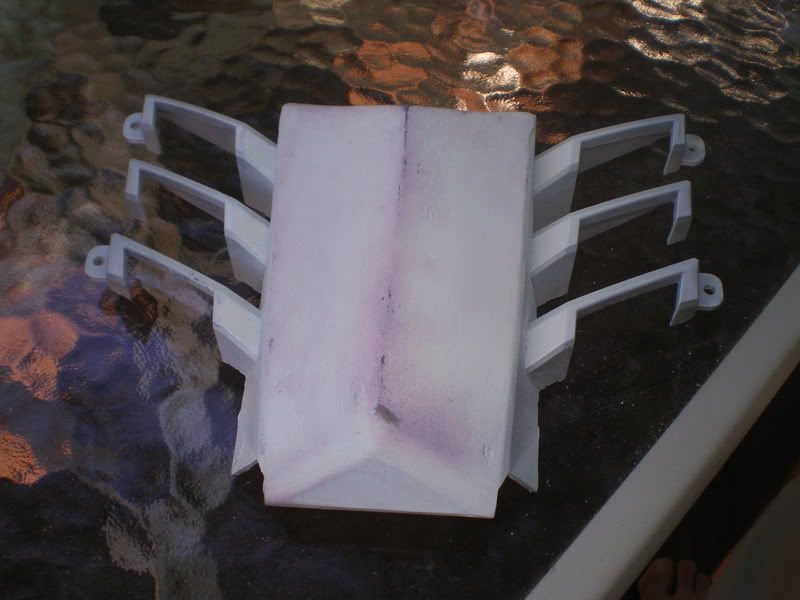 with a little more sanding at higher grits, i finally painted a few layers on it. the fins for the LEDs need work, but the center is pretty much done. then a few coats of clear and im home free with this little piece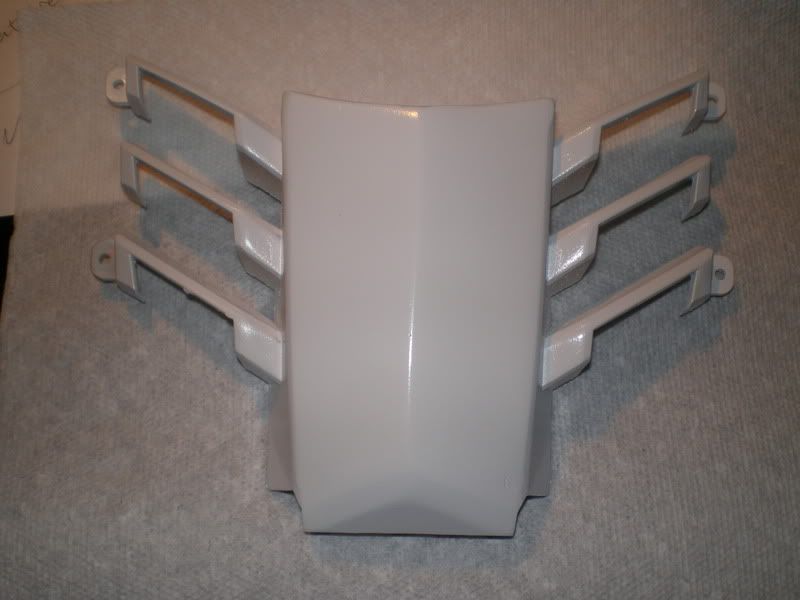 6/26/07
looks good right? well not for long. when i put the door on, there was a huge gap between it and the little plate i took the Z out of. it looked terrible, so i had to design something to fill the gap. what i ended up doing was taking a piece of the silver panel i took off of the door and sawed off a little piece that would fit on the bottom of the door.
this is what i came up with.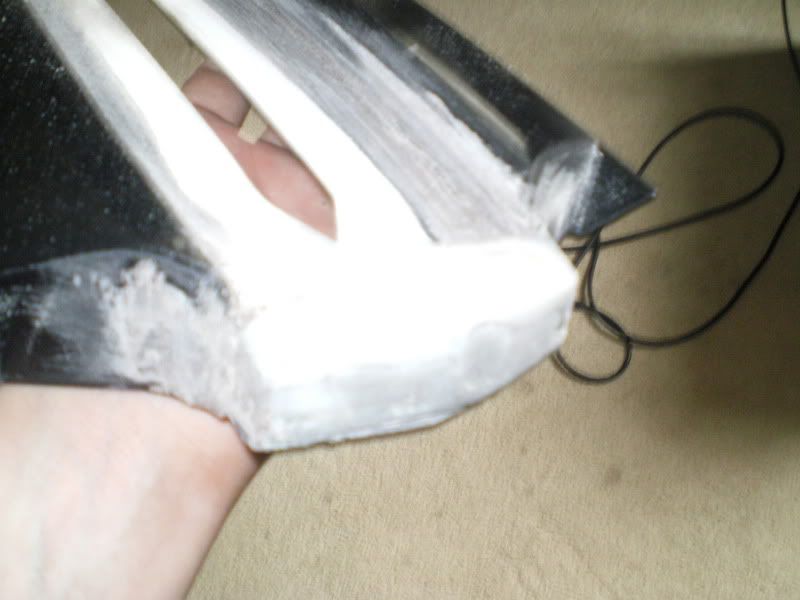 it looks a bit beat up right now because i realized that the bondo i bought was fiberglass T_T it turns out i have to make another trip to an auto body store to get some regular filler that will form the way i want it to. the fiberglass leaves rough spherical grains behind and it gets really annoying when sanding and trying to fill up gaps. this is when i felt like giving up and just buying a new case, but thats the losers way out. i'm determined to push forward in this mod.
here are some other angles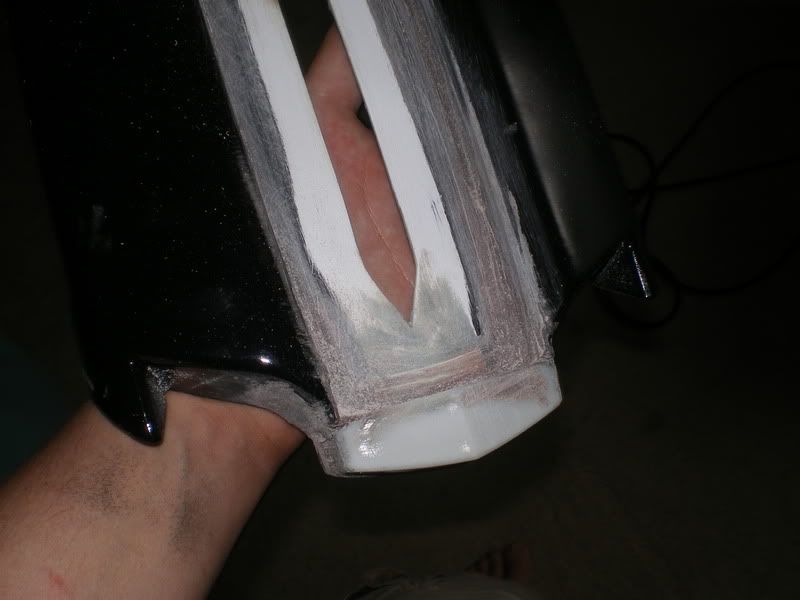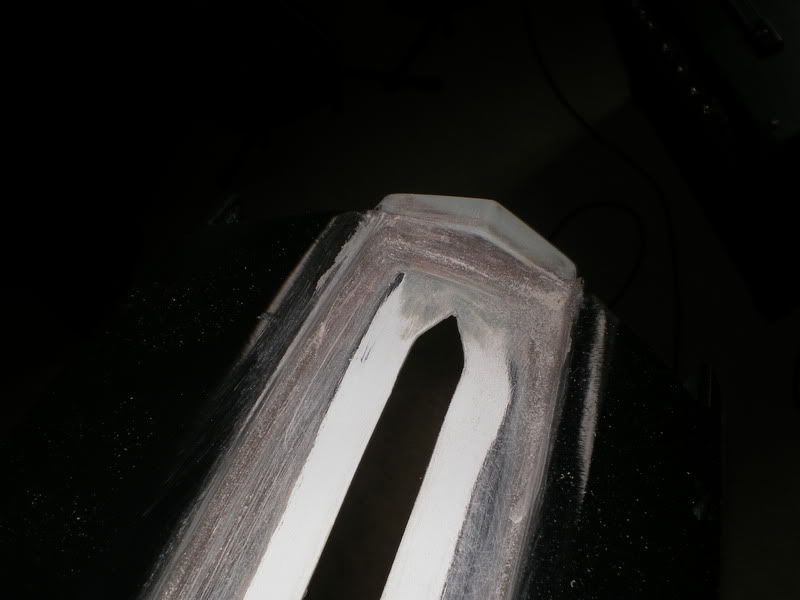 i have since added more bondo in the corners to make it a litte more form fitting. its extremely difficult to round out and then sand out cuz there is always something wrong with the bondo. i hate this fiberglass $hit. time to go get some regular stuff.
6/29/07
after a little bit of bondo repair and some sanding, i got the form i wanted. i forgot to take pics of it, sorry guys
but nonetheless, it is still much better looking. i painted a white prime coat and its currently fully painted in the middle crevace, still primer on the outside edges.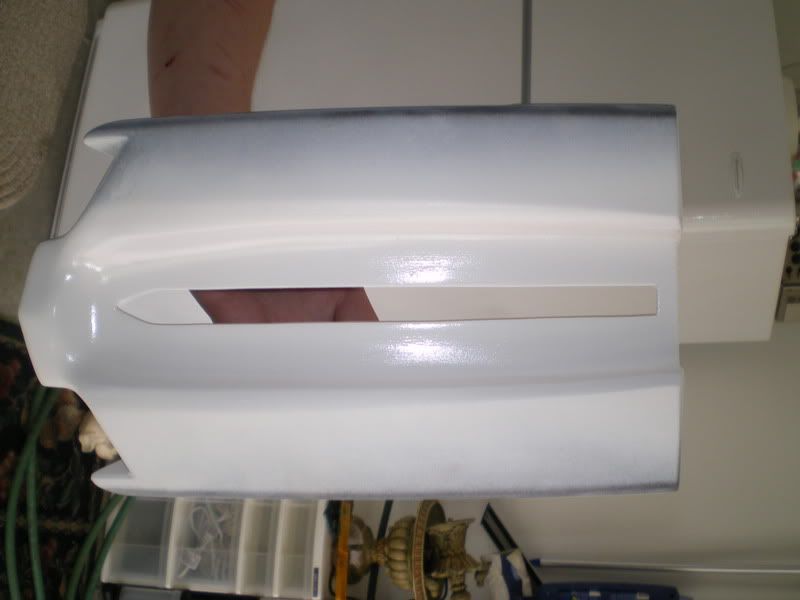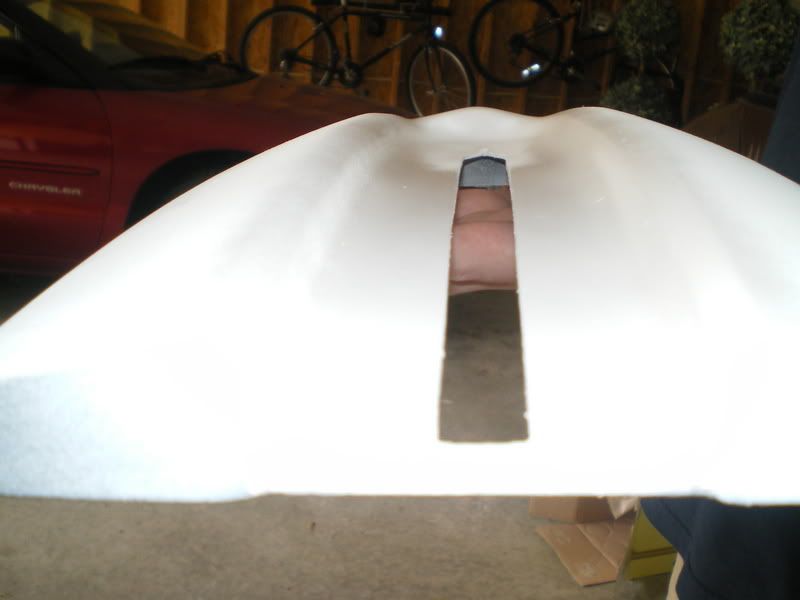 looks much better, in my opinion, i'm gonna let it sit and dry for the next day or two. as for right now, i really dont know what to do about the front panel. i covered up the slot where the usb and front audio were, but i never use those anymore, i'm sure i'll find a different place to put it.
right now it looks pretty good. i took out the 3.5" bay covers and i want to do something there, but i dont know. i believe i'm gonna take out the current power and reset button, sand them down, cover them up and get them outta there. i think i'm gonna get a fighter pilot toggle switch from mnpctech.com and put it in the center of the top 3.5" bay and then on the bottom 3.5" bay put a 3-fan speed controller, one for the HS, one for the rear fan, one for the front fan which is currently non-existant.
CPU
Motherboard
Graphics
RAM
P4 Prescott 650 @ 4.01
Gigabyte 965P-DS3
7900GTKO
1 GB PC-5300 (2x512)
Hard Drive
OS
Monitor
Keyboard
160GB SATA
XP SP2 Professional
Dell 17" Flat Panel
Saitek Eclipse
Power
Case
Mouse
Mouse Pad
ThermalTake 600W
Raidmax Sagitta
Logitech MX-518
Steel-Pad QcK
View all
hide details
CPU
Motherboard
Graphics
RAM
P4 Prescott 650 @ 4.01
Gigabyte 965P-DS3
7900GTKO
1 GB PC-5300 (2x512)
Hard Drive
OS
Monitor
Keyboard
160GB SATA
XP SP2 Professional
Dell 17" Flat Panel
Saitek Eclipse
Power
Case
Mouse
Mouse Pad
ThermalTake 600W
Raidmax Sagitta
Logitech MX-518
Steel-Pad QcK
View all
hide details