This thread is focused on what the PS3 has and what it can do. It is generally updated as new features and firmware are released. Please avoid any flaming - This is NOT a list of what the 360 can't do. Other PS3 owners, please chime in - I'm sure to forget some things. I'll credit you with your contributions
SKU Comparison

:
via stanrc
The Playstation 3 Has/Is

:
Built-in blue tooth for controllers, headsets, remotes, keyboards, etc.
Rechargeable game controllers.
Built-in WiFi* for wireless internet, as well as a normal network port.
Built-in multi-card reader*.
2-4 USB ports, depending on SKU.
Slot-loading Blu-Ray/DVD disc player.
One HDMI 1.3 output.
One optical output.
One Standard A/V Multi Output.
DLNP (media) Compliant.
Supports resolutions from 480i to 1080p.
Supports 8 audio channels (7.1).
Vibration Support with Sixaxis 3 Controllers
With the PS3 & Firmware 2.53, You Can

:
Play games at resolutions up to 1080p.
Play old PS1/2 games* and upscale them (with adjustable settings).
Play supported games online (for free) over the Playstation Network.
Play Blu-Ray movies.
Play normal DVD9 movies and upscale them to 1080p.
Play most disc formats, including SACD (40GB doesn't support SACD; cannot copy SACD's to HDD).
Import audio CD's to internal HDD (supported formats: ACC, MP3, ATRAC).
Connect to and browse the internet with Flash Player support.
Use almost any USB mouse/keyboard.
Connect to your home network for streaming media (picture, music, movies).
Can Fold.
Connect to your PSP (via ad hoc mode, or over the internet) for streaming media (remote play).
Download game demos and content via the PS Store.
Buy and rent Hollywood movies and television shows via the PS Store.
Buy PS1, PS2, PS3, and PSP games via the PS Store.
Multiple downloads supported.
Run an alternative operating system (linux).
Chat and send messages (chat, video, voice) with other PS3 users.
Print pictures with a supported printer.
Upgrade the internal HDD to any 2.5" hard drive.
Connect and use external USB hard drives and other devices.
Use your cell phone's Blue-Tooth headset.
Use emoticons during chat.
Use custom backgrounds themes.
Use custom themes and icons in the XMB.
Turn on the PS3 via PSP with Remote Play.
View news and other information from the XMB via Information Board.
Voice Changer lets you change the pitch of your voice when using a mic
Export audio/photo playlists to the PSP
Use your PSP as a remote control for audio playback (so the TV can be off)
Can save targets (ie. images) on websites with the PS3's browser.
Backup (creates an image more or less) your entire HDD (games, saves, etc).
Can access the XMB while gaming, to include Friends List.
Listen to custom soundtracks (game must support this feature).
Google search from the XMB.
Earn Trophies (like 360 Accomplishments).
Adjustable power settings support automatic system shut down after selected time.



* = Model Dependant, see chart.



Movie Playback

:
Time to start up a Blu-Ray from insertion of disc: ~20 seconds, depending on the movie.
Time to start up a Blu-ray, already inserted, from the XMB: ~15 seconds, depending on the movie.


- (Clock was stopped when the first image of the disc appeared)




- (Times were about the same for normal DVD9)

Time to start up a movie on the network: Instantaneous.
Networked and stored movies can be viewed in three modes: Zoomed, Normal, and Orignal.
The audio of networked and stored movies can be amplified or lowered from the on-screen menu during playback.
Access the XMB during network movie playback.
Performs all the same functions as the typical DVD/BR Player.
BR playback at 1080p 24Hz supported.
Supports BluRay Spec 2.0.
DivX and WMV Playback now enabled.
DivX and WMV files can be over 2GB and have subtitles.
Resume play BluRay/DVD and other media files

PS3 / Blu-Ray Video Codecs: AVCHD, MPEG-2, MPEG-4 AVC (H.264), SMPTE VC-1.
How the PS3 stacks up against standalone BR players

:
via bluray.com
Audio Playback

:
CD output options for 44/1/88.2/176.4 kHz.
Has three varying visualizations during playback.
Access the XMB during playback.
Create custom playlists.
Audio volume can be adjusted from the on-screen menu.
Rip CD's directly to the HDD for playback.
Bitmapping Type 3 provides enhanced audio playback.

Blu-Ray Audio Codecs: Linera PCM, DD, DD+, Dolby TrueHD, DTS Digital Surround, DTS HD MA.
Supported Media Formats

: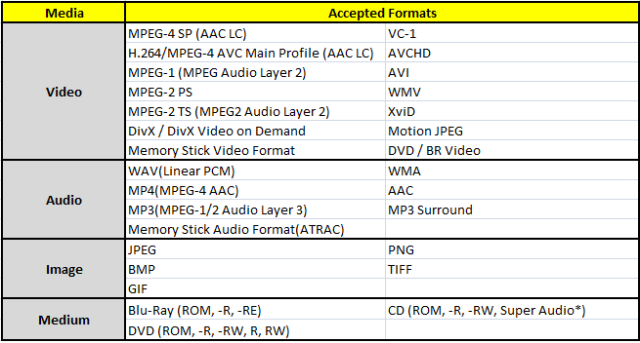 Sixaxis Controller

:
PS3 supports up to 7 blue-tooth controllers simultaneously.
Uses an internal lithium-ion battery; Charged via USB.
Single charge lasts around 30 hours.
Can play with or without USB cable while charging.
Vibration/Runble Support coming soon.
Gives some motion sensing capabalities to the PS3, similar to Wii.
Is a palindrome.
PS3 Hard Drives

:
All stock hard drives are 5400RPM 2.5" (laptop) SATA HDD's.
You can upgrade to higher capacity drives, either 5400 or 7200RPM, up to at least 320GB.
See this feature on gamerpro.com for more information on speeds.
See Transonic's thread on How To: PS3 HDD Swap.
See OmegaNemesis28's thread on game installation sizes for popular PS3 games.
Folding@Home, v1.3:
Fold for 37726.
WU's take around 8-9 hours to complete.
Has a global view of all other folders, as well as several molecular views.
Listen to music while you fold.
Automatic shutdown option added.
Can be started and viewed remotely from the PSP.
Very customizable.
Playstation Home, v1.03

:
Is free to download and use.
Is a 3D gaming community that allows users to interact, communicate and play games.
Users can create and customize their own avatars.
Supports mini-games, videos and special events.
Create your own community by using the "Club*2" feature.
Supported Epson Printers

:
PictureMate Deluxe
PictureMate Express
PictureMate Pal
PictureMate Snap
PictureMate Flash
Stylus CX3800 / CX3810
Stylus CX4200
Stylus CX4800
Stylus CX5000
Stylus CX6000
Stylus CX7800
Stylus Photo R260
Stylus Photo R340
Stylus Photo R380
Stylus Photo RX580

via Epson
DLNA Media Servers: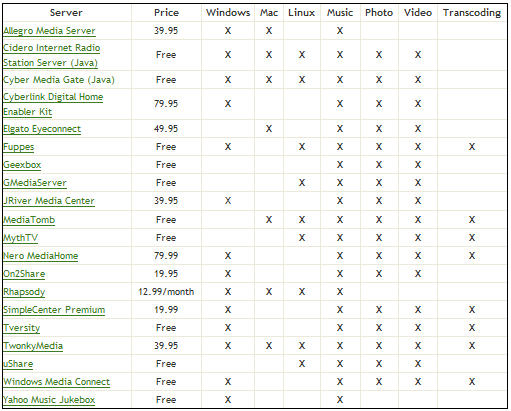 Source
Latest Firmware Information
PS Network Status
Firmware Update History
OCN Buddy Contacts
by cukies
From the Playstation Blog
:
Firmware 2.53 Adds
:
Quote:
Hi everyone, in the next PS3 firmware update (v2.53), coming soon [now released], we're improving the way the Flash Player works with the internet browser. In addition to being able to access more sites using Flash, you'll be able to enjoy:

Full-screen mode playability
Live movie (using RTMP format) playability
Now it's going to be even easier to enjoy web content on your PS3, in full-screen!

via PS Blog
Firmware 2.52 Adds
:
Quote:
You now have an option to set the PS3™ system to turn off automatically after a background download or installation of content has completed. This option is available when you turn off the system under [Users] > [Turn Off System] while content is being downloaded or installed.
[BD/DVD Settings] has been renamed to [Video Settings].
Under [Video Settings], the [Cinema Conversion] option has been renamed to [BD/DVD Cinema Conversion] and the [Upscale] option has been renamed to [BD/DVD Upscaler].
[Sequential Playback] has been added as an option under [Video Settings].
[DivX® VOD Registration Code] has been added under [System Settings]. You must use this registration code to authenticate and register the PS3™ system to be able to play video files that are compatible with the DivX® VOD (Video On Demand) service on your system. For details, visit the DivX® website.
* DivX, DivX Certified, and associated logos are trademarks of DivX, Inc. and are used under license.
[Power Save Settings] has been added as an option under [Settings]. To save power, the PS3™ system and wireless controllers can be set to turn off automatically after a certain period of inactivity.
Under [Accessory Settings] > [Audio Device Settings], the method for reconnecting Bluetooth® devices has been changed.
Under [Accessory Settings] > [Keyboard Type], you can now choose the following keyboard types: [German Keyboard (Switzerland)], [French Keyboard (Canada)] and [French Keyboard (Switzerland)].
Under [Printer Settings] > [Printer Selection], you can now select printers that support network connectivity. You can also select HP printers using the [HP] option.
You can now select one of nine volume output levels using the [Volume Control] setting on the control panel (or the mini-size control panel).
[Pause] has been added as an icon on the mini-size control panel.
You can now select one of nine volume output levels using the [Volume Control] setting on the control panel.
[Scene Search] has been added as an option on the control panel.
You can now use the [Mosquito Noise Reduction] setting for video content that is saved on the hard disk or storage media. Use this setting to reduce mosquito noise that appears on the edges of visual images.
During BD (BDAV) and DVD playback, a technique known as "chroma upsampling" is now automatically selected based on the movement of objects within the video content and then applied to enhance images in the content.
New for 2.52: The playback quality of some PLAYSTATION®3 format software has been improved.
New for 2.52: A text entry issue that occurs when using the on-screen keyboard, USB keyboard or Bluetooth® keyboard with some PLAYSTATION®3 format software has been addressed.
[Sync with Server] has been added as an option under [Trophy Collection].
By pressing the PS button while playing PLAYSTATION®3 format software, you can now view information from the [Settings and Connection Status List] option under [Network Settings].*
* This feature is not available for use with some PLAYSTATION®3 format software.
Support for Adobe® Flash® Player 9 has been added to [Internet Browser].*
* "Adobe" and "Flash" are either registered trademarks or trademarks of Adobe Systems Incorporated in the United States and/or other countries.
The way to disable the automatic sign-in option and the way to sign out from PlayStation®Network have been changed.
In PlayStation®Store, the design of the [View Downloads] and [View Cart] buttons has been changed, and a [Redeem Codes] button has been added.
You can now view information about the most recent sign-in for Friends who are on your Friends list.*
* If you do not set the correct date and time in the [Date and Time] settings under [Settings] > [Date and Time Settings], this information may not be displayed.
Contributors:
Stanrc
Mikesamuel112
Guruboy
Transonic
OmegaNemesis28
gr1mo
Edited by ElMikeTheMike - 12/31/08 at 10:15am
CPU
Motherboard
Graphics
RAM
Q6600 G0 @ 2.4 GHz
Asus Maximus Formula
Asus EN8800GT 512MB
4GB G.Skill DDR2-1000
Hard Drive
Optical Drive
OS
Monitor
1.858TB (3x JBOD)
HP 16x DVD Burner
Vista Ultimate x64 SP2
24" FPD2485 Gateway LCD
Keyboard
Power
Case
Mouse
Razer Lycosa
Ultra X3 1000w
Antec P182
Logitech G5
Mouse Pad
Razer Xact Mat
View all
hide details
CPU
Motherboard
Graphics
RAM
Q6600 G0 @ 2.4 GHz
Asus Maximus Formula
Asus EN8800GT 512MB
4GB G.Skill DDR2-1000
Hard Drive
Optical Drive
OS
Monitor
1.858TB (3x JBOD)
HP 16x DVD Burner
Vista Ultimate x64 SP2
24" FPD2485 Gateway LCD
Keyboard
Power
Case
Mouse
Razer Lycosa
Ultra X3 1000w
Antec P182
Logitech G5
Mouse Pad
Razer Xact Mat
View all
hide details