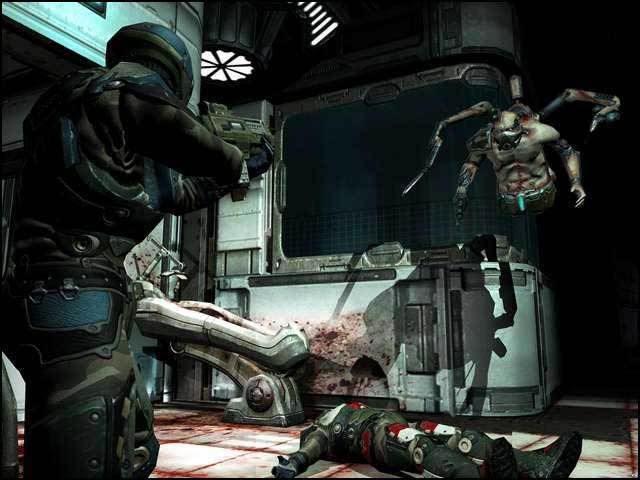 Ok so I just got around to playing Quake 4, and I just finished it. It was a great game, but way too short and the bosses were a joke.
Story
You are Michael Kane, some super marine like the Doom guy. You gotta save everything because all the other marines cant do crap for themselves. You venture along the strog planet, fighting back because the strog invaded Earth. Very brief because I don't want to add spoilers.
Overall Story 2/10, Very Common and Unorignal
Graphics
Based on the Doom 3 engines which is pretty old, Quake 4 looks amazing. The outdoor scenes that it shows are ugly, but the indoor lighting makes up for that in every way. Everything has a shadow and they change with the environment as well. While traveling through the buildings etc, there is always something going on in the background. From people become strog, to data being sent through a network, theres always something going on in the background. Its also not as dark as Doom 3, which is nice.
GAME PLAY!!!
The gameplay can get pretty repetative, but its still satifying the entire game. For a change of pace, you get to man turrets and drive vehicles. I didn't really like these but some may. You have a huge variety of weapons and a lot of different and unqique enemies. Another nice addition is that your usally fighting along with somebody else or a squad. Very faced pace, run and gun style action.
Sound
The sound is pretty amazing. The marine's screams, constant radio chatter, ambient environment noises, weapon sounds, and enemy sounds all add to the atmosphere. It can get a little spooky at times, but the sound IMO is pretty neat.
Multiplayer
The MP community in Q4 is not so big. Most of the servers run mods to improve the gameplay drastically. If your into UT Style MP, then you would probably like it.
Overall, if you can find this game for under $30 (which you should), I would absolutley pick it up. A lot of people didn't like this game, but I don't know whats not to like.
CPU
Motherboard
Graphics
RAM
AMD 3500+ Winnie
Asus A8N-SLI
BFG 6600GT
1024 Corsair Value
Hard Drive
Optical Drive
OS
Monitor
200gb Maxtor
Pioneer and Sony
Windows XP Home 32 Bit
Dell 17 CRT
Keyboard
Power
Case
Mouse
Standard Logitech
Came with case 450w
X-Blade II
Logitech MX-518
Mouse Pad
Dell Crap
View all
hide details
CPU
Motherboard
Graphics
RAM
AMD 3500+ Winnie
Asus A8N-SLI
BFG 6600GT
1024 Corsair Value
Hard Drive
Optical Drive
OS
Monitor
200gb Maxtor
Pioneer and Sony
Windows XP Home 32 Bit
Dell 17 CRT
Keyboard
Power
Case
Mouse
Standard Logitech
Came with case 450w
X-Blade II
Logitech MX-518
Mouse Pad
Dell Crap
View all
hide details