Instead of getting another normal external hard drive, I decided to take a chance on a Network Attached Storage device. So I tried out the
Thecus N1200
from newegg. It doubles as a media server, which was something I was also in the market for since I dislike media sharing using WMP11.
I paired the N1200 with a Seagate Barracuda 7200.10 750GB HDD, installed the software, and moments later my new NAS was up and running.
Transferring via ethernet is a little timely however, but once I get all my stuff on it, I won't really have to deal with it again. The management tool can also be a little slow, but not unbearably slow. My new router will be coming in the mail this afternoon, so hopefully that will speed up the process.
As far as media serving goes, I wanted a better way to get media to my PS3 and laptop. I don't like having to keep my PC turned on all the time just to stream/share media, and the N1200 allows me to keep my PC off and still share stuff to the PS3 and my laptop. It works great.
What my network looks like (no idea what happened to this diagram!)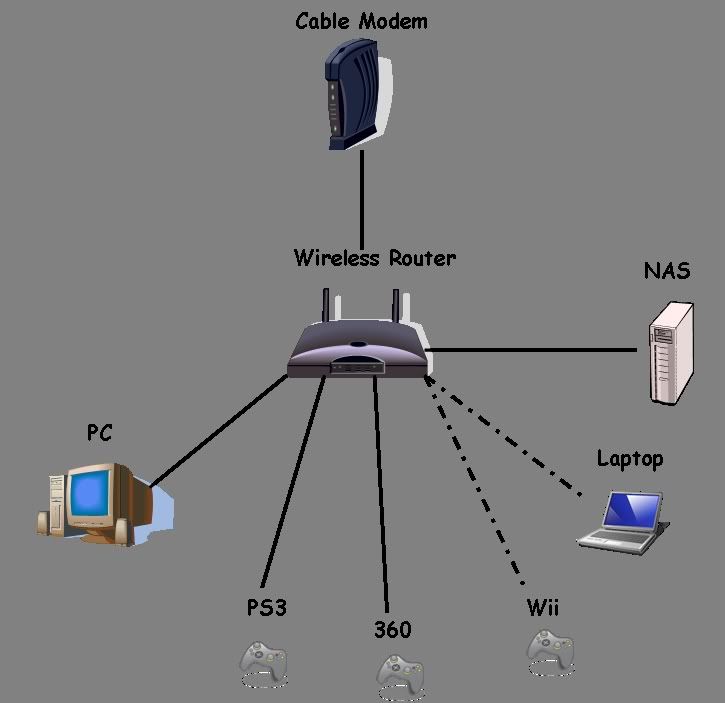 Pros:
Great media sharing capability (DLNP certified)
Tons and tons of options I'll never use
Thecus actually has good tech support via email (there's a beta firmware available)
Cons:
Gets pretty warm
Can be a little slow at times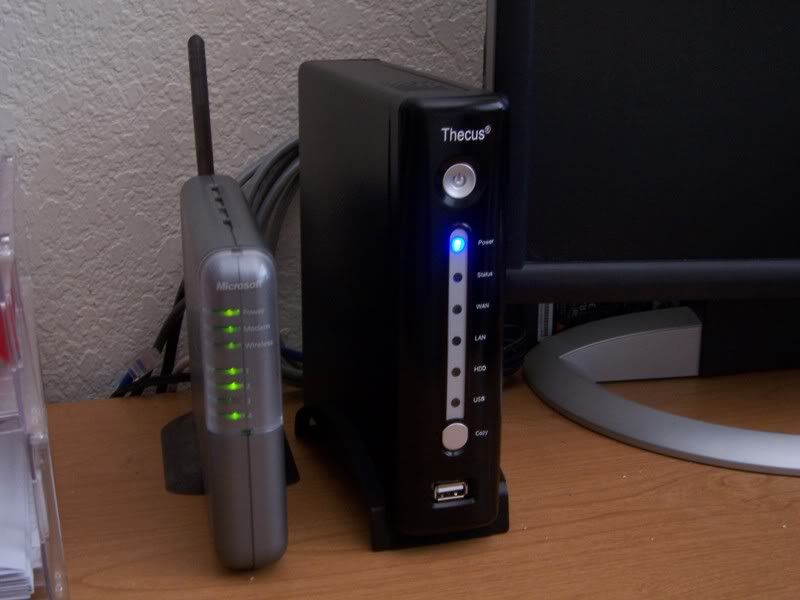 I'd recommend this product to anyone with similar storage and/or media serving needs.
CPU
Motherboard
Graphics
RAM
Q6600 G0 @ 2.4 GHz
Asus Maximus Formula
Asus EN8800GT 512MB
4GB G.Skill DDR2-1000
Hard Drive
Optical Drive
OS
Monitor
1.858TB (3x JBOD)
HP 16x DVD Burner
Vista Ultimate x64 SP2
24" FPD2485 Gateway LCD
Keyboard
Power
Case
Mouse
Razer Lycosa
Ultra X3 1000w
Antec P182
Logitech G5
Mouse Pad
Razer Xact Mat
View all
hide details
CPU
Motherboard
Graphics
RAM
Q6600 G0 @ 2.4 GHz
Asus Maximus Formula
Asus EN8800GT 512MB
4GB G.Skill DDR2-1000
Hard Drive
Optical Drive
OS
Monitor
1.858TB (3x JBOD)
HP 16x DVD Burner
Vista Ultimate x64 SP2
24" FPD2485 Gateway LCD
Keyboard
Power
Case
Mouse
Razer Lycosa
Ultra X3 1000w
Antec P182
Logitech G5
Mouse Pad
Razer Xact Mat
View all
hide details