So I finally got around to playing Far Cry, what was I doing all these years?
Storah
The Storah is average in this FPS. You are Jack Carver and are leading a reporter to a top secretish island. While sailing around, deadly Mercenaries sink your boat. After swimming through a tunnel and on land, a man named Doyle helps you out. You must venture around the Island and find Valerie, as well as stopping some secrets on the island from destroying the world. I dont want to give any of the twists away so there ya go
GamePlah
The gameplay in Far Cry is pretty good. You venture across the Islands battling Mercs and Monsters etc. You have a pretty large variety of weapons that mix up gameplay a bit. I think the gameplay gets more repetative after a while then say Quake 4. You find yourself doing the same damn objectives over and over again. This game should probably be titled Far Cry: Murphey's Law of Doom because anything that could go wrong in an action movie, well... does. You think you are going to finish the objective or level or something but wait, you have to do something else etc. Its like this on almost all the levels and you constantly have to find the Dumbass reporter, Val. The Mercs are pretty smart by taking cover. You also have quite a few vehicles to command, which unline other FPS, are fun to drive and use. They are actually helpful and you are never forced to use them. Using them gets you to your objective faster, but also alerts all the Mercs in the area. The enemies in this game are numerous. You find yourself fighting many different things, and sometimes, the AI will fight with each other, which is cool to watch from a distance. The game can get quite frustrating at times, seeing that your outnumbered 50-1 and are being shot at with rocket launcher everywhere. There is also no unlimited saves, rather a very common checkpoint system. It prevents the save every time I do something crowd. There are many different ways to complete your objective, and you can run across the entire island doing it. Take the shorter way, with less check points, or the longer way with more. As I say again, the gameplay towards the end starts to get repetative, but dont let this scare you away from playing it. This is also just IMO.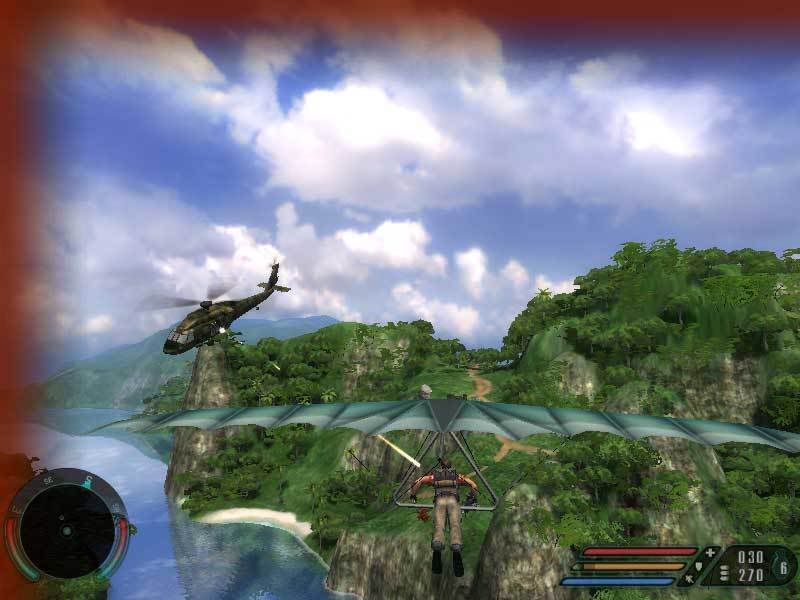 Sound
The sound in this game is pretty amazing. All the ambient jungle noises are there, as well as the Mercs talking and everything. The indoor noises are pretty cool too. Not much to say but that its cool.
Grafix
The CryEngine is pretty old, but Far Cry is EASILY one of the top 5 prettiest games of all time. The islands are amazing. Everything is detalied to no end, and the environment is very active ( i dont know what other word to use ) because there are animals, birds, etc living there as well. In the water there are fish swimming, birds flying in the sky, boards wondering the Islands etc. The draw distance in this game goes on for miles. The only complaint I really have is that there seams to be some "popping" at times. I say this because you may not see a tree from 2 miles away, but as you zoom in with your sniper rifle, you see a train appear maybe one second later. It can be pretty noticable at times, but I guess you get used to it.
Multi-Playa
I think its pretty basic and generic. There arent a lot of people playing so I probably wouldn't buy this game for that, but some may like it.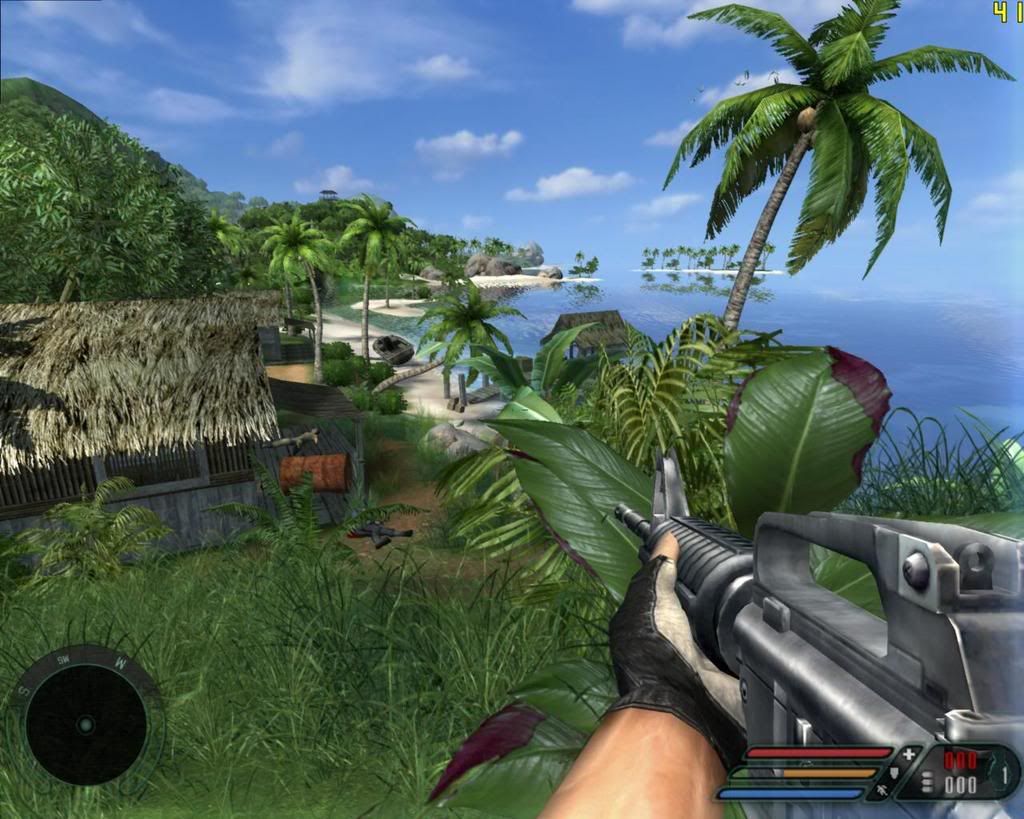 +This game is reported to be glitchy for some people, but I personally didn't experience ANY whatsoever. I would pick this game up in an instant. You owe yourself to playing this, you're not a hardcore FPSer without giving Far Cry a try.
9.5/10
CPU
Motherboard
Graphics
RAM
AMD 3500+ Winnie
Asus A8N-SLI
BFG 6600GT
1024 Corsair Value
Hard Drive
Optical Drive
OS
Monitor
200gb Maxtor
Pioneer and Sony
Windows XP Home 32 Bit
Dell 17 CRT
Keyboard
Power
Case
Mouse
Standard Logitech
Came with case 450w
X-Blade II
Logitech MX-518
Mouse Pad
Dell Crap
View all
hide details
CPU
Motherboard
Graphics
RAM
AMD 3500+ Winnie
Asus A8N-SLI
BFG 6600GT
1024 Corsair Value
Hard Drive
Optical Drive
OS
Monitor
200gb Maxtor
Pioneer and Sony
Windows XP Home 32 Bit
Dell 17 CRT
Keyboard
Power
Case
Mouse
Standard Logitech
Came with case 450w
X-Blade II
Logitech MX-518
Mouse Pad
Dell Crap
View all
hide details