after my warranty expired and my xbox360 started getting older. i decided it would be awesome to make it red and white. so here it is after all my work!
so what do u guys think? do any of u have any mods or other changes to your 360s? Id love to see them and get some more ideas. If you have any show me some pictures!
I could have easily purchased the faceplates and stuff but that would be boring. Time to get red cathodes and fans for my computer now =].
EDIT*
Heres some more closer pictures =].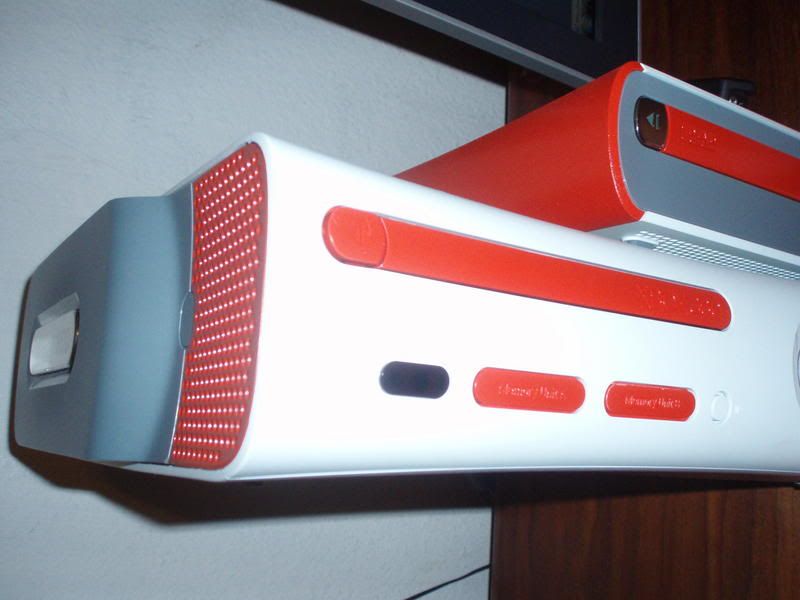 Oh and the back of the battery pack is also red but u cant see it.
CPU
Motherboard
Graphics
RAM
AMD Athlon X2 Dual Core 6000+
ABIT KN9 Nforce 570 Sli - NF-MCP55
EVGA 8800GTS 640MB
2 GB DDR2 667
Hard Drive
Optical Drive
OS
Monitor
200gb Maxtor + 500gb acomdata external
HP - DVD+RW ls
Windows XP SP2
22' Proview lcd
Keyboard
Power
Case
Mouse
Creative Wireless
600W sli ready atx 12v
black xion with window, blue lights
HP 5 button
View all
hide details
CPU
Motherboard
Graphics
RAM
AMD Athlon X2 Dual Core 6000+
ABIT KN9 Nforce 570 Sli - NF-MCP55
EVGA 8800GTS 640MB
2 GB DDR2 667
Hard Drive
Optical Drive
OS
Monitor
200gb Maxtor + 500gb acomdata external
HP - DVD+RW ls
Windows XP SP2
22' Proview lcd
Keyboard
Power
Case
Mouse
Creative Wireless
600W sli ready atx 12v
black xion with window, blue lights
HP 5 button
View all
hide details