So I wake up this morning and check my overnight run of Orthos--something I hadn't done before. I'd run Orthos for ~45 minutes but never overnight.
Here's what I see: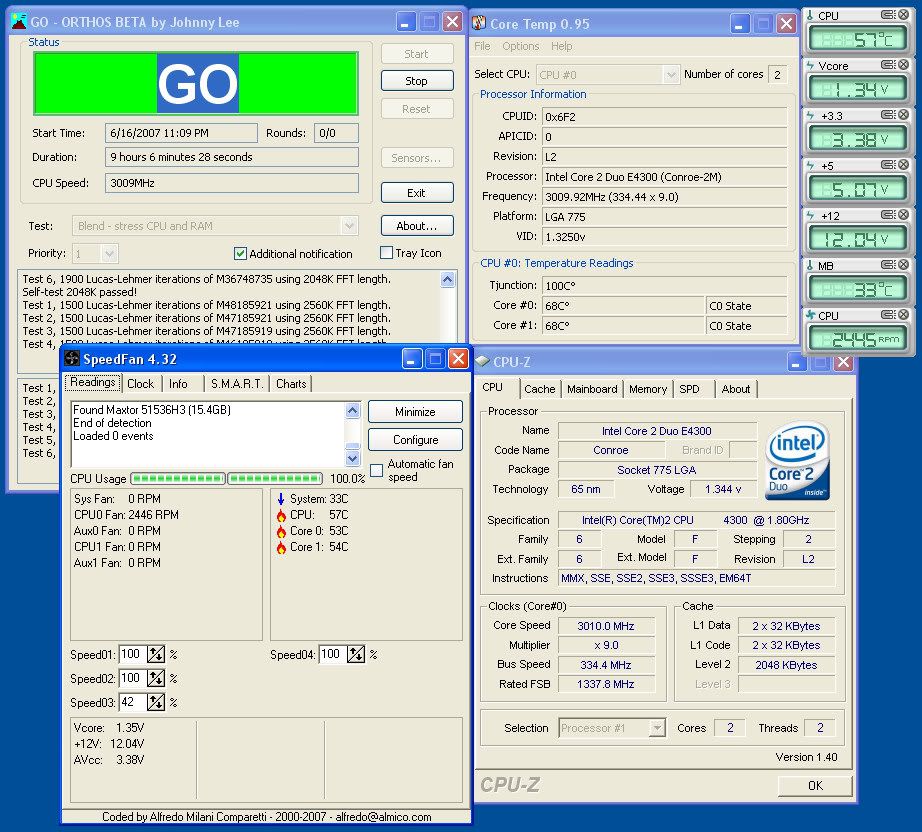 I had started TAT at the beginning of the test to only log temps (not in test mode), so I had a pretty good record of thousands of temps through the night:
What's that? How hot did it get?!?!?
Yep--new high temperature. 77C full load, several times through the night.
This chip idles at 36-38C (speedstep enabled) and it doesn't seem to mind the high temperatures.
I can play Doom 3 with no issues and we never stress the computer as much as it's stressed by Orthos, so we rarely seen any temps higher than 50-54C.
So...thoughts?
Thanks,
Paul
CPU
Motherboard
Graphics
RAM
Core2Duo E6750 @ 3.2 GHz
Gigabyte GA-EP35-DS3P
EVGA GeForce GTS 450 FPB
OCZ Reaper HPC Edition 4GB
Hard Drive
Optical Drive
OS
Monitor
Maxtor SATA
SAMSUNG 20X DVD±R SH-S203B
Win7 64-bit
Asus 22" WS
Power
Case
550W something
Antec P182
View all
hide details
CPU
Motherboard
Graphics
RAM
Core2Duo E6750 @ 3.2 GHz
Gigabyte GA-EP35-DS3P
EVGA GeForce GTS 450 FPB
OCZ Reaper HPC Edition 4GB
Hard Drive
Optical Drive
OS
Monitor
Maxtor SATA
SAMSUNG 20X DVD±R SH-S203B
Win7 64-bit
Asus 22" WS
Power
Case
550W something
Antec P182
View all
hide details