UPDATE:
Okay. I've been OCing and I started messing with voltage. I just had a scare, where I almost killed my video card, so I'm gonna leave it where I'm at. I think I have more headroom on the core at that voltage, I just don't feel like messing with it anymore, at least tonight.
Here is my current set of overclocks:
675/972. Not very impressive, but, almost XTX speeds.
Here are the v0ltages.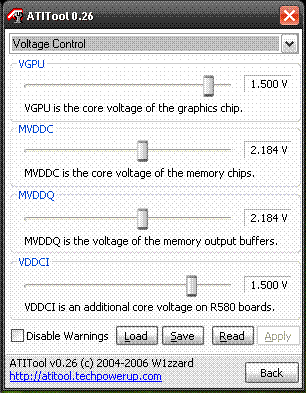 CPU
Motherboard
Graphics
RAM
C2D P8700 @ 2533
Asus G72GX (Intel P45)
GTX 260M
6gb DDR2-800
Hard Drive
Optical Drive
OS
Monitor
500gb SATA
DVD-RW
7 Premium x64
Laptop Display 1600 x 900
View all
hide details
CPU
Motherboard
Graphics
RAM
C2D P8700 @ 2533
Asus G72GX (Intel P45)
GTX 260M
6gb DDR2-800
Hard Drive
Optical Drive
OS
Monitor
500gb SATA
DVD-RW
7 Premium x64
Laptop Display 1600 x 900
View all
hide details