Well heres the modlog of this project so far, im cutting & pasting from a thread on another forum im on... I should get the WC loop sorted out tonight so more pics later.
56K WARNING ALTHO I DO OPTIMISE MY PICS BEFOREHAND
Right well my watercoolin stuff should be here in the next day or so which means my current build (can be found in another thread) is going in a new case and watercooled...
Whats new?
Case - Thermaltake Armour (cheers Matt77)
D-TEK FuZion CPU Block (thanks PV5150)
EK-FC8800 8800 GTS Block
XSPC Clear Bay Reservoir
12V Laing DDC-1T Pro w/OCLabs Plexy Pump Top
Aquacomputer EVO 360 Radiator
Smoothy F1 - Yellow
Maybe a Northbridge block sumtime soon as well
All with 1/2" fittings
Sorry Rob but as you'll be able to tell I had to shop elsewhere for some of the parts, needed them asap bcoz im back to work soon... :-(
Heres the plan, case painted blue with yellow accents (acrylic, water etc)
Pic I did in sketchup - only just used this prog but it looks good
obviously there are more drive bays in the actual case but you get the idea...
Cheers to gorstiedaghost as well for the acrylic (if we get it together anyway)
Soo lets get down and dirty, heres the stripped down case after a clean:
&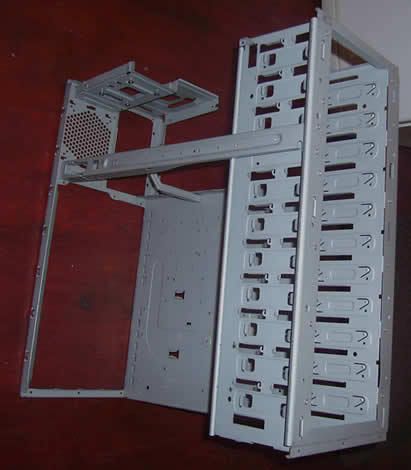 A quick test run with some spray paint, though it may be gettin powdercoated at my dads work. Should find out if I can 2moz...
UPDATE:
Im bored so heres a pic of the top panel, top has been cut-out ready for the yellow acrylic grill. I'll wet/dry sand it and prime it 2moz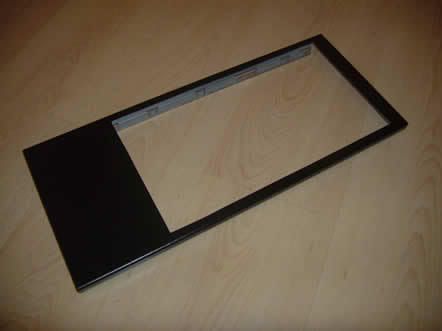 UPDATE:
Another boring update here, just sanded and primed the bottom panel (not done the top yet, was testing on the bottom first). Its sooooo smooth now ive sanded it compared to the previous (stock) paint job.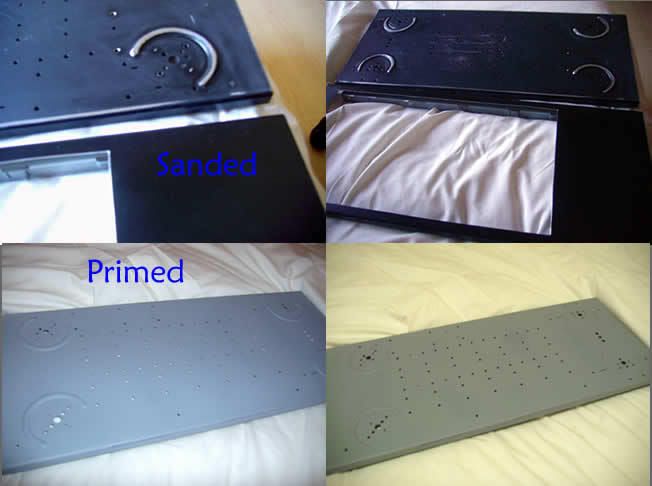 UPDATE:
Right just been doing some more spraying on bits of the case...
Main chassi has been totally primed
Bottom panel primed
HD Racks and other misc. parts primed and painted
Fan grill painted
Should have main chassi painted by 2moz and yellow acrylic grill arriving shortly... (Cheers Matt)
Pics also shows EK block on my 8800GTS: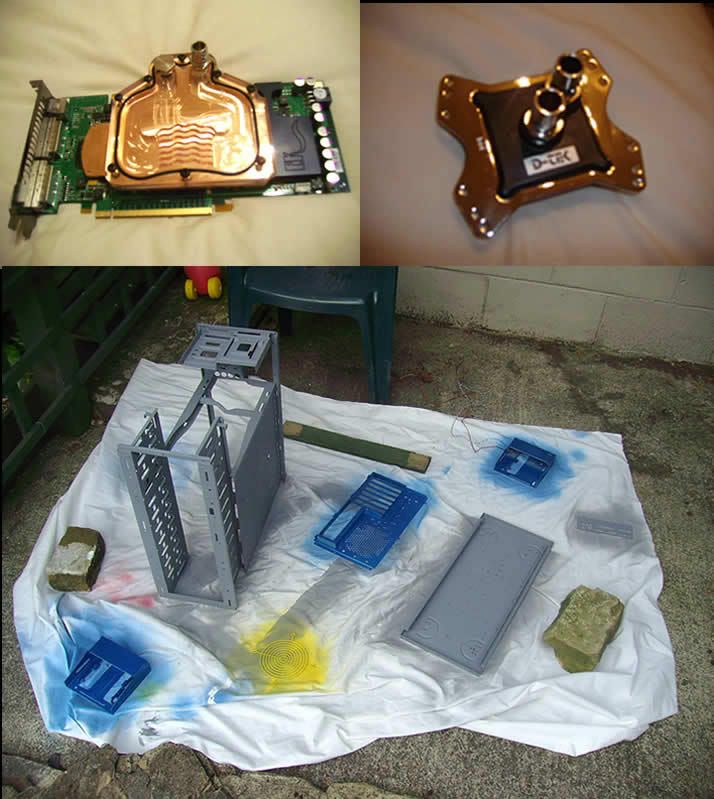 UPDATE:
Im using 1/2" tubing for the entire system
I havent tried the hose on the barbs yet but when I do i'll let you know how i get on...
Ive just been and sprayed the case blue and WOW - HERES THE MONEY SHOT - ITS AWESOME PAINT: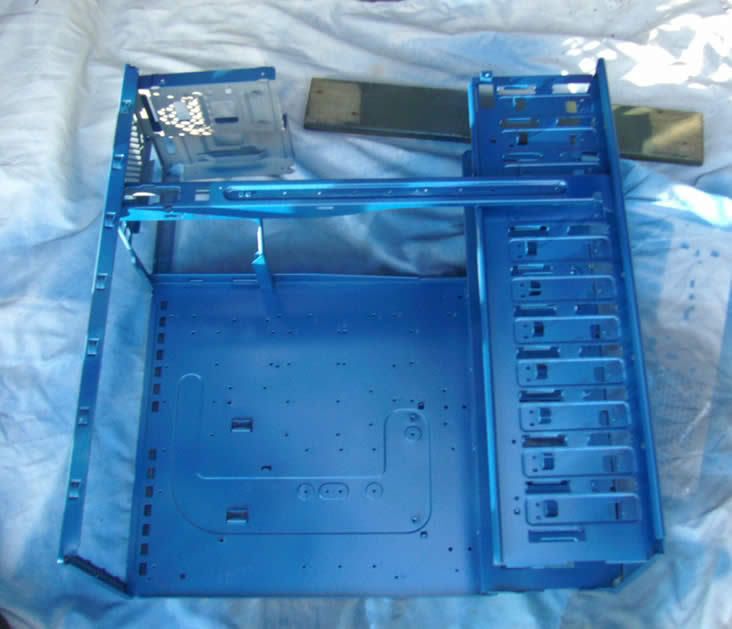 Got the paint from Halfords and its a Vauxhall Arden Blue - Pearlescent... gone through 2 cans of the stuff now
UPDATE:
Well heres the yellow acrylic grill... ooh its nice
Big thanks to gorstiedaghost for the laser cutting on it
I'll try and get the top painted today if I can get my mate to run me over to Halfords later... I think im just gonna glue it on... dont want to drill anymore holes into it... its flimsy enough!
UPDATE:
Well all the case painting is done now (I think) so ive just made a start putting it back together... whilst also making tea
Shes looking sweeeeeeeeet
Anyway, pics say a thousand words... although I think the first pic says a million. Also theres an Aquagate Fan Controller that I took apart and painted to match the case.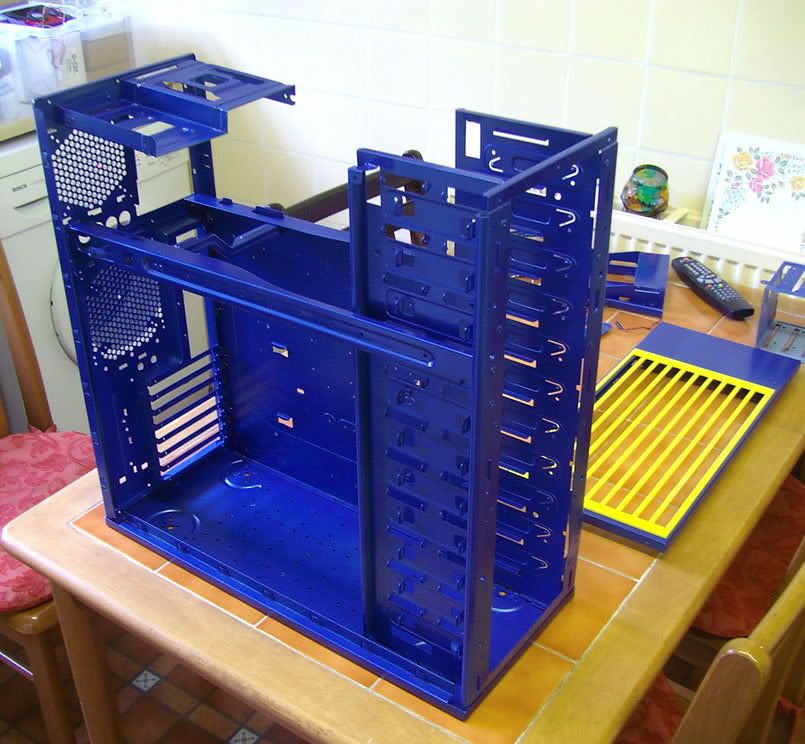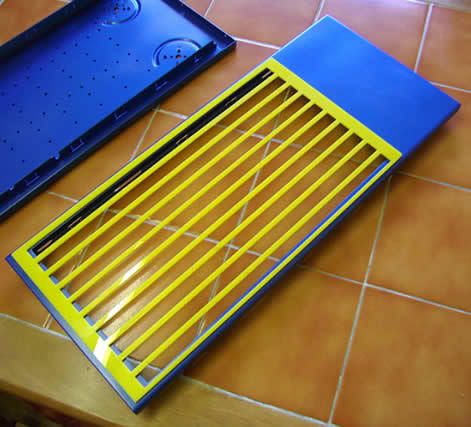 OOK well heres the update we've all been waiting for.... Just installed loop 1 took me a few hours to do but I was watchin TV at the same time.
Not too sure on the positioning of the T-Piece/Drain Valve Yet but i'll have a think about it.
Air bubbles were gone within 10 minutes and im now doing a leak tesk hence the kitchen roll in the last few pic.
All photos were taken with flash on (apart from last 1) hence the off colours, makes the water look really green.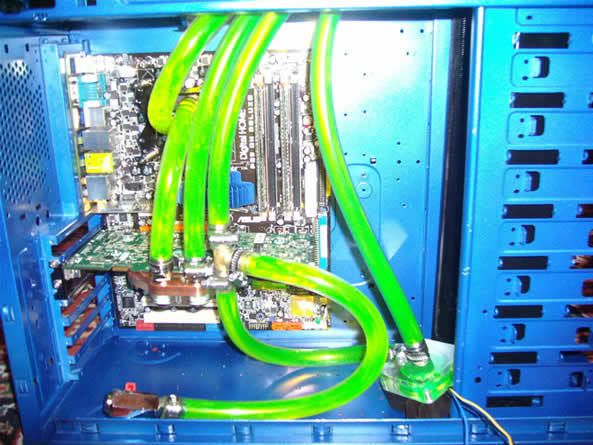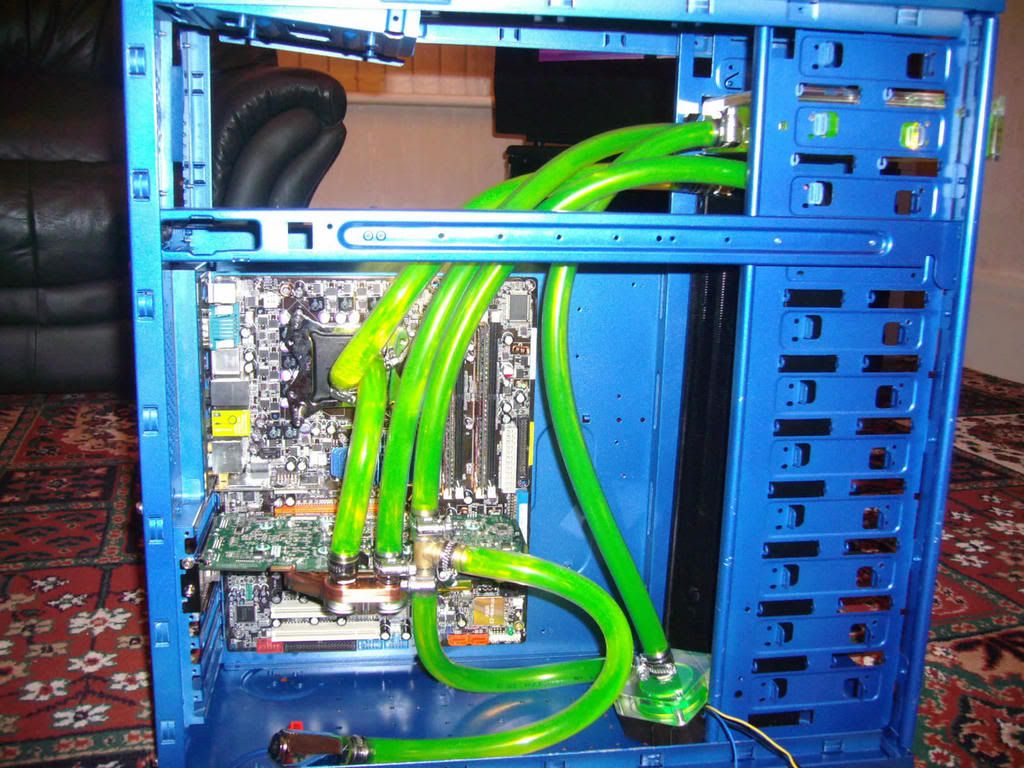 If you want any more pics gimmie a shout and i'll happily take some more
-----------------------------------------------------------------------------------------------------------------------------------------
UPDATE
Installed the OCZ Ram cooler yesterday, its abit loud on full speed so ive got it turned down. Looks really good though and was easy to fit however there isnt much room between the bottom of it and my gfx card!
I'll be changing the red sata wire when I next turn my pc off and hopefully the IDE cable will disappear when my adapter arrives.
Hopefully get my rad mounted to the sidepanel tonight, then my Tribal Overkill SpinFX res might get mounted in the front drive bays with a clear acrylic sheet in the front.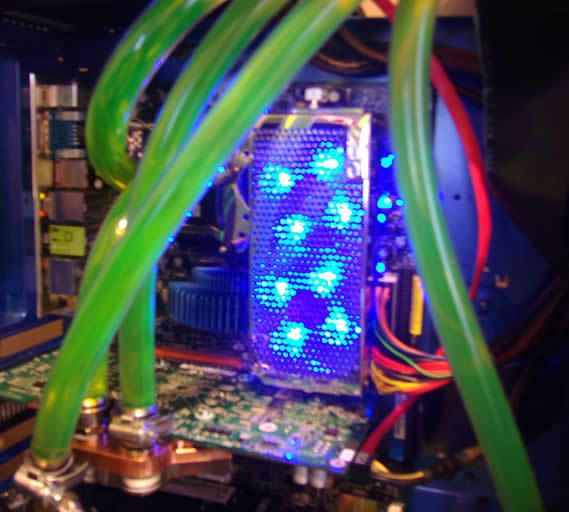 ------------------------------------------------------------------------------------------------------------------------
UPDATE
Now that the loop has been running for abt a week I decided to post the temperatures for those of you that are interested. Will update as I get the rest.
E6300 Overclocked to 2.8Ghz
8800GTS Overclocked 607/1006Mhz
CPU Temps
Idle with no fans (hot weather) - It kept increasing until it hit 40 then I put fans on
Idle with 2 fans on radiator (hot weather): 32-34 degrees
Idle with 2 fans on radiator (cool weather): 30-32 degrees
Idle with 3 fans on radiator (cool weather): 26-28 degrees
Load with 3 fans on radiator (cool weather): ?
Load with 3 fans on radiator (hot weather): ?
GPU Temps
Idle with 3 fans on radiator (cool weather): 40 degrees
Idle with 3 fans on radiator (hot weather): ?
Load (Highest during 3DMark06) with 3 fans on radiator (cool weather): 45 degrees
-----------------------------------------------------------------------------------------------
UPDATE
After deciding I didnt like the radiator up the front on the case I decided to mount it to the right side panel...
Used the Aquacomputer Evo mounts in an un-orthodox way but hey it works
Got some 4mm aluminium sheet to support the inside of the panel then drilled the required holes into the panel and aluminium.
Holding the mounts are 7 M4 x 25mm bolts, there should be 8 but it turned out I got the aluminium cut to the wrong length :?
Ah well 7 will be fine, once I get some M3 x 40 bolts I will attach my fans to it and once the AC Ryan Rad Grillz come into stock I will be attaching a UV Blue Stripes Grill over the top.
For the meantime its back in the front of my case, till this friday then i'll be orderin more tubing to run it out the back of the case and I need to get sanding the side panel and painting it blue, might paint the Rad exterier yellow yet.... thats all folks.
As always, comments welcome!
CPU
Motherboard
Graphics
RAM
Q6600
Asus P5K3
Leaktek 8800GTS 640Mb
2GB DDR3
Hard Drive
Optical Drive
OS
Monitor
500GB SATA
DVD-RW
XP
2x 19" Widescreens
Keyboard
Power
Case
Mouse
Logitech
Coolermaster 850W
Lasered & Painted Akasa Omega
Microsoft Habu
Mouse Pad
Bugs Bunny!
View all
hide details
CPU
Motherboard
Graphics
RAM
Q6600
Asus P5K3
Leaktek 8800GTS 640Mb
2GB DDR3
Hard Drive
Optical Drive
OS
Monitor
500GB SATA
DVD-RW
XP
2x 19" Widescreens
Keyboard
Power
Case
Mouse
Logitech
Coolermaster 850W
Lasered & Painted Akasa Omega
Microsoft Habu
Mouse Pad
Bugs Bunny!
View all
hide details