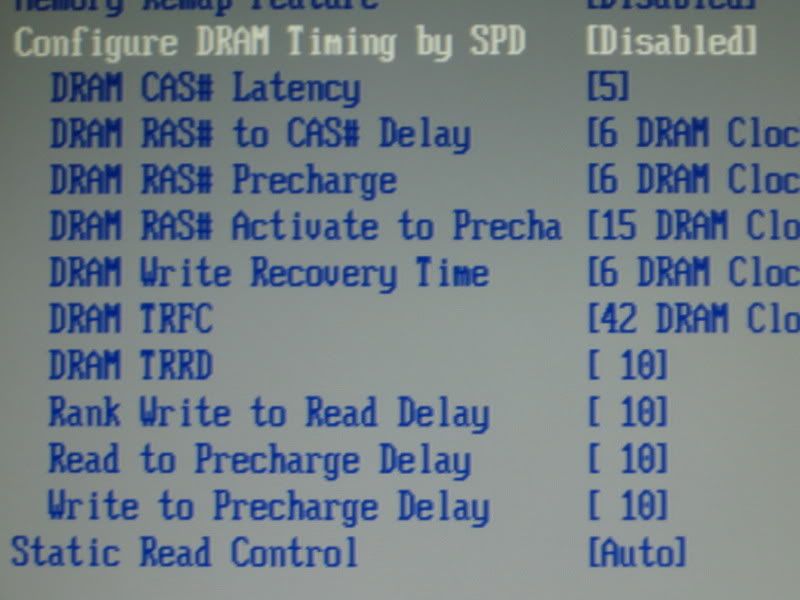 That's a current shot of my RAM timings in BIOS.
Being that this is my first build, which was actually built a few months ago, I'm not really sure which parts to change to get it at the HK's stock timings (4-4-3-5 @ 2.0-2.1v). After Building this machine I set it to DDR2-800 and upped the voltage to 2.1, I just never changed the timings.
Would anyone care to tell me which ones to change? I'm pretty sure it's the first four, but I'm not completely sure.
edit- Also, if there's anything else I need to change besides voltage, speed, and timings to get these sticks at stock specs, do tell.
CPU
Motherboard
Graphics
RAM
Intel C2D e6600
P5B Deluxe
EVGA 8800gts 320mb
2x1gb G.Skill HK
Hard Drive
Optical Drive
OS
Monitor
Seagate 7200.10 320gb
LITE-ON Combo Drive
Windows XP Home SP2B
ViewSonic VX922 19'' 2ms
Keyboard
Power
Case
Mouse
Logitech UltraX
Corsair 620HX
Antec P182
MX518
Mouse Pad
Banshee Pad
View all
hide details
CPU
Motherboard
Graphics
RAM
Intel C2D e6600
P5B Deluxe
EVGA 8800gts 320mb
2x1gb G.Skill HK
Hard Drive
Optical Drive
OS
Monitor
Seagate 7200.10 320gb
LITE-ON Combo Drive
Windows XP Home SP2B
ViewSonic VX922 19'' 2ms
Keyboard
Power
Case
Mouse
Logitech UltraX
Corsair 620HX
Antec P182
MX518
Mouse Pad
Banshee Pad
View all
hide details