Okay so I ordered an MCR-220-QP radiator from ebay got a good price, but a LOUSY seller. Took 4 business days to ship out, and didnt receive it till a week later. .
That was the least of my worries
[long story, skip ahead to bottom line if you want]
Inside the box, one edge was crushed, shouldn't affect performance, I hope and it only came with 1/2" barbs (black) and the white barb stoppers. It however did not come with any of the fan mounting screws. When I contacted the seller I fussed at him and he said he had some "fan screws" he could ship me for the cost of shipping, but I'm sorry when I buy something I expect to get everything to operate it at it's most basic functioning level. I gave in and asked how much for the shipping he never responded. A week later I asked again, and since two days ago, no response still.
Bottom line
if you didnt read the above paragraph:
I need the fan mounting screws for my radiator. I found some at
PTS
but noticed that I would need 2 packs to mount 2 fans, and 4 packs to mount 4 fans in push pull.
I also need a radbox to secure my radiator and noticed newegg sells it with a picture of the contents. As far as I can tell there are 12 screws which look the same to the one PTS is selling.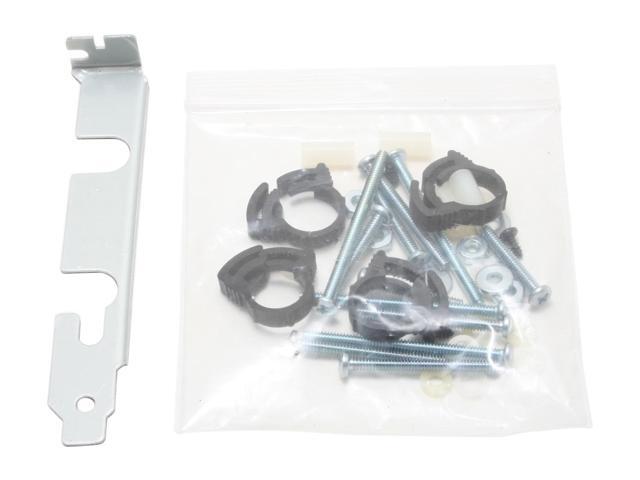 Will these screws work for the radiator, since normal fan screws don't fit. And will I have enough left over to mount the radbox + radiator + atleast 2 fans?
I plan on mounting the radbox + radiator + fans like this 1 push/pull, 1 pull
So how many silver screws do I need?
CPU
Motherboard
Graphics
RAM
Lapped Intel Core 2 Quad - Q6600 G0 Stepping
Asus P5K Deluxe WiFi
ATi Sapphire HD 6950 2GB Unlocked
8GB G.Skill Pi Black DDR2-800 PC2-6400
Hard Drive
Optical Drive
OS
Monitor
60GB OCZ Solid 2 SSD
Samsung SATA 18X DVD Burner
Windows 7 Ultimate x64
Dell 3007WFP-HC + 2x 2007FP in PLP
Keyboard
Power
Case
Mouse
Ducky Shine Blue, MX Red
Corsair HX620 620W
Lian Li V1000 Plus Black
Razer Mamba 2012
Mouse Pad
Audio
XTrack Ripper XL
Creative X-Fi XtremeMusic
View all
hide details
CPU
Motherboard
Graphics
RAM
Lapped Intel Core 2 Quad - Q6600 G0 Stepping
Asus P5K Deluxe WiFi
ATi Sapphire HD 6950 2GB Unlocked
8GB G.Skill Pi Black DDR2-800 PC2-6400
Hard Drive
Optical Drive
OS
Monitor
60GB OCZ Solid 2 SSD
Samsung SATA 18X DVD Burner
Windows 7 Ultimate x64
Dell 3007WFP-HC + 2x 2007FP in PLP
Keyboard
Power
Case
Mouse
Ducky Shine Blue, MX Red
Corsair HX620 620W
Lian Li V1000 Plus Black
Razer Mamba 2012
Mouse Pad
Audio
XTrack Ripper XL
Creative X-Fi XtremeMusic
View all
hide details