Ok, this was my 3rd PSU.
Bought it to power my 6800nu back in the day. But then i got my new 8800, so i got a new PSU.
I am now using this PSU to power my rooms sound system. The ratings on this PSU are as follows:
All ratings are "MAX" ratings, not continous:
+3.3vDC 30A )
240watt )
+5vDC 32A )
380watt )
+12vDC 16A ) 192watt )
400watt
-12vDC 0.8A ) 9.6watt )
-5vDC 0.3A ) 1.5watt ) 20watt )
+5vSB 2.0A ) 10watt )
I hope you guys can read that good. But anyway.
The amp is now being used to power 2 car audio amplifiers:
Sony Xplod 165watts RMS x2 @4ohms (60amps)
HiFonics BXi1206D 1200watts RMS x 1 @1ohm (running at 450watts RMS @4ohms) (80amps)
The PSU can fully power my Sony Xplod with no problem, none whats so ever. It has never failed, or even came close.
I just now hooked the second amp up, so the PSU is now powering 2 amplifiers alone!!
If i ran full gain that would pull near 140amps!
Iv ran 5hz test tones with the HiFonics amp on full gain half bass boost and it did just fine.
I havent run it with both amps at full gain yet, but its running 100% stable at half gain on both amp and sounds awsome!
Bottom line, i never expected this cheap $70 PSU to be able to power amps so good. I figured my Sony amp woulda burned it up, as that amp burned up 2 previous PSU, a cheap 300watt PSU and a
high dollor 450watt PSU by Thermaltake
!
Amazing PSU. Here are some pics of the setup: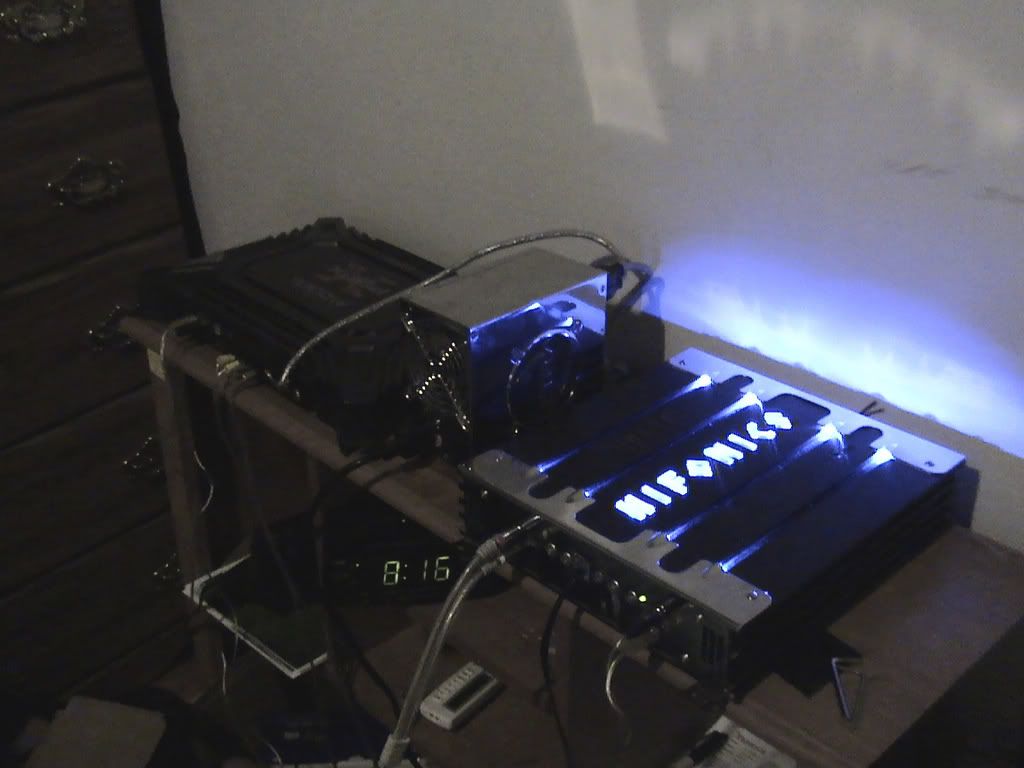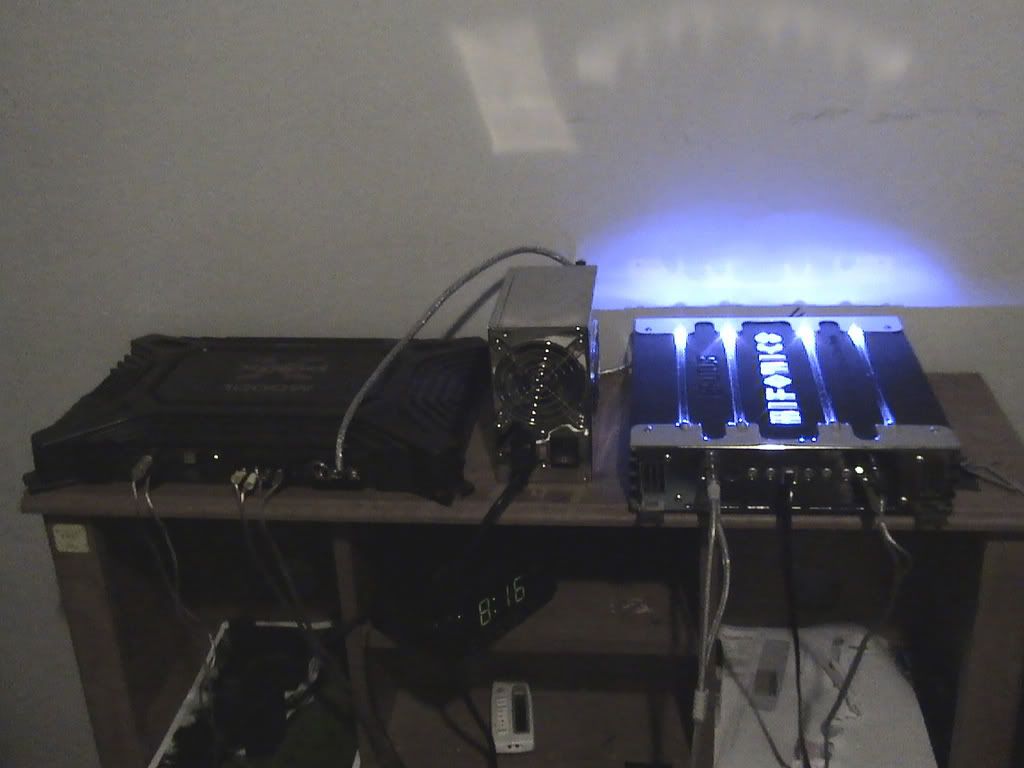 I give this PSU 5 stars for reliability!!
CPU
Motherboard
Graphics
RAM
X2 3800+ @1.1vcore
ASUS A8N-SLi Deluxe
eVGA 8800GTS 320MB
3x512 1x256 @ 2.6gb/s
Hard Drive
Optical Drive
OS
Monitor
WD 320GB SATA II
Sony DVD-RW
XP 32-bit/Vista 64-bit Ultimate
ViewSonic 17" CRT (1996)
Keyboard
Power
Case
Mouse
Kensington
Antec NeoHE 550watt
Ultra Aluminus
Memorex MX4200
View all
hide details
CPU
Motherboard
Graphics
RAM
X2 3800+ @1.1vcore
ASUS A8N-SLi Deluxe
eVGA 8800GTS 320MB
3x512 1x256 @ 2.6gb/s
Hard Drive
Optical Drive
OS
Monitor
WD 320GB SATA II
Sony DVD-RW
XP 32-bit/Vista 64-bit Ultimate
ViewSonic 17" CRT (1996)
Keyboard
Power
Case
Mouse
Kensington
Antec NeoHE 550watt
Ultra Aluminus
Memorex MX4200
View all
hide details