I am looking at getting a Razer Barracuda for $100 from a seller. And I am also going to get a logitech 5.1 system which will be in surround sound format. As in, my desk somewhat wraps around me, so the speakers will surround me in the typical 5.1 configuration, but no speaker will be more than 2 feet away. This should be pwnage. I game a lot, and I listen to music A LOT. Not too concerned about watching DVD's on my rig.
So.
Is the razer worth it?
How good is the sound quality? Noticably better than an audigy, or than my onboard HD sound?
Will it work well in surround sound with my 5.1 system? In games, with EAX, and for music?
I think the best thing will be bragging rights. Dunno.
Opinions wanted.
Thanks
P.S.
This are the speakers I wants
Logitech X-530 70 watts 5.1 system
http://www.newegg.com/Product/Produc...82E16836121126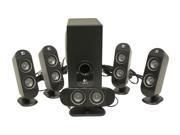 CPU
Motherboard
Graphics
RAM
C2D P8700 @ 2533
Asus G72GX (Intel P45)
GTX 260M
6gb DDR2-800
Hard Drive
Optical Drive
OS
Monitor
500gb SATA
DVD-RW
7 Premium x64
Laptop Display 1600 x 900
View all
hide details
CPU
Motherboard
Graphics
RAM
C2D P8700 @ 2533
Asus G72GX (Intel P45)
GTX 260M
6gb DDR2-800
Hard Drive
Optical Drive
OS
Monitor
500gb SATA
DVD-RW
7 Premium x64
Laptop Display 1600 x 900
View all
hide details