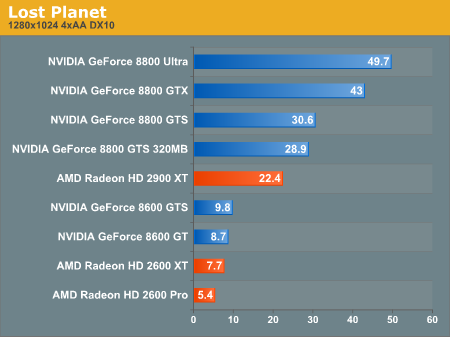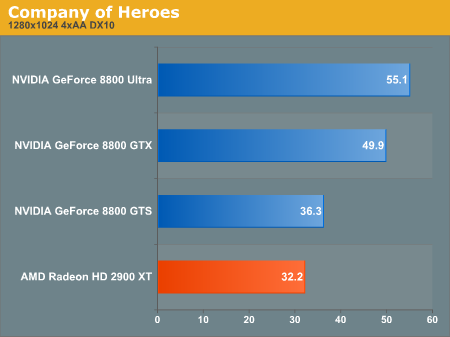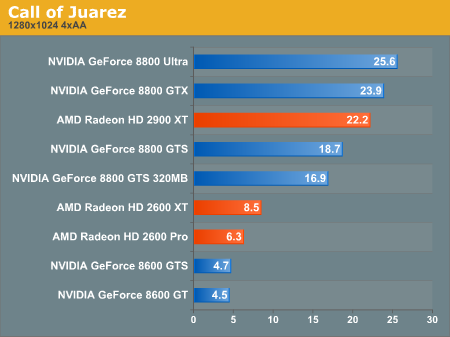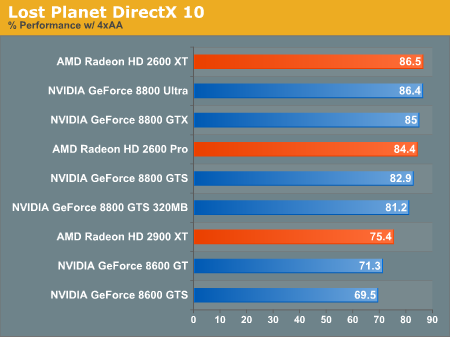 *EDIT: Added images*
Quote:
Games which could absolutely only be done in DX10 won't hit for quite a while for a number of reasons. The majority of users will still be on DX9 platforms. It is logical to spend the most effort developing for the user base that will actually be paying for the games. Developers are certainly interested in taking advantage of DX10, but all games for the next couple years will definitely have a DX9 path. It doesn't make sense to rewrite everything from the ground up if you don't have to.

We are also hearing that some of the exclusive DX10 features that could enable unique and amazing effects DX9 isn't capable of just don't perform well enough on current hardware. Geometry shader heavy code, especially involving geometry amplification, does not perform equally well on all available platforms (and we're looking at doing some synthetic tests to help demonstrate this). The performance of some DX10 features is lacking to the point where developers are limited in how intensely they can use these new features.

Developers won't write code that will work fine on one platform and not at all on another. The decisions on how to implement a game are in the hands of the developer, and that's where gamers rightly look when performance is bad or hardware and feature support is not complete. Building a consistent experience for all gamers is important. It won't be until most users have hardware that can handle all the bells and whistles well that we'll see games start to really push the limits of DX10 and reach beyond what DX9 can do.

In conversations with developers we've had thus far, we get the impression that straight ports of DX9 to DX10 won't be the norm either. After all, why would a developer want to spend extra time and effort developing, testing and debugging multiple code paths that do exactly the same thing? This fact, combined with the lack of performance in key DX10 features on current hardware, means it's very likely that the majority of DX10 titles coming out in the near term will only be slightly enhanced versions of what could have been done through DX9.

Both NVIDIA and AMD were very upset over how little we thought of their DX10 class mainstream hardware. They both argued that graphics cards are no longer just about 3D, and additional video decode hardware and DX10 support add a lot of value above the previous generation. We certainly don't see it this way. Yes, we can't expect last years high end performance to trickle down to the low end segment. But we should demand that this generation's $150 part always outperform last generation's.
http://www.anandtech.com/video/showdoc.aspx?i=3029&p=1
Doesn't look good for either AMD or Nvidia... It seems True DX10 is a ways off, and most likely hardware capable of handling it as well.
CPU
Motherboard
Graphics
RAM
Q6700 @ 3.7Ghz 1.37V
DFI LT X48-T2R vNB 1.24
EVGA 460GTX
4x2GB Patriot 1000mhz CL5
Hard Drive
OS
Monitor
Power
2x x-25m
Vista x64
24" BenQ G2400WD
Corsair VX550W
Case
CM Cosmos 1000
View all
hide details
CPU
Motherboard
Graphics
RAM
Q6700 @ 3.7Ghz 1.37V
DFI LT X48-T2R vNB 1.24
EVGA 460GTX
4x2GB Patriot 1000mhz CL5
Hard Drive
OS
Monitor
Power
2x x-25m
Vista x64
24" BenQ G2400WD
Corsair VX550W
Case
CM Cosmos 1000
View all
hide details