I have 2 rads
a) is a Black Ice Extreme 220 (2x120mm) with 1/2 ID in ports.
b)The other is a 120mm Swiftech with 3/8" in ports.
I have 3 components to cool:
a) e6600 cpu with an apogee water block and a 245w peltier.
b) a 8800gtx with a swiftech mcr60-r water block
c) a swiftech northbridge block
The pump I have is a MCP655 which i think is one of the best out there.
My question is: Do i do 2 independent loops using y-splits? one loop for the 120mm rad using the 3/8"id tubbing cooling the gpu and NB. And the other loop for the cpu and the 240 rad using 1/2" ID tubbing for that.
Or... one giant loop all 1/2"ID tubbing exept when I get to the swiftech 120mm rad where I have to use 3/8" (I have the addapters).
I think by using a big loop the 120 will cause a major preassure drop. And by using the 2 loop idea the y-splits will also hinder the preasure.
here is what i mean: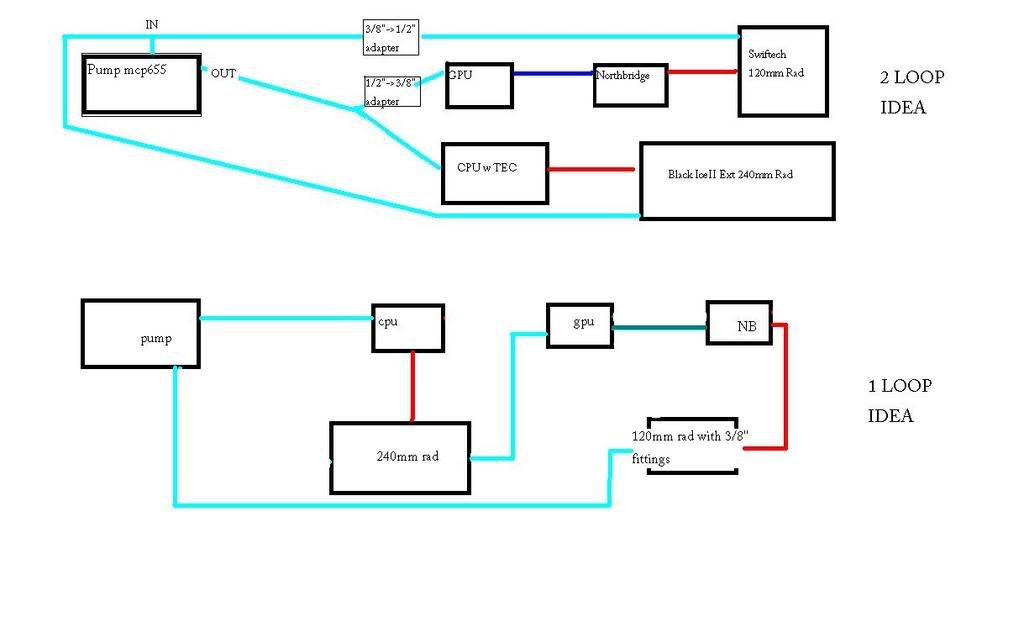 CPU
Motherboard
Graphics
RAM
e6600 @ 2.4 ghz
eVGA 650i Ultra
XFX 8800GTX
PNY PC6400 2GB
Hard Drive
Optical Drive
OS
Monitor
WD 150 GB RAPTOR and WD160GB slave
NEC 18x DVD-/+RW
Windows XP/Windows Vista on diff partitions
Viewsonic 22" and LG 17" LCDs
Keyboard
Power
Case
Mouse
Logitech G15
silverstone Strider 1000 watts
Cooler Master Mystique Aluminum
Logitech G5
View all
hide details
CPU
Motherboard
Graphics
RAM
e6600 @ 2.4 ghz
eVGA 650i Ultra
XFX 8800GTX
PNY PC6400 2GB
Hard Drive
Optical Drive
OS
Monitor
WD 150 GB RAPTOR and WD160GB slave
NEC 18x DVD-/+RW
Windows XP/Windows Vista on diff partitions
Viewsonic 22" and LG 17" LCDs
Keyboard
Power
Case
Mouse
Logitech G15
silverstone Strider 1000 watts
Cooler Master Mystique Aluminum
Logitech G5
View all
hide details