Hey guys. I'm so incredibly excited about this. This is my first build, and much of the decision making was finalized thanks to everyone's input. As I mentioned in my "Parts Ordered!" thread, I'm taking photos of the parts as they arrive, and also as they all enter the case. I know to some of you this is mundane and routine, but for me... well it's really special. With that said... here goes.
Case: Cooler Master Stacker 830 Received
Motherboard: Gigabyte 965P-DS3 Revision 3.3 Received
Processor: Intel Core 2 Duo E6420 Received
RAM: GeiL 2x1gb DDR2 800 (orange heat spreaders) Received
PSU: Corsair HX520W Received
Video Card: eVGA nVidia 8800GTS 640mb Received
CPU Cooler: Tuniq Tower 120 Received
Display: Ben-Q 20" V3 Widescreen Received
If you'd like to skip all the chat and stuff and just see the photos, check out the photobucket:
http://s112.photobucket.com/albums/n...#37;20Splints/
I've also done a write-up on how to replace the fan in a Tuniq Tower 120. If you're interested, take a look:
http://www.overclock.net/intel-air-c...wer-120-a.html
-------------------------------
Thursday, July 12th. 1:30am
I just got home from work to find a package sitting on my futon pad-mattress bed thing. I had checked my tracking numbers and whatnot, and both my PSU and motherboard were on the truck to be delivered... but only one box was here. Nonetheless, I was very excited.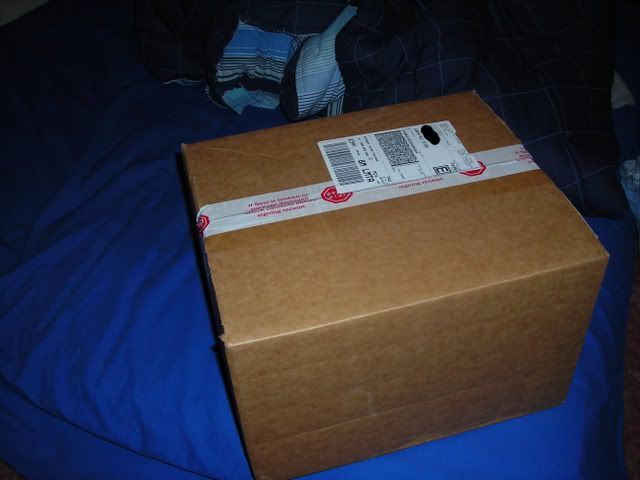 A box!
Breaking the seal with my balisong.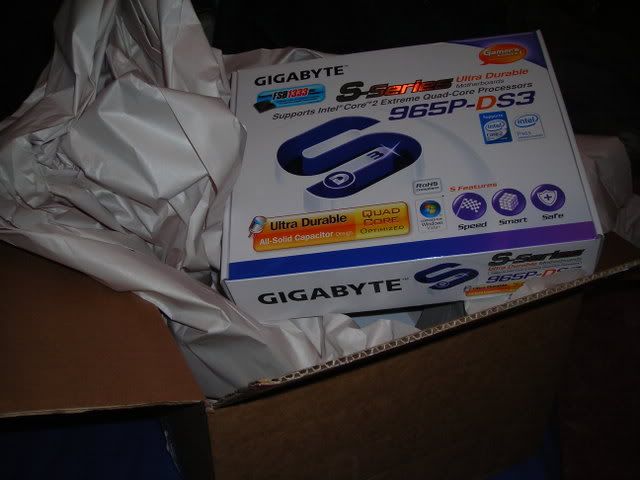 Look what popped out! A Gigabyte 965P-DS3 Revision 3.3! Courtesy of Club-IT.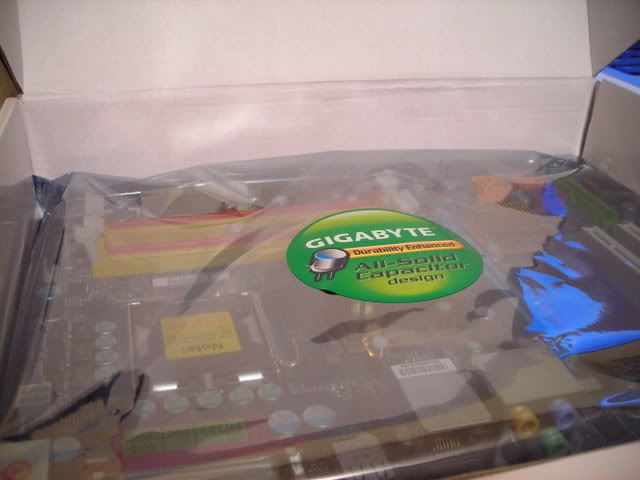 The mobo. I dare not unpack it until all the parts arrive.
Mobo and accessories with Jaylynn, Jillian's younger sister, in the background.
I'm expecting my newegg shipment to arrive tomorrow. It has a majority of the parts in it. The PSU should also show up tomorrow (should've showed up today). The case should arrive on Friday, and the monitor on Monday (I have an extra monitor to use until then. I'm not waiting until next week to build this.
-------------------------------
Thursday, July 12th. 12:15pm
The PSU showed up today from ZipZoomFly. I have some smaller photos *without flash!!!* this time.
Another box! This time from ZipZoomFly. Thanks! Sorry, I had to black out my address. As much as I'd love you guys to send me free stuff... well, leave it at that.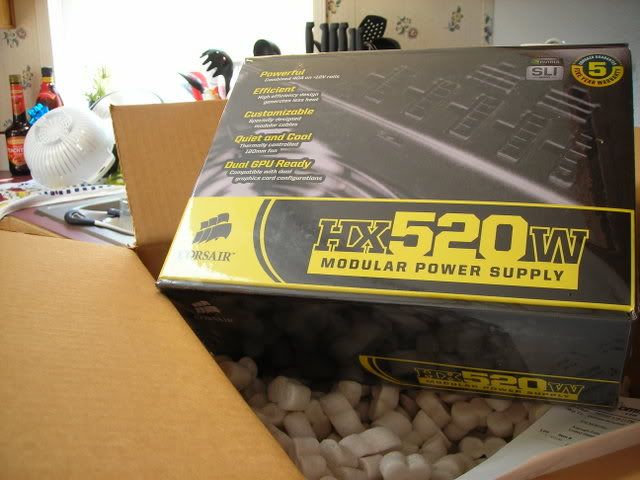 Here's the prize! A Corsair HX520W power supply!
Upon opening the box, I realize how much smaller it is than I had expected.
Here's a comparison with some Sobe's I "took" from work. It really is pretty small and very light as well.
I'm expecting the Newegg shipment to show up while I'm at work. UPS tracking says it's on the truck to be delivered. We'll see.
-------------------------------
Thursday, July 12th. 5:00pm
A pleasant surprise showed up on my doorstep today. My shipment from the egg came in before I had expected. I was going out to check my mail to see if my checks had come in and almost tripped on it. I didn't even hear UPS come by. I took some quick photos, and I apologize for the bad quality... I took them in a hurry to get to work.
A box! This one is larger than the others.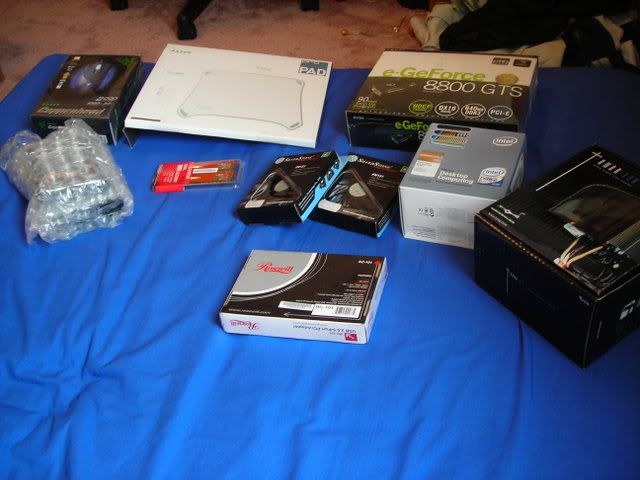 The contents. Thanks Newegg!
The Tuniq Tower 120. Huge.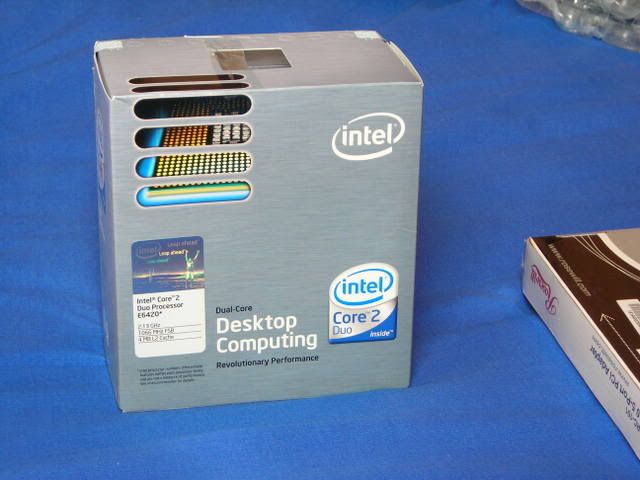 E6420. Will soon be overclocked big.
Silverstone FN121s. One of these will go on the Tuniq Tower, the other on the back of the case and the fan from the Tower will go on the front of the case. I ended up ordering more Yate Loon fans for the Stacker when it gets here.
The 8800GTS from eVGA. Heavier than I expected.
The Razer Copperhead Tempest and PRO Pad that I ordered. I opened them up because my Compaq mouse is going out every once in a while. I need to use them.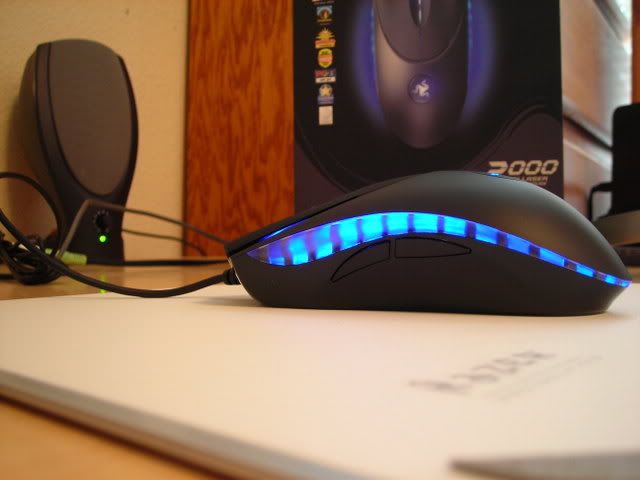 Another shot of the mouse. Sexy blue lighting. I'll be taking more photos in the dark tonight. The feel of this mouse is fantastic. The mousewheel is a bit further forward than I'm used to, but damn it's a great mouse. This is, of course comparing it to my Compaq mouse: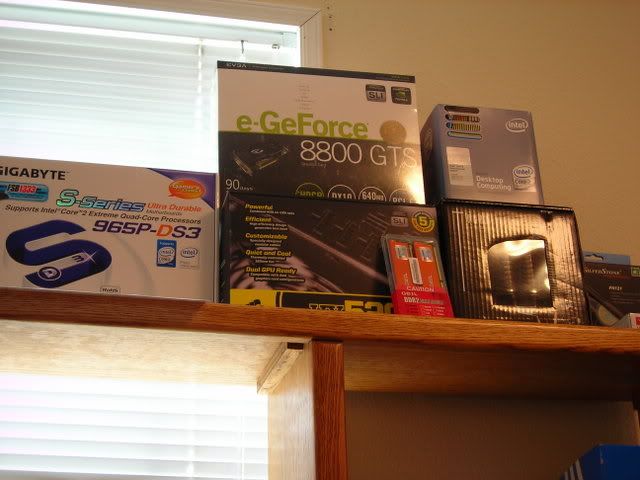 One last shot of the bunch in "storage" until to Stacker gets here.
A pleasant surprise indeed! It's really starting to hit me that I'll have my first gaming PC up and running in a relatively short amount of time (compared to how long I've waited). The Stacker is expected to show up tomorrow, and the Ben-Q display on Monday. Luckily, there's an extra LCD monitor sitting around the house that I can abuse until then. Tomorrow I'll have a pictorial on replacing the fan in the Tuniq Tower, and more photos of the various parts out of their boxes, and HOPEFULLY a brand new Cooler Master Stacker 830.
-------------------------------
Friday, July 13th. 3:00am
Happy Friday the 13th. I actually have something to show for it, too. FedEx has delayed the shipment of the Cooler Master Stack 830 until Monday. This isn't going to hold back my build too much. I'm still going to put all of the components together later today and hopefully get the OS up and running to do some overclocking and probably some folding, since weekends are my only free time. With that said, I took a couple more photos: previously promised photos of the Copperhead Tempest in the dark, and the stepping/week of my E6420. I've also written a guide to replacing the fan in the Tuniq Tower 120. The link to that thread is at the end of today's update. Enjoy.
The glow looks really good against the white PRO Pad.
Here's the stepping/week of the E6420:
L703C694. I didn't see it in Kriegen's "C2D Overclocks by CPU, Week, OC and Voltage" thread, so I'm pretty excited to see and submit my overclocking results some time in the next week to that.
In addition to those photos, I've done a write-up on replacing the fan in the Tuniq Tower 120. You can find it here:
http://www.overclock.net/intel-air-c...wer-120-a.html
This post became too big, and so I've had to continue it in another reply. Here are links to the other replies:
Update Saturday July 14, 2007 - 11:30am
Video Posted Saturday July 14, 2007 - 2:00pm
Update Sunday July 15, 2007 - 12:00pm
Update Monday July 16, 2007 - 3:30pm
Video Comparison of Silverstone FN121, Yate Loon Med Speed, Tuniq Tower 120 stock fan
Update Friday July 20, 2007 - 3:30pm
Update Friday July 20, 2007 - 5:40pm
Update Friday July 20, 2007 - 6:30pm
Update Friday July 20, 2007 - 6:45pm