This was originally posted in the 3dmark06 scores page , but Id like to ask some more questions and don't want to hijack that thread.
I set all my components back to stock settings to have a base from which to measure my overclocks. 2416 is however pathetic. Whats happening ?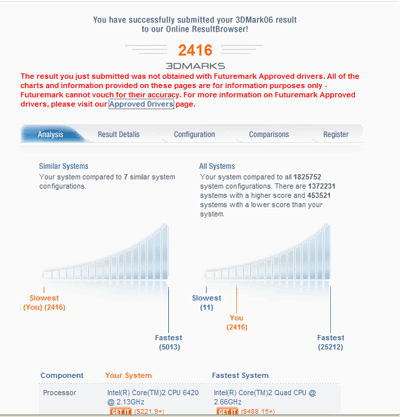 Here are 3dmark05 score too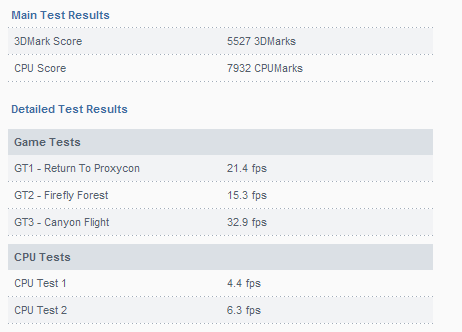 C2d e6420 @ 2133.3Mhz 1.248 volts
Asus p5N32-E SLI PLUS Bios 0602
2 GB GEIL Ultra. Hard to OC because its a power hog.
2 X 150GB WD in raid0
Antec 550w
Whats a respectable score for my system ?
I don't know where to start to get the best longevity/performance for my system. What kind of cpu/mem/nb/sb volts and settings do you guys suggest ? Id be happy at 3ghz...
Thanks premeptivley for all the +rep worthy suggestions !
CPU
Motherboard
Graphics
RAM
e6420 - L712a517
Abit AB9 Pro P965
XFX 7800 GTX
2GB GEIL PC2-8500 Ultra
Hard Drive
Optical Drive
OS
Monitor
2x Wd 160gb Raid 0
Asus Dvd/Cd-RW
Ubuntu / XPlite
22' Acer ws X222W
Keyboard
Power
Case
Mouse
G15
Antec 550 True Power
Antec 900
G5
Mouse Pad
Yes Please.
View all
hide details
CPU
Motherboard
Graphics
RAM
e6420 - L712a517
Abit AB9 Pro P965
XFX 7800 GTX
2GB GEIL PC2-8500 Ultra
Hard Drive
Optical Drive
OS
Monitor
2x Wd 160gb Raid 0
Asus Dvd/Cd-RW
Ubuntu / XPlite
22' Acer ws X222W
Keyboard
Power
Case
Mouse
G15
Antec 550 True Power
Antec 900
G5
Mouse Pad
Yes Please.
View all
hide details