http://www.newegg.com/Product/Produc...82E16813186119
Quote:
Model:
Brand Foxconn
Model P35A
Supported CPU:
CPU Socket Type LGA 775
CPU Type Quad-core / Core 2 Extreme / Core 2 Duo / Pentium
FSB 1333/1066MHz
Chipsets:
North Bridge Intel P35
South Bridge Intel ICH9
Expansion Slots:
PCI Express x16 2 x PCI Express x16(run x16 + x4 mode, support dual graphics card technology)
PCI Express x1 1
PCI Slots 3
Storage Devices:
PATA 1 x ATA100 up to 2 Devices
SATA 3Gb/s 4 x SATAII + 1 x eSATA
Onboard Audio:
Audio Chipset Realtek ALC888
Audio Channels 8 Channels
Onboard LAN:
LAN Chipset Realtek 8111B
Max LAN Speed 10/100/1000Mbps
Packaging:
Package Contents P35A
Driver Disk
User Manual
Rear I/O Panel Shield
IDE/PATA Cable
FDD Cable
2 x SATA Cable
2 x 4-pin to SATA Power Cable
Bracket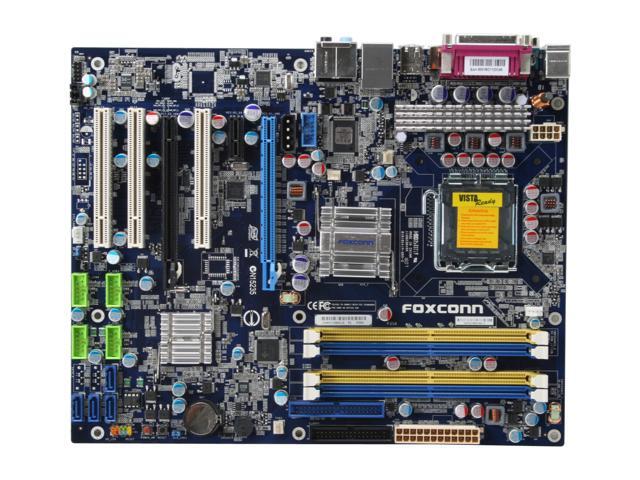 I have no experience with Foxconn, but I like that this board doesn't have copper heat pipes all over the place. Might not OC like sin, but it looks mildly OC'able.
http://www.hardwarezone.com/articles...288&cid=6&pg=2
Quote:
In terms of real overclocking capabilities, the Foxconn P35A is not too shabby an overclocker. We managed to get the board running at a stable 1800MHz FSB (450MHz base) with a Core 2 Duo E6300 with a NB voltage boost to 1.538V. However, we do have some reservations about the board as it is not a natural overclocker and not for the uninitiated. The board requires a lot of coaxing and incremental adjustments in order to attain high frequencies, but you will be able to run at 1333MHz without any problems.

The Foxconn P35A is really quite an unremarkable motherboard if you look at it straight on; the kind of mainstream motherboard that usually sits on store shelves snubbed by enthusiast DIY-ers and power users. Being based off the old P9657AA/B PCB design doesn't help much either as it is quite difficult to determine the difference between the two generations at a glance. Look at it from the side however, and you will see the maturing motherboard industry that sees value in the budget corner as well. Just because the P35A is tagged as mainstream doesn't mean that it cannot also be tweaked for performance and include advanced manufacturing components such as a full solid capacitor design. As noted from our recent interview with Foxconn, it looks like they are really living up to their plans. The P35A's dual PCIe x16 setup ensures that the board will be able to meet power gamer needs with ATI CrossFire support and the performance to match, but while the P35A may hold up great as a budget gaming motherboard, Foxconn should really look into tightening its memory performance up a notch.
Maybe a gem in the rough... or simply a well built budget p35 board... Either way it is priced competitively.
CPU
Motherboard
Graphics
RAM
Q6700 @ 3.7Ghz 1.37V
DFI LT X48-T2R vNB 1.24
EVGA 460GTX
4x2GB Patriot 1000mhz CL5
Hard Drive
OS
Monitor
Power
2x x-25m
Vista x64
24" BenQ G2400WD
Corsair VX550W
Case
CM Cosmos 1000
View all
hide details
CPU
Motherboard
Graphics
RAM
Q6700 @ 3.7Ghz 1.37V
DFI LT X48-T2R vNB 1.24
EVGA 460GTX
4x2GB Patriot 1000mhz CL5
Hard Drive
OS
Monitor
Power
2x x-25m
Vista x64
24" BenQ G2400WD
Corsair VX550W
Case
CM Cosmos 1000
View all
hide details