I am building my first system and have decided on everything but the graphics card.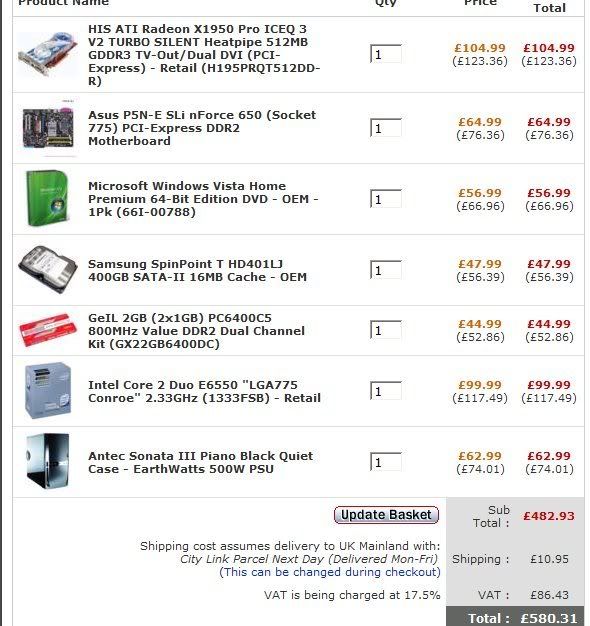 That's the system.
I'm wanting a sub £100 grapics card which will do the same job as the one I have already selected, unless you feel I have already made the best choice.
If you could have a look on this site
http://www.overclockers.co.uk/index.php
and make a suggestion it would be appreciated.
Also I am not planning on doing any overclocking yet until I buy the proper fans and stuff, will the 500w psu supplied with the antec case be suitable for what I am running.
Cheers
Chris
CPU
Motherboard
Graphics
RAM
Intel Core 2 Duo E6550
Asus P5N-E SLi nForce
HIS ATI Radeon X1950 512mb GDDR3
Corsair 2x1gb DDR2
Hard Drive
OS
Case
Hitachi Deskstar 400gb
Windows Vista
Antec Sonata II w/ 450 psu
View all
hide details
CPU
Motherboard
Graphics
RAM
Intel Core 2 Duo E6550
Asus P5N-E SLi nForce
HIS ATI Radeon X1950 512mb GDDR3
Corsair 2x1gb DDR2
Hard Drive
OS
Case
Hitachi Deskstar 400gb
Windows Vista
Antec Sonata II w/ 450 psu
View all
hide details