http://www.informationweek.com/hardw...leID=201001400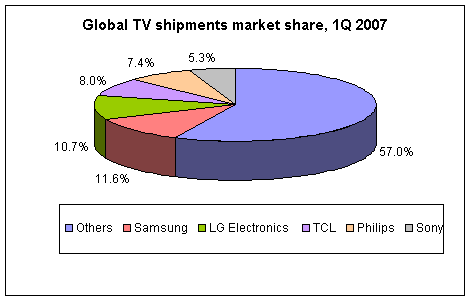 Quote:
The LCD TV is becoming the undisputable champ in the television market, gradually pushing other technologies to the sidelines, a market research firm says.

The major factors behind the rising star is price, coupled with the fact that LCD TVs are perceived by consumers as better at handling digital TV, iSuppli said in a recent report. LCD TV manufacturers are also feeding consumers' desire for large TV screens.
I thought LCD TVs were better at handling digital HDTV... OOPS.
Quote:
Samsung Electronics in the first quarter of this year held on to the top spot among global TV brands, accounting for 11.6% of worldwide shipments, iSuppli said. The remaining top five included LG Electronics, with a 10.7% share; TCL, 8%; Philips, 7.4%; and Sony, 5.3%.

Samsung is holding on to top spot by maintaining its lead in flat-panel LCD TV shipments, while sending a large number of the CRT TVs, an older technology, to developing nations, iSuppli analyst Riddhi Patel said.

Global shipments of TV units rose to 45.9 million in the first quarter, 7% higher than the same period last year, iSuppli said. Shipments of TVs using liquid crystal displays or plasma screens rose by 90% and 41%, respectively, in the quarter.

CRT TVs are still the largest market worldwide, but dominance is expected to slip away in time as LCD and plasma manufacturers continue to push out cheaper offerings, iSuppli said. However, rear-projection TVs, an alternative to the flat-panel LCD and plasma sets, is expected to stay alive through new innovations.
I didn't realize CRTs are still the worlds largest market. I would assume size alone make them more expensive to ship than LCDs. To me the fact that CRTs still dominate the market indicates prices on current and future LCDs should continue to drop.
Quote:
Those include new lighting technologies, such as electrode-less lamps, light-emitting diodes (LEDs), and by next year, lasers. All three improve lamp lifetime and image quality of rear-projection systems. Other innovations include technology called liquid crystal on silicon (LCOS), which Sony is pushing in 50-inch or larger sets.

Nevertheless, LCD TVs are expected to eventually dominate the market, as prices for large screens decline, iSuppli said.
OLED... I can't wait for this tech to go mainstream and affordable. 1,000,000:1 contrast FTW.
CPU
Motherboard
Graphics
RAM
Q6700 @ 3.7Ghz 1.37V
DFI LT X48-T2R vNB 1.24
EVGA 460GTX
4x2GB Patriot 1000mhz CL5
Hard Drive
OS
Monitor
Power
2x x-25m
Vista x64
24" BenQ G2400WD
Corsair VX550W
Case
CM Cosmos 1000
View all
hide details
CPU
Motherboard
Graphics
RAM
Q6700 @ 3.7Ghz 1.37V
DFI LT X48-T2R vNB 1.24
EVGA 460GTX
4x2GB Patriot 1000mhz CL5
Hard Drive
OS
Monitor
Power
2x x-25m
Vista x64
24" BenQ G2400WD
Corsair VX550W
Case
CM Cosmos 1000
View all
hide details