My B3 Build is complete, though VERY unstable:
C2D e4300
Stock cooler (temporary?)
eVGA 650i ULTRA
Mushkin PC2-5300 DDR667 (temporary) 5-5-5-15
ATI All-in-wonder 2006 (temporary)
Ultra Black ATX Case
Silverstone FN-121 rear fan
80mm front fan
500w Aspire PSU
vCore = 1.375v
vDimm = 2.1v
FSB Volts = 1.40v
Mem clock = 667mhz
FSB = 333mhz
OCCT Crashes after 2 minutes, though upping the voltage to where I am now allowed me to make it through 3dMark06...
Please help me understand why it is crashing. Speedfan shows the temp on the cores go up to 56C before it crashes...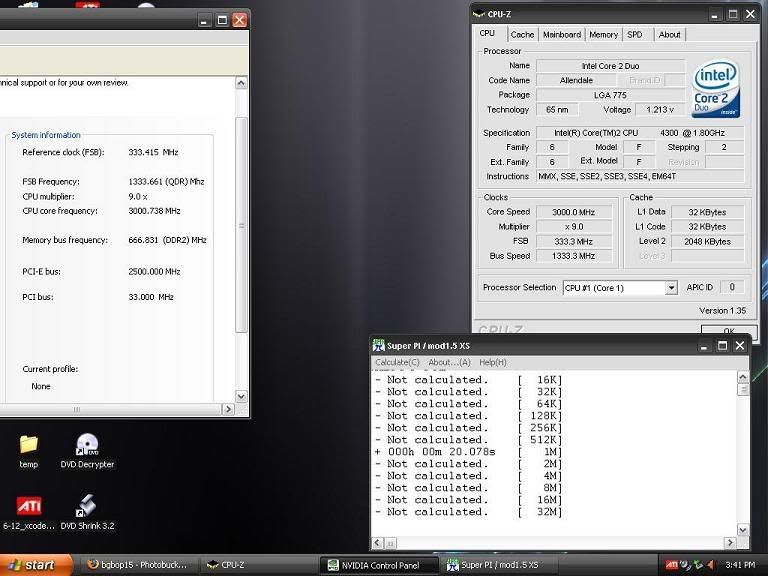 CPU
Motherboard
Graphics
RAM
i7 950
GA-X58a-UD3R
2 x XFX 5770
6gb 1600mhz corsair dominator
Hard Drive
Optical Drive
OS
Monitor
120gb OCZ Vertex2, 2 x 1tb WD Black Raid0
20x Pioneer DVD-DL/RW
7 x64
Dell U2410
Keyboard
Power
Case
Mouse
Gateway PS/2
PCP&C Silencer 610
Antec P182 Gunmetal
MS Wireless Pro (leather)
View all
hide details
CPU
Motherboard
Graphics
RAM
i7 950
GA-X58a-UD3R
2 x XFX 5770
6gb 1600mhz corsair dominator
Hard Drive
Optical Drive
OS
Monitor
120gb OCZ Vertex2, 2 x 1tb WD Black Raid0
20x Pioneer DVD-DL/RW
7 x64
Dell U2410
Keyboard
Power
Case
Mouse
Gateway PS/2
PCP&C Silencer 610
Antec P182 Gunmetal
MS Wireless Pro (leather)
View all
hide details