Quote:
Originally Posted by
RyGuy
I am using distilled water and G11 antifreeze with a drop of biocide. The air flow through the radiator seems fine, I am starting to wonder if it actually is the contact with the CPU, but it seems good, I inspected it after re-seating it.
I really don't want to tear the whole thing apart to change the fans around though.
The Stinger V8 has an S channel design where the coolant goes in the middle, through a pressure jet, and out the 2 side barbs. It has great flow, I just don't know what part of my loop is causing the problems.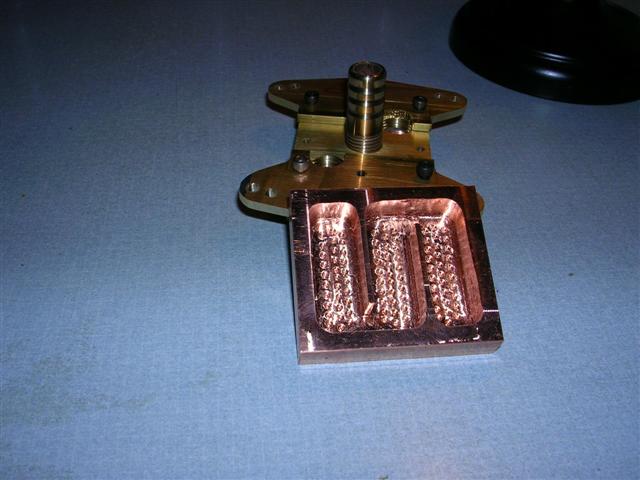 Oh and for the stinger, you probably want the center horizontal channel to line up with the core right. C2D if the triangle is in the bottom right, the core is horizontal.
CPU
Motherboard
Graphics
RAM
3930K
ASrock X79 Ext7
Evga GTX570
CORSAIR Vengeance 16GB
Hard Drive
Optical Drive
OS
Monitor
Phoenix SSD+2TB Seagate drives
ASUS DVD-RW combo
Windows 7
28" Hanns-G HZ281
Keyboard
Power
Case
Mouse
MS Natural
Corsair TX650
Danger Den Torture Rack
Logitech MX518
Mouse Pad
Desk
View all
hide details
CPU
Motherboard
Graphics
RAM
3930K
ASrock X79 Ext7
Evga GTX570
CORSAIR Vengeance 16GB
Hard Drive
Optical Drive
OS
Monitor
Phoenix SSD+2TB Seagate drives
ASUS DVD-RW combo
Windows 7
28" Hanns-G HZ281
Keyboard
Power
Case
Mouse
MS Natural
Corsair TX650
Danger Den Torture Rack
Logitech MX518
Mouse Pad
Desk
View all
hide details