Hey everyone. This probably isn't a proper mod, but it wouldn't really fit anywhere else. So here goes.
With my recent computer purchase came a case (of course) with plenty of room to store hard drives. Previously, I had only a laptop, but a great need for storage space. With that need in mind, I purchased some WD MyBook Essential Edition external hard drives. Here's what they look like: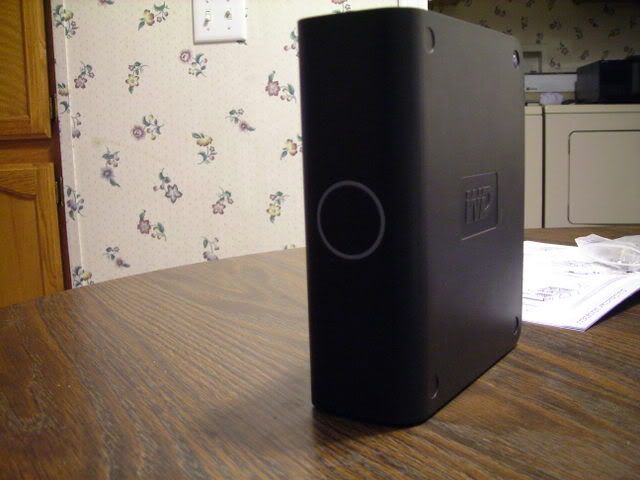 Now, since I have all of this internal space for hard drives with SATA connections, I figured I would increase performance by getting rid of the USB and going with SATA. To do that, I found I'd have to take the hard drive out of the external enclosure it came with. I figured WD wouldn't manufacture special HDDs just to put into these external enclosures, so I decided to open the MyBook up. In the process, I took photos.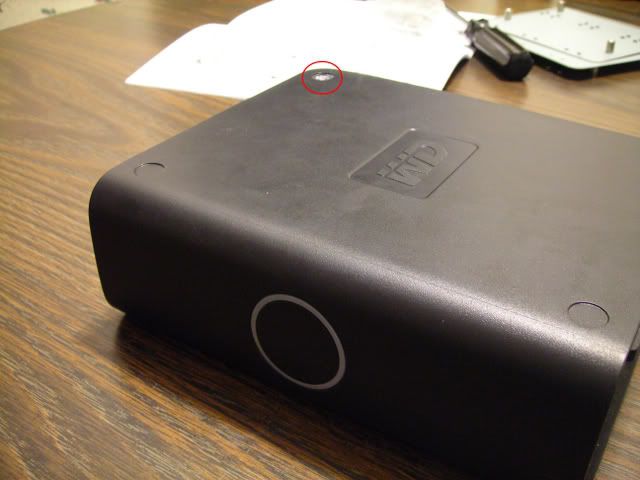 Lying the MyBook down as shown above, you'll see in the top right corner I've uncovered a screw which is marked by a red circle. It's covered with a clever round black sticker. This is one of the many screws you'll end up undoing in this process. Here it is close up:
Here comes the trickiest part. From the top, you'll see a clip which clips into two little slots, as inconspicuous as they are. I've circled the clip in red:
The same type of clip is also on the bottom:
You'll have to push both of these clips down while sliding the front section forward: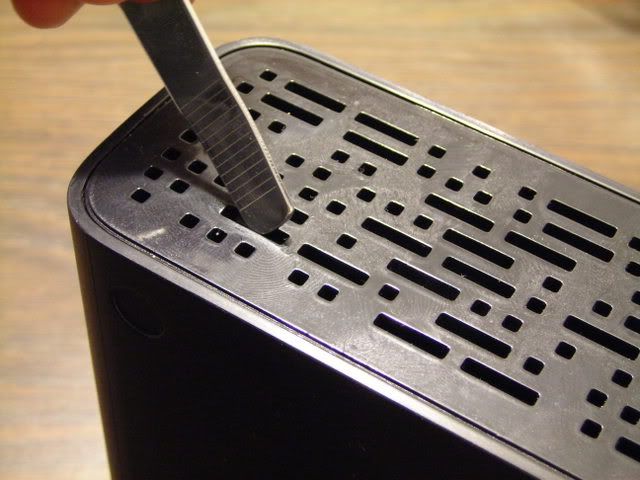 With quite a bit of forceful coaxing, you should be able to slide it out and it'll look like this:
Taking the cover completely off, you have what looks just like a normal SATA HDD.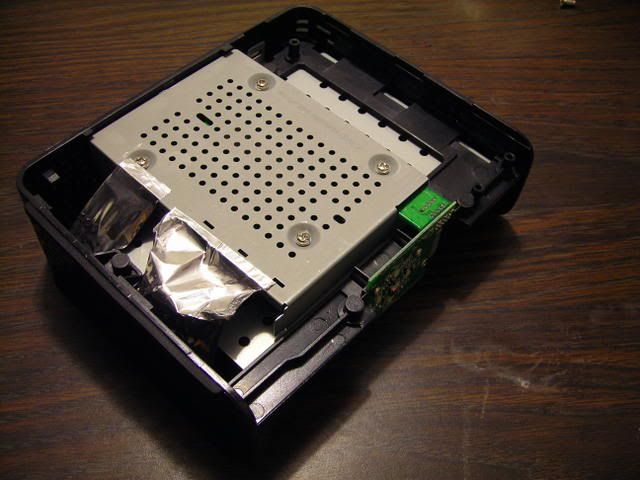 But you aren't done yet. You need to make it ready to mount inside your case. First step is to remove the metallic tape that you see in the photos above.
In the next few photos I've circled, in red, screws that need to be removed. Remove them in the order of the photos.
Inside the blue circles are the SATA (or IDE depending on when you bought the HDD) and molex connectors. Undo these also... if they won't come completely out, don't worry about it.
Once you've undone all of those screws, the hard drive should come out of the plastic mount, but there are still some parts attached to the hard drive that need to be removed.
There are four screws around the perimiter of the hard drive that look like this:
Remove all of them, and the parts attached to the hard drive should come right off.
You're done. You now have an internal HDD to put inside your case! It may have cost more than the same model bought as an internal in the first place, but if you have MyBooks lying around, it's a worthwhile change!