Quote:
Originally Posted by
Kilzon
Congrats man. You got a newer board than me. Like your other one, mine had the 0102 bios on it from Newegg but I flashed it before I did anything. I wanna see what you have to do to get 450x8 stable for 12 hours. I never could, even at 1.4500 vcore.
well i bumped it up one notch 450x8 @ 1.42
i passes that 10 minute mark, for me at least i find thats a milestone, if its unstable usually it errors within 10 minutes, 3 hours is another milestone, and then a full night (which is almost 12 hours for me) is another, if it passes that ill blend it
right now im @ 37 minutes stable, running prime and orthos in tandem
current temps average 67-69 and occasionally spike to 69
kilzon, where does it say your PCB board was made (lower left corner) ? also, around the same area theres a cluster of four and 2 tiny capacitors (they are blocked by the video card) the old board they were purple coded, the new board they are red, can you see on yours?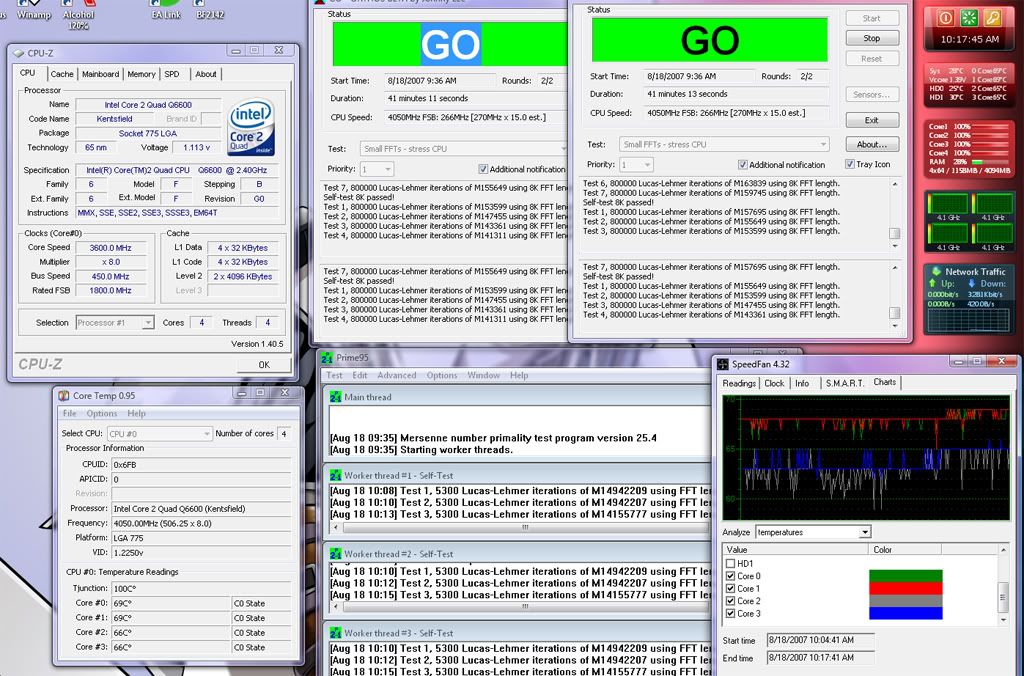 CPU
Motherboard
Graphics
RAM
I7-930 @ 200x20 HT on
Asus Rampage III
2x SLI Gigabyte GTX 460 1GB @ 900/1800
6gb (3x2gb) ddr3-1600 6-8-6
Hard Drive
OS
Monitor
Keyboard
OCZ vertex II SSD 120gb
Windows 7 64 bit
24" 1920x1200
G15
Power
Case
Mouse
Mouse Pad
Corsair 850HX
Danger den semi-custom 2 level case
Logitech G7 wireless
who uses these?
View all
hide details
CPU
Motherboard
Graphics
RAM
I7-930 @ 200x20 HT on
Asus Rampage III
2x SLI Gigabyte GTX 460 1GB @ 900/1800
6gb (3x2gb) ddr3-1600 6-8-6
Hard Drive
OS
Monitor
Keyboard
OCZ vertex II SSD 120gb
Windows 7 64 bit
24" 1920x1200
G15
Power
Case
Mouse
Mouse Pad
Corsair 850HX
Danger den semi-custom 2 level case
Logitech G7 wireless
who uses these?
View all
hide details